An Epic SUP Tour
Paddle surfing is thousands of years old! In recent years this sport has experienced a surge in popularity. I guess you can say that makes the paddle board a late bloomer. We can all head down to the nearest beach and engage in this time-honored activity.
However, water sports are as electrifying as the location you practice them in. What better setting than Japan? Japan is an archipelago that is made up of thousands of islands. That's more beaches than you can shake a stick at!
White sand beaches aside, have you ever paddle-boarded through mangrove forests? Past magnificent mountains? Paddle-boarding in Japan isn't just an activity. It's an experience like no other!
How Popular is Paddleboarding in Japan?
Stand-up paddle boarding isn't what comes to mind when one thinks of Japan. Despite the beautiful sea that surrounds it, Japan isn't known for relaxing and cruising on a paddle board. Shockingly, the number of stand-up paddle board-related accidents has been climbing in recent years.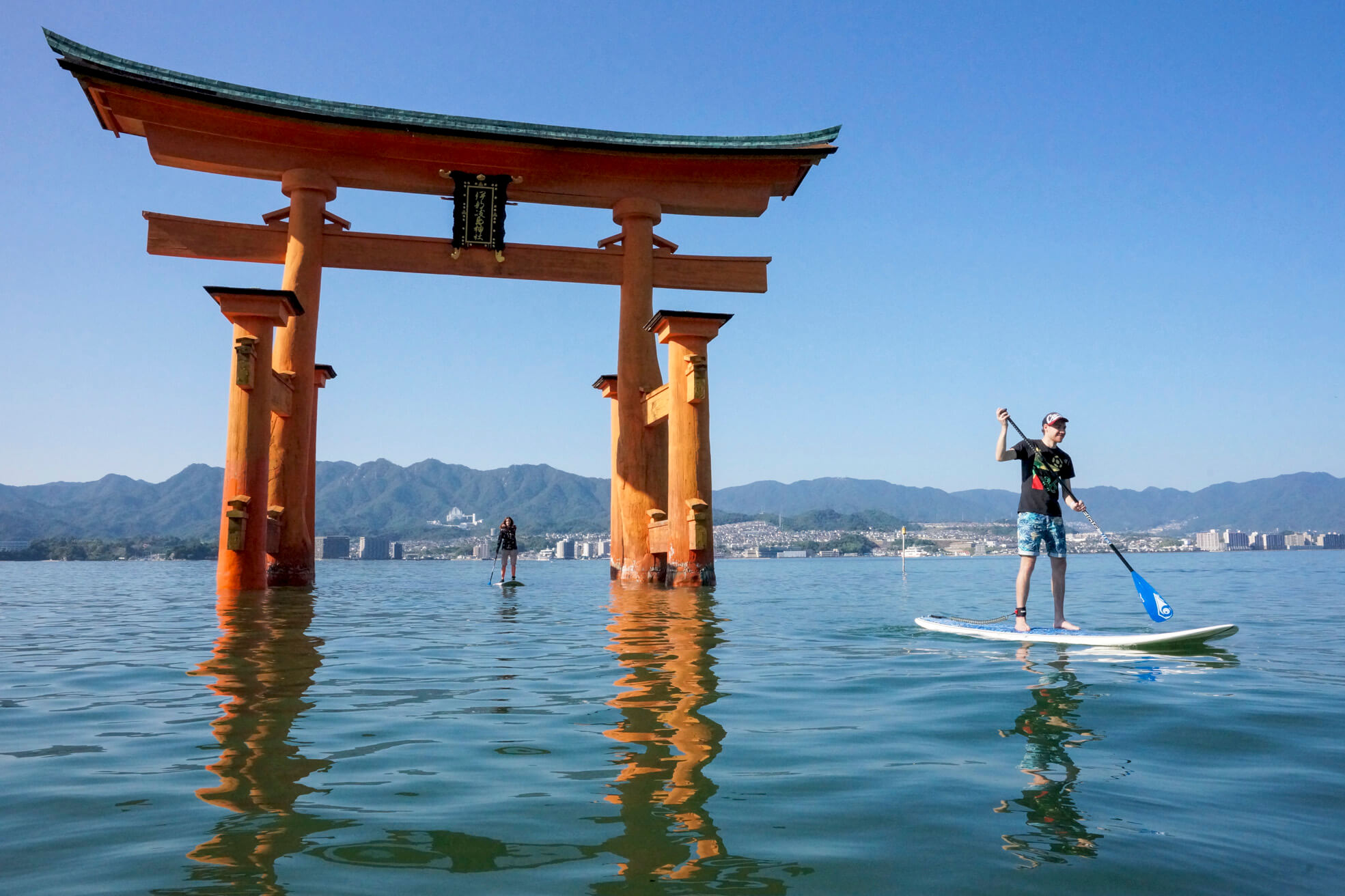 As a whole, this indicates that more Japanese are choosing to engage in SUP surfing than ever before! This does not come as a surprise. Picture the following. A relaxing time, drifting through the Okinawa islands. Calm waters surround you! Perhaps you even manage to drift into a blue cave.
There aren't many outdoor activities that can paint a picture quite like paddle boarding.
Why it's Important to Select the Right Ocean Paddleboard
By now, I'm sure you're aching to cruise through the water. Amongst the sea turtles! Wait a moment. Before you head out, you need to make sure that you've got the right gear for the job. You see, as is the case with all water sports, there is no one size fits all solution.
Not every board will suit every rider. This is the case for a number of reasons.
The world is a vast place with all kinds of conditions and locations. Some of us will paddle board down a river, mimicking a kayak tour. The lucky ones will paddle in the magnificent Lake Kawaguchi. Maybe even Tokyo bay!
The point is that different boards are made to handle different intensities, and the best ocean paddle board will provide more stability than other styles.
Furthermore, your weight and height will play a significant role because you need a board that can properly sustain you. Otherwise, you won't be able to paddle properly. Wasting your entire day trip in the process.
Top 5 Paddleboarding Spots in Japan
 

Lake Biwa

Lake Biwa is an ancient place. Predating even the Edo period! This easily accessible lake is one of the world's oldest lakes. Estimates show that it was formed at least four million years ago!
This kind of insane history makes it the perfect place for some SUP boarding fun. The waves can get choppy enough to keep an advanced paddler on their toes. Although, a majority of the time, Lake Biwa is a pleasant and forgiving ride. Even beginners can safely ride its currents.
Unlike river rafting, you can spend a half day in the waters of Lake Biwa without feeling completely out of energy. Making this the place to go for relaxation. Be sure to adhere to any safety measures in place, especially if they are coming from a professional guide.
Nature Wonderland
Aside from its longevity, perhaps what is most astounding about Lake Biwa is its wildlife. Underneath its surface, you'll find a range of species that don't live anywhere else. From fish to rare mollusks!
Above the surface, a vast range of birds takes to the sky. Altogether more than one thousand species and sub-species have been found at Lake Biwa! Ask yourself, "What must it feel like to paddle board in a place like that?"
One fun thing you could do is attempt to paddle through Biwa's torii gate. Surrounded by Lake Biwa itself, this gate is yet another wonderful quirk of this dreamy location.
While you can go fishing in the lake, keep in mind that the fishing pressure is usually high. You'll also have to be sure that your paddle board can handle your weight and the force of reeling something in.
   

Iriomote Island

Iriomote island is a member of the remote Yaeyama islands. The Yaeyamas are islands in southwestern Japan. Iriomote itself is the most stunning among them. Lush forests cloak this subtropical paradise. It's what makes Iriomote so unique.
Its terrain is unlike anything else in mainland Japan. But enough about the island itself, how does it serve as a paddle boarding destination? Frankly, Iriomote is one of the most beautiful places on Earth to paddleboard in.
Rivers run through large parts of the island itself. Meaning that you could realistically explore the island on foot or paddle board without running into any difficulties. This is not the case for most islands. Fortunately, Iriomote also happens to be the largest of the Yaeyama islands.
Its grand size is used well. The terrain here is diverse but green. You won't find any boring dry patches or barren land on Iriomote island. As for its canopy, the sun's rays are able to poke through. Creating shadows in all the right places.
Overall, an atmosphere of secrecy and adventure is created. What a stunning paradise!
Spots to visit on Iriomote Island
Ideally, you should attempt to see all of Iriomote island. Every corner of this lush Japanese secret is replete with peaceful streams and rivers. The perfect highways for navigating through such a location.
However, if you are short on time, then I'd suggest hitting up the mangrove forests firsts. The mangroves are at a distance from one another, making it possible for you to cut through large parts of the forest with no issues at all.
The beaches around Iriomote island can act as a reprieve from all the trees and foliage. Iriomote island has got everything for a complete paddle-boarding vacation.
     

Yokohama City

Large Japanese cities are unique because of their atmosphere. Densely packed yet without feeling suffocating. That is their specialty. Yokohama excels at creating this lively and open atmosphere. Part of the reason for its success is the clash of various cultures that inhabit the city.
Yokohama is home to a sizable china town. This sector of the city is more than one hundred and sixty years old. As interesting as this information may be, what does it have to do with paddle boarding? Everything!
Cutting across Yokohama is a waterway that you can paddleboard through. Due to its location and the average weather patterns of Yokohama city, this waterway is perfect for novices and amateurs.
At various points, you'll find cherry blossom trees lining the sides. When a strong enough breeze rolls through, cherry blossom petals drift off their perch. Landing gently on the surface below.
It's odd to have such a gentle scene associated with such a large city. Yet, moments like this are a common occurrence on the Yokohama waterway.
Why Yokohama for paddleboarding?
Are you wondering why you should paddle board in Yokohama? Especially when there are so many other options to choose from. Allow me to provide you with a few reasons.
I'd say one of the best things going for this city is how you can explore it. How many other similarly sized cities in the world can you paddleboard through? Not Venice! That city is nowhere near as large or populated as Yokohama. Why would you want to miss out on gaining such a unique experience?
Furthermore, paddle boarding is so ingrained into Yokohama that there are several stand-up paddle board clubs in the area. You'll never paddle alone.
     

South Fuji

Traveling to Japan and not seeing Mount Fuji is a travesty. Traveling to Japan and not paddle boarding underneath Mount Fuji would be a nightmare. The Fuji five lakes are worthy of any paddler. While not exactly a test of endurance, the sights alone are enough to blow most away.
It's a transcendent experience! You'll want to make sure that you pack a wet suit. Not diving into the waters for a short swim is a difficult task. In the area, paddle boarding is one of the most popular activities.
This means you'll have no trouble securing the services of an instructor or guide should you require one. If you're unsure about needing one, I'd suggest getting a guide.
Why paddleboard in South Fuji?
I touched on this above. Aside from what I've already mentioned, the surrounding land is ripe for hiking. After a gentle morning paddling with Mount Fuji as your backdrop, you can spend an afternoon hiking through storied trails.
The variety is nice, but you'll also find a lake resort nearby. At least nearby enough to take advantage of. In regards to the lake itself, a high degree of skill won't be required. You can also count on any average paddle board. The water is tame enough.
     

Miyajima Island

Miyajima island is known as "shrine island." This is because Taira No Kiyomori, a powerful man of the Heian period, built his clan's family shrine on it. Furthermore, its large torii gate appears to float whenever there is a high tide.
This gives the gate a mystical look. In fact, the entire area gains such an atmosphere. Since paddle boarding is primarily known for being a relaxing venture, Miyajima island is perfect for such an activity.
It further fuels the peace and serenity that only water sports can give you. Much like Lake Biwa, I'd strongly recommend paddling through or near the shrine if you are able to. Provided that you aren't disrespecting the historical site itself.
A Unesco world heritage site
A highlight of paddle boarding in Miyajima is the Itsukushima shrine. The Itsukushima shrine is a Unesco world heritage site. Such places gain this status due to having some kind of cultural, historical, or scientific significance.
In short, such places are renowned and important. There can't be a better place to paddle board through than a world heritage site. Only basic movements will be required to get you across the area since no river SUP will be needed.
My Final Thoughts
Paddle boarding is a beginner-friendly sport. That's what makes it so alluring. More than that, it's also the most relaxing way to transport yourself around. A car simply can't compete. Neither can a boat!
If you want to truly feel the waves beneath you and explore in style, paddle boarding is the way. Just remember how your body and attributes affect what board is best for you. It's hard to enjoy the scenery if you are sinking into the depths.
A good paddle board will provide you with excellent stability. That stability is a guarantee that you'll have a blast. Don't you want your first sup experience to be a great one?