Summer can be a very brutal time of the year to visit Japan. When summer starts settling in around June (though you can definitely still feel it in May), it gets blistering hot, sticky, and humid. The air gets stuffier, and with the high humidity levels, even the shortest brush with it will leave you sweating and uncomfortable.
Japan in Summer 2018 also saw record high temperatures and we don't expect it get cooler, so if you are planning on visiting Japan during Summer this year, we highly recommend you to be prepared. Here are some of our Japan Summer Travel Tips on how to endure the Japanese summer.
Stay hydrated
It should come as no surprise that this one would be on our list. Staying hydrated is probably one of the most important things to have in mind when traveling in Japan during summer, and if you are unused to the heat, it'll drain your energy too. Consider keeping a water bottle with you in your bag, or consult a nearby vending machine (they're everywhere) to replenish fluids.
Since you likely will be sweating a lot and losing fluids, sports drinks like Pocari Sweat or Aquarius are also options, as they contain electrolytes, help retain body fluids, and are widely available. We also highly recommend treating yourself to some Japanese watermelon, which are not only delicious, but also contain lots of fluids.
Bring the right clothes
Depending on if you are used to hot or cold weather, short or long sleeves, you may want to think twice about what to bring from your wardrobe to Japan. While it is a good idea to bring clothes that are thin and easy to move in, you want to avoid situations where you end up bringing clothes you can't wear.
For example, short-sleeved wear will help alleviate some of the heat, but can leave you more vulnerable to sunburns and mosquitos. On the other hand, long sleeves can better protect you from both, but you'll feel hotter and sweat more. Consider the purpose of the clothes you want to bring, and you'll also save space in your luggage for more souvenirs and snacks.
Convenience stores are your best friend
Japanese people love convenience stores. And it's for good reasons. They are everywhere, and have pretty much anything you might be missing or needing. Some chain stores like Lawson and 7-Eleven (did you know 7-Eleven is actually Japanese-owned?) even have free toilets and free wifi. Most of them are also open 24 hours a day, 7 days a week, so they're always accessable. If the heat is getting to you, convenience stores are a great pit stop for a quick break to stock up on drinks and snacks, plus some good ol' air conditioning to revitalize your spirits.
Mosquito repellent
Mosquitos are really active in Japan during summer, and unless you are one of the few who rarely get bit by mosquitos, it's best to have some repellent on you, especially if you are visiting parks or areas with lots of greenery in the early morning or evening. Fortunately, you can easily get mosquito repellents at pretty much every convenience store, and they usually come in small, portable sprays.
Bring a small face towel
If it isn't apparent already, spending a lot of time outside in the Japanese summer will more than likely leave you drenched in sweat. Another good summer travel tip is to bring a face towel. While tissues are nice and useful for wiping off sweat, they expire after a single use.
In addition, when you are expected to bring your own trash with you in Japan, it becomes a hassle to dispose of used tissues, as there are rarely bins on the streets. That's why it's a good idea to get a face towel. You can use it multiple times, wash it after use, and it doesn't tear, making it an extremely useful item when it starts pouring.
Avoid sport activities or strenuous exercise in the sun
If you're the type that likes to exercise or do sport activities even when you are out traveling, it's a good idea to consider what time of the day you want to do it while in Japan. If you are an early riser who likes exercising in the morning, before the sun is up in its full glory, this one will probably not affect you.
But it is recommended to avoid doing sports activities or any strenuous exercise around noon and afternoon, when the sun is at its highest point. The heat and humidity will make even otherwise simple activities seem much tougher, and it'll get harder to breathe and at worst, could lead to a heatstroke (which resulted in 100 fatalities in 2018).
Get a fan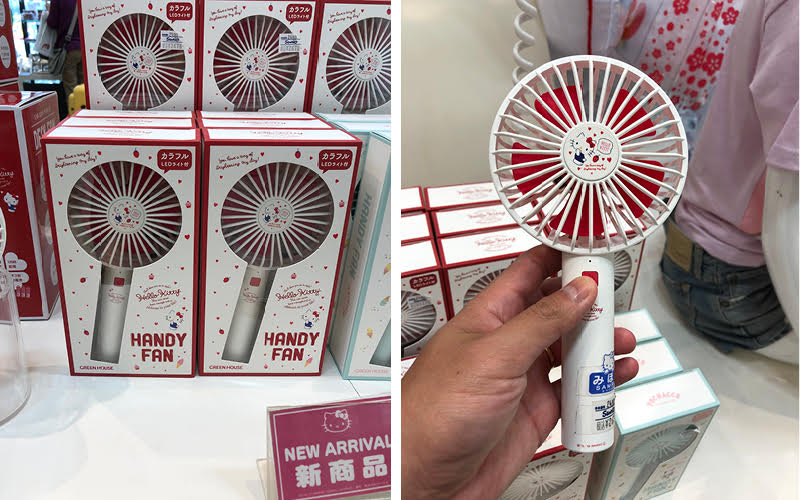 During the hot summer days, it's not an uncommon sight to spot people, locals as well as visitors, vigorously fanning themselves with a handheld paper fan, or using some kind of portable fan. Both are widely available for purchase, such as in just about any electronic store for portable fans, once summer rolls in (some of the cheapest we found was in Akihabara for ¥500).
If you can't stand the Japanese humidity, they are great for combating the summer heat. For those who don't like carrying around portable fans, you can even get hands-free portable fans that fan you while it hangs around your neck. 
Enjoy the cold dishes
Japan has a lot of cold dishes that are perfect for countering the heat. When you are looking for shelter, away from the sun beating viciously down on you, consider going for some of the Japanese cold dishes, which are sure to cool you down. One of them is already popular worldwide, and yes, it is indeed sushi. However, Japan has more to offer than sushi, and their cold noodles are both soothing, and great for hot occasions. Udon, for example, can be served in a cold broth or with a dipping sauce, and the same applies for soba. There is also somen, which is popular in summer, and are very thin noodles, also served cold and with a dipping sauce.
It's not easy to endure the hottest and most humid period of the year in Japan, and it doesn't help when summer's the time that attracts most people to visit. But if you can weather through it, Japan has amazing things to offer, beyond just having amazing sushi, so don't let the heat get to you! We hope you learned a few things from our Japan Summer Travel Tips, and be sure to check out our other lists about things to know in Japan!
Also, stay updated on the many things to do in Japan, by following us on Instagram, Facebook, and Pinterest!