Toyama Japan – Facing the Sea of Japan and located in the Hokuriku region in the center on the main island of Honshu, Toyama prefecture with its beautiful natural landscapes is still relatively unknown amongst foreigners. From thick forests and waterfalls, to stretches of coastline along the Sea of Japan, Toyama prefecture is blessed with nature. One of the reasons is the abundance of pure water melting from the spectacular 3,000-meter Northern Japan Alps mountain range.
The steep Northern Japan Alps together with the Tateyama Mountain Range wall Toyama prefecture on three sides allowing fresh water to flow year round. Toyama is known for its pure water helping the land to grow a variety of crops and producing rice of a very high quality. 30% of the land of Toyama prefecture is designated as National Parks because of its pristine nature. Its seasonally changing landscape with its wide variety of flora and fauna make this compact little prefecture a must visit for visitors wanting to explore another side of Japan.
How to get to Toyama?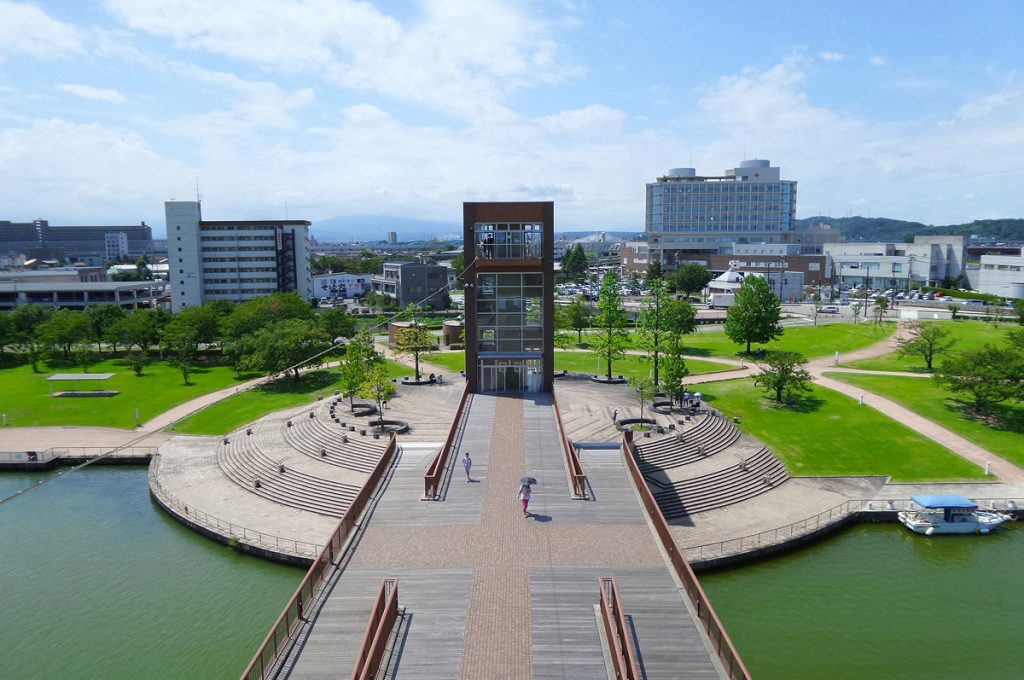 Toyama City is easily accessible with the opening of the Hokuriku Shinkansen in the spring of 2015 reducing the travel time between Tokyo and Toyama to 2 hours and 8 minutes.
From Ueno Station, Tokyo – Take the JR Hokuriku Shinkansen (bound for Kanazawa) and choose either the Kagayaki line (faster) or the Hakutaka line (slower) straight to Toyama City.
With the Kagayaki line, 2 hours and 8 min. – 12,500 yen
With the Hakutaka line, 2 hours and 27 min. – 12,000 yen
From Osaka Station, Osaka – Take the JR Thunderbird Limited Express towards Kanazawa and transfer to the JR Shinkansen Kagayaki line (bound for Tokyo) or JR Shinkansen Tsurugi line (bound for Toyama) to Toyama City.
With the Kagayaki line, about 3 hours and 30 min. – 9170 yen
With the Tsurugi line, about 3 hours and 20 min. – 8650 yen
From Kyoto Station, Kyoto – Take the JR Thunderbird Limited Express towards Kanazawa and transfer to the JR Shinkansen Tsurugi line (bound for Toyama) to Toyama City.
About 2 hours and 42 min. – 8110 yen
For your information, all the above journeys are covered by the Japan Railway Pass.
Where to Stay in Toyama?
Here are a few accommodation suggestions for every budget if you visit Toyama City.
Guest House Enishi
Why guests love it: Charming Japanese style house with tatami mats, friendly host, free wifi, free parking, English speaking staff.
Price range: from 2,900 yen per person, per night (dorm bed)
Address: 930-0846 Toyama, Toyama, Okui-machi 10-24, Japan (See on Google Maps)
Website: Guest House Enishi
Toyama Chitetsu Hotel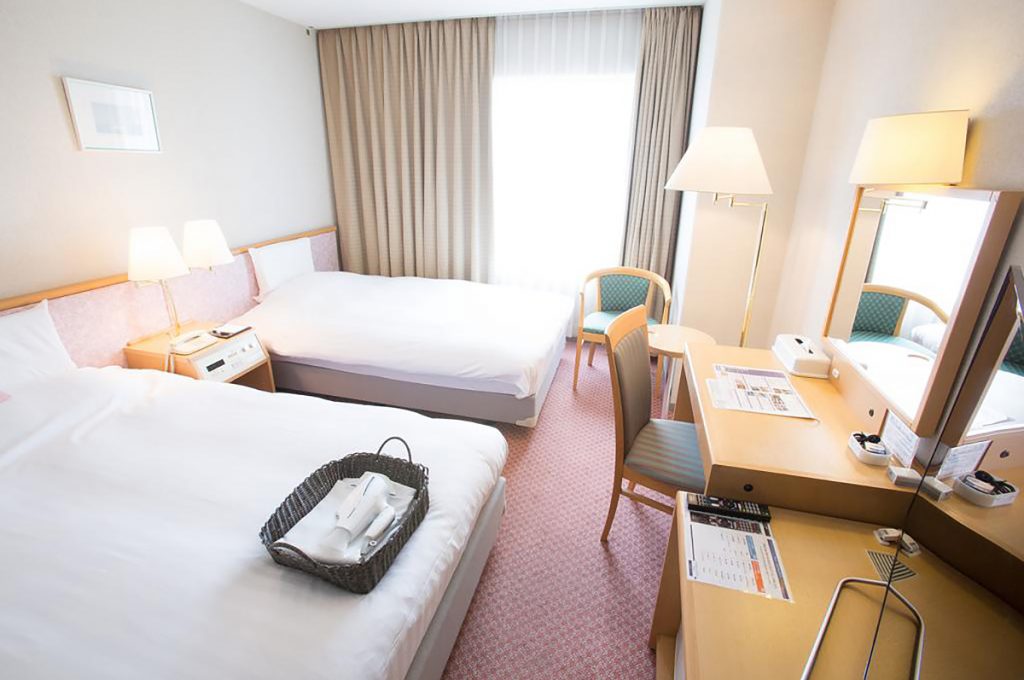 Why guests love it: Central location and close to the station, very clean, free wifi, friendly staff and great value for money.
Price range: from 6,500 yen per person, per night
Address: 930-0003 Toyama, Toyama, Sakuramachi 1-1-1, Japan (See on Google Maps)
Website: Toyama Chigetsu Hotel
Etchu Yatsuo Base Oyatsu Ryokan
Why guests love it: beautiful ryokan style rental home for vacation, breakfast included, free wifi, garden view, warm hospitality
Price range: 36,000 yen for a 2 bedroom-house (8 futon beds), per night
Address: 939-2342 Toyama, Toyama, Yatsuomachi Kamishinmachi 2701-1, Japan (See on Google Maps)
Website: Etchu Yatsuo Base Oyatsu
Best Places to Visit in Toyama
Toyama Bay
Where fresh water meets the sea, Toyama Bay is unlike any other bay. With its towering 3000-meter Northern Japan Alps and the Tateyama Mountain Range surrounding the bay, the view is spectacular to say the least. From the high mountains to the bay's steep grade to a depth of 1000 meters, this terrain spans 4000 meters in elevation! Due to the steep slope of the ocean floor, the bay becomes very deep and allowing for easy access to fishing grounds.
The ocean colored in deep indigo is teeming with marine life such as red snow crab and Japanese glass shrimp along diverse species of fish. One of the reasons for this fertile marine environment is the bountiful fresh water flowing year long from melted snow into the 7 large rivers that pour into the Toyama Bay. It is also discovered that freshwater springs continuously flow forth from the ocean floor. This, together with fresh water from the mountains and the coastal surface water which has a low concentration of salt, create a nutrient-rich environment attracting many different species of marine life and allowing them to thrive.
One of marine creatures calling Toyama Bay its home is the firefly squid. In spring, large numbers of firefly squid gather near the shore together at night, creating a glowing band of blue and white luminesce reminiscent of the Milky Way. This miraculous sight can be seen between mid-April to the beginning of May around the eastern shore of the bay.
With the snowy peaks of the Tateyama Mountain Range as its backdrop, Amaharashi Coast Quasi-national Park is not to be missed. The view that can be seen from here changes with each season and is breathtakingly beautiful. Often being the inspiration of poets and painters alike, this area has been designated of "One of Japan's Best 100 Beaches". And it's not strange to understand why, with mystical pine trees perched on top of a lonely rock surrounded by the sea while white mountain peaks loom in the back, the Amaharashi Coast is definitely worth a visit.
Access: From Toyama Station – Take the Ainokaze Toyama Railway (bound for Kurobe) and get off at any station as this train runs along the bay.
To go to Amaharashi Coast, from Toyama Station – Take the Ainokaze Toyama Railway (bound for Kanazawa) to Takaoka and transfer to the JR Himi line (bound for Himi) and get off at Amaharashi, about 40 min. – 600 yen
See on Google Maps: Toyama Bay
Toyama Glass Art Museum
Who knew melted sand could be so fascinating! Focusing on contemporary glass art from around the world, this museum located in Toyama City boast an impressive art collection housed in the equally impressive glass Kirari building. Supported by the city of Toyama, the glass museum is a cultivation center nurturing the talent of glass artists from both in and from outside Toyama. The museum holds permanent exhibitions displaying contemporary glass art collected by Toyama City and temporary exhibitions that change regularly. Apart from the collections spanning 5 floors, the top floor displays installations by the great master of contemporary glass art, Dale Chihuly. The 2nd to 4th floors also has a "Glass Art Passage" displaying beautiful works from artists associated with Toyama. If you like modern contemporary art, or if you just like to look at beautiful things made from glass, then don't forget to add this to your itinerary when visiting Toyama City!
Access: From Toyama Station – Take the City Loop Line (Shinaidensha Kanjo-sen) to Grand Plaza Mae, 15 min. – 180 yen
Opening hours / Admission: from 9:30 am – 6 pm (until 8 pm on Fridays and Saturdays) / 200 yen (for the permanent exhibition), 700 – 1000 yen for temporary exhibitions (price varies per exhibition)
Address: 930-0062 5-1 Nishiho, Toyama City, Toyama 930-0062, Japan (See on Google Maps)
Website: Toyama Glass Art Museum
Toyama Municipal Folk Craft Village
Dedicated to old crafts like Japanese ceramics and roof thatching, the Toyama Municipal Folk Craft Village is actually a collection of small museums. With collections housed in traditional wooden houses, walking through this village feels like stepping back in time to an ancient Japan. The History and Folklore exhibition displays materials of Toyama's rich history like living and production utensils and cultural properties. But also archeological finds like bones and pottery. Folk Craft displays handcrafts like ceramic works, roof thatching and dyed textile fabrics among, many. The art collection gallery displays works of the late Takamura Gyujin a Japanese born Chinese ink-painting artist who created works from the region. If you like a bit of history and ancient art we recommend you to try visiting this unique cluster of little museums.
Access: From Toyama Station – Take bus number 92 bound for Kurehayama Rojin Center and get off at Toyama-shi Minzoku Mingei Mura bus stop, 10 min. – 260 yen
Opening hours / Admission: from 9:00 am – 4:30 pm /  Free
Address: 1118-1 Anyobo, Toyama-shi, Toyama-ken 930-0881 Japan (See on Google Maps)
Gokayama
To the south of Toyama lies the area called Gokayama which consists of 40 small villages. The houses are built in a traditional Japanese architectural style called "gassho-zukuri", are characterized by their thatched steep roofs. Nestled within the deep green valleys, the scenery looks like a scene straight taken from a Ghibli movie. With the change of the seasons, the scenery changes dramatically and it's no wonder that the 2 villages of Ainokura and Suganuma are registered as World Heritage Sites.
Keeping the nostalgic old charm of past farming days alive, there is lot's to see and to do in each village as visitors are invited to try their hand in farming, paper making or make a "sasara" instrument used in the ancient "kokiriko" folk dance. Try local foods you can only find at these villages like "tochi-mochi" aka horse chestnut mochi or spend a night in a gassho-zukuri farmhouse to experience what it was like back in the day. With numerous interesting museums and exhibitions scattered all over the different villages, activities to do and local foods to try, there is simply too much to do and keep visitors coming back to Gokayama time after time.
Access: From Toyama Station – Take the Nohi Bus or Toyama Chiho Tetsudo Bus bound for Shirakawa-go and get off at Suganuma, 80 min. – 1700 yen
Address: 939-1914, 754 Kaminashi, Nanto, Toyama, Japan (See on Google Maps)
Tateyama Mountain Range
Forming a contrasting background with the sea, the Tateyama Mountain Range with its rugged appearance invite visitors to climb its peaks year round. Although Mount Tsurugi is visually the most impressive, the highest mountain is Mount Tateyama with 3,015 meters and together with Mounts Fuji and Haku-san form the Three Holy Mountains of Japan. The beautiful landscape of the mountains with its alpine flowers create a feast for the eyes especially during the fall. Careful planning is needed when hiking in these steep mountains and preparations beyond a solid pair of hiking shoes are imperative.
The best time to go temperature wise is between July and mid-October. For beginners it's advisable to follow the easy walking trails and stopping at resting stations in between with accommodation in the form of hotels, mountain huts and camping grounds available along the trail. To access Mount Tateyama, most people start off at Murodo, which is situated at a height of 2,450 meters. Murodo is famous for its snow corridor with snow walls piling up to 20 meters high.
Access to Murodo: From Dentetsu Toyama Station (Toyama) – Take the Toyama Chihou Railway Main Line (bound for Tateyama) and get off at Tateyama Station. From Tateyama Station take the Tateyama Cable Car to Bijodaira. From Bijodaira take the Tateyama Kogen Bus to Murodo, about 2.5 hours – approx. 3,500 yen (one way)
Address: 930-1406, Ashikuraji, Tateyamamachi, Nakaniikawagun, Toyama prefecture, Japan (See on Google Maps)
Kurobe Gorge Railway
Cutting through the steep mountains of the Northern Japan Alps is the Kurobe Gorge. The Kurobe River lies at the bottom of one of the most deepest gorges in Japan and the Kurobe Gorge has been selected as one of the three great gorges. The untouched nature consisting of trees as far as the eye can see, deep V-shaped ravines, hot springs and the emerald colored river make you feel in awe of this great outdoor landscape.
The highlight of the gorge is the Kurobe Gorge Railway, a sightseeing train chugging leisurely through this gorgeous nature-filled area. The train, originally built to aid the construction of the Kurobe Dam, is now used by visitors as they take in the vista from an open-car along its approximately 20 km journey.
Starting at the hot spring resort of Unazuki, one of the largest in Toyama prefecture, the train journeys over beautiful arched bridges snaking through the mountains all the way to the Keyakidaira area. During its 1-hour-and-20-minute journey, the train stops at various stations allowing visitors to get off and enjoy the nature from up close, like soaking your feet in a natural hot spring. And if you're lucky, you might even catch a glimpse of the monkeys that dwell deep within the mountains! The train operates from mid-April to November but the best time to visit would be during the fall when the leaves turn into vivid reds and yellows creating a colorful panorama that is one of the most beautiful in all of Japan.
Access: From Ueno Station, Tokyo – Take the JR Hokuriku Shinkansen line to Kurobe Unazuki Onsen, 2 hours and 30 min. – about 11,500 yen. From Toyama Station, Toyama – Take the JR Shinkansen Hakutaka line to Kurobe Unazuki Onsen, 12 min. – about 1,440 yen.
Opening hours / Admission: departing from Unazuki from 8:00 am – 4 pm / 1,980 yen (one way, from Unazuki to Keyakidaira)
See on Google Maps: Unazuki Station
Website: Kurobe Gorge Railway
Toyama Gokoku Shrine
Located not far from Toyama Station, Gokoku Shrine was built as a memorial for the all the Toyama soldiers who have fallen in battle from the Meiji Restoration (1868) to the Pacific War (1941 – 1945). The bronze reliefs at each side of the entry gate depict the Russo-Japanese war of 1904-1905. Originally built during the Meiji period in 1912, it was called Toyama Kenshoukonsha Shrine before it was renamed Toyama Gokoku Shrine in 1939. Parts of the Shrine caught fire and got destroyed during the air-raid bombing of Toyama in the 1945 war. It was not until 1954 that the shrine was restored to its former glory. People flock to this shrine during the Spring Festival on the 24th of April and the Autumn Festival on the 5th of October. On the first of January to the third, the shrine is crowded with people coming for Hatsumode, the first Shinto shrine visit of the year.
Access: From Toyama Station – Take the Toyama Chitetsu Toyama Kidousen bound for Daigakumae to Yasunoya Station and walk toward the shrine, 17 min. – 200 yen
Address: 930-0077, 1-1 Isobemachi, Toyama City, Toyama prefecture, Japan (See on Google Maps)
Toyama Castle
Japanese garden dates back to the 15th century. Originally built in 1543 and formerly a fortification, this castle served as a base of the Maeda clan looking over the Kaga Domain, modern-day Ishikawa and Toyama prefectures. The castle was destroyed and rebuilt many times in its history and in 1954 it was rebuilt with few parts of the original castle such as the original moat and stoneworks. Visit the castle and the Toyama Local History Museum to learn about the city's history or take a stroll in the peaceful garden and enjoy the art collections of the Sato Memorial Art Museum which is noted for its collection of tea ceremony utensils and antiques.
Access: From Toyama Station – about 12 min. walk
Opening hours / Admission: from 9am – 5pm / Castle keep – 210 yen, Castle keep and Sato Memorial Museum – 310 yen
Address: 1-62 Honmaru, Toyama, Toyama Prefecture 930-0081, Japan (See on Google Maps)
Matsukawa Park
Matsukawa park is a park with a 3.5-kilometer promenade along the Matsukawa River and is a popular place to relax among locals. During the spring when the cherry blossom trees lined along the promenade are in full bloom, this place turns into a lively cherry blossom festival and people all over the city come to this park to enjoy the beautiful scenery. To view the scenery from the water, you can even join one of the many cruises which allow you to see the landscape from a whole different view. Fancy art? Visit the 28-art-piece sculpture garden near the river bank. To get away from the city and relax, head over to Matsukawa Park for a leisurely stroll along the river.
Access: From Toyama Station – about 10 min. walk
Opening hours: open 24 hours
Address: 930-0062 5-1 Nishiho, Toyama City, Toyama 930-0062, Japan (See on Google Maps)
See on Google Maps: Fusecho, Toyama
Shomyo Waterfalls
Said to have the largest drop at 350 meters, this waterfall is located in the town of Tateyama, Toyama prefecture. The water melts from the Tateyama mountains and during early summer produces the greatest water flow. When the snow starts to melt from the mountains a second waterfall, Hannoki Falls, appears next to the Shomyo Falls creating a beautiful spectacle as the water cascades in stages amidst the lush greenery of the mountains. In truly rare occasions when the water flow increases even further, a third waterfall, the Somen Waterfall will also appear. Although closed during winter due to the snow, the best time to visit the Shomyo Falls are from May through November.
Access: From Tateyama Station – Take the Tateyama Kurobe Tourist Bus bound for Shomyo Falls and walk about 30 min. towards the falls – 500 yen (one way)
See on Google Maps: Shomyo Falls
Toyama Japan – Final Thought
From towering mountains to a deep ocean teeming with life thanks to the abundance of fresh water, to hidden villages in lush green valleys where time has stood still, Toyama, whist small in size, has a lot more to offer than meets the eye. Easily accessible from major cities in Japan, Toyama is rising in popularity among visitors looking for a Japan experience different from anything else the country has to offer. Visit Toyama and see why visitors keep returning to this compact prefecture full of hidden gems awaiting discovery.
Interested in visiting the Northern Japan Alps? Read also our article about Kamikochi.
If you visit Toyama Japan, let us know all about it on our Facebook group. Follow us on  Facebook, Instagram, and Pinterest, for even more fun stuff about Japan!