Kyoto is where visitors may travel to indulge in the mysterious and beguiling nature of bamboo rainforests, and Tokyo is the number one destination for city-slickers wanting that overwhelming rush of crowds and a heavy dose of distinct Japanese urban culture. Just as both of these cities have distinct characteristics that define them, Kagoshima Japan is the answer to a tropical, dialed-down region, complete with islands, oceans, mountains, rivers, volcanos and hot springs to keep anyone and everyone busy.
Encompassing the entirety of the southern tip of the Kyushu prefecture, including a chain of islands off the coast extending towards Okinawa, Kagoshima Japan is another world of natural exploration. Hire a car for a few days and you'll be driving along stretches of roads that seem to go on forever, with enormous expanses of luscious green fields to your sides and tall mountaintops looming endlessly in the distance, sometimes peaking into the clouds.
The temperature is mild, the people are milder still, and there is an air of calm and peacefulness that you just can't find anywhere else. As always, the level of Japanese hospitality is incredible, so don't be surprised if you're asking for directions at a konbini and they make sure they pause their service to take you right out of the store to where you need to be (this happened to us! Bless them.)
With the city being only a few hours away by Shinkansen and just over an hour by flight from Osaka, it's a great, convenient option to escape the metropolis and bask under the sun partaking in effortless activities to fill your time. 
How To Get To Kagoshima?
By Plane
Throughout the year, flights can dip to as low as 4,700 yen for flights from Osaka and 6,370 yen from Tokyo to Kagoshima. These flights are usually operated by Peach Aviation or Jetstar Japan, and typically take 70 minutes flying from Kansai International Airport and 130 minutes from Tokyo.
By Shinkansen
Osaka and Kagoshima are connected via the Sanyo and Kyushu Shinkansen. The one-way trip will take roughly 4.5 hours, and will cost approximately 21,500 yen. For JR pass holders, you may take the Sakura trains but not the Mizuho trains (which are only slightly faster).
Tokyo and Kagoshima are connected via the Tokaido, Sanyo, and Kyushu Shinkansen. The one-way trip will take roughly seven hours, and cost around 30,000 yen. If you possess a JR Pass, you will need to travel an additional hour, as the Nozomi and Mizuho trains are not available and you will need to use the Hikari or Sakura trains instead.
Get more info about the JR Pass here.
To search for a train route, use Hyperdia, but remember to select 'More options', and unselect all vehicle types except for 'Bullet Train (SHINKANSEN)' (otherwise you'll be presented with a whole list of other options which might include hopping on regular trains, highway buses, and sometimes even a plane).
Where To Stay in Kagoshima?
Guesthouse – Kagoshima Little Asia
Located only 1-minute walk away from JR Kagoshima-Chuo Station, this guesthouse offers the options of dorm beds and private rooms, with free Wi-Fi throughout and rental bikes. Laundry, PC, and kitchen facilities are free to use.
Why guests love it: bed is comfortable, super convenient location, best toilets I've ever seen, great value for money.
Address: 890-0046 Kagoshima, Kagoshima, Nishida 2-20-8, Japan
Hotel – Remm Kagoshima
This hotel is conveniently located next to Tenmonkandori Tram Station and offers modern accommodation and facilities with free Wi-Fi across the entire property. There are body care services onsite for extra relaxation, and you can retire back to your room whenever you want where a 32-inch LCD TV awaits.
Why guests love it: very friendly staff, the bus stop is just in front of the hotel, comfortable and clean rooms, short stroll to the ferry terminal.
Address: 892-0842 Kagoshima, Kagoshima, Higashi Sengokucho 1-32, Japan
Ryokan – Onsen Hotel Nakahara Bessou
A 5-minute walk from Tenmonkandori Train Station, this ryokan offers both Japanese-style and Western-style accommodation, equipped with flat screen TVs and air conditioning. There are public hot-spring baths onsite, and luggage storage is available.
Why guests love it: Japanese breakfast was great, big rooms, covered shopping arcade nearby, great indoor onsen with yukata provided.
Address: 892-0841 Kagoshima, Kagoshima, Terukuni-cho 15-19, Japan
Whether you're looking to explore a side of Japan that's hidden away from the spotlight, or if you've only just heard of this tropical paradise region for the first time, read on as we encapsulate the greatest things to do in Kagoshima: 
Best Things To Do in Kagoshima, Japan
Sakurajima Volcano
Just off the coast of Kagoshima Bay is an island hosting one of Japan's still active volcanoes. Indeed, there is a chance that this volcano could actually explode at any time, and in fact, almost every day it does erupt (although on a much milder scale than what you see on TV), and when it does, it could literally cover the city in a thin later of ashes. Although it sounds a tad dangerous, rest-assured that Sakurajima is actually one of Kagoshima's most popular visitor's destinations. People travel far and wide to be able to experience being up close and personal (as in, within 2 km) with an active volcano, and this could be your chance.
Read our dedicated article on Sakurajima here, and make sure you book an entire day to spend on the beautiful island.
Museum of Meiji Restoration + Saigo Statue
For all the history buffs visiting Kagoshima Japan, or anyone really who has the slightest incline to learn bits and pieces about a culture's history, the Museum of Meiji Restoration, located only five minutes away from the Kagoshima Chuo station, makes for a good hour (or two) of loaded information about an important time in Japanese history: the overturning period from the shogunal (predominate military ruling) government in Edo (present day Tokyo), to the Meiji Government (when the ruling power was returned back to the emperor). This is a significant part of Japanese history because it was the beginning of the forward-thinking, modern Japan as we know it today.
As you can imagine, there was plenty of civil unrest, government turmoil, national disputes over the uncertainty this change in ruling placed on the country, and many more problematic issues that arose from this period. It all makes for very interesting history to know and understand, and this museum does a great job of breaking it down for you.
For those who can't understand Japanese, once you pay the entrance fee, you will be given a headset that you can wear around, which corresponds with different sections in the museum. You will be able to select the area that you're standing in, and listen to the English voiceover whilst exploring that area. It's so handy! There's even a theatre area that schedules two plays during the day, complete with mannequins and film, re-telling two important stories from the Meiji Restoration historic period.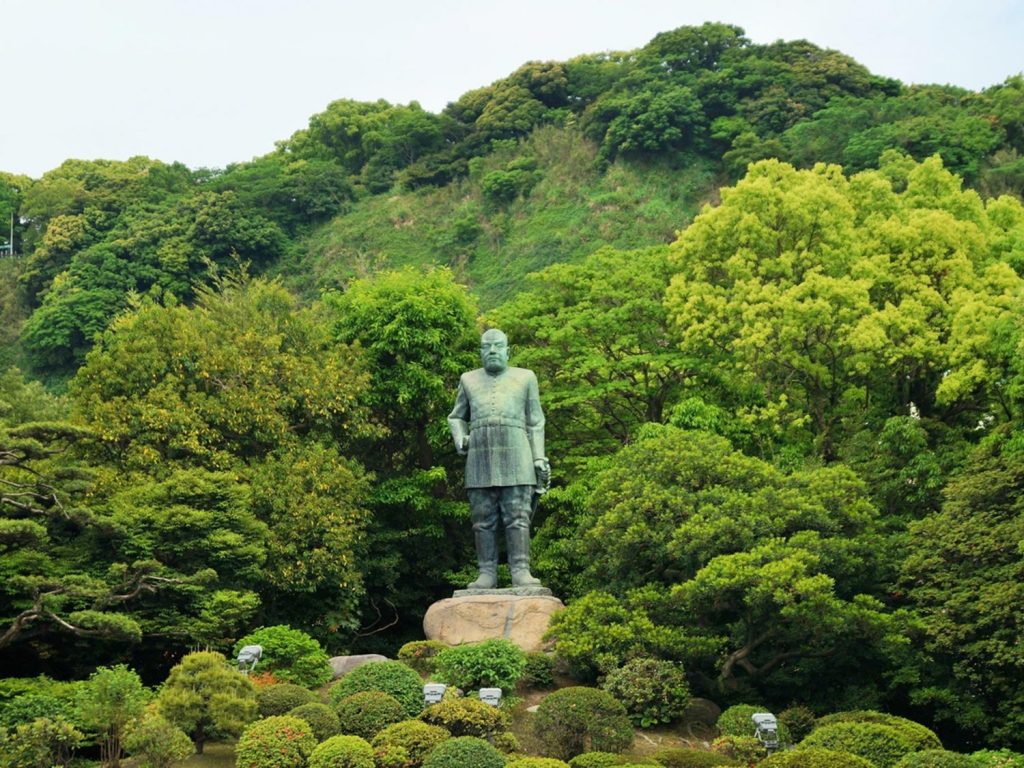 An instrumental person in this piece of history was Saigo Takamori, as you will learn at the museum. He was a samurai who is revered and respected by the Japanese people for his part in driving the forces behind the Meiji Restoration. Whilst there were many key people to acknowledge during this time, Saigo hailed from Satsuma (former name for Kagoshima Prefecture), and was the leader of the Satsuma Rebellion in 1877 (another significant event during the turnover). To honor him, there is a massive bronze statue set up in Kagoshima Central Park which you can visit and take a picture with for keepsake.
Address: 〒892-0846 Kagoshima Prefecture, Kagoshima, Kajiyacho, 23−1
Access: Head out of Amu Plaza and take a left along the tram line. Follow the road until you cross the bridge, and turn right after the park next to the bridge. Continue walking past the park, and the museum will be on the left. This walk will take approximately 10 minutes.
Hours: 9:00am – 5:00pm (last admission at 4:30pm)
Cost: Adults – 300 yen, Child (elementary/junior high student) – 150 yen (note: they only take cash payments)
Website: More about the Museum of Meiji Restoration
Saigo Takamori Statue Access (from Museum of Meiji Restoration): The statue is located in Central Park, Kagoshima. it is a 20-minute walk from the Meiji Museum of Restoration, or you can walk from the museum to Kajiya-cho Station, and take the tram to Asahidori Station (170 yen). It is a 3-minute walk from Asahidori Station.
Shiroyama Park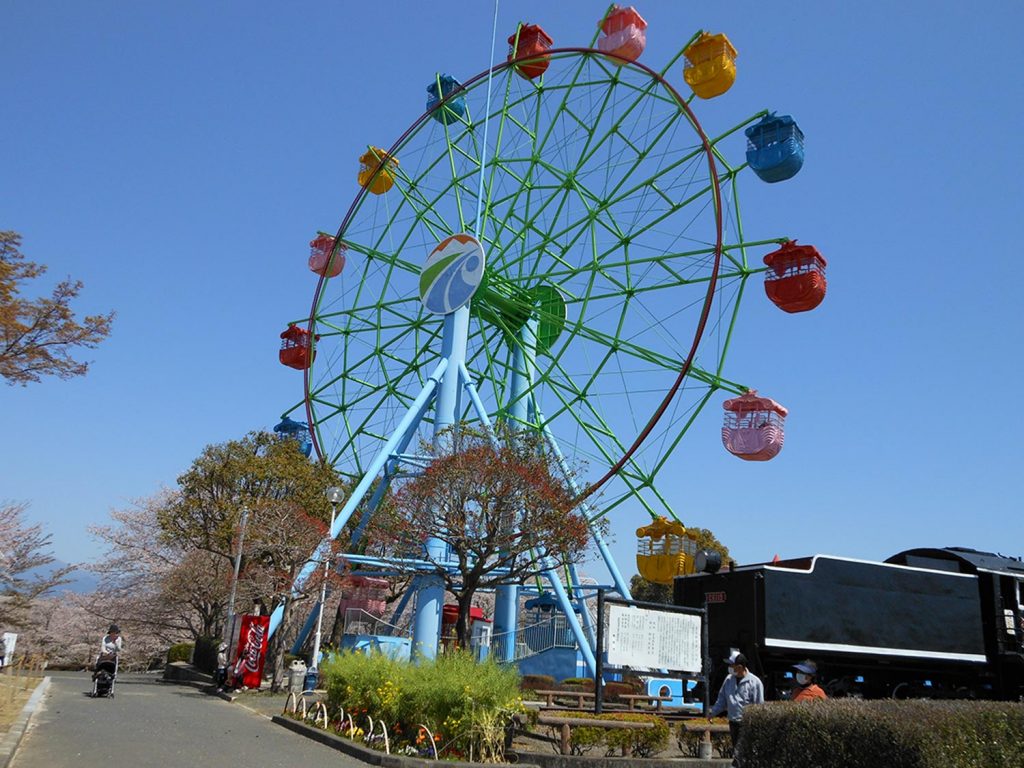 Of course, a mountainous city like Kagoshima Japan that's full of history and natural landscapes wouldn't be complete without a lookout that really captures the full scale of its beauty. Shiyorama Park, which sits on the slopes of Mount Shiroyama, offers a little city escape (ironically from Kagoshima City, which you're probably visiting to escape the other cities), as well as a bonus history lesson that connects with the Museum of Meiji Restoration. 
The park itself interestingly hosts more than 600 different species of vegetation, making it a great place to explore (there are multiple easy walking trails to choose from) and see what unique and weird plants you may come across. Seasonal blossoms include camellia, ume, sakuras, and azaleas.
At the top of the mountain is the Shiriyama Observatory, which is probably the main attraction to the park. The observation deck offers unparalleled views of Kagoshima City, Kagoshima Bay and Sakurajima. The night view of the city is particularly special, and attracts many photographers hoping to catch the outline of Sakurajima against the glittering lights of the city.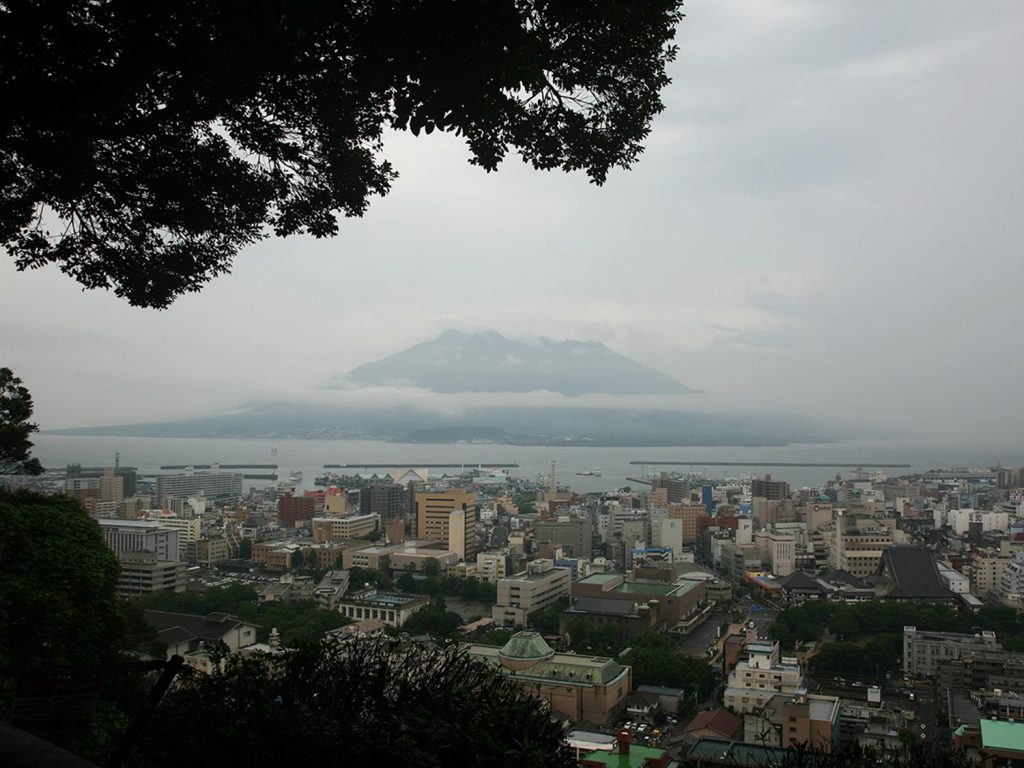 It is said that the Saigo Cave, which is located within the park, was where the prominent Kagoshima-born Japanese samurai Saigo Takamori made his last stand during the Satsuma Rebellion. 
Address: 22-13 Shiroyamacho, Kagoshima 890-0000, Kagoshima Prefecture
Access: The Kagoshima City Bus (Shiroyama-Iso line) which travels between Kagoshima Chuo Station and the Shiroyama Observatory. The trip takes 20 minutes and is 190 yen for a one-way trip, or you can purchase a day pass for the City View Bus for 600 yen. Otherwise, you can walk to Shiroyama Park from Kagoshima City, which will take approximately 20 minutes. You can also take the train to either Asahidori Station or Shiyakusho-Mar Station and walk 15 minutes from there.
Hours: Open 24 hours
Website: Shiroyama Park
Amu Plaza
Not all of Kagoshima Japan is about gardens and mountains. In fact, Kagoshima's very own Amu Plaza, convenient located right on top of the main station, Kagoshima Chuo, is a one-stop-shop for all the things you need to make your stay in Kagoshima comfortable.
The massive mall is a major transport hub for travelers coming in and out of Kagoshima Japan, and the city's tram and bus system can be accessed literally right outside of the plaza. There are varying levels of shops offering men and women's fashion (there's even a Zara store here), accessories, skincare, perfume, and there are a host of boutique stalls selling Japanese branded goods.
On the bottom level, there is a toned-down 'depachika' (Japanese department-store food hall), offering various delicacies ranging from fish cakes to sweet buns, mochi, cakes, crackers, the works. Sometimes, there will be workers standing at the front offering free samples of food (win!). There's also a food court nearby with a McDonald's and other Japanese restaurants.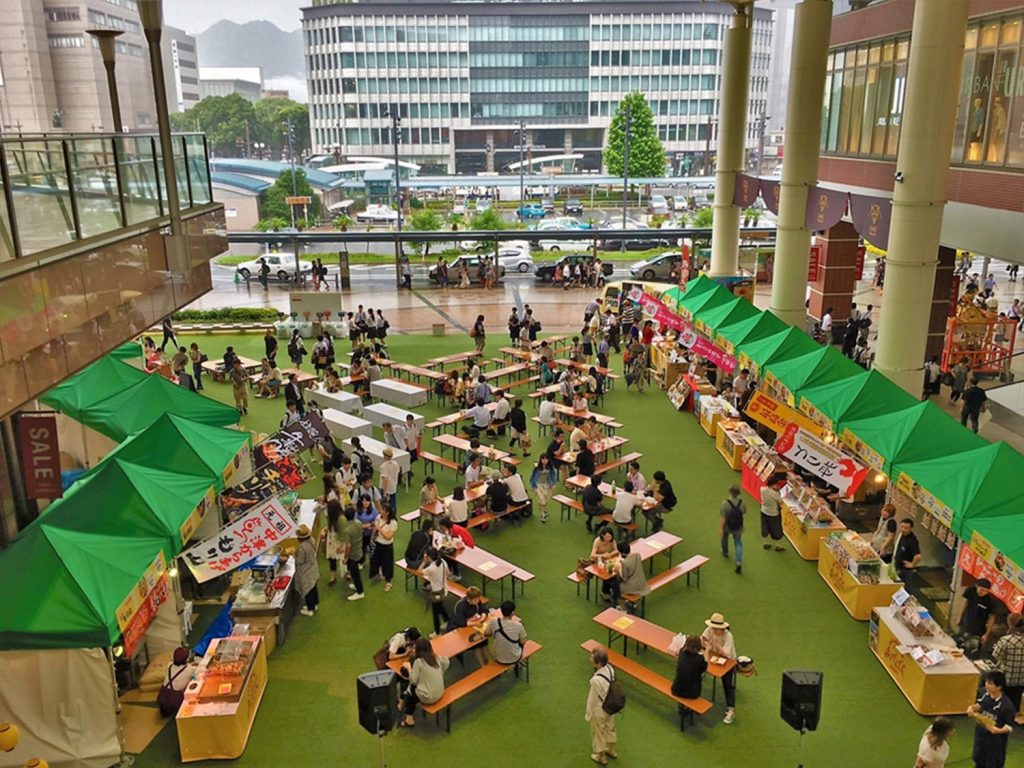 One of the best things about this ground level is the massive supermarket. Every day, the chefs in the supermarket cook up a storm, and from the morning onwards, there is a buffet section where you can help yourself to a takeaway container (varying sizes), and fill it up with as much food as you want (and you can continue filling more containers if you wish). Once you're done, tie it up with an elastic band provided on the side, and off you go to get it weighed and priced.
The great thing is, is that everything is the same price. Whether you're helping yourself to a serving of karaage chicken, fried prawns, tofu and vegetables, salad, fried rice, noodles, or daikon, they will measure the entire box by the gram. That means no more picking out the things you don't like, or playing with your food. What a great time to be alive! This is the perfect pit-stop if you're planning a picnic or a day out exploring and want to prepare a delicious lunch without the hassle of cooking. 
This shopping center also hosts multiple arcades, a cinema, a massive ferry wheel overlooking the city which sits on top of the building, and more restaurants on the top floors. 
Address: 〒890-0053 Kagoshima Prefecture, Kagoshima, 中央町1−1
Access: Exit Kagoshima Chuo Station and you will find multiple entrances to the shopping centre.
Hours: 10:00am – 9:00pm
Website: Amu Kagoshima
Senganen Garden
One of the most beautiful gardens to be featured in Kagoshima Japan, Senganen Garden was also the home ground to the Shimazu family, a prominent family who contributed greatly to the industrialization of Japan, for over 350 years. 
The garden, also known as Isoteien, stretches along the coast near downtown Kagoshima Japan, and features stunning green landscaping, small ponds, streams, shrines, and a bamboo grove. You can bask in the beauty of all this whilst simultaneously appreciating the backdrop of Sakurajima and Kagoshima Bay. This is the perfect time to really marvel at just how impressive the Japanese people are at maintaining an immaculate garden the size of Senganen, as well as how awe-inspiring the magnificent Sakurajima volcano really is.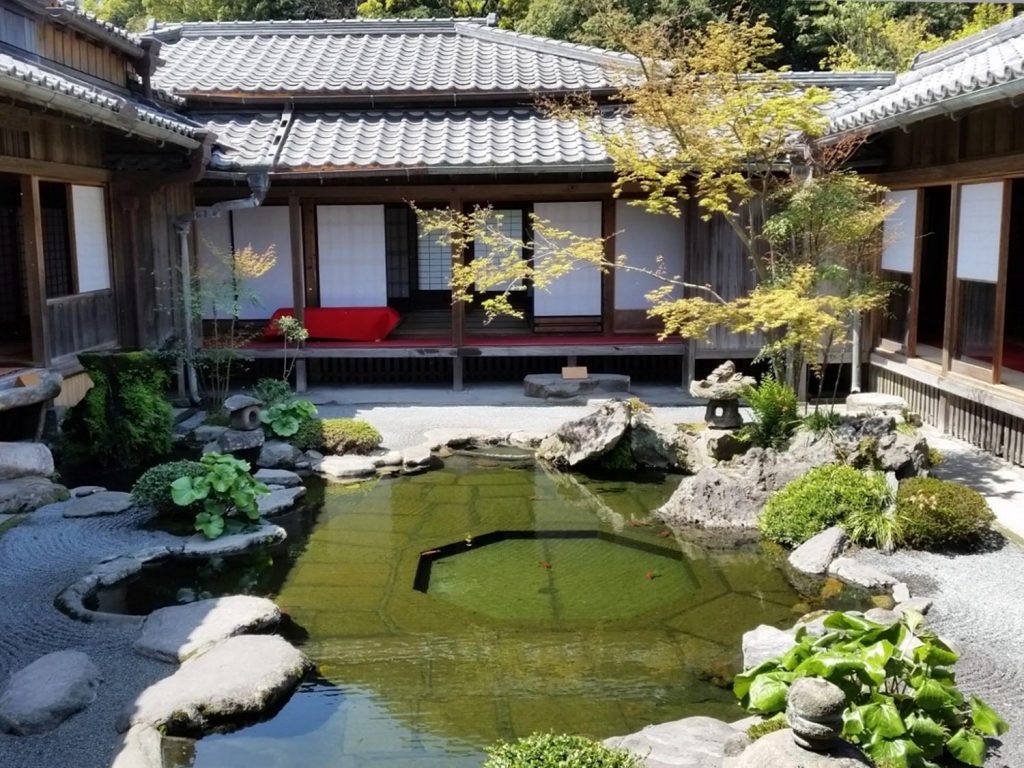 In the middle of the garden is the Iso Residence, a housing structure which was the main home to the Shimazu family. The distinctive features of the residence have been carefully preserved for a long time, and thus the interior of the residence can only be seen as part of a guided tour (and tea and snacks are included!). The tours last approximately 20 minutes, and are an additional cost on top of entering the garden. 
Address: 9700-1 Yoshino-cho, Kagoshima City, Japan 892-0871
Access: From Kagoshima Chuo Station, hop on the Kagoshima City View Bus, and get off at the Sengan-en Mae bus stop. This ride will take approximately 30 mins, and will cost 170 yen. Otherwise, you can purchase a day pass for the Kagoshima City View Bus for 600 yen.
Hours: 8:30am – 5:30pm
Cost: Adult (no access to house) – 1,000 yen, Child (no access to the house) (7 to 15 years old) – 500 yen; Adult (house access) – 1,300 yen, Child (house access) – 650 yen
Website: Senganen Park
Yakushima Island
Just a few hours away from Kagoshima Japan and world's away from the frenetic crowds and nightlife often associated with visiting Japan lies Yakushima Island, a quiet, humble island off the coast of the southernmost tip of Kagoshima. This island is quite literally a nature-lover's paradise.
Lush green vegetation sprawl across the beds of expansive forests that host old, historic cedar trees that seem to reach to the sky; mountains so high they disappear into the clouds, and in winter are layered with snow; calm, turquoise beaches that offer gentle waves and an opportunity to peer into their sea inhabitants' lives through activities such a snorkeling or scuba diving. The ethereal beauty of this island is said to have inspired the Studio Ghibli anime Princess Mononoke.
If you're interested in the above (and you should be, because the island is simply amazing), read our article about Yakushima as we detail all the best things about the island.
Eat Satsuma-age, an Authentic Kagoshima Delicacy
Also known locally as 'tsukeage', Satsuma-age is a traditional dish consisting of minced fish paste, tofu, and egg, flavoured simply with salt and brown sugar, deep-fried into cakes about the size of your palm. The fish paste itself can be an amalgamation of fresh codfish, lizardfish, silver croaker, Alaska Pollock, sardine, shark bonito, mackerel, and so on. These days when visiting Kagoshima, you might be able to come across some variations of Satsuma-age which include carrots, burdock or cheese, or even a smoked variation with cherry tree chips. The best way, and the most traditional way, to enjoy Satsuma-age is to eat whilst drinking alcohol such as shochu or sake.
When you're travelling across Japan, you will come across Satsuma-age in many regions of Japan, but what they might lack is the authenticity of Kagoshima-made fish cakes, made with fresh local produce and deep-fried in locally produced rapeseed oil, which is meant to produce a wonderful rich aroma after deep-frying. 
Rather than being a dedicated meal itself, Satsuma-age is more often eaten as an accompaniment to lunch boxes, or as a snack. In Kagoshima, there are stores that sell freshly made Satsuma-age, but you can also purchase it as a gift or a souvenir, and it will come in beautifully wrapped boxes.
Our Recommended Satsuma-Age store in Kagoshima – Satsuma-Ya
Address: 1st floor 7 – 6 Kinsecho, Kagoshima-shi 892-0828
Access: From Kagoshimachuokimae Station, take the tram to Izurodori Station (Kagoshima Shinden No. 2 – 10 minutes, 5 stops). The store is a 1-minute walk from there.
Hours: 10:00am – 8:00pm
Website: http://14-satsumaya.com/
A whole new world awaits you in Kagoshima Japan. Whilst we've only detailed our top recommended activities in Kagoshima above, the list is actually exhaustive, and it's definitely something you need to experience first hand.
Don't wait for it to become a massive tourist hub before visiting because you may lose the chance to experience the untouched serenity of the city before it's gone. Planning a trip? We'd love to hear your itinerary below! Visited Kagoshima and consider yourself a seasoned traveler of the southern land? Comment below and tell us about your adventures! Share your experiences in Japan with us on Facebook Group.
If you don't want to miss a post, follow us on  Instagram, Facebook, and Pinterest and check all our news. Have a nice trip!