Christmas Limited Edition Japan – Japanese people adore new things especially when they're limited edition. With every new month or change of the season, restaurants change their menus, supermarkets are filled with new seasonal items and food brands come up with new idea's and flavors to attract customers, and it pays off!
Japanese people don't mind standing in line for hours just to try the newest limited edition drink, snack or dessert and taking pictures and sharing them online. Christmas is when all shops/brands jump on the seasonal bandwagon and offer foods and drinks that would make any hardcore foodie salivate. What special limited editions are in store come Christmas 2018 in Japan? Here are 10 amazing Christmas limited editions you definitely need to try!
Starbucks
Starbucks always gets into the seasonal festivities and this year is no exception. For Christmas 2018, Starbucks is releasing a couple of new products. In the tradition of Japanese Christmas cakes, Starbucks released a new beverage based on the popular strawberry cakes given during Christmas, called Christmas Strawberry Cake Frappuccino.
A strawberry flavored frappuccino with pieces of strawberry at the bottom, whipped creamed on top and drizzled with a tangy lusciously red strawberry sauce. A warm version called Christmas Strawberry Cake Milk, is a hot milk based drink with pieces of biscuits, whipped cream and a drizzle of strawberry sauce.

They also released a Gingerbread Latte, based on a gingerbread house, this spiced-filled beverage a perfect match for the cold days leading up to Christmas. The Gingerbread Latte is available as a hot drink as well as an iced version. To go with the beverages, Starbucks also released a trio of mouthwatering cakes. Shaped like a tree log, Bûche de Noël is a rolled up sponge cake filled with chocolate cream and topped with freeze-dried berries and a mushroom-shaped mousse.
The White Cake is filled with a white chocolate and caramel blondie, custard cream and covered with a thick layer of whipped cream sprinkled with decorative silver dragees. Rounding off the trio is the Cranberry Bliss Bar, a moist cake bar with white chocolate chunks, orange peel and cranberries, the perfect pairing to their Christmas Blend roasted coffee.
Mister Donut X Pokemon Winter Collection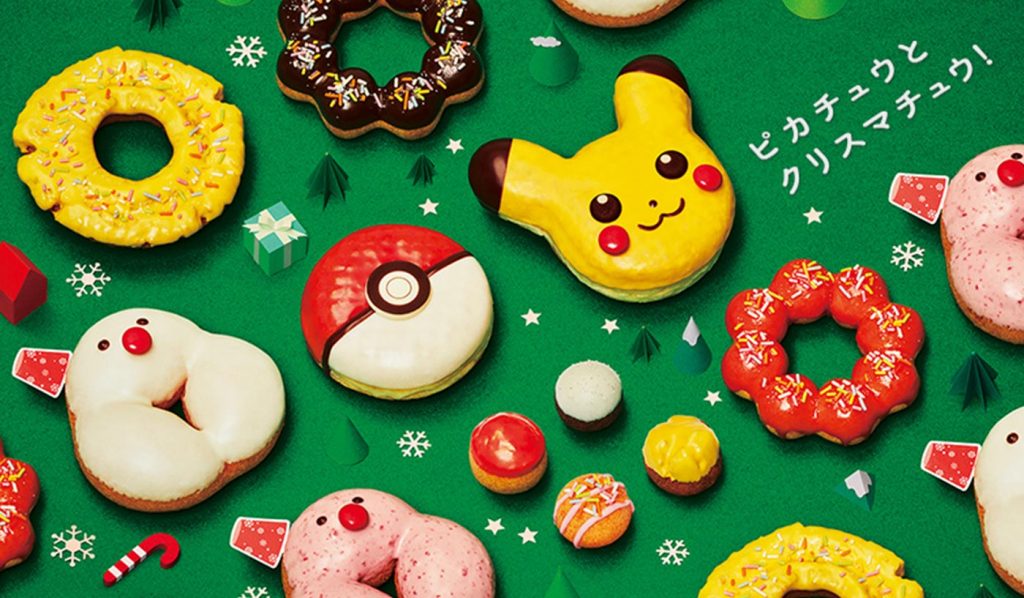 This year, Mister Donut (or Misdo for short) decided to do things a little differently and teamed up with the Pokemon Company for their 2018 Winter Collection. As part of their Christmas donuts series, they released 5 new donuts. Two Winter Daruma donuts, one in white chocolate and one in strawberry flavored chocolate, which are almost too cute to eat. Pon de Wreath Red Snow (strawberry glaze) and Pon de Wreath Chocolate Snow (chocolate glaze) and Wreath Fashion Yellow Snow (don't ask us about the names), a cronut style donut with a yellow banana flavored glaze.
Part two of their Winter Collection sees the release of two Pokemon shaped donuts. Pikachu Donut, a fluffy Pikachu-shaped donut filled with whipped cream and a banana and chocolate glaze. Be warned though, this donut is almost too cute to eat! The Pokeball Donut is a classic donut with a strawberry and white chocolate glaze. Aside from the Pokemon donuts, limited edition Christmas Pokemon mugs are also on sale, get yours while they last!
Mcdonalds
McDonald's just released four new beverages (three cold and one hot) available at their McCafe by Barista stores for their winter campaign. The Premium Raspberry Chocolate Frappe, a raspberry and chocolate flavored frappe with raspberry whipped cream, drizzled with raspberry sauce and topped with white chocolate shavings.
The Premium Chocolate Frappe is a rich and decadent chocolate frappe topped with chocolatey goodness such as a heavy dose of chocolate whipped cream, chocolate shavings and two sticks of dark chocolate, a chocolate lover's dream come true! Nothing is better on a cold winter day than a hot chocolate, except McDonalds Premium Hot Chocolate!
Hot frothy milk with chocolate, chocolate whipped cream, chocolate shavings, finished with two chocolate sticks, the perfect beverage while reading your favorite book. The cold version, Premium Iced Chocolate, uses cold milk instead and topped with the same chocolate whipped cream, chocolate shavings and chocolate sticks.
Lindt
For their Christmas campaign, Swiss chocolatier Lindt released a limited edition hot chocolate and a set of Christmas macarons available at the Lindt Chocolate Cafe stores. Lindt's Matcha Hot Chocolate not sounds good but looks good too. Lindt chocolate is used to make a rich bodied hot chocolate which is then paired with a bitter matcha whipped cream on top.
You can choose between dark chocolate or milk chocolate shavings as a topping, and the drink is finished off with a sprinkling of snow-white meringue crumblings, a deep red strawberry sauce and a chocolate Christmas holly. If you drink it at the cafe, the drinks is served in a beautiful glass cup allowing you to see all the different layers and colors.
The macarons come in two variations, Delice Strawberry Champagne, strawberry flavored white chocolate ganache sandwiched between a red and white macaroon shell dusted lightly with gold powder for a festive look, and the Delice Strawberry Shortcake, a speckled macaron with a white chocolate ganache and sweet and sour strawberry compote filling. Both the hot chocolate drink and the macarons will only last until sold out.
Coca-Cola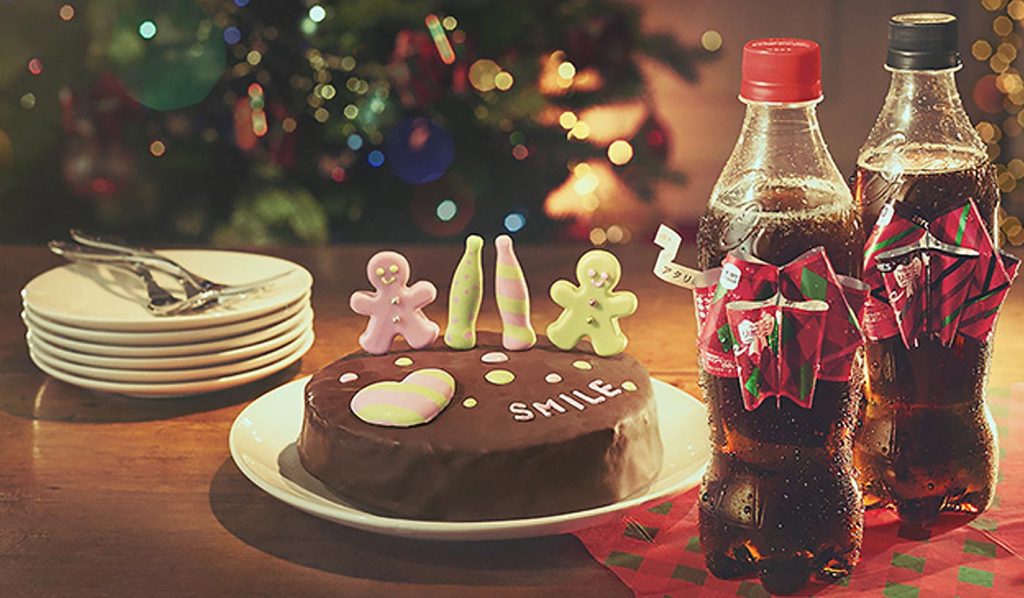 For the third year, Coca-Cola Japan is bringing back its ingenious limited edition Christmas ribbon bottle. For those who haven't seen it yet, the bottle looks like your average bottle with a festive Christmas label attached to it. If you look closer at the label, you'll notice that you can peel it open at the backside to find a white tab on the inside. If gently start pulling the tab, the label folds itself into a ribbon.
It's Christmas magic! This year features new label designs and although it's just a coke, seeing your label turning into a ribbon will instantly lift your festive mood!
Hilton Tokyo
For a limited time until Christmas, visitors and customers can enjoy a very special "Alice in Christmas Magic" dessert buffet at the Hilton Tokyo hotel. The selection features 30 kinds of desserts and light snacks with Alice in Wonderland and Christmas theme. Poached pears in red wine, blackcurrant infused maple cream sponge cake sandwiches, or how about the hat of the Mad Hatter as a dessert?
The choices are diverse as they are whimsical and will leave your taste buds craving for more. This is a fantastical buffet you don't want to miss. Seating is limited and reservation is needed.
Cozy Corner
Cake shop Cozy Corner Ginza always has a wide selection of cakes and sweets during Christmas and one of their most popular items is the mini cake variety set. These sets often change depending on the season or month and are always limited editions. This year's Christmas variety set comes in a set of 9 or 12 mini cakes. The variety set includes mini cakes like Strawberry Mousse, Matcha Shortcake and Santa & Snowman Chocolate Tarts. This is the perfect gift to bring to a Christmas party as there is something for everybody.
Krispy Kreme
Krispy Kreme started their Holly Jolly Holiday campaign and offer a variety of limited edition Christmas donuts. 5 new Christmas donuts make their debut this year, Strawberry Milk Santa (strawberry cream filling, white chocolate glaze, strawberry nappage and white chocolate shavings), Caramel Reindeer (caramel chocolate donut filled with caramel cream, salty pretzels for ears and a strawberry gummy nose), Snowman Chocolate (white glaze, rich chocolate cream filling, strawberry nappage), Sprinkle Wreath (vanilla chocolate glaze and sprinkles in Christmas colors), and Milk Tea Box (milk tea cream filling, pudding flavored white chocolate glaze with a strawberry chocolate flavored bow decoration). There are also cute mini Christmas donuts which only come in plain but feature a festive glaze.
Garrett Popcorn
Popular popcorn maker Garrett Popcorn offers a luxurious popcorn mix that will have you reaching for more over and over again. This year's limited edition popcorn, White Choco Cranberry Pistachio, is a mix of white chocolate covered handmade popcorn mixed with cranberries and pistachios. It comes in four different sizes and you can choose to have it packaged in a beautiful Christmas tin to give to a friend or family member.
Doutor Coffee
Japanese coffee chain Doutor Coffee, offers a Christmas Mille Crepe cake for Christmas this year.  The special mille crepe cake is cut into four each with a different flavor. The flavors are Mille Crepe (crepes with whipped cream and a brûléed nappage finish), Chocolate Mille Crepe (chocolate crepes, whipped cream and a cocoa dusting), Strawberry Mille Crepe (mille crepes with whipped cream and strawberry jam) and a Chocolate Banana Mille Crepe (chocolate, banana whipped cream and crushed almonds).
Why settle for one mille crepe when you can have four delicious ones! This limited edition mille crepe cake is available only through reservation and for a limited time.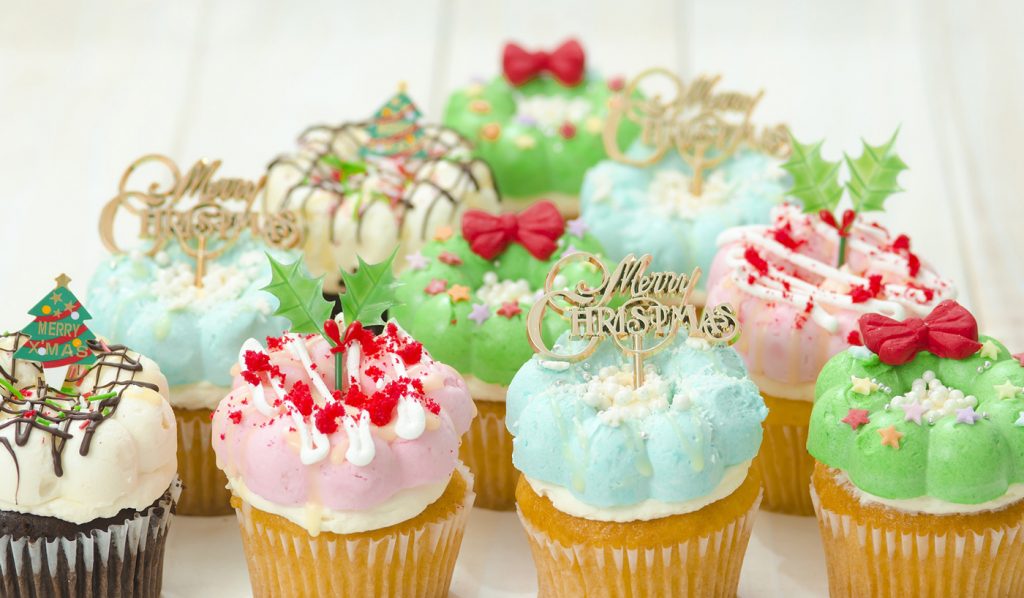 Christmas in Japan means lots of new limited editions to try out. Whether you are buying it for a friend or trying a limited edition out yourself, it's hard to resist the allure of so many new limited editions. Be quick though, before you know it, it's either over or sold out.
Join our Facebook group and follow us on  Facebook, Instagram, Twitter, Pinterest for more info about Japan. Merry Christmas!