Best Apps For Traveling In Japan – Navigating in Japan can be a challenge in itself. One can find a wealth of information providing one has hours and hours of time to peruse the internet. Apps come in handy and here we've compiled a list of the 13 best apps for traveling in Japan.
1. Hyperdia
Hyperdia is an app that helps you find the fastest and most efficient travel routes via public transportation. While there are many competitors this Japan based app gives a local and comprehensive traveling guide where foreign apps do not. Hyperdia gives all the transit times and a wide variety of travel routes, but narrows your top search down to the fastest and most efficient.
Hyperdia also takes into account how long it might take for you to exit a train and board another one, for example. Hyperdia offers services in Japanese, English and Chinese. Just enter your departure and destination points and you are on your way.
Download Hyperdia on the App Store (iOs) / Download Hyperdia on Play Store (Android)
2. Japan Travel App
As its name suggests this app is the all comprehensive travel tool beloved by both locals and travelers alike. The company is called Navitime in Japan and if you were to hop on one of the JR trains, you'd be more than likely to see a commercial touted the apps effectiveness. Navitime has a ubiquitous presence in Japan. You can search offline for Wifi spots, ATMs and train stations and even the 100 yen stores and their distance to you. The app also provides articles about Japan and recommended itineraries. The app can even map out day trips for you along with the travel times and commute costs.
Download Japan Travel App on the App Store (iOs) / Download Japan Travel App on the Play Store (Android)
3. Japan Official Travel App
It doesn't get more official than this. Developed by the Japan National Tourism Organization. The app provides regularly updated articles about Japan and assistance to the traveler, such as basic rules and manners, medical assistance and nearest embassy contact details. A search will cover all modes of transportation, including ferries and is compatible with Japan Rail Pass. It also provides useful information such as the most convenient car number for a train transit, platform information and station lists. You can also search directly from a zoomable, interactive train map. Offline, you can search for your past travel routes easily.
Download Japan Official Travel App on the App Store (iOs) / Download Japan Official Travel App on the Play Store (Android)
4. Google Maps
Perhaps the easiest map app to use is Google Maps. Have you seen a google car yet? Since its initial launch for androids and iPhones in 2008, Google Maps has come to dominant the market far ahead of its contemporaries.
With multi-variant algorithms google offers a premium service in site navigation. It offers satellite imagery, aerial photography, street maps, 360 degree panoramic views of streets, real time traffic conditions and route planning for various methods of transportation. It is one of the most popular apps in general outside of travel apps. It features a turn by turn navigation.
Download Google Maps on the App Store (iOs) / Download Google Maps on the Play Store (Android)
5. Imiwa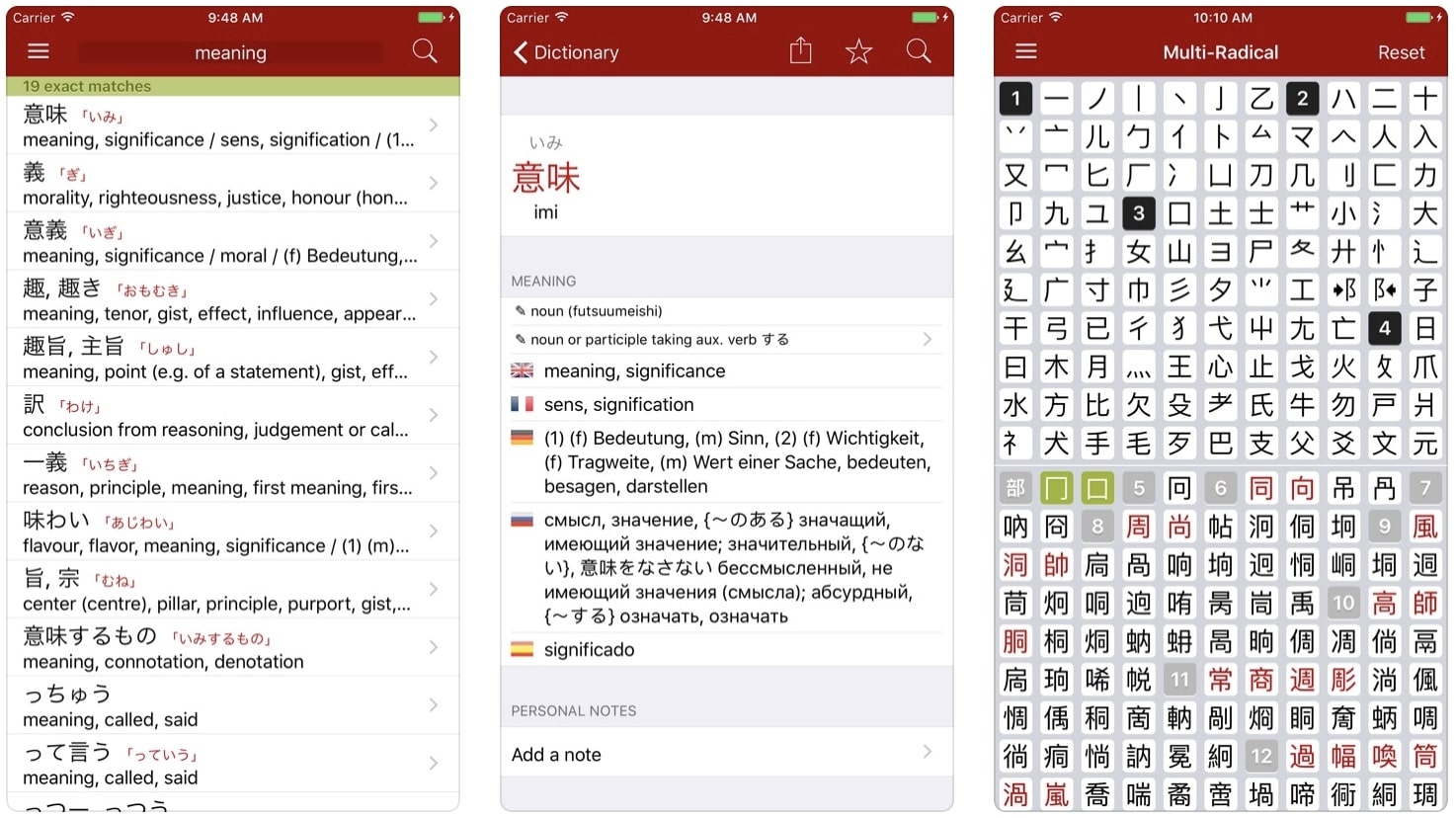 Imiwa is not so much a travel app as it is an English to Japanese dictionary. It also translates into German, French and Russian. An absolute necessity for those who can barely communicate in Japanese. Type in any word or phrase in either language and an accurate translation will show up. The best thing about it is that it doesn't require an internet connection. The literal translation translates into "the meaning is." Imiwa offers a wide variety of search options from Kanji stroke recognition to a unique skip lookup implementation. Download it now to understand all its features.
Download Imiwa on the App Store (iOs) / Not available on the Play Store
6. Line
Line is the Whatsapp for the Japanese. If you don't have a line account, chances are some people don't even bother to get your contact information. Texting and calling are always free. There are also several in app purchases such as gifts or stickers you can buy from the store. You can make group chats and post on your feed, like other social media platforms.
This is a useful tool for travelers who need to stay in contact with friends on both sides of the shore. There is even a Line store in the famous Harajuku district where its mascot, the brown bear features proudly along with his Line friends.
Download LINE on the App Store (iOs) / Download LINE on the Play Store (Android)
7. Google Translate
Google translate supports over 100 languages and is widely used. It can translate websites to speech and handwritten translations. Google translates first to English and then to the second language which can result in some questionable phrases, still it is an exceptionally handy tool. Google translate also doubles as a common dictionary.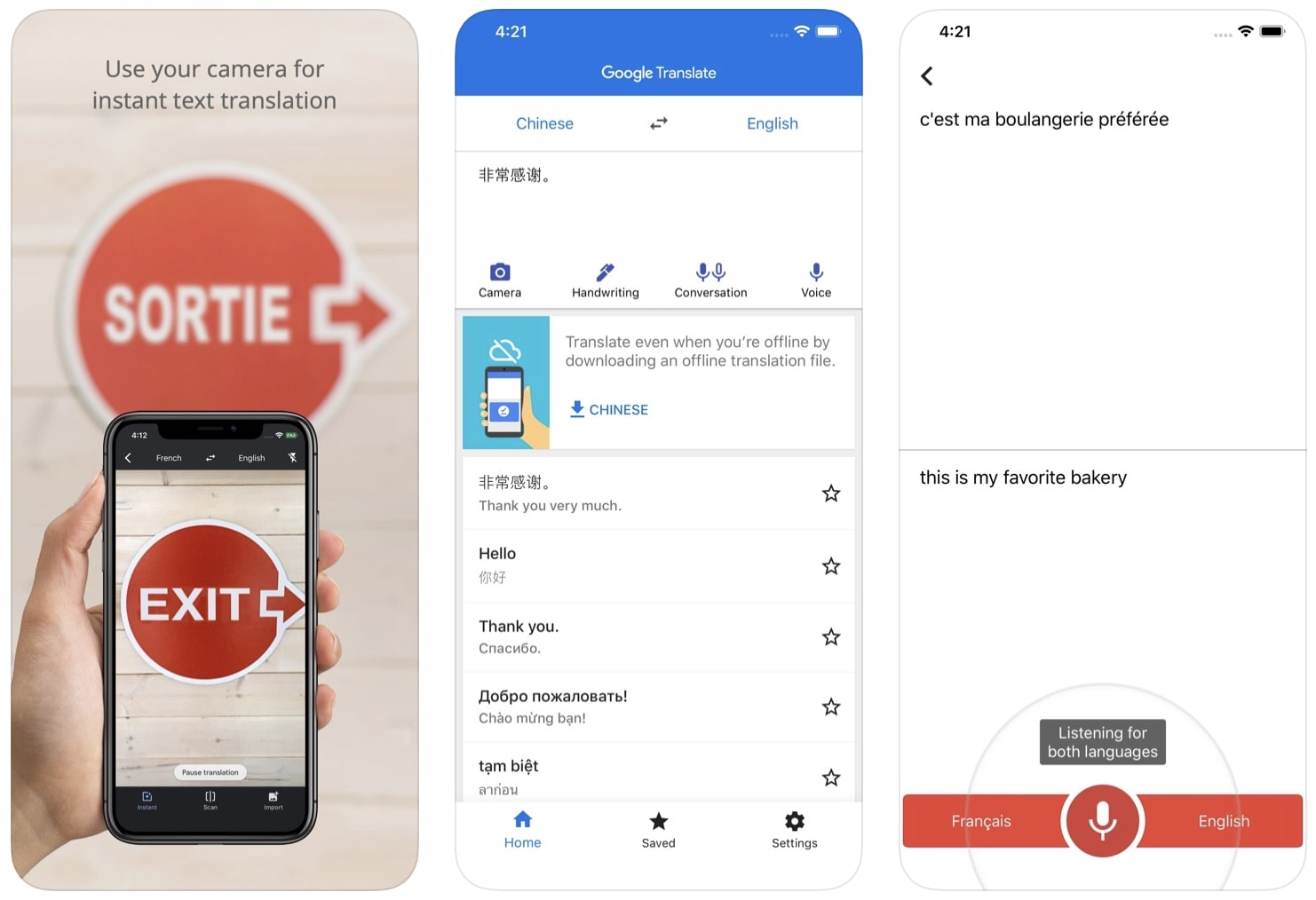 Download Google Translate on the App Store (iOs) / Download Google Translate on the Play Store (Android)
8. Yurekuru
This is the standard go to for earthquake warnings in Japan. Yurekuru will notify you of an oncoming earthquake and the intensity. The app works with the Earthquake Early Warning system provided by the Japan Meteorological Agency which also sends out alerts to trains, elevators and other potentially dangerous equipment to automatically shut down. Yurekuru literally translates into "shaking coming." Japan has many evacuation centers that locals are aware of in case of emergencies. Many weather apps do not supply accurate earthquake warnings, so this is one of the few. Be safe and stay knowledgeable, protect yourself and your family from natural disasters.
Download Yurekuru on the App Store (iOs) / Download Yurekuru on the Play Store (Android)
9. Japan Taxi
Uber has yet to hit the scene in Japan, aside from its restaurant deliveries. Japan taxi is the go to app for hailing cabs throughout the city and even in more rural areas. You can request a taxi at your nearest location and the app will alert you when a taxi has been dispatched and the estimated time of arrival. Paying the fare is easy as you can connect your phone to your preferred method of payment.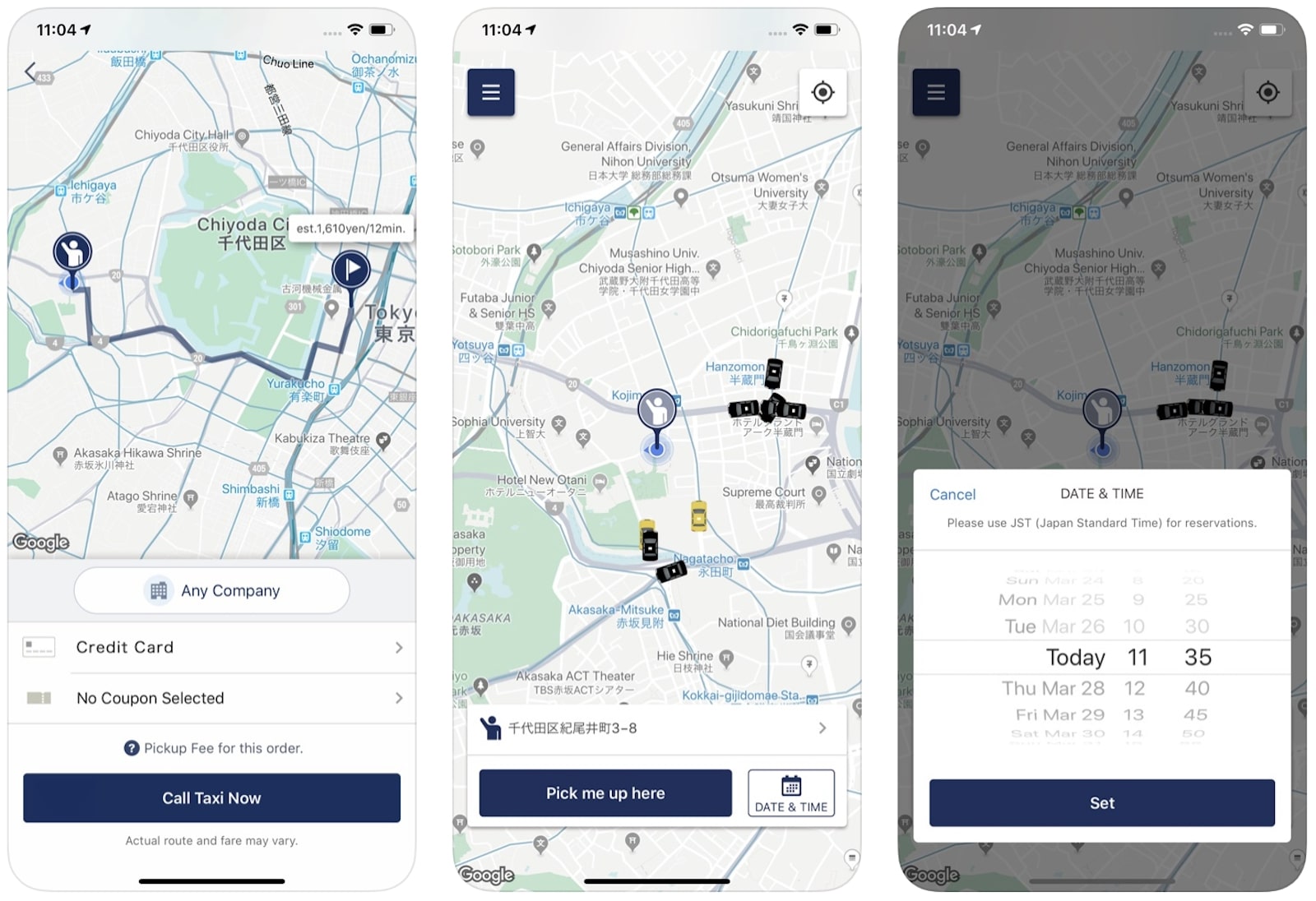 You can also select a number of vehicles or a specific type of vehicle. There is also a flat fixed rate to travel to Narita airport or other airports.
Download JapanTaxi on the App Store (iOs) / Download JapanTaxi on the Play Store (Android)
10. Yomiwa
Yomiwa is not free and that is because it delivers seamless translation for more advanced text analysis. It can break Japanese sentences into words, describe conjugate forms, display furiganas and even provide translation to English with its new offline translation mode.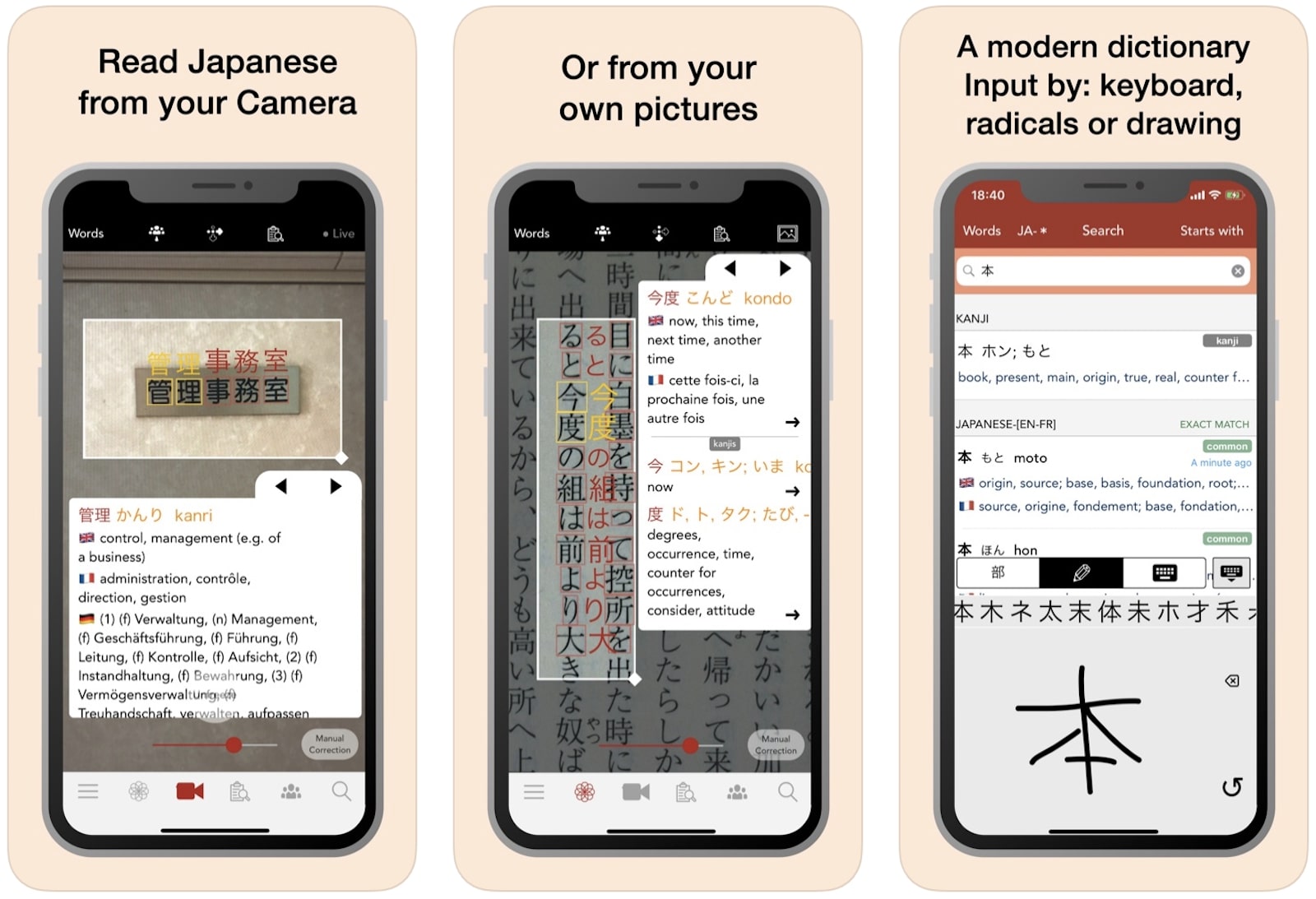 Yomiwa can also recognize 4000 Japanese characters in your pictures or with your camera device. Yomiwa is designed to help you read all your favorite reading materials, such as manga, newspapers, restaurant menus and signs. Yomiwa loosely translates into "reading." Many students also tout its usefulness as a study aid and professionals use it to facilitate their work transactions.
Download Yomiwa on the App Store (iOs) / Download Yomiwa on the Play Store (Android)
11. Learn Japanese Phrases and Words
This app has a cute study guide which is a parrot and it helps you learn useful Japanese words and phrases. It teaches you correct pronunciation and no internet access is required. It has search functions in English and Japanese. You can record your own voice to see if your accent is up to par. This is the perfect app for beginners who want to learn Japanese in a quick and fun way. It starts at a very low level and you can test out of various stages, bringing you to your appropriate level of learning.
Download Learn Japanese Phrases and Words on the App Store (iOs)
Download Learn Japanese Phrases and Words on the Play Store (Android)
12. Maps.me
An important factor of this map application is that is available to use offline so you are free to save precious mobile data. Maps.me offers an incredibly detailed and up to date travel guide. Native not only to Japan Maps.me covers several countries in Europe and the United States.
One interesting feature is that you can make hotel bookings through the app and you can share your location via text or social media. Another interesting feature is that it shows whether you are walking uphill or downhill. It also uses a turn by turn navigation system.
Download Maps.me on the App Store (iOs) / Download Maps.me on the Play Store (Android)
13. Japan Connected Free Wifi
You can easily access 170,000 spots in Japan with free wifi. There is a one time only registration process and you can connect with a single tap to free wifi at major train stations and airports, convenience stores and department stores, tourist spots and more locations. You can use the offline feature to search for wifi spots. Currently, it is available in 16 languages including English, Chinese and Spanish. However, you are responsible for fees incurred. The good news is that coverage areas are expanding.
Download Japan Connected Free Wifi on the App Store (iOs)
Download Japan Connected Free Wifi on the Play Store (Android)
So there is our list of the best apps for learning Japanese and for traveling. Do you agree or disagree? Let us know in the comments. Thanks for reading and happy trails. Your Japan is also on Facebook, Instagram, and Pinterest. Follow us and don't miss our next posts. You can join our Group, it's a growing community on Facebook.
Matane!