Yakushima Island is an incredibly diverse paradise island existing off the coast of Kagoshima's southernmost coast; it hosts a world full of wondrous misty rainforests to explore, steep and challenging mountains to hike, and crystal clear waters to snorkel and scuba dive through. During the winter, the entire island is covered in snow-capped mountaintops, and during the summer, you can participate in sea kayaking tours which explore hidden bays and caverns and go fishing off the coast. For those who crave the explicit adrenalin that only outdoors experiences can illicit, Yakushima Island is your answer. 
Having been declared a Natural World Heritage Site in 1993, it wasn't until recent years that Yakushima began making its way into foreign visitors' itineraries. Japanese locals, however, have been escaping the daily grind to the isolated island for many years now. This is a blessing in disguise, as without the crowds of tourists flocking to the island on the daily, there still exists so much untouched exotic and natural beauty to experience.
It's rumored that cedar trees which still tower over the forests today are over 1000 years old. Imagine walking through the hauntingly mysterious forests with the sun filtering through the high branches, dense foliage splashing a deep green everywhere you look, and thick, massive tree trunks twisting and winding their way under the forest bed and over each other; it is no small wonder that Studio Ghibli was inspired by this beauty for their animation, Princess Mononoke, directed by Hayao Miyazaki.
We've curated all the information you need to know as to why you should get yourself to the island asap and how you can do so. Got any questions afterwards? Feel free to comment below!
How To Get To Yakushima Island?
As Yakushima Island is a relatively small, remote island off Kagoshima's southernmost coast, it requires a bit more planning than the usual Japan hotspots, although it is not difficult to get to.
By Plane
You can fly directly to Yakushima Island from Kagoshima, Fukuoka, or Osaka. Japan Airlines (JAL) is the only airline to operate flights to and from Yakushima Island. 
Fares begin from:
Kagoshima – 7,800 yen
Fukuoka – 12,200 yen
Osaka – 27,800

 
From Tokyo, you can fly quite easily and affordably to Fukuoka and Osaka via Peach Airlines from 4,290 yen, and to Kagoshima via Jetstar Japan from 8,890 yen.
By Car Ferry
There is a daily ferry that departs for Yakushima Island every morning at 8:30am from Kagoshima New Port to Miyanoura Port (main port on Yakushima) and leaves the island at 1:30pm to return to Kagoshima in the afternoon. 
The cost of a one-way ticket for an adult is 4,900 yen, and a return ticket is 8,900 yen. For a child, it is 2,400 one way, and 4,600 for a return ticket. The trip will take 4 hours. 
To get to Kagoshima New Port from Kagoshima Chuo Station, head outside of the train station and catch the bus from the E5 stand. Check with the bus driver whether the bus is heading to 'Minami Futo' or 'Toppy Terminal' first. Get off at the aquarium stop, and it will be a 10-minute walk from there.
Read here about how to get on and off the buses in Kagoshima. 
Head to the Orita Kisen website (ferry operator) to get more details on prices and contact details if you'd like to make a reservation. 
Head here to find out more ways to get to Kagoshima New Port.
By Toppy & Rocket Jetfoils
These are the fast jetboats that connect Kagoshima City, Ibusuki, Tanegashima, and Yakushima Island. They operate daily and depart every 1-3 hours (note: there are fewer jetboats in winter). The one-way ride will take roughly 2-3 hours depending on the number of stops. For adults, it will cost 8,400 yen one way and 15,000 yen return, for a child, it will cost 4,200 one way and 7,500 for a return trip.
Click here to head to Takeyaku's website (jetboat operator) to find out more about the departure times.
Where to stay in Yakushima Island?
Although Yakushima Island is small in stature, it makes up for it by being big in experiences, big in culture and history, and equally as important, big in accommodation choices for both the lavish and the low-cost travelers.
Hostel – Guesthouse Yakushima
This guesthouse is located in the southern part of Yakushima Island, offering free Wi-Fi throughout the property, free parking, and a luggage storage space. Activities and guided tours can be arranged. Miyanoura Ferry Port is a 40-minute drive away.
Why guests love it: perfect place in the middle of the forest, falling asleep to the sound of the nearby river and enjoying the fresh mountain air was amazing, new facilities, free parking.
Address: 922, Mugio, Yakushima-cho, Kumage-gun, Kagoshima 891-4402, Japan
HOTEL'S WEBSITE
Hotel – Yakushima Green Hotel
Yakushima Green Hotel is a 3-minute drive from Ambo Harbour and offers both Japanese-style and Western-style rooms with stunning ocean views. It features a hot public bath in a Japanese stone sauna and free Wi-Fi.
Why guests love it: excellent location, conveniently close to a bus stop, view of the ocean from the room is awesome, staff were helpful with trip planning, takeaway bento lunches were a treat for day hikes.
Address: 788-110, Anbo, Kumagegun, Yakushima, Kagoshima, 891-4311, Japan
Ryokan – Tashiro Annex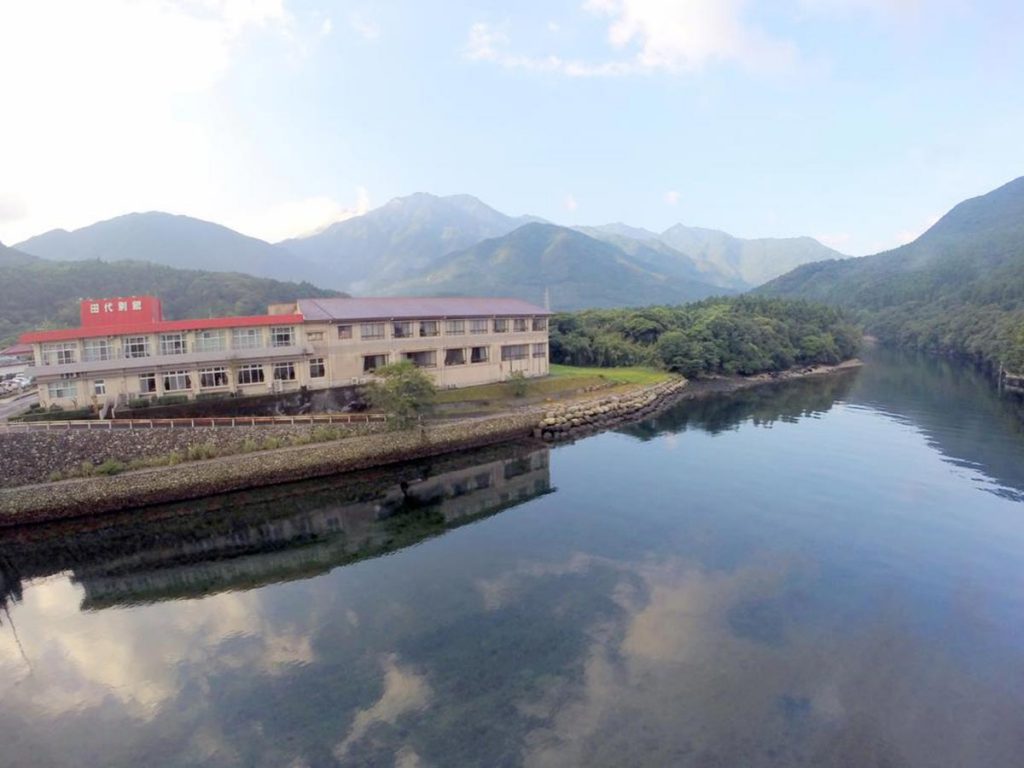 This traditional Japanese Inn offers guests free airport shuttle, air-conditioned rooms with a private bathroom, and river or forest views. Guests can relax at the sauna, enjoy a massage, or browse the hotel's shops.
Why guests love it: both breakfast and dinner were delicious, staff was very helpful and cheerful, tatami bed is comfortable, prepared a takeaway bento box at 4am to take on their hike.
Address: 2330-1 Miyanoura, Yakushima-cho, Kumage-gun, Kagoshima 891-4205, Japan
What To Do on Yakushima Island
Shiratani Unsuikyo
Arguably one of the most beautiful hiking destinations on Yakushima Island, Shiratani Unsuikyo is also one of the most popular, given its incredibly diverse network of hiking trails that trawl across the entire nature park. The hiking routes can range anywhere between one to five hours, but this doesn't account for the many (many) times you will stop to take photos of the beautiful scenery or just to take a moment to appreciate the untouched beauty of it all and really breathe in the fresh mountainous air.
Just as the trails can vary in duration to complete, so too can their difficulty. There are well-maintained paths paved in stone and wood, and lighter trails that date back to the Edo Period. However, across all paths, English signs are provided throughout.
The lead artist for the Studio Ghibli anime Princess Mononoke apparently spent a lot of time here drawing creative inspiration from the natural beauty of the forest, and it's not at all difficult to see why.
Jomon sugi
Popularly referred to as the symbol of Yakushima Island, Jomonsugi, or the Jomon cedar, is a giant, charming, historically old cedar tree that has been estimated to be approximately 2000 to 7200 years old. It dates back to the Jomon period, from which it derived its name.
The hike to get to Jomonsugi is 10.7km long (one way) from the entrance to the mountain, and it takes around 10 hours for a round trip. More than half of this course is a tram road that was historically used to carry wood, so it is a relative beginner-to-intermediate level hike, although the duration of the hike might be off-putting for some. The hike itself, however, is full of peace and tranquility; it will just be you and Mother Nature. Most people who have completed this course would agree that it is as much an adventure as it is a therapeutic experience. 
Some people might be able to make this a one-day hike, but for those who would like to take their time to explore trails off the beaten path, you can spend a night at Takatsuka lodge about 20m past Jomonsugi. It is an unattended lodge with pit toilet facilities. If you do plan on staying there, bring food, toiletries, and plenty of water. 
Yakusugi Land
For those who after an authentic hiking experience but balk at the thought of spending more than five hours wandering around in the forest, Yakusugi Land is a nature park offering a variety of hiking courses that vary in length from 0.5 to 2.5 hours, and best of all, the entrance is located just a short walk away from the parking area. 
The recommended hiking courses all follow the same route into the park, with different sections having different turnoff points that all eventually lead back to the trailhead. The shortest and easiest course will take you along a wooden boardwalk that will lead to the Yakusugi, whilst the longer courses will take you further into the forest.
Trekking Tips
When hiking, you will sweat quite easily, and it will often rain, or at least sprinkle, so wear proper hiking gear with quick-drying features that will keep you warm, and bring light wet weather gear if you want (i.e. a raincoat or poncho).
Bring a change of clothes if you tend to get unbearably uncomfortable in damp clothing, and make sure you secure your electronics (plastic bags, waterproof casing, etc). Your hiking boots are a must, and you get bonus points if they're waterproof. 
Before you head into the forest, make sure you submit a mountain climbing registration form to a tourist information center at the airport or in town, a police office, or a postbox located at the entrance of the mountain before you enter. 
When you're planning to hike for the entire day, leave early to ensure plenty of time for mishaps and wrong turns, and make sure your plans align with public transport if you're planning to catch a ride out.
Ready To Go?
Hopefully, we've provided you with enough information for you to embark on your trip to Yakushima Island! Got any questions? Need some advice? Or have you recently completed a few days away on the beautiful island and want to impart some sound advice for anyone considering traveling there? Comment below, we'd love to hear from you!
Did you like this article about Yakushima Island? You can check our travel section and find out more about many other amazing destinations in Japan.
We have a growing community on Facebook, join Your Japan Group. We are also on  Instagram, Facebook, and Pinterest, follow us and stay updated! See you soon!