You may be hesitant to dedicate an entire day to an island which appears to have the only thing going for it being huge torii gates which sit (albeit majestically) on water, but banish those thoughts away, because Miyajima Island might just be the most fun-filled, wholesome, delicious, surprisingly jam-packed day away from the city that you'll ever have.
Getting a glimpse of the torii gates in real-life might be an experience in itself, but back that up with some of the tastiest street food in Japan, a beautiful and challenging hike up a mountain with picturesque ocean and forest views, and bits and pieces of culture and tradition tucked away within the small, vintage streets you're bound to shrug your shoulders and step in to explore, then you've got yourself a recipe for the perfect day.
Whilst most visitors tend to visit Miyajima Island on a day trip from Hiroshima (it's incredibly close and cheap to get to), to truly experience the island, especially during the magical night hours, you are able to book accommodation on the island itself.
How To Get To Miyajima Island
From Hiroshima Station, take the JR Sanyo Line to Miyajimaguchi Station. This trip will take approximately 25 minutes, and will cost 410 one way. It is covered by the Japan Rail Pass for those in possession of one. Otherwise, you can take the train from line 2 at Hiroshima Station for Miyajimaguchi Station. This is a tad longer than the train option but will cost only 260 yen one way (it is not included in the Japan Rail Pass).
From Miyajimaguchi Station, walk towards the ferry pier (follow the crowd!), where ferries regularly depart for the island. There are two companies that operate these ferries, but both essentially take roughly 10 minutes and cost 180 yen one-way, so you can hop on either one. The Japan Rail Pass is valid for both ferries.
Where To Stay in Miyajima Island
Guesthouse – Miyajima Guest House Mikuniya
Miyajima Guest House Mikuniya offers a Japanese-style accommodation with free Wi-Fi and a bike rental option. The Miyajima ferry terminal is only 15 minutes away on foot, and guests can choose to stay in a private Japanese-style room, or a dorm room with other guests. There is a kitchen onsite if required, but breakfast, lunch, and dinner options are also available.
Why guests love it: people are so kind and always ask if you need something, the house is beautiful with plenty of decorations and activities if you're interested (e.g. origami, calligraphy, etc), bedrooms were spacious and always clean and had a wonderful view of the ocean.
Address: 739-0523 Hiroshima, Miyajima, Miyajima-cho Chue-machi 327, Japan
Hotel – Hotel Miyajima Villa
Featuring a stunning garden, Hotel Miyajima Villa is situated 800m from the Itsukushima Shrine, 15-minutes from Daisho-In temple, and 90m from the ferry terminal. It offers free Wi-Fi throughout, and all rooms include a flat-screen TV. It also has the option of a buffet breakfast every morning and a hot spring bath.
Why guests love it: beautiful, modern and spacious rooms with really comfy beds, really nice onsen overlooking the water, high-quality hotel with excellent facilities, there was a lovely bakery onsite, lots of charging and power outlets.
Address: 739-0588 Hiroshima, Miyajima, Miyajimacho 1165, Japan
Ryokan – Iwaso
Iwaso features Japanese-style accommodation with beautiful views. Guests can relax in the indoor and outdoor hot spring baths and also request for massages. A free shuttle is provided from Miyajima Ferry Terminal, which is a 5-minute walk away. Traditional breakfast and dinner are included.
Why guests love it: service was faultless and the food was top quality, the garden view from the room was amazing, quiet and relaxing atmosphere in the forest, near the shrine and shopping areas, speaking and understanding English was no problem for the staff.
Address: 739-0522 Hiroshima, Miyajima, Hatsukaichi-shi Miyajima-cho Momijidani, Japan
Best Things to do in Miyajima Island
Itsukushima Shrine and O-Torii Gate
As the most popular attraction on the island (some might argue that there are people who travel to Miyajima Island just to get a glimpse and snap of the torii gate which, during high tide, appears to be floating on the water), Itsukushima Torii gate (aka O-torii gate) has the pent-up pressure to deliver the stunning picture that most people only dream of seeing from behind their computer screen, but it hardly ever disappoints.
The gigantic gate is located within walking distance from the shore, and visitors are able to walk out along the waters during low tide to get a closer view of it. The Itsukushima Shrine, which is located nearby the torii gates, often have a long queue of visitors hoping to be able to experience first hand a 'floating shrine' (i.e. a shrine build on waters), as well as lock in a prime spot for a front-on picture of the O-torii gate. The gate, however, can be snapped from any point on the island, although you may need to fight for a spot close to the waters, as hundreds of tourists flock to the island daily just for this pic.
Eat To Your Heart's Content Towards And Along Omotesando Street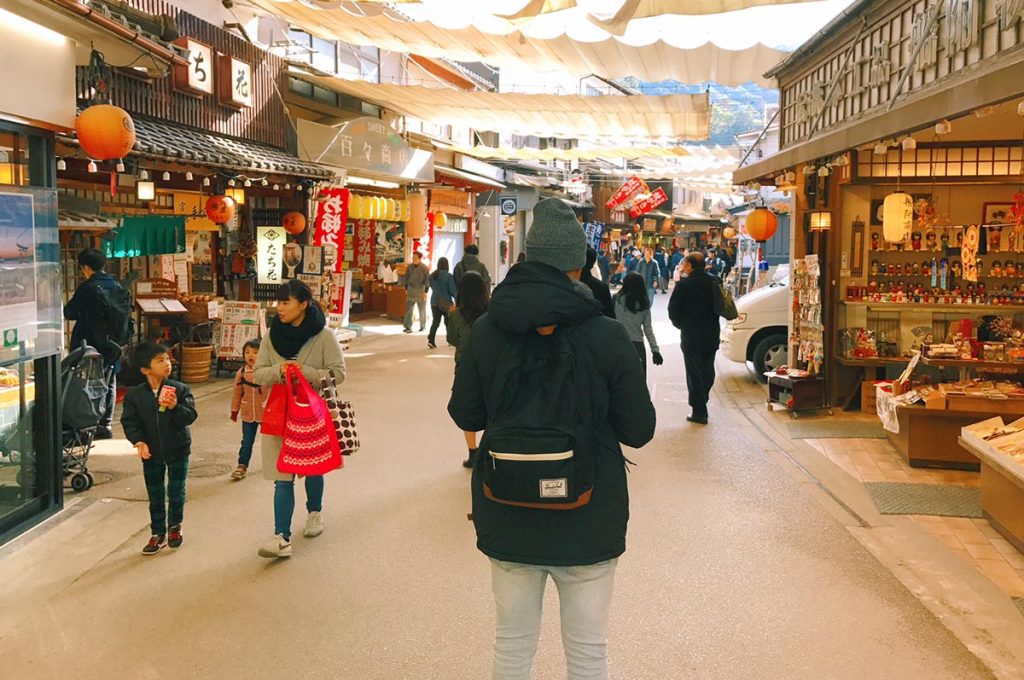 If there's one thing to learn from a trip to Miyajima Island, it's that the food options, price, and sheer quality of everything you eat is unexpectedly phenomenal. Along the way to Omotesando Street (and, of course, on the street itself), which is the main strip for shopping and food on Miyajima Island, there are multiple small vendors selling everything from fish cakes and flame-grilled oysters, to bacon wrapped cheese (yep, you heard right), and fruit kebabs. Trust us when we say: open your mind and keep your stomach light and wallet heavy before you head to Miyajima, you won't regret it. This strip is roughly 350 meters and will lead you towards the Itsukushima Shrine.
Every step you take all your senses will be bombarded with pictures of delicious looking food and the smell of freshly made anything will waft through your nose and carry you in all directions. It's insane how much food options there are, and how little rapt they get. 
Grilled oysters are probably one of the first things you'll come across as you head towards Omotesando street. There will always be small crowds milling around the carts selling fresh oysters topped with butter, flamed grilled. Eat it on the spot and give back the shell to the cart owner.
Make sure you try 'momiji', which is a deep-fried seafood cake in the shape of a maple leaf. Momiji is the symbol of Hiroshima.
You will also come across vendors selling 'momiji manju' which is a leaf-shaped pastry with different fillings inside (custard, red bean, chocolate).
Hiroshima beef steamed buns are made from local Hiroshima beef, and they are incredibly tasty! They're always served piping hot.
Take a Snap with The Free Roaming Gentle Deer
Whilst Nara holds the title for the most famous deer park in Japan, on a slightly smaller scale, Miyajima's free-roaming deer are just as gentle, picturesque, and don't require a cracker for a picture. In fact, feeding them is highly frowned upon, and you will see signs everywhere indicating for you to keep food to yourselves and (proactively) away from the prying eyes and mouths of the deer, otherwise you might find a hunk of your food missing when you're not looking!
More than 1000 deer live in Miyajima, and over the many years, they have become accustomed to the visitors hopping on and off the ferries daily. They are generally mild-mannered, often shying away when people get too close, but some are fearless and will walk right up to you for some interaction. Many people will try to take photos with them, which is fine, but be wary about getting too close to their mouths and watch out for children who might accidentally be too rough. 
Hike Mt. Misen (or take the ropeway)
Mount Misen is the highest peak in Miyajima Island, being 500m above sea level. It can be reached via a ropeway from the town below, however, our recommendation is to strap on your walking shoes and spend a few hours hiking up the mountain – it will save you money, you'll need the exercise after consuming all that food from the stalls, and the views afforded along the way are just indescribable, you really need to see them for yourself. 
There are maps around the base of the mountain which will show you how to start hiking, and you can choose between three hiking trails up: the Momijidani Course (1.5 – 2 hours), which is the shortest, steepest, and will lead you mostly through the forest; the Daisho-In course (2 – 2.5 hours), which offers the nicest views and isn't as steep as the other two; the Omoto course (2 – 2.5 hours), which takes the same time as the Daisho-In course, but has more sloping paths to climb. To learn more about the hikes, click here.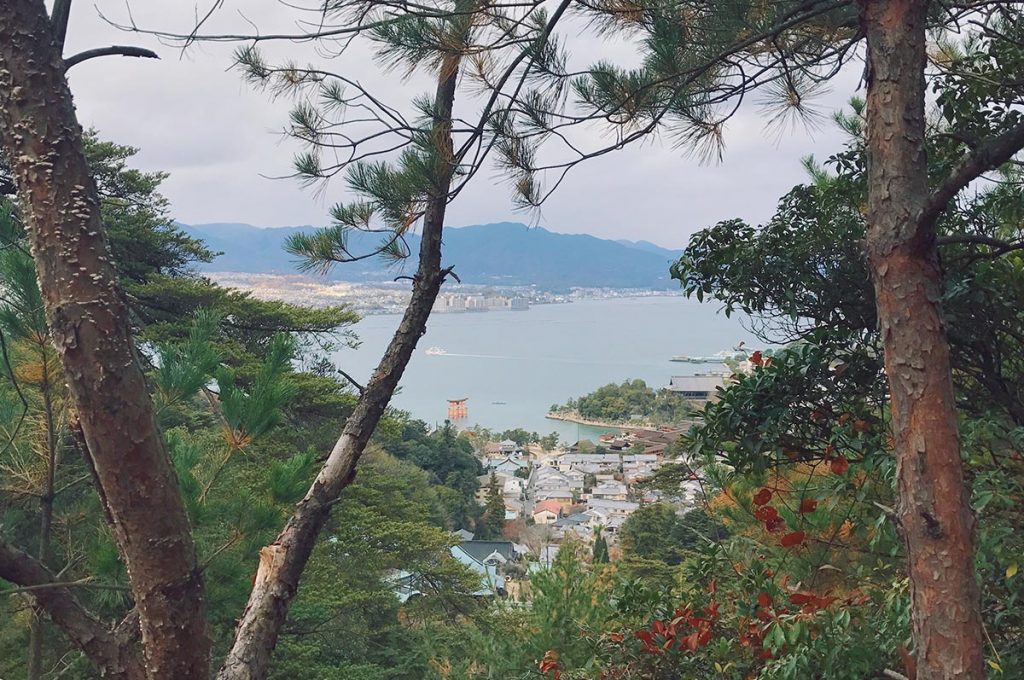 The feeling of completing a massive climb is one like no other, and you can always take the ropeway back down afterwards. Try and coincide your climb with the sunset, as the views atop are far and wide, but make sure you are still able to catch the last ropeway down.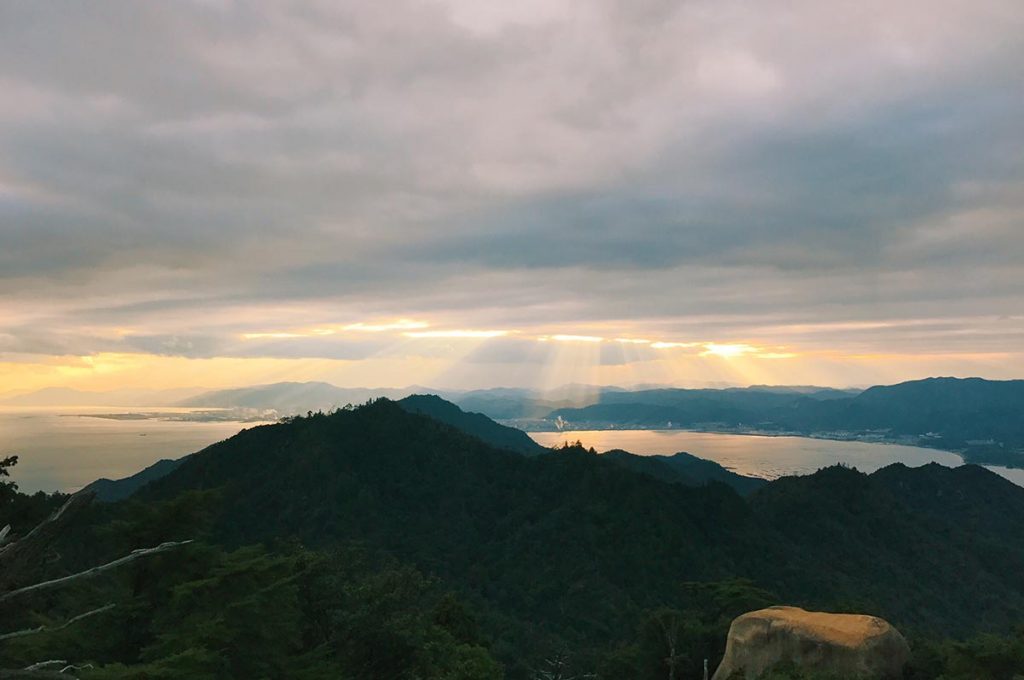 Details for the Ropeway
Access: From Itsukushima Shrine, head towards the entrance of the Momijidani Park Entrance (there will be plenty of signs to help point you in that direction). At the entrance of the park sits a free shuttle bus stop that will take you to the Miyajima Ropeway Momijidani Station. Otherwise, it is a 16-minute walk (often with inclines) to the station.
Hours: 9:00am – 4:30pm (Dec – Feb), 9:00am – 5:00pm (Mar – Oct), 8:00am – 5:00pm (Nov)
Cost: Adult – 1,000 yen one-way or 1,800 yen round-trip; Child – 500 yen one-way or 900 yen round-trip
Website: Miyajima Ropeway
Daisho-In Temple
Considered the main temple of the Shingon Buddhism School of Omuro, Daisho-In is now accessible to the public to learn more about the Buddhist teachings within the precincts. There are many prayer halls, Mandala arts, Buddhist statues, and caves that are waiting to be discovered and explored, and it is a cultural experience unlike any other.
Until the separation of Buddhism and Shintoism during the Meiji period, the head priest of Itsukushima Shrine based himself at Daisho-In to practice politics. Whilst majority of the displays and information within this temple might not engage with some travelers, simply entering and taking in the serene atmosphere will do wonders for your peace of mind and soul. 
This temple is located at the base of Mount Misen, which makes for the perfect calm before the storm (i.e. achieving Zen before a two-hour hike).
Omoto Park and Omoto Shrine
Considered one of the 'Eight Most Beautiful Views of Miyajima', Omoto Park is absolutely chock-a-block during cherry blossom season, when the trees all around and inside the park bloom and pink petals float through the sky. During autumn, the foliage, in all its red, orange, and yellow glory, enhances the shrine in the most magical way, bringing out a real historic atmosphere that you can't help by notice, appreciate, and admire when walking along the passage through the page that runs along the Omoto River. 
At the entrance of the park sits Omoto Shrine, which was founded in 1532, and is a registered Important Cultural Property of Japan. It is rumored that it is older than Itsukushima Shrine itself, and every year, the Momote Festival (Momote-sai) is held at this shrine on January 20.
Miyajima Island, the island of the floating torii gate, is a world away from the city in Hiroshima, and as you can see, offers an abundance of activities and food that you won't be able to experience if you stick to the road more traveled. Just under an hour away is this secluded island that will shed a new light on how you view Hiroshima, and almost everyone who's made the trek has claimed that Miyajima Island is definitely on top of their greatest experiences in Japan.
Have you been to Miyajima Island yet? Share your experience with us on our Facebook group. You can check our social media accounts, follow us on Facebook, Instagram, and Pinterest. Matane!