Fukuoka is one of the most populated cities in Japan, and it is no wonder, given its lucrative location in the northern shore of Japan's Kyushu Island, making it the 'gateway to the world' as many Japanese locals have coined it. It is a location that is rather off the beaten path in Japan for foreigners, however, a short 90-minute flight from Tokyo will take you to a city inspired by traditional and modern Japanese culture. There are a number of interesting things to do in Fukuoka that are explicitly Fukuokan and should be experienced first-hand to truly understand how special this city is.
How To Get to Fukuoka
From Tokyo
Flying: Multiple carriers fly to and from Fukuoka every day, and typically take just under two hours. They include JAL, ANA, Skymark, Sky Flyer, Jetstar, and Peach Aviation. Flights operate from both Haneda and Narita, depending on the carrier.
Flights can typically cost between 5,230 yen (Peach Aviation sale price) and 26,590 yen (ANA).
Click here to check how much a flight from Tokyo to Fukuoka is for the dates that you are visiting.
Train: You are able to catch a Shinkansen train from Tokyo to Fukuoka. This trip normally takes 5 hours (direct), and can cost around 27,000 yen.
This option might not be for everything, as it is most costly and it takes longer. However, it is definitely the more scenic route if that is what you're after.
Shinkansen tickets are included in the JR Pass. To get more information, check out this post: JR Pass Japan.
From Osaka
Flying: Multiple carriers fly to and from Fukuoka every day, and typically take 70 minutes. They include JAL, ANA, Skymark, Sky Flyer, Jetstar, and Peach Aviation. Flights operate from Kansai International Airport and Osaka Itami Airport, depending on the carrier.
Flights can typically cost between 3,490 yen (Peach and Jetstar sale fares) and 270,000 yen (ANA).
Click here to check how much a flight from Tokyo to Fukuoka is for the dates that you are visiting.
Train: Catching the shinkansen from Shin-Osaka station directly to Osaka station is the easiest route to take. Trains regularly run on the Sanyo Shinkansen line, and the fare is 19,050 for one way.
The ride usually takes between 140 minutes to 160 minutes.
Where To Stay in Fukuoka
Just so you max out your reach to all the best things to do in Fukuoka, we've recommended a few places for you to stay whilst visiting the great city below. 
Guesthouse – The LIFE Hostel And Bar Lounge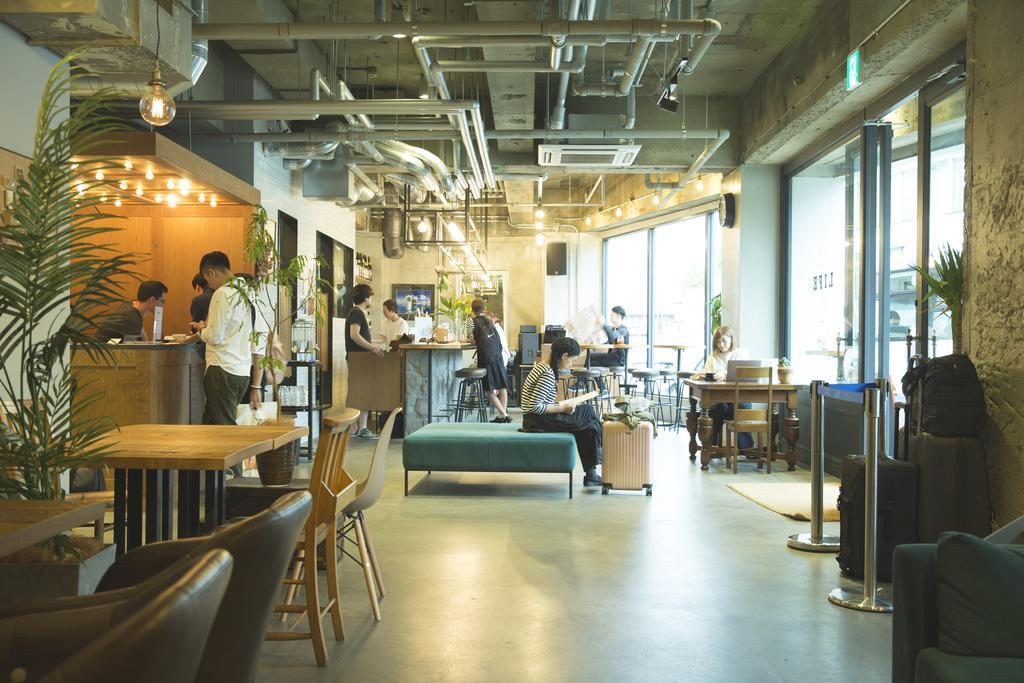 Why guests love it: tidy and clean rooms, great location next to Canal City, helpful staff, great place to meet other travelers, modern designs, great vibes on the ground floor
Price: from 1,902 yen/night, for 1 adult in an 18-bed dormitory 
Hotel – Nikko Fukuoka
Why guests love it: convenient access (3 minutes) to Hakata JR station, 10-minute walk to Canal City, big rooms, delicious breakfast, attentive and friendly staff
Price: from 10,570 yen/night, for 2 adults.
Ryokan – ZABaN Shikanoshima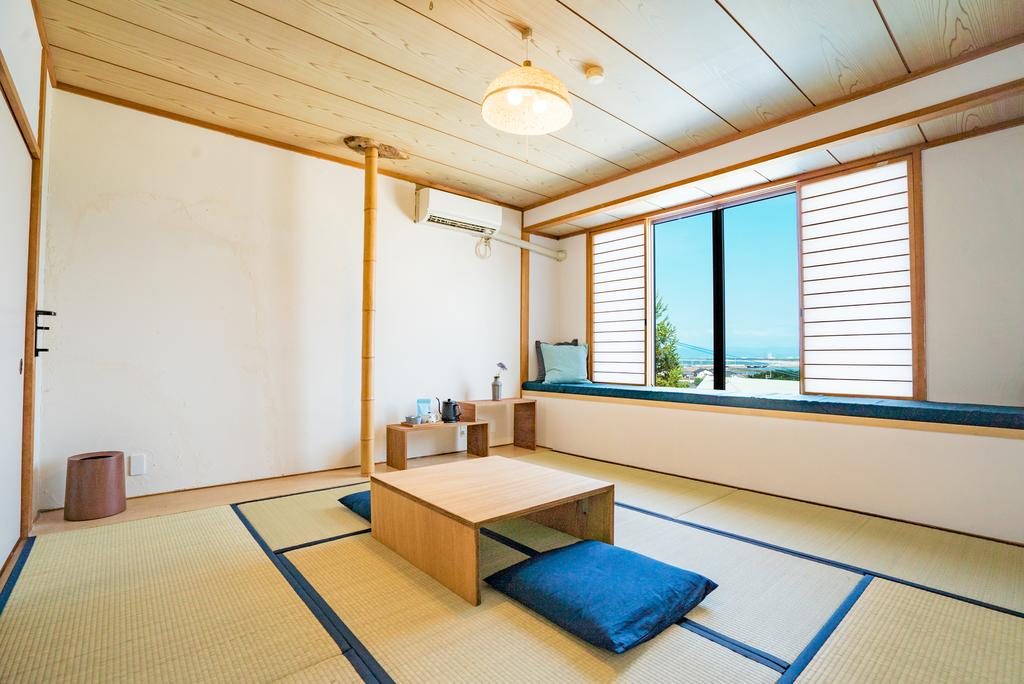 Why guests love it: delicate and authentic traditional Japanese ryokan, very clean and cozy, delicious breakfast with an amazing sea view, nice ambiance, friendly and polite staff, large rooms
Price: from 26,000 yen/night, for 2 adults
Best Things To Do in Fukuoka
Shop Until You Drop at Canal City Hakata
As most visitors who have loved and left Fukuoka would say, you can't truly experience the city without visiting its famous Canal City shopping center: a sprawling monstrosity of a complex with more than 250 shops split across six buildings, it is truly an experience in its own right. It's very easy to get lost in its beautifully designed but perplexing maze-like structure, with multiple pathways and escalators leading to different buildings on every level.
However, every corner you turn, you'll be met with a more interesting shop to conquer. With a building expanse this big, you would assume that you can take your entire family here and not get bored, and you're right. Shops range from fashion stores such as Bershka and Zara, active stores like Adidas and Northface, plenty of small Japanese anime goods stores, a few large arcades, a cinema complex showing the latest movies (some in English with Japanese subtitles), entire floors dedicated to restaurants and cafes (and sprinkles of small food stores throughout the entire center), bargain discount stores, and plenty more.
There is a water canal river running through the center of the shopping center that displays a beautiful water show throughout the day. On the weekends, there are live concerts for shop-goers to enjoy. Often there are light performances showcased at this canal, and at the moment, there is a One-Piece anime dedicated 'Canal Aqua Panorama' show that is a crazy spectacle of lights, lasers, deafening music and water fountain magic. If you're a fan of the anime, or just enjoy free, unique entertainment, this show is a must.
Check here for times of the show. 
Address: 1-2 Sumiyoshi, Hakata-ku, Fukuoka 812-0018, Fukuoka Prefecture
Access: Take the Kuko Line from Hakata Station to Nakasukawabata station for 200 yen. It is a 10-minute walk from Nakasukawabata Station.
Hours: 10:00am – 9:00pm (there may be variations with some shops). Restaurants generally stay opened until 11:00pm.
Cost: Free
Sun Bask at Nokonoshima Island
Nokonoshima Island offers a day of solace from all the shopping and activities Fukuoka has to offer. Take a short ferry ride across to the island from Meinohama port, and you'll be presented with a rich, natural environment to explore seasonal flower gardens, host an outdoor bbq or picnic in summer under the trees, take a pottery class, and camp to your heart's content.
You can easily explore the island in one day (it is a 12-kilometer trek around), and from the island, you will be rewarded with impressive views of the city. In springtime, when flowers are in full bloom, it's a photographer's dream, with fields of bright, colorful flowers contrasting with the ocean, and the wide expanse of the city in the background. 
From May to September, the Nokonoshima Camp Grounds is also opened, offering up 10 cozy cottages for rent, with barbeque pits included, and you can even rent banana boats to ride in the water! The island's rakuyaki workshops allow you to participate in painting ashtrays and plates created by professionals. When you get hungry, there are plenty of restaurants offering local dishes and produce, including the Noko burger and Noko udon. 
Address: 1624 Noko, Nishi-ku, Fukuoka
Access: From Hakata Bus Terminal, take the #312 Nokotosenba bus to Noko Tosenba (19 stops, 40 mins), and walk a few minutes to the Meinohama Ferry Passenger Terminal. Take a 10-minute ferry ride to Nokonoshima Ferry Port.
Hours: 9:00am – 5:30pm (opened until 6:30pm on Sundays and National Holidays).
Cost: 1200 yen/adult (high school students and above), 600 yen/child (elementary and junior high school students), 400 yen/toddler (age 3 and above)
Dine at a Yatai Stall
If you're heading to Fukuoka, chances are you would have heard of the yatais there. Yatais are unique to Fukuoka and are probably one of the best food experiences you could have here. They are mobile, open-air food stands that are generally set out at dusk by vendors along riversides and throughout the city.
Yatais seat around seven or eight patrons and most offer food as well as alcoholic beverages. You will enjoy foods such as yakitori (grilled skewers), oden (hot pot with a mishmash of vegetables, eggs, and fish cakes), and, most famously, Hakata Tonkotsu ramen. Of course, each yatai offers their own additional distinctive flair to the menu. Be prepared to make friends, as that's what usually happens when alcohol mixes with good food and close proximity dining. However, also be prepared to be turned away by some owners, as some yatais follow a tradition of serving locals and regulars only.
A quick head duck into a yatai to see what type of welcome you receive should suffice in determining whether you'll be there for the next few hours or not. Our recommendation would be Mami Chan's Yatai. It's been proven time and time again that it is foreigner-friendly, the hospitality is next level, and Mama Chan's broken English wholeheartedly welcoming you into her stall just fills your heart. Advice: try the fried rice. At 500 yen, it's a steal for the quality and taste you get!
Access: If you walk around the city during the day, you will come across some setting up in the afternoon. Check out Watanabe-dori, Tenjin, Showa-dori, and Nakasu/Nakagawa.
Hours: They generally start operating from 6PM – 2AM; most are closed on Sundays.
Cost: Yakitori starts from 100 yen, bowls of ramen from 550 yen, drinks from 200 yen
Mami Chan's Yatai
Address: 福岡銀行本店,2-13-1 Tenjin, Chuo Ward, Fukuoka, Fukuoka Prefecture 810-0001
More info: Mami Chan's Yatai
Hakata Gion Yamakasa
One of the most anticipated events across Japan, the Hakata Gion Yamakasa festival held in July absolutely steals the show with hundreds of participants and thousands of spectators lining the streets to see festival floats on display. Every year, seven neighborhoods in Fukuoka's Hakata district compete to push seven beautifully decorated floats through the streets in a five-kilometer-long course.
The festival features two types of floats: the larger floats (standing at over ten meters tall and weighing just under 2000 kilograms) are spread out on display across the city from July 1st, and the smaller sized kakiyama floats (that are around five meters tall and weigh under 1000 kilograms) which are pushed in the races.
From July 10 until July 14, the seven teams organize practice runs and parades for the culmination event on July 15th. Just before sunrise on July 15th (as early as 4:59am in the morning), the first team starts the race at Kushida Shrine, which is the festival's host shrine, and each team sequentially follows in five-minute intervals. Even in those early hours, spectators would have camped for a viewing position for hours, so it's good to organize this in advance. If your trip is going to happen during these days, this festival is for shure one of the things to do in Fukuoka that you can't miss.
Address: (for Kushida Shrine) 1-41 Kamikawabatamachi, Hakata-ku, Fukuoka 812-0026, Fukuoka Prefecture
Access: Take the train from Hakata Station to Nakasukawabata station. This is a 3-minute train ride and should cost 200 yen. The Kushida Shrine should be a 7 minute from the station.
Hours: The main race will start on July 15th at 4:59am
Cost: Free
More info: Fukuoka Now
Ramen Stadium – Try Hakata Tonkostu Ramen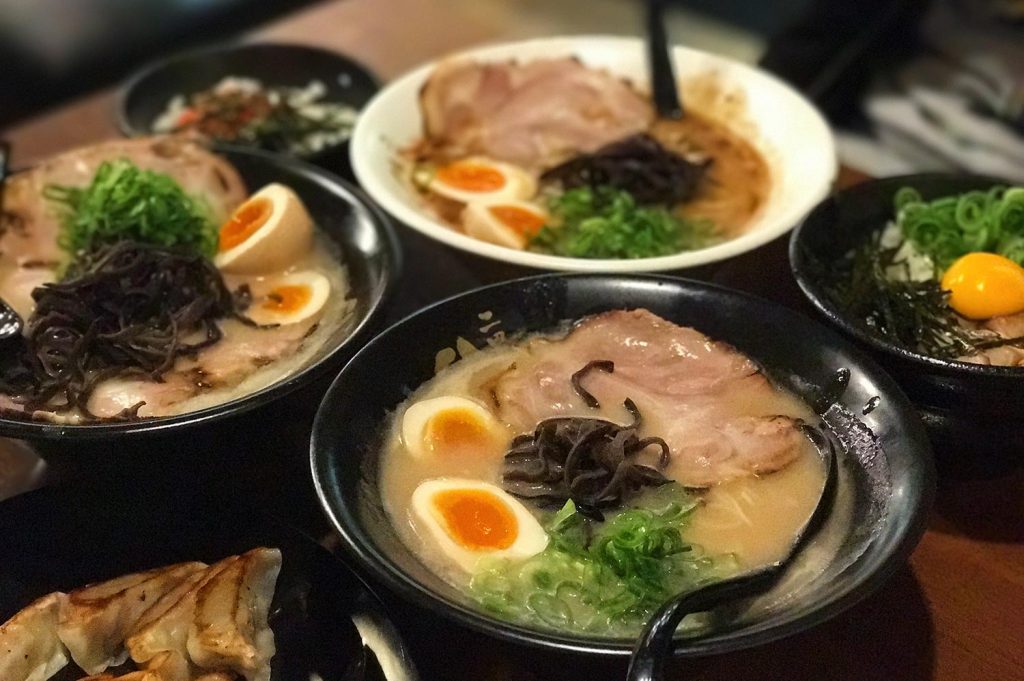 Imagine that your biggest problem is choosing a place to eat from eight entirely different restaurants, all serving their own unique take on what might be Japan's most famous food, ramen, and all of which are located in one area, which happens to be a famous shopping center complex with around 250 stores. Well, that might be something you are faced with if you're planning to head to the Ramen Stadium on the 5th level of the Canal City Hakata shopping center.
After a full day of shopping and entertainment, you're probably starving, and this could be one of the best problems to actually have. However, to make your problem difficult, each restaurant creates special ramen recipes from all over Japan. There's a store dedicated to Fukuokan Tonkotsu Hakata ramen (with a distinct pork bone flavor), a Kagoshima ramen store (also pork-bone based), a Sapporo ramen store (miso-based), a Kyoto ramen store (shio and shoyu based); the list goes on.
Unfortunately, they don't offer mini-bowls here, so you're going to have to spin the wheel (mentally) and pick a place, or suck it up and try to stuff as many bowls in as you can. Where else can you try ramen styles from all over Japan simply by walking next door?
Address: 1-2 Sumiyoshi, Hakata-ku, Fukuoka 812-0018, Fukuoka Prefecture
Access: It is a 10-minute walk from Nakasukawabata Station. It is on level 5 of the cinema building.
Hours: 11:00am – 11:00pm
Cost: Ramen bowls start at 670 yen
More information: Canal City
Ohori Park
Japan currently houses an excess number of gorgeous parks that can't possibly be visited in one lifetime. They take pride in maintaining their great outdoors, and this is reflected in the number of people who visit their parks across the country each year. Ohori Park (ohori meaning 'moat' in Japanese) is on this list for the sheer fact that it a large peaceful park with three islands surrounding a large pond, all interconnected by stone bridges, and it houses the picturesque Ukimi Pavilion located out in the water where tourists love to take pictures.
You can either walk the two-kilometer path around the pond, or you can hire swan boats and canoes to cruise around the lake. For locals and tourists alike, it is a perfect place for a stroll to stretch the legs and sit down near the waters underneath the willow trees for some quiet time. In Spring, you will be able to catch the sakura blossoms as well as tulips and peonies blooming across the park. In summer, sunflowers stretch across the land.
There is also a Japanese Garden located on the other side of the park (if you walk from the parking lot across the bridges and islands). The garden displays a central pond with hills and forests made to showcase ancient Japanese aesthetics. Its main features include the large pond, a stream, landscape garden, sukiya-zukuri style teahouse, a teahouse garden, and more. 
Address: 1-2 Ohorikoen, Chuo, Fukuoka, Fukuoka Prefecture 810-0051
Access: From Hakata Station, 10-minute ride to Ohori Koen Subway station. It will cost 260 yen. It is a few minutes walk from there
Hours: The park is open 24/7. The Japanese Garden is open June-August, 9:00am-6:00pm (last entry at 5:45pm), and September-May, 9:00am-5:00pm (last entry at 4:45pm)
Cost: It is free to enter the park. To enter the Japanese Garden, it is 240 yen/adult, 120 yen/children.
Uminonakamichi Seaside Park
One of the hidden gems of Fukuoka, this Seaside Park is not near the city center, but it is absolutely worth the trek to get to. It is a massive, sprawling public park that offers impressive displays of flower gardens in spring, playgrounds, an amusement park, a sports field, a water park, a zoo, and wide open green spaces that are perfect for picnicking.
As the park is quite big, most people hire bicycles at the entrance gate to explore the park. They make it very easy for you to enjoy the leisurely ride, with set cycling trails that take you to all corners of the park. In spring, it is a popular place for the locals to enjoy blooming flowers, with millions of sakuras, tulips, nemophila, roses, hydrangeas, sunflowers, and cosmos flowers turning up to the show. They all bloom at different times, from mid-March until early autumn.
If you're the type to enjoy a gentle stroll or bike ride under towering trees and alongside beautiful flora with a picnic to end the day, this is the place to be.
Address: 811-0321 Fukuoka Prefecture, 福岡市東区西戸崎18−25
Access: From Hakata Station, take the JR Kagoshima Line to Kashii Station (10 minutes). Transfer to the JR Kashii Line to Uminonakamici Station (20 minutes). The entrance is next to the station. This trip should cost 460 yen.
Hours: 9:30am – 5:30pm (or until 5:00pm from November to February); it is closed on December 31st, January 1st, and the first Monday and Tuesday of February.
Cost: It costs 410 yen to enter the park. To hire a bike, it is 400 yen/3 hours, or 700 yen/day.
Marine World Uminonakamichi
Japan has some of the most impressive displays of aquariums, and Marine World Uminonakamichi is no exception. Hosting around 450 species and home to 30,000 living creatures, it is bound to be a unique experience for animal lovers and all. Some of the most attractive features of Marine World include a cylindrical atrium water tank that runs from the 2nd floor to the 3rd floor (10 meters).
It exhibits a plethora of fish varieties. There is a hands-on pool which displays starfish that people are able to gently interact with. The spotted seal can be seen swimming through tubes that run from ceiling to floor, and dolphins can be seen putting on a show at the Stadium Show Pool. One of the most impressive things, however, is the Panoramic Water Tank, where massive panes of glass reaching from floor to ceiling showcase all different types of sea creatures interacting, from fish to sharks, sea lions to dolphins. It is absolutely stunning.
As you walk through towards the end of the route of the aquarium, there is a tunnel aptly named 'photo tunnel' that has bright LED lights displaying unique sea designs all over. Instagrammers, photographers, and anyone who enjoys a good photo opportunity will have a grand time in this tunnel
Address: 18-28 Saitozaki, Higashi-ku, Fukuoka City, Fukuoka
Access: From Hakata Station, take the JR Kagoshima Line to Kashii Station (10 minutes). Transfer to the JR Kashii Line to Uminonakamici Station (20 minutes). The aquarium is less than 10 minutes from the station. This trip should cost 460 yen.
Hours: March to November – 9:00am – 5:30pm (last admission at 4:30pm); December to February – 10:00am – 5:00pm (last admission at 4:00pm); Golden Week – 9:30am – 9:30pm; Summer Vacation – 9:00am – 9:30pm; Christmas (23/24/25 Dec) – 10:-00am – 9:00pm
Cost: 2,300 yen/adult (including high school students), 1,200 yen/elementary school student, 600 yen/child (4 years and older)
Spend a Day Exploring Daimyo and try Guru Guru Chicken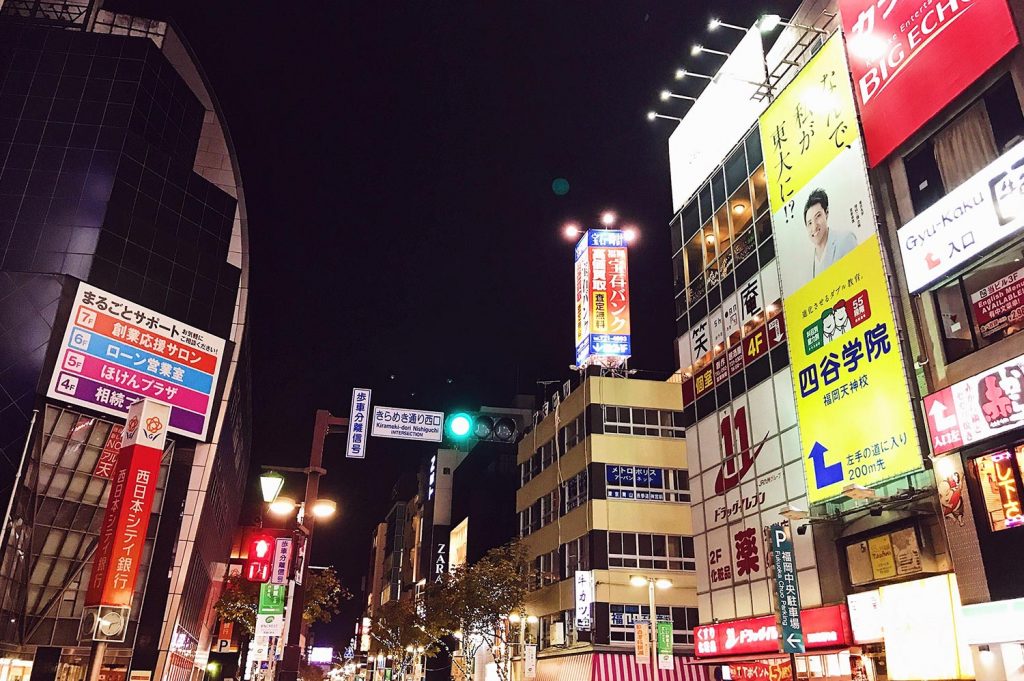 Just as Fukuoka is much more slow-paced than Tokyo, Daimyo is like a toned-down version of Shibuya (think Daikanyama meets Shimo-Kitazawa). The area is filled to the brim with small Japanese boutique chic and stylish stores, vintage and thrift stores, and cafes, bars, and restaurants.
You will also be able to find the likes of Nike, the North Face, A Bathing Ape, and more global brands along the bigger streets. At dusk, the crowd gets livelier, with people streaming through the streets to explore the shops, restaurants, and nightlife.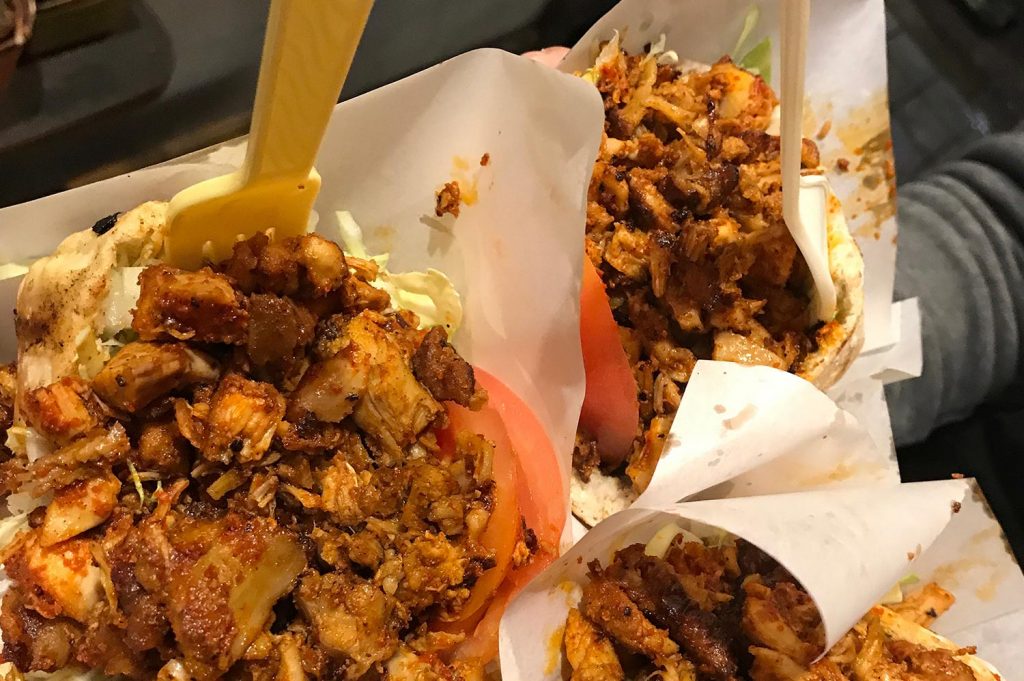 One of the best things to come out of Daimyo is a small gyros street store called Guru Guru Chicken. These gyros come as a massive serving, filled with juicy chicken, fresh cabbage, slices of tomato, and your choice of five different topping sauces.
At only 500 yen, they are a steal. People have been known to smash out one and order another on the spot during their first time trying it. Incredible Japanese gyros with a distinct taste, it's a must try!
Address: 1-10-13 Tenjin Chuo-ku Fukuoka Fukuoka
Hours: 11:00am – 10:00pm
Cost: 500 yen
More info: Guru Guru Chicken Tenjin
Nanzoin Temple and Famous Reclining Buddha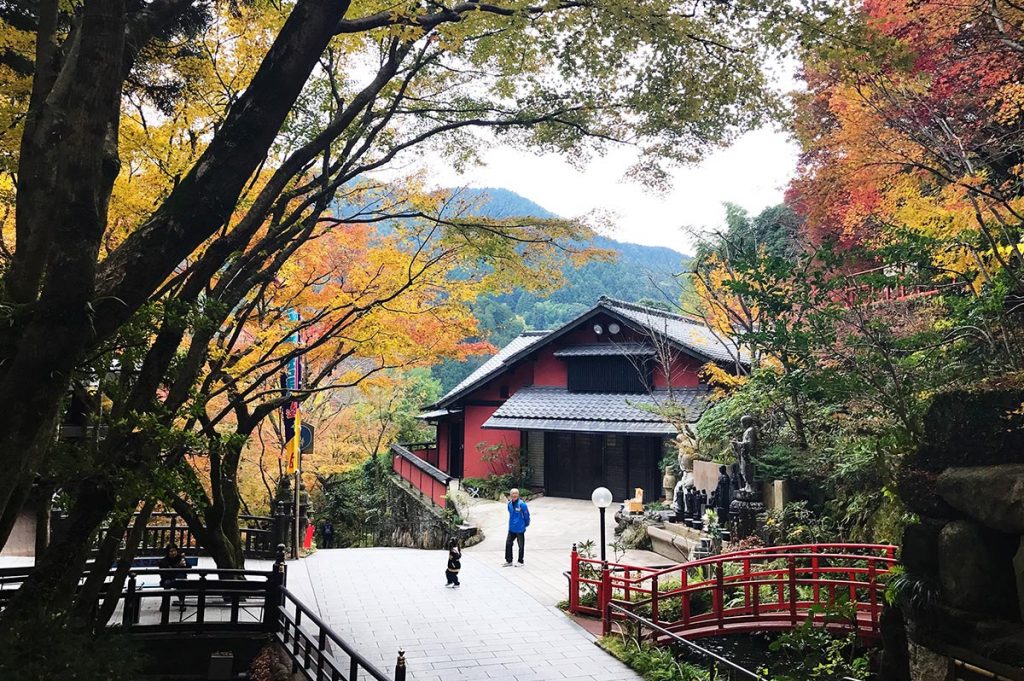 Nanzoin Temple is generally known for housing the world's biggest bronze statue of Buddha. 'The Reclining Buddha' statue stands at 11 meters high, 41 meters in length, and weighs approximately 300 tonnes. It is quite impressive, and visiting it will bring serenity to all individuals. Of course, there is so much more to Nanzoin Temple than just the statue.
Located in Sasaguri, it is one of the 88 sacred sites that is part of a popular pilgrimage people do to repent for past sins and bring peace to oneself. Walking around and breathing the fresh mountain air is enough to make you rethink heading back into the city anytime soon. There is an atmosphere of wholesomeness that can't be replicated. Multiple staircases lead you to significant statues that represent the Japanese history and culture.
In autumn and winter, foliage blankets the trees and the floor, making it an absolute dream to photograph and walk through. At the top, you will be met with the Buddha statue. There is also a small gift shop to purchase knickknacks and food on the way back down. In summer, be sure to grab an ice cream on the way out!
Address: 811-2405 Fukuoka-ken, Kasuya-gun, Sasaguri-machi, 大字篠栗1035
Access: From Hakata station, take a 22-minute train ride to Kidonanzoin-Mae station. This trip will cost 370 yen. It is a few minutes from walk from the station.
Hours: 9:00am – 5:00pm
Cost: Free
Fukuoka Castle
The ruins of Fukuoka Castle, located within the city at Maizuru Park, is the remains of what was once the largest castle in Kyushu. Nowadays, only crumbling walls, a few turrets, gates, and scattered guard towers remain on display. Although it is a missing majority of its foundation and structure, it's still a site that is rich in history and well worth a visit.
By being one of the most popular in our list of the things to do in Fukuoka, the recommended time to visit the castle ruins is between late March and early April when the entire park is transformed into a sakura blossom viewing ground for travelers and locals alike. You can walk through long paths lined with cherry blossoms, and host picnics underneath the falling petals. 
Address: Jonai, Chuoku, Fukuoka City, Fukuoka 810 0043
Access: From Hakata Station, 10-minute ride to Ohori Koen Subway station. It will cost 260 yen. It is a 10 to 15-minute walk from there.
Hours: It is always open.
Cost: Free
Shofukuji Temple
Shofukuji Temple was Japan's first Zen Temple, being built back in 1195. After being destroyed and rebuilt many times, it is now a destination for those seeking to find Zen in Japan. The buildings of the temples themselves maintain an ancient, mystic aura, and they are still actively used, as there is a Zen monastery onsite. They are not, however, opened to the public for entering and viewing.
Visitors can instead walk and explore the temple grounds and observe the temple buildings from the outside. There are many features of the temple grounds to visit, including the Butsuden Hall, which is home to a small statue of the historical Buddha, a belfry, and a hall that is dedicated to Eisai. Whilst tourists showing appreciation for Japanese shrines and temples is a wonderful thing, this place emits a rather tranquil, sacred atmosphere as it is usually quiet without the tourist crowds.
Address: 812-0037, 6-1 Gokusho-machi, Hakata-ku, Fukuoka-shi, Fukuoka
Access: You can walk to this temple from Hakata Station. It will take 12 minutes.
Hours: It is always open.
Cost: Free
Conclusion
Fukuoka is a great city with such a chill yet adventurous vibe that it would likely suit all types of travelers. If you're looking for a city with a slower pace than Tokyo, with infinitely fewer crowds, a great mix food, and an equal amount of adventurous and peaceful activities, Fukuoka is the way to go. 
Do you have any recommendation of things to do in Fukuoka? You can join our Facebook group and share it with us.
Also, if you want to always stay updated with Your Japan news, you can follow us on Facebook, Instagram, and Pinterest. Until next time!