Kamakura has the perfect mix of real Japanese spirituality and the relaxed atmosphere of a seaside town. It was the center of political power in Japan, and it has been the capital city from 1185 to 1333, during the reign of Minamoto Yorimoto and the Hojo family, enemies of the Taira family, that reigned in Kyoto.
After 1333 and during Edo period, Kamakura lost most of its importance, but at the beginning of 20th century, thanks to the new railway line, it became a touristic spot for people coming from Tokyo to relax on the seaside far from the busy city. The city's greatest splendor coincides with the spread of Buddhism, when the many temples, symbol and main attraction of the city, were built. There are many options of things to do in Kamakura, check them out!
How To Get To Kamakura?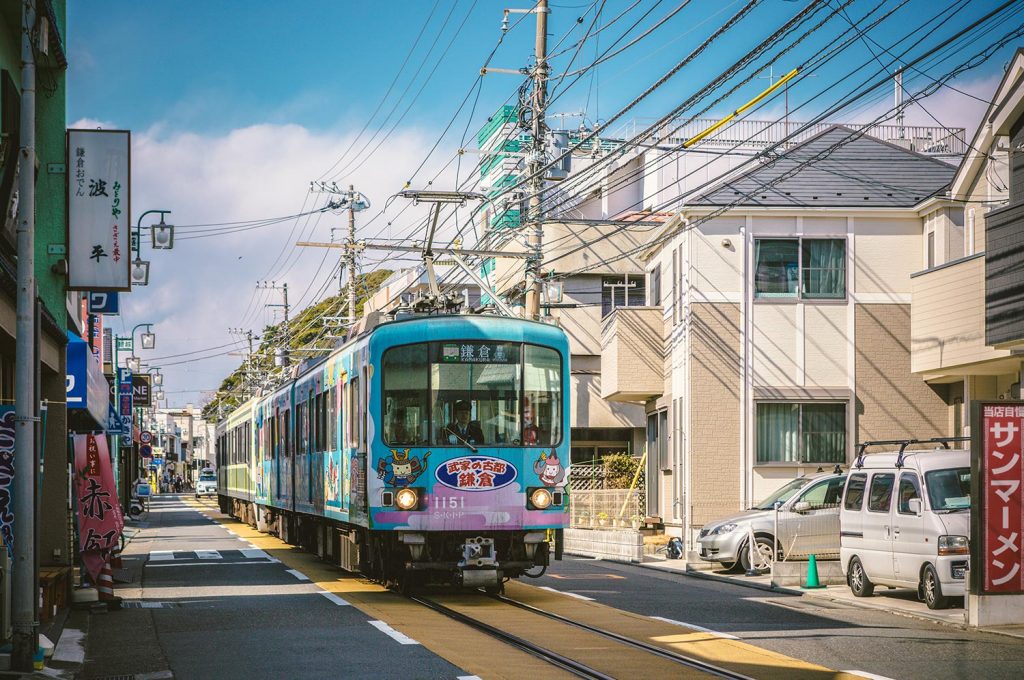 You can reach Kamakura by train using the JR Yokosuka line from Tokyo station (¥920, 56 minutes) and Shinagawa station (¥720, 46 minutes) and transfer in Yokohama (¥320, 27 minutes).
Otherwise, you can use the Shonan Shinjuku line from Shibuya, Shinjuku or Ikebukuro (¥920, 1 hour).
Where to stay in Kamakura?
Kamakura Guesthouse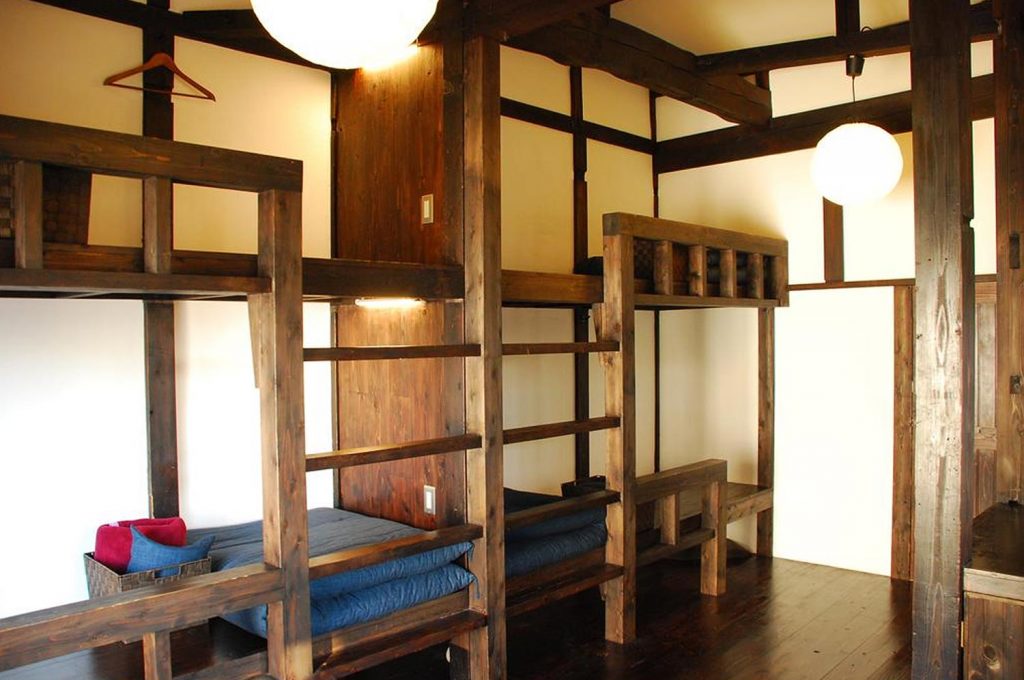 With its wooden rooms in Japanese style, this guesthouse is a great place to stay, you will have also the chance to make new friends in the common room with traditional Japanese irori (sunken hearth).
There is the possibility to rent bicycles and to cook in the common kitchen.
It is not located in the center but it's easily reachable, take the Enoden bus at the south exit at Kamakura station and stop at Kajiwaraguchi.
Price range: ¥3500 – ¥15.000
Address: 248-0022, 273-3, Tokiwa, Kamakura, Kanagawa, Japan (See on Google Maps)
IZA Kamakura
Very popular among surf lovers, this hostel has the typical atmosphere of a student house, it is just a few minutes from the beach and it is near to the Hase temples as well.
There is a bar where you can enjoy your time in the evening with friends.
There is the possibility to rent bicycles.
Price range: ¥3500 – ¥8,000
Address: 248-0021 Kanagawa, Kamakura, Sakanoshita 11-7, Japan (View on Google Maps)
Kakiya Ryokan
A bit outside from Kamakura, you will find the charming Kakiya Ryokan which is near Koshigoe beach. You will enjoy a Japanese style stay on a confortable tatami and futon. You can access it easily from Enoden Koshigoe Station (3 minutes walking).
Price: ¥5400 – ¥32000
Address: 248-0033 Kanagawa, Kamakura, Koshigoe 3-7-24, Japan (View on Google Maps)
Kamakura Park Hotel
It is characterized by Western-style rooms with marble bathroom and ocean view. You can reach it in 12 minutes on foot from Hase station.
Price: ¥16.000 – ¥19.000
Address: 248-0021 Kanagawa, Kamakura, Sakanoshita 33-6, Japan (View on Google Maps)
Here is our selection of the things you cannot miss in Kamakura:
Best Things To Do in Kamakura
Daibutsu-Great Buddha
Symbol of Kamakura, this bronze statue of Amida Buddha, was built in 1252 when Minamoto Yoritomo visited Nara, where there is the biggest Daibutsu in Japan, after he won the Taira family.
You can enter the statue paying an extra of ¥20 to see how this statue of 850 tons and 11,4 m tall was assembled.
Price: ¥200 adult – ¥150 children
Opening hours: 8:00-17:30 April-September, 8:00-17:00 October-November
You can check more information here.
Engaku-ji Temple
One of the 5 most important temples of the Rinzai School in Kamakura, Engaku-ji was founded in 1282 as a place where monks could pray for soldiers fighting the war against Kublai Khan.
All the buildings were rebuilt during the centuries, on the top of the stairs you can find the Great Bell (大鐘 Ogane), the biggest in Kamakura.
Price: ¥300 adult – ¥100 children
Opening hours: 8:00-16:30 March-November, 8:00-16:00 December-February
You can check more information here.
Tsurugaoka Hachiman-gu Shrine
The most important shrine in Kamakura is dedicated to the goddess of war, it was founded by Minamoto Yoritomo himself in 1191, and he requested also the pine boulevard that leads to the coast.
Many elements in this area are symbolic, the Gempei Lake, for example, is crossed by some bridges that represent the rivalry between the Minamoto and Taira families.
Near the lake is located the Museum of National Treasures that houses wonderful sculpture originated from the 12th to 16th centuries (¥300/¥600 depending on the exposition).
Price: free
Opening hours: 5:00-20:30 April-September, 6:00-20:30 October-March
You can check more information here.
Eating Shirasu Don
Shirasu is a well-known local delicacy in Kamakura. Shirasu are small white fish, you can eat it raw, boiled or fried, when placed on top of a bowl of rice, it is called Shirasu-don.
Recommended Restaurant To Try – Wasai Yakura
You can taste one of the best Shirasu udon in Kamakura at Wasai Yakura.
Address: 2-7-28 Komachi, Kamakura, Kanagawa
Acess: 5-minute walk from Kamakura Station
Hours: 11:00 AM – 9:00 PM
Price: from ¥480 to ¥1980
Website: Wasai Yakura
Relaxing on The Beach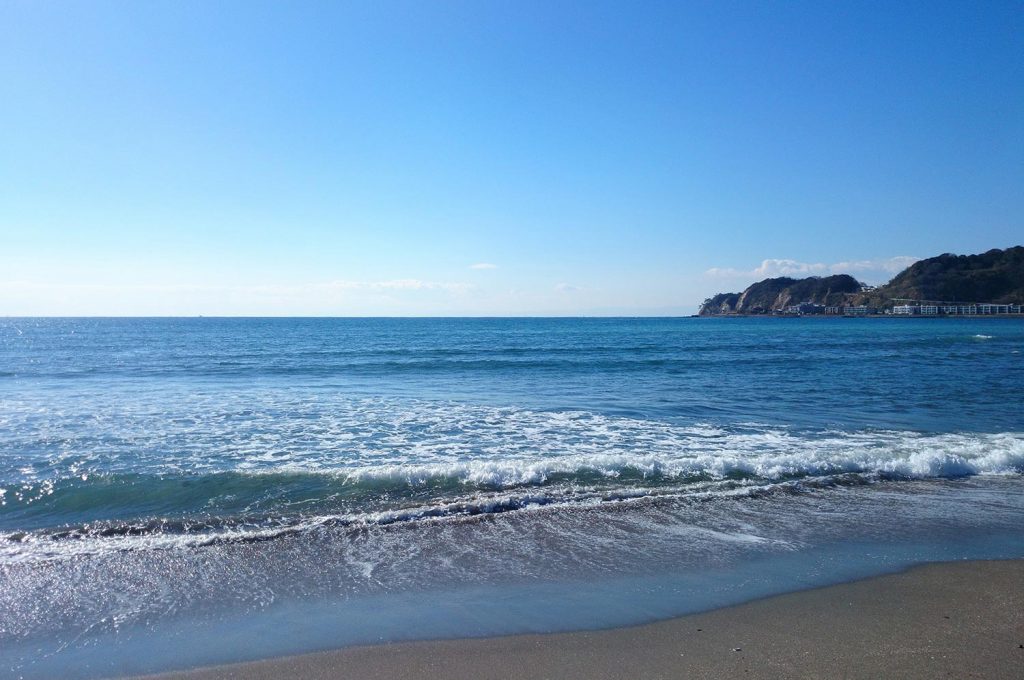 The beach in Kamakura is the right place to relax, and if you are lucky, if the day is clear, you can enjoy the spectacular view of Mount Fuji. Really windy, it is a paradise for surf lovers, for the same reason, we suggest not to forget a jumper!
Tenen Hiking Trail
This trail is well marked and you can use the free map of Kamakura and signs to locate the trailheads.
It runs approximately 6 km on the hills overlooking Kamakura. You can get good views of the town and especially of Mount Fuji on clear days. Most of the trail is in the forest and has no particular difficulties, except for some slippery spots on rainy days.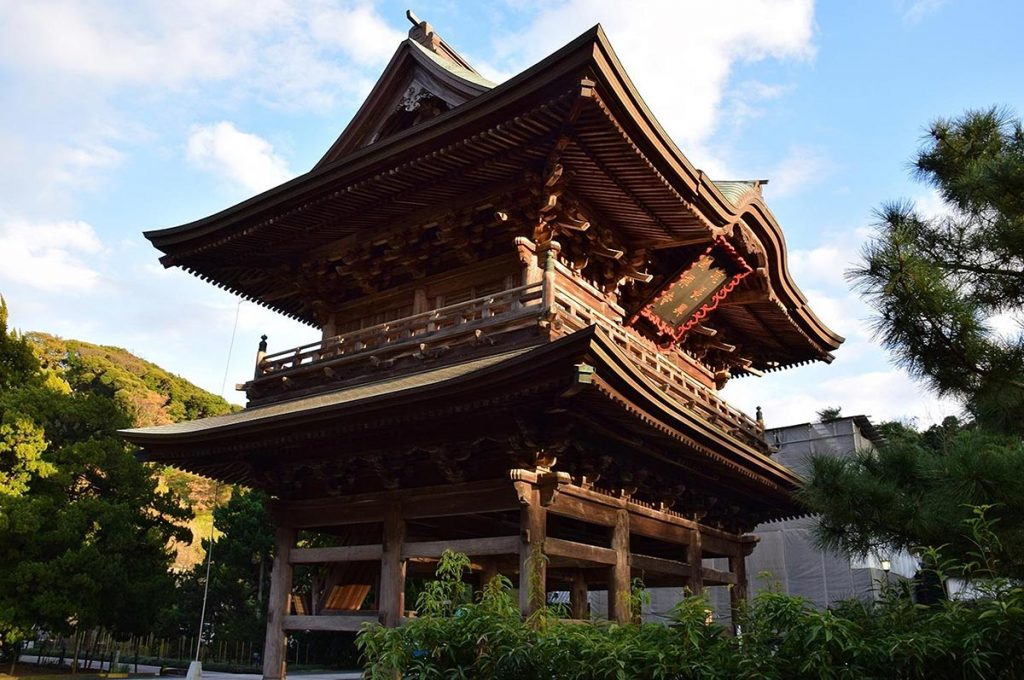 We recommend passing through the Kencho-ji temple (¥ 500), that is worth visiting in June and July when Hortensia blossoms. From Kita-Kamakura station go to the Zuisenji gate, bypass the temple and proceed to Imaizumidai district, from which you can enter the hiking trail and go directly to the hills above Kenchoji from where you have the best view of Mount Fuji.
Visit Enoshima
In 40 minutes using the Enoden line from Enoden Kamakura, you can arrive in this small but very nice offshore island. The main attraction here is the Enoshima-jinja shrine, dedicated to Benzaiten, goddess of sea who is said to have created the island from the bottom of the sea in the 6th century.
Enoshima is also a romantic spot, you can enjoy the view of the sunset into the ocean eating local delicacies like sazae (shellfish), served in many restaurants on the island. Enoshima will also be the sailing and surfing venue for the 2020 Summer Olympics.
Read our Enoshima Travel Guide.
Sasuke Inari Shrine
According to the legend this shrine was built as a sign of gratitude because Minamoto Yoritomo was visited in a dream by an Inari (a white fox) who advised him when to attack his enemies, thus ensuring a victory. For this reason, countless foxes of all shapes and sizes are placed all around the area.
This shrine is worth a visit mostly for its location, surrounded by vegetation, and for the rising tunnel of over 100 red torii that leads to the main entrance of the shrine.
The Sasuke Inari Shrine is located on the Daibutsu hiking course, a path in the woods that links Kita-Kamakura to Daibutsu.
Sugimoto-dera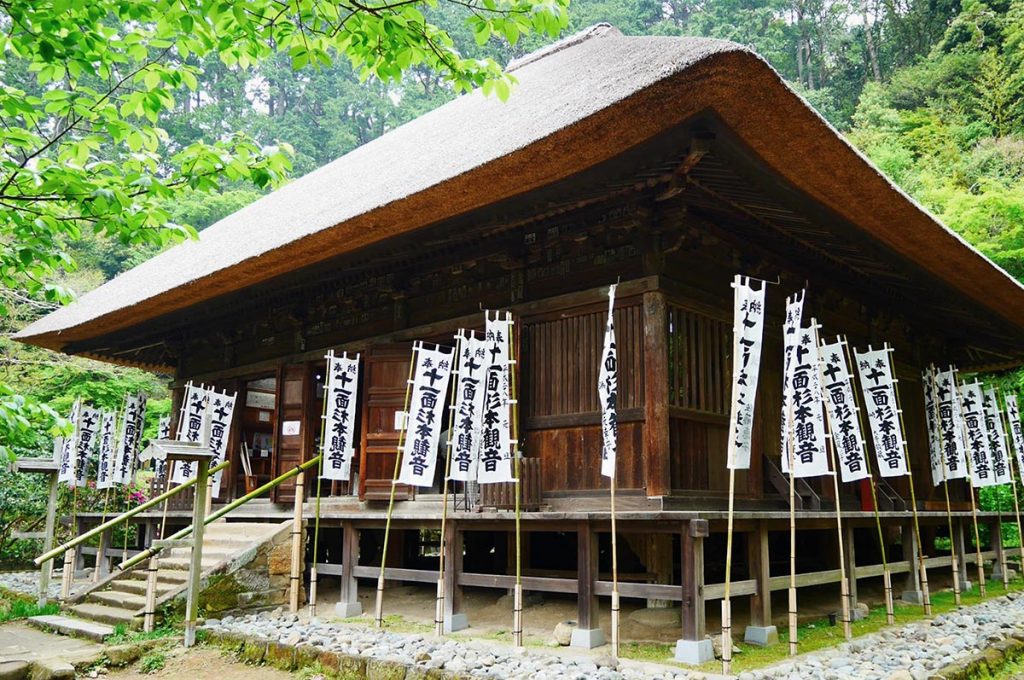 It is the most ancient temple in Kamakura, founded in 734. The temple's main object of worship and touristic attraction are the three sitting statues of goddess Kannon at the Main Hall. One of them is supposed to be built by priest Gyōki in 8th century. During a fire in 1189 the statues were rescued by the temple's bettō who put them under a cedar tree. From here the present name of the temple, which literally means "Under the cedar tree".
You can reach the temple taking a bus at the 5th stop at Kamakura station and stopping at Sugimoto Kannon (¥ 200).
Price: ¥200 adults – ¥100 children
Opening hours: 8:00-16:30
You can check more information here.
Kamakura Komachidori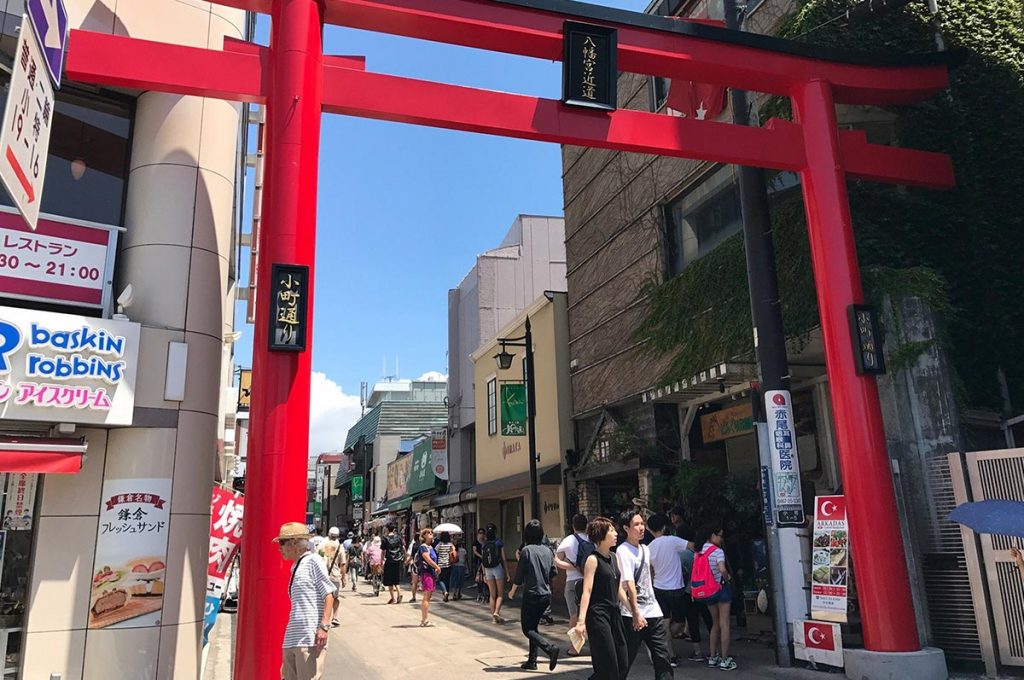 For people who love shopping or just need to buy some souvenirs for the ones back home, Kamakura Komachidori is the right place. This street has stores, cafés and restaurant fronts on both sides and it is perfect after a day spent among temples and shrines and to find something special and unique.
You can enjoy also the nightlife in many bars and live music clubs.
Zazen Meditation
If visiting the temples is not enough for you, there is the chance to try the real Zazen (Zen Buddhism) meditation: the traditional seated meditation. At Engaku-ji and Kencho-ji temples, meditation is open to everyone.
These are our suggestions, but there is much more to see and to explore in Kamakura, depending also on how long you will stay. Anyway, we assure that at the end of your visit you will leave this city restored with a feeling like you know a little more about Japanese culture and its mystery.
Do you have another great place to recommend in Kamakura? You can share it with us on our Facebook group. Don't miss out our new posts, follow Your Japan on Facebook, Instagram, and Pinterest. See you soon!