Most people who have ever traveled and shopped before in their lives would probably agree that there is a unique and heightened level of satisfaction and excitement (and always a tinge of regret) when you're swiping your card at an overseas counter. It could be for a pair of shoes you just can't find back at home, or it could be for a sweater you'd probably be able to find at the local mall, but regardless, shopping and spending whilst you're in holiday mode is a much-loved pastime, and if you're planning to shopping in Tokyo, you're in for a wild time.
Tokyo is home to some of the most eccentric shopping districts in the world. They take the already so unique and charming culture of the Japanese and put a twist in the mix to drastically distinguish them from their neighbors. Are you a vintage record collector or a high-end fashionista? Into frilly skirts more than designer purses? We've got it all covered.
Read on as we explore the top 10 best areas for your shopping in Tokyo:
Harajuku
Harajuku is the epitome of the ultimate shopping destination for anyone who is into the kawaii culture and cosplaying. On any random day, you will see people walking Takeshita Street (one of the most popular streets in Harajuku) dressed in unconventional outfits, and cosplayers posing with tourists for photos. 
Harajuku is littered with shops selling cute, hip, and fashionable clothing and accessories. You can literally spend an entire day staring at hairpins because that's how many dedicated shops they have! However, don't be overwhelmed. Below we've picked out a few stores we recommend you visit if you're just a tad time-pressed and want that real Harajuku experience:
W♥C
One of the most sought-after shops located in Tokyo, this store is stocked to the brim with sweet and girly Harajuku Girl fashion. It is located on the popular Takeshita Street and is relatively budget-friendly. With constantly updated racks of clothing, bags, shoes, and accessories displayed in a sweet pastel store, no one will blame you if you leave with fur-lined shoes and oversized bunny sweaters added to your wardrobe!
Address: 1 Chome-19-5 Jingumae, Shibuya, Tokyo 150-0001
Access: Head to Harajuku Station, and exit into Takeshita Street. Walkthrough for around 2 minutes and WC will be on your left.
Hours: 10:30am – 8:30pm
Laforet Harajuku
Laforet is a much-visited department store in Harajuku by both tourists and locals alike, and for good reason. It houses a great mix of unique brands and styles, especially for females. There are levels dedicated to Lolita fashion, gothic fashion, street clothing, Harajuku Girl fashion, global luxe brands, and more. It may not be the most budget-friendly place to shop, but that is a small price to pay for the variety that Laforet offers. It's also conveniently located right next to Meiji-Jinguemae Station.
Address: 1-11-6 Jingumae, Shibuya-ku, Tokyo 150-0001
Access: Head to Meiji-Jingumae (Harajuku) Station, and use Exit 5. It is under 1 minute away on your left.
Hours: 11:00am – 9:00pm 
You can check Laforet official website here.
Shibuya
If you're after a place that's the closest thing to a one-size-fits-all destination, Shibuya is it. It's a sprawling metropolis of shopping malls, restaurants, cafes, bars, and many entertainment options that will likely take up your entire day. Almost everywhere is walkable within Shibuya, making it a popular spot for tourists to explore.
The colorful and lively district is particularly popular amongst the teenagers for the vast number of global street and fashion brands represented alongside unique fashion boutiques. Below are some suggestions for stores you shouldn't miss in Shibuya:
Shibuya 109
Arguably Shibuya's most famous shopping mall, it's a massive, cylindrical structure of levels upon levels (ten to be exact) of trend-setting fashion boutiques for women after the glamorous young fashionista look. It houses a number of fashion boutiques which sell everything from clothing, accessories, handbags, shoes, and much more. Nearby, there is also the 109 Men's building which is a fashion powerhouse for stylish young men looking to update their wardrobe with the latest wear.
Address: 2 Chome-29-1 Dogenzaka, 渋谷区 Tokyo 150-0043
Access: Head to Shibuya Station, and use Exit 8 (Hachiko Exit). Shibuya 109 is located directly across the Shibuya scramble crossing.
Hours: 10:00am – 9:00pm
You can check Shibuya 109 official website here.
Shibuya Hikarie
A massive, complex building design of glass panes and a connected walkway to Shibuya station, Shibuya Hikarie stands out like a sore thumb against all of Shibuya's grey buildings. The first 8 floors of the building are occupied by a large popular department store known as ShinQs. The department store offers a wide variety of fashion and cosmetics mainly targeting women in their 20s to 30s, and includes two massive floors dedicated to food in the basement. They also have floors dedicated to traditional crafts, works of art, and high-quality souvenirs. Floors 6 and 7 are occupied by many cafes and restaurants offering cuisines from all over the world, making it a perfect place to visit if shopping in Tokyo is on your list.
Address: 150-8510 2-21-1, Shibuya, Shibuya-ku, Tokyo
Access: Head to Shibuya station, and use Exit 15. It is directly connected to the station. You can also head to the 2nd floor of the station and walk through the directly connected pedestrian walkway to the shops.
Hours: 10:00am – 9:00pm
You can check Shibuya Hikarie official website here.
Akihabara
Known by locals but inflated by tourists as the 'electric town' of Tokyo due to its high concentration of shops selling technology and electronics, Akihabara is also a popular place known to fully accommodate the thriving anime culture (in Japan, but the world is very rapidly catching up). Otakus (a person who has an obsession, particularly with anime, manga, and video games) can be found littering the streets with bags of figurines, trading cards, video games, manga, and plush toys of their favourite animated characters, and you will be able to spot the technology enthusiasts walking around with bags of their latest camera gear and phone accessories or crowding around shop fronts to admire the latest equipment on display.
Yodobashi Camera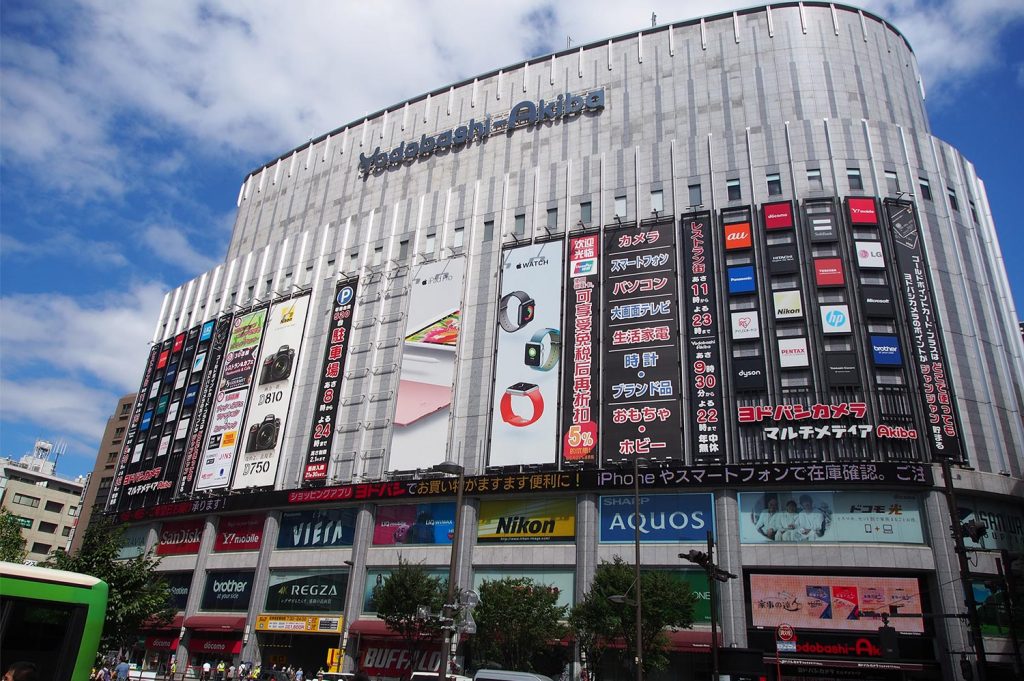 One of the larges electronics shops in Akihabara, it has long been a favorite place for shopping in Tokyo for travelers. It's a massive 13 stories of shops dedicated to all kinds of electronics, and the building itself is extremely difficult to miss as during the day, there are hoards of people pouring into the store to browse their expansive range of products, and during the night, it becomes lit up with jarring neon signs and flashing lights. Each floor is dedicated to a particular electronic, e.g. on the third floor you will find the latest flat-screen TVs all on strategic display reminding you that you're due for an update to a 70-inch soon, and on each floor, seasoned experts are on hand to guide you through the best options for your criteria and budget.
Address: 1-1 Kanda Hanaoka Town, Chiyoda-ku, Tokyo 101-0028
Access: Head to Akihabara station, and it is a 1-minute walk from there down Showa Doriguchi.
Hours: 9:30am – 10:00pm
You can check Yodobashi Camera official website here.
Radio Kaikan
Unofficially known as the otaku symbol of Akihabara, Radio Kaikan is the place to go if you've long been a fan of anime, and want to awaken all your senses to the biggest collection of figurines, manga, trading cards, collector's toys, and branded stationary your body can handle. That's 10 floors of immersive shopping experience for locals who are looking to add seasonal limited edition items to their collection, or tourists who are up for a unique experience. 
Address: 1-15-16 Sotokanda, Chiyoda-ku, Tokyo
Access: Head to Akihabara Station, and it is only a 1-minute walk away.
Hours: 10:00am – 8:00pm
You can check Radio Kaikan official website.
Ginza
Stepping off the train in Ginza, you can almost breathe in the luxury in the air. Ginza is the area where the most expensive real estate in Tokyo reside, and with that status comes the big brand names to go with it. Expect to see the likes of Prada, Gucci, Hermes, Louis Vuitton, Burberry, and more as you browse the streets.
However, it's not only the globally renowned names that have a presence here; Uniqlo's flagship Japanese store stands tall and proud at 12 stories high with 5,000 square meters of life wear fashion for visitors to enjoy. There are also unique boutique stores lining the streets to explore; Ginza is definitely a place you could spend an entire day browsing and shopping in Tokyo. See below for some of our suggestions to get started in Ginza:
Ginza Six
One of the newest players in the district, Ginza Six has come to make a big name for itself as a massive 14-story luxury shopping building with an impressive list of brands all under the one roof. A total of 241 global and domestic brands make up this shopping mall, offering fashion, accessories, cosmetics, and art to appease the desire of a well-rounded shopper. When you want a break from browsing through Kenzo, Mulberry, and Alexander Wang, head to level 6 to explore the Tsutaya bookstore that looks as though it belongs in a modern architecture magazine, or the basement hall, which offers a wide range of cuisines to fuel your body for the next few hours of shopping.
Address: 6 Chome-10-1 Ginza, Chūō, Tokyo 104-0061
Access: Heading to Ginza station, and use Exit A2 or A3.
Hours: 10:30am – 8:30pm
You can check Ginza Six official website.
Uniqlo Ginza
Whilst not the first thing people would think of when they imagine shopping in Ginza, the flagship store in Ginza definitely should not be slept on. Aptly known to some as 'the best Uniqlo store in the world', with a floor space of 5000 square meters and standing 12 stories high, you would not expect any less. The glass building itself is a visually striking show of brilliance that easily catches the eye of anyone walking past. On the 11th floor, be prepare to be immersed in a superior display of products like you've never seen before. The walls on either side of this level are consistently showcasing the latest limited edition items, exuding a catwalk style hall-of-fame pathway. 
Address: 6 Chome-9-5 Ginza, Chūō, Tokyo 104-0061
Access: Head to Ginza Station, and it is a 3-minute walk down Chuo Dori (main street).
Hours: 11:00am – 9:00pm
You can check Uniqlo official website here.
Shimokitazawa
As much as Roppongi is where it's at for local expats to party, Shimokitazawa is the place to be for those after niche thrift shopping and vintage items. There is a collective air of nostalgic appreciation as you step off the train; it's like Instagram's lo-fi vintage filter has permeated through the district. Take in all the quaint cafes and edgy stores lining the streets as you walk along the roads that you will share with bikes, cars, and trucks. The fashion here is simple: people wear what they want to wear.
New York Joe Exchange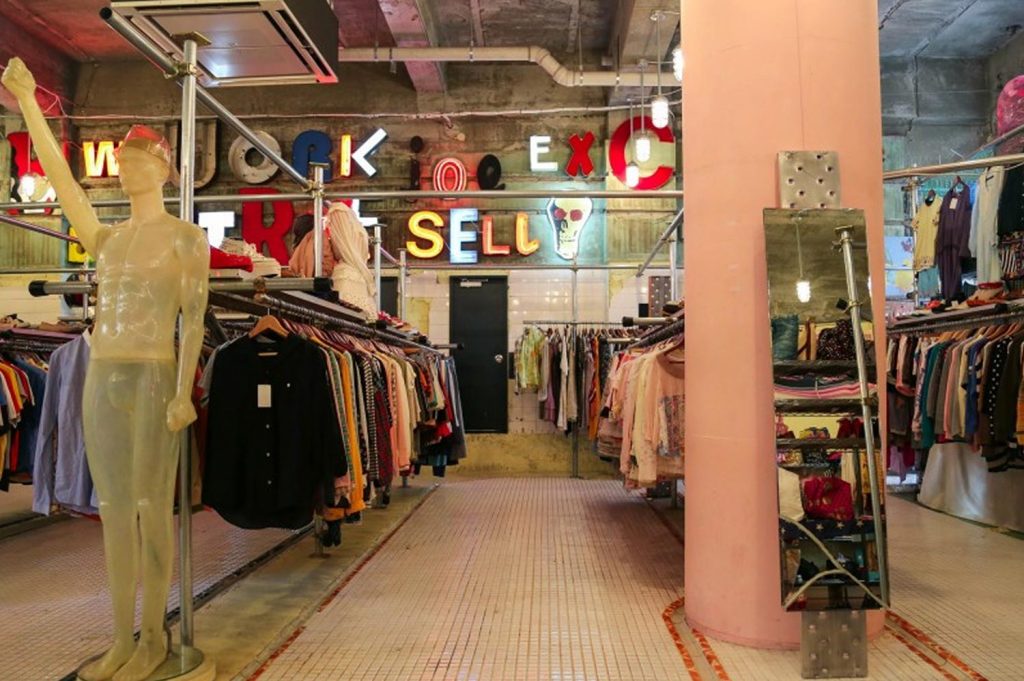 As one of the most popular second-hand stores that's located in Shimokitazawa, New York Joe Exchange has plenty of reasons to claim its throne as the locals' shop of choice for unique garments and one-of-a-kind vintage knick-knacks.
One of their main selling points is the fact that they offer three services for their customers: they sell a myriad of clothing and accessories, they buy your clothing from you if you'd like to sell (but you must make a reservation in advance), and they also allow the trading of items (your clothes for something off the rack).
This crowdsourcing system allows them to keep a steady flow of products coming in and out of the store and provide customers with an ever-changing selection to choose from when shopping in Tokyo. 
Address: 3-26-4 Kitazawa, Setagaya ku, Tokyo 1550031
Access: Head to Shimokitazawa station and take the North Exit. It's a 5-minute walk away.
Hours: 12:00pm – 8:00pm
You can check New York Joe Exchange here.
Chicago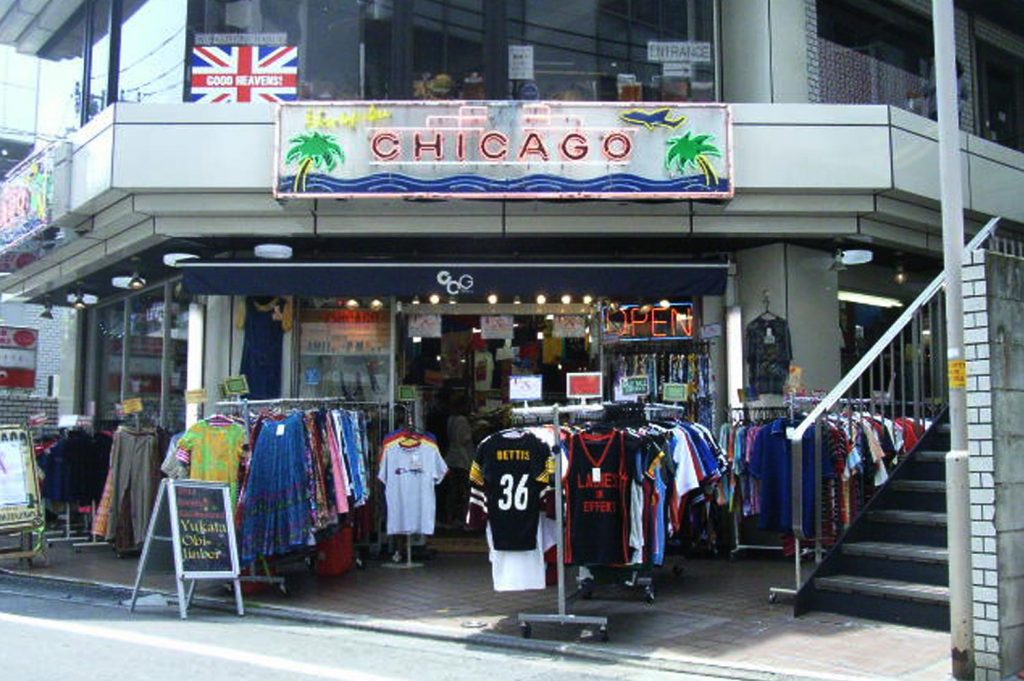 Chicago is a seasoned name amongst the local hipsters here in Tokyo, however, the store in Shimokitazawa is the biggest one yet. It's a classic American-themed thrift store, rocking quality merchandise (and even a massive range of traditional yukatas) for a low price. Fun fact: it quite possibly boasts the largest selection of imported used Hawaiian shirts in Shimokitazawa (and that's saying something, considering the amount of secondhand stores there), so if you're after that one unique print that sets you apart from the others to get you into the summer spirit, this is the shop to visit!
Address: 5-32-5 Daizawa, Setagaya-ku, Tokyo 155-0032
Access: Head to Shimokitazawa station, and take the South Exit. It is a 3-minute walk from there.
Hours: 11:00am – 8:00pm
You can check Chicago official website here.
Odaiba
Odaiba is one of the biggest shopping in Tokyo and entertainment destinations on this list. As great in-store offerings as it is in displaying massive buildings, Odaiba is the answer to a fun-filled day out with the family.
There are multiple shopping destinations in Odaiba, each with their own entertainment facilities, such as arcades, gaming stations, and concept cafes and shops. In the evening, plenty of areas offer great viewing platforms of Tokyo Bay, and Rainbow Bridge, which connects Odaiba to Tokyo, becomes beautifully lit at night.
Palette Town
Probably one of the biggest combined shopping and entertainment complexes, Palette Town is a must visit for families, groups of friends, and pretty much anyone who has a range of interests that can't be satiated with just shopping and eating, although Palette Town does both of these very well.
It is divided into a few main areas, including Venus Fort, which is a multi-level shopping centre designed to replicate the Renaissance period in Rome with a sky mural on the ceiling; Toyota Mega Web, which is a giant Toyota showroom that showcases all of their latest models and technologies and often has events where guests can participate in games, demonstrations, and test driving; and the Odaiba Leisure Land & Ferris Wheel, which is a dedicated area of arcade games, a bowling alley, and a Ferris Wheel.
Address: 135-0064 Tokyo, 江東区青海1丁目3−15
Access: Head to Tokyo Teleport Station, and it is a 3-minute walk from there.
Hours: 11:00am – 9:00pm 
You can check Pallete Town official website here.
Diver City Tokyo Plaza
Diver City offers not only a wide variety of shops and restaurants, but also immersive experiences that visitors can participate in, such as the VR activities in the dedicated VR space. The center is comprised of seven levels of almost every type of retail store imaginable.
They are quite diverse, including both global fashion brands such as H&M, to domestic budget lifestyle homeward brands such as 3 Coins. The main food court offers a variety of cuisines and hundreds of seating that is often all taken up on the weekends when the center becomes super busy. 
Address: 1-1-10 Aomi, Koto 135-0064, Tokyo
Access: Head to Daiba station, and it is a 5-minute walk from there.
Hours: 10:00am – 9:00pm
You can check DiverCity Tokyo official website here.
Asakusa
Home to two landmark tourist attractions in Tokyo (Senso-ji Temple and Tokyo Skytree), Asakusa emulates a rather 'Old Tokyo' vibe that can't quite be found anywhere else. As the previous entertainment district of the Edo Period, it has retained some of its traditional charm through the shrines, the temples, and the hidden local alleys where market stalls still trade in a manner that is reminiscent of traditional Japan.
Here, you will be able to find a number of stores which sell Maneki-neko, a popular Japanese cat figurine which is waving its paw, believed to bring luck to those who own it (a great travel souvenir). However, the range of souvenirs extend to so much more hand-crafted items and trinkets, and alongside multiple shopping destinations that offer a more traditional shopping experience, Asakusa is a great place to spend a day ticking off your list of essential wardrobe updates and souvenirs for family and friends.
Below are some recommendations on where to get the full experience in Asakusa:
Nakamise Street Shopping
Nakamise is a shopping street that stretches over roughly 250 meters with 89 stalls that leads directly to Senso-ji Temple. The stalls sell items that range from snacks and souvenirs to crafts and packaged food. Lanterns line the outside of the street, making it a very picturesque area to shop, especially during autumn with the beautiful foliage from the nearby trees framing the street. You can snack on foods such as fish cakes and fried chicken as you browse the stalls for memorabilia (some authentic, others tacky) to bring home. 
Address: 1-36-3 Asakusa, 台東区 Tokyo 111-0032
Access: Head to Asakusa station, and take Exit A3-A5. You should be able to see the beginning of the street from there.
Hours: 10am – 5pm
Check more information about Nakamise Street here.
Ekimise Asakusa
Easily one of the most convenient shopping centers to visit, you can literally take the train to Asakusa station, step off onto the platform, and you won't even need to exit the building to get to it: it sits right atop the train station. The lower floors are occupied by Matsuya, a popular department store that focuses on chic women's fashion and accessories, whilst further upstairs you will be able to pick up some funky souvenirs where a cluster of stalls sell traditional goods. There is also a 100-yen store that has become quite popular with tourists, and after all that shopping, you can head to the rooftop where there is an observation deck that displays views of Tokyo Skytree. 
Address: 1-4-1, Hanakawado, Taitou-ku, Tokyo, 111-0033
Access: Head to Asakusa station, and take Exit 7. It is a 1-minute walk away.
Hours: 10:00am – 8:00pm 
You can check Ekimise official website here.
Kappabashi
Kappabashi is known as the 'kitchentown' of Tokyo for its mass production of everything you can imagine for your kitchen. Their stores line up the streets with products ranging from cookware, crockery, utensils, knives, and rice cookers, but their most popular item (to buy or to view, we're not sure yet) is the food models that are produced for restaurants and foods to display at their windows to entice customers.
Remember that super realistic looking pasta you saw on your way out of the station? That was most likely produced at Kappabashi.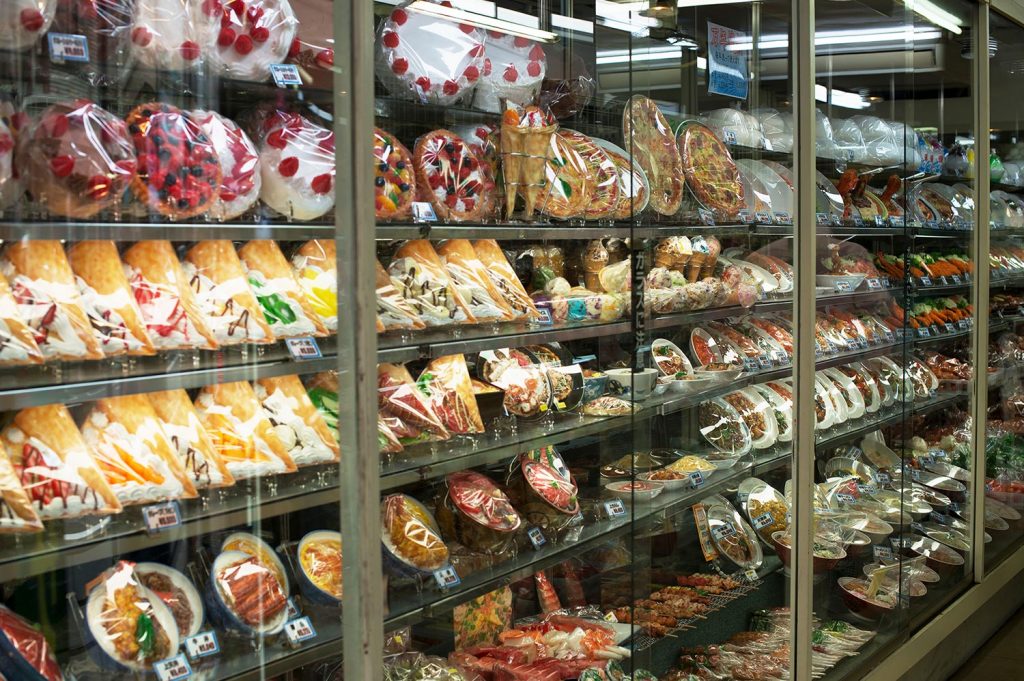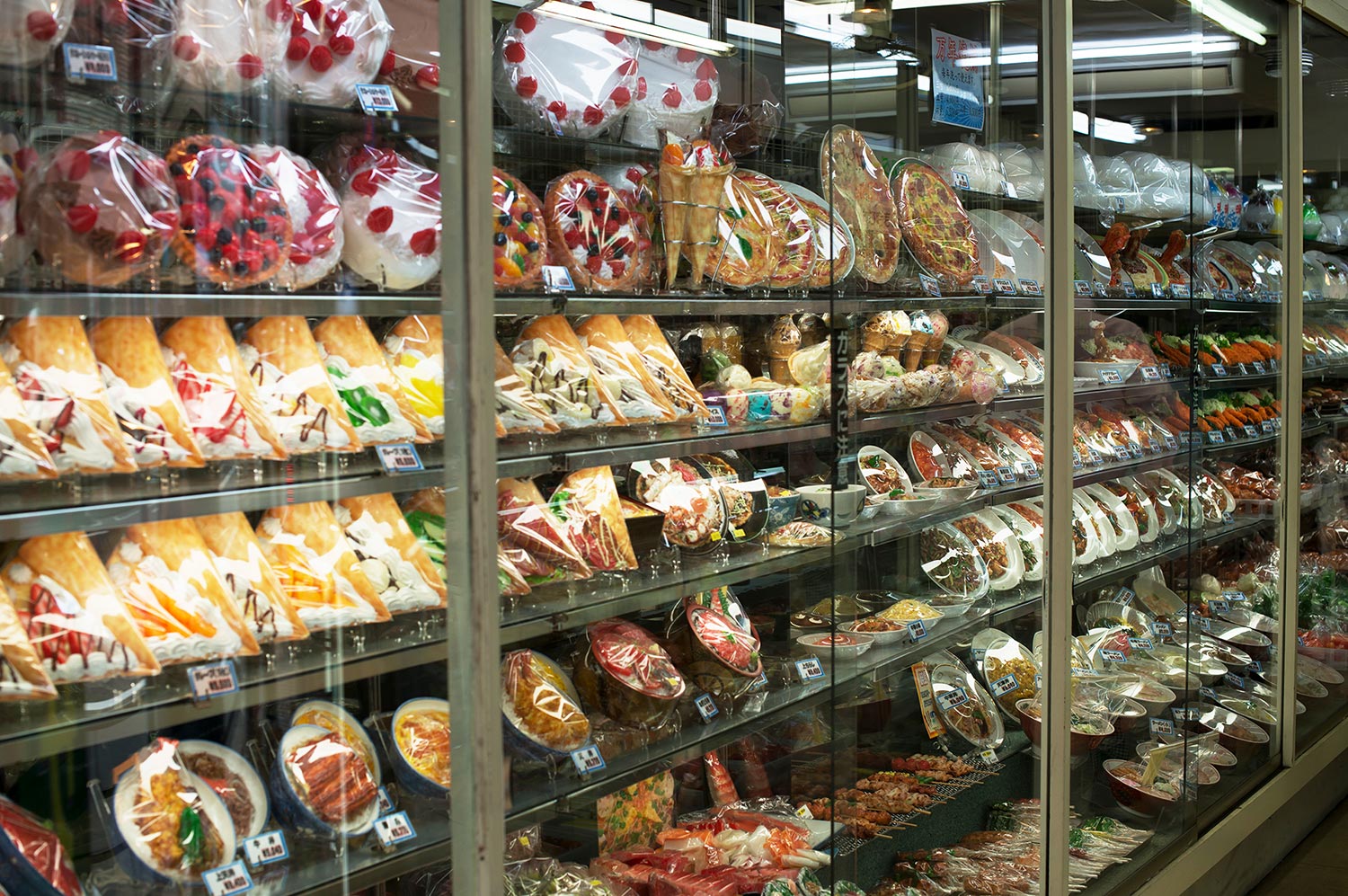 In recent years, it has become a super popular place to visit, and you can bet that there are crowds of visitors every day browsing the streets in search of additions to their kitchen as well as the brightly colored food samples that are so unique to Japan.
Kichijoji
Affectionately known as the most charming town in Tokyo, Kichijoji is one of the most sought-after neighborhoods to live in, and with good reason. There is a laidback vibe that contrasts starkly with Tokyo's hustle reputation. Kichijoji is the place you'd head to on a Sunday morning for some coffee and contemplation.
There are plenty of small boutique fashion shops browse as well as zakka stores to add some character to your home furnishings. As most places source their products from specific regions, it's a guarantee you'll stand out from the crowd back at home.
36 Sublo
Stationery lovers, this is the store for you. Originally a business that operated in Kyoto, it has now expanded to the very fitting suburb of Kichijoji, and amongst its collection of unique stationery items, it has now added to its product range through selling retro knick-knack items, imported stationary, and everything in between such as letter sets, writing paper, sharpeners, table weights, clips and pins; anything you can imagine your dream stationery store to have, Sublo will almost certainly stock it. A quaint store with wooden décor and sunlight filtering in during the day, it is the perfect place to spend a leisurely day.
Address: 2-4-16 Kichijoji-honcho, Musashino City, Tokyo
Access: Head to Kichijoji station, and take the North Exit. It is a 3-minute walk from there.
Hours: 12:00pm – 8:00pm (closed on Tuesdays)
You can check 36 Sublo official website here.
Markus
If you're after some unique home décor items that can bring life and character to any room, Markus is the store. It offers an impressive range of Japanese objects that the shop owner personally chooses when traveling around the country to visit craftsman and shops off the beaten path.
You will be able to feel and see the uniqueness of each of the items, and learn about them through the small descriptions thoughtfully displayed near each and every one. The items include handmade fans from Kagawa, tea leaves from Shizuoka, and pottery kitchenware from Okinawa.
Address: Musashino Country Heights #112, 2-18-15 Kichijoji-Honcho, Musashino-shi
Access: Head to Kichijoji Station. It is a 6-minute walk from there.
Hours: 11:00am – 8:00pm
You can check Markus official website here.
Nakameguro (Vintage)
Into chic boutiques and vintage records for shopping in Tokyo? Nakameguro's relaxed, unassuming neighborhood displays an appreciation for independent designers and those with an affinity for old-school vintage products.
It's where you'd want to be on the weekend, sipping coffee by the river and leisurely strolling past boutique stores opened by young hopeful generations of Japanese designers and artists, checking out the small galleries and visiting the coffee carts.
There are plenty of shops to choose from, and the wide selection of food offered in this area (literally from the moment you step foot out of the station), creates the perfect balance for a relaxing weekend. 
Waltz
Nakameguro is known for its quiet streets and dispersed shops that aren't clumped together like many other Tokyo suburbs, but even as you wander away from the laneways and alleys closer to the station, there are still many hidden gems you may come across. Waltz is one of those gems. Nestled amongst the quieter residential area, Waltz is a wonderfully retro-looking, nostalgia-inducing store that sells an extensive collection of vintage cassette tapes, vinyl records, old books and magazines, VHS, and cassette players. They sell mostly foreigner music but do include some Japanese classics in the mix. The design of the store is all big windows and wooden shelving, making you absolutely buy into the retro theme. You can even try the products here before you buy them!
Address: 4-15-5 Nakameguro, Meguro, Tokyo 1530-0061
Access: Head to Nakameguro station. Walk past Tsutaya Nakameguro, and it is an 11-minute walk from there.
Hours: 1:00pm – 8:00pm (closed Mondays)
You can check Waltz official website here.
Nakameguro Tsutaya
Operating underneath the train tracks right outside of Nakameguro Station, it consists of four split areas that are interconnected: 'lifestyle and gifts', 'ideas and inspiration', 'events', and a café/lounge area designed to create an environment of total relaxation whilst browsing a book and sipping a coffee.
The interior is absolutely stunning (drawing inspiration from it's older sibling, the famous Daikanyama Tsutaya store), and being located so close to Starbucks (literally onsite), this really is the answer to a perfect afternoon.
Address: 153-0051 Tokyo, Meguro, Kamimeguro, 2 Chome−9−1 中目黒GS第1ビル
Access: Head to Nakameguro station, and follow the crowd under the train lines towards the Meguro River. It is located across the station.
Hours: 10:00am – 2:00am
You can check Tsutaya official website here.
Do you want more tips about Japan? You can check our articles about Life in Japan here.
We are also on  Instagram, Facebook, and Pinterest. Follow us! Do you want to join a big community of Japan enthusiasts? Join our Facebook Group and share your Japan with us. Enjoy your shopping in Tokyo! See you soon!