Top Tattoo Friendly Onsen in Tokyo – It is a public secret that one of the must-do things in Tokyo is getting a dip in the Onsen. However, if you have tattoo, there is a great possibility that you will not be allowed to enter most of the Onsen in Japan. This is because tattoo once being deemed as a symbol of criminal connections in Japan, although tattoo is a symbol of mainstream fashion nowadays. Thus, hot spring resorts – Onsen and Sento – often do not allow patrons with tattoos to avoid offending other bathers. However, the time has changed now. Below is the top 10 Onsen in Tokyo that welcome patrons with tattoo.
Kugahara-yu
Kugahara-yu is a public bath famous for its natural black hot springs which contains highly concentrated carbonic water. The public bath is accommodated with free body wash, shampoo and hair conditioner. Foreign visitors can receive a small gift upon showing them your passports. The hot spring promotes blood circulation and is popular among the locals. Here, you can also find natural black water hot springs, a free steam sauna, and an infrared sauna.
Address: 2-14-15, Kugahara, Ota-ku, Tokyo
Hours: 14:00-24:00 on weekdays and holidays, 12:00-24:00 on Saturday and Sunday *Closed on Mondays
Hisamatsuyu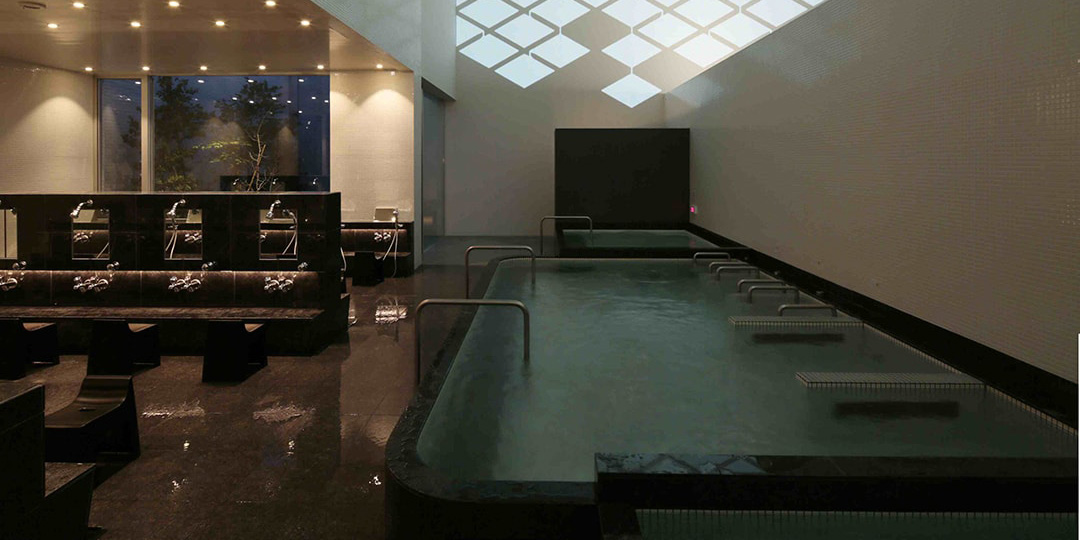 Different from the traditional mural of the Mount Fuji, Hisamatsuyu's wall is decorated with the projections of abstract shapes on a large LED screen. Besides, the design theme of Hisamatsuyu is minimalist, which is suitable for youngsters that prefer modernism design. There are two cooler temperature baths, one at a very comfortable 38 degrees whilst the other is 17 degrees allowing you to have a refreshing dip. A quick dip in this cold-water bath would be a good prerequisite before going for another another relaxing stretch in the hot Onsen.
The main attraction here is the carbonated spring outdoor that pumps natural waters from underground. This distinguished Hisamatsuyu from the other Sento which are generally just public baths. The outside area is again pristine and various plants set among the black rocks add to the power of the natural waters whilst ambient music creates an atmosphere of serene tranquility.
Address: 3-31-16 Ikegami, Ota-ku, Tokyo
Hours: 10:00 AM – 12:00 AM *Closed on Tuesdays
Bathing Fee: 460 yen for adults, 180 yen for elementary school children, 80 yen for preschool children
Jakotsu-yu
The Onsen here in Jakotsu-yu is natural, hence giving the water its blackish colour. This "black water" is said to date back to the Paleozoic era, during which the grass and leaves that were buried underground and is mixed with the underground water to create this mineral spring.
It has a special feature that warms you up to the core and the warmth remains for a while even after you have gotten out of the bath. The facility here has recently undergone a renovation and is now barrier-free environment, equipped with banisters alongside the bathtub, so the elderly will be able to safely use the facility. You are also able to charge your mobile phones free of charge.
Address: 1-11-11 Asakusa, Taito-ku, Tokyo
Hours: 1:00 PM- midnight *Closed on Tuesdays
Bathing Fee: 460 yen for adults, 180 yen for elementary school children and 80 yen for child under 6 years old
Yudonburi Sakae-yu
Yudonburi Sakae-yu is located north of Sensoji, in an area called Oku-Asakusa. You can enjoy as many as seven different kinds of baths, including a rotenburo (outdoor bath), neburo (lie-down bath), and denkiburo (an electric bath). Sauna is also available with an additional charge.
Address: 1-4-5 Nihonzutsumi, Taito-ku Tokyo
Hours: 2:00 PM – 12:00 AM, 12:00 PM – 12:00 AM on Sundays and holidays *Closed on Wednesdays
Bathing Fee: 460 yen for adults, 180 yen for elementary school children, 80 yen for preschool children
Soshigaya Onsen 21
SOSHIGAYA ONSEN 21 has 5 types of baths and 3 types of saunas. The choices of hot springs are the standard bath, white-water bath, Onsen, "silky" bath, and water bath whereas the choices of saunas are high temperature sauna, low temperature mist sauna, and "freezing" sauna.
This is a gem of tattoo-friendly Onsen in Tokyo because it is rare to find an Onsen that houses various types of baths and saunas. There is also a mini-pool, which is about ten meters in length, and one meter deep for the purpose of soothing muscle pain and relieving fatigues. Next to the mini-pool is a jacuzzi that switch in between using concentrated water and carbonated water on alternate days.
Concentrated water is water filled with various types of mineral that is believed to have great effect to maintaining good skin while carbonated water is soft water dissolved with carbon dioxide mainly to improve blood circulation. There is also an exclusive aqua massage with an additional charge. Aqua massage can definitely reduce your belly fat after binging on food in Tokyo since Tokyo is a food heaven!
Address: 3-36-21 Soshigaya, Setagaya-ku, Tokyo
Hours: 2:00 PM – 2:00 AM
Bathing Fee: 460 yen for adults, 180 yen for elementary school children, 80 yen for preschool children
Nippori Saitoyu
Nippori Saitoyu is a tattoo-friendly onsen established in 1934 (Showa year 9) and is being likened by the locals for the past 80 years. Apart from electric baths, there are jet baths (sleeping water baths), hot tubs, hot water baths, lukewarm baths, silky bath, and a "high concentration artificial carbonated spring". The lukewarm bath is suitable for you if you don't like to bath in hot water.
The carbonated spring contains dissolved carbon dioxide that aids blood circulation. In the silky bath, you can play with the foamy bubbles that softly wrap your skin in the open-air bath. One of the highlights of Nippori Saitoyu is you can enjoy a fresh draft beer right after your refreshing dip in the hot spring. There is also a shelf provided for the guests to put their towels when it is not used, which comes in handy when you were thinking where to put your towel when you don't need it during the bath.
Address: 6-59-2 Higashi-Nippori, Arakawa-ku, Tokyo
Hours: 2:00 PM – 11:30 PM *Closed on Fridays
Bathing Fee: 460 yen for adults, 180 yen for elementary school children, 80 yen for preschool children
Tsuru No Yu
Tsuru No Yu is a famous tattoo-friendly Onsen nestled at the base of Mt. Nyuto-zan in the Towada Hachimantai National Park. In the national park, it is a golden opportunity to experience the real Japanese countryside— the endless emerald green rice fields, majestic mountain views, and a Japanese friendliness. The Onsen was established in the 1600s and was used by the local nobility and samurais of the Akita region. Tsurunoyu Onsen gets its name from the fact that a local hunter saw a crane healing its wounds in the spring because Tsuru has the meaning of a crane in Japanese. Tsuru-no-yu contains a total of 5 baths, including both indoor and outdoor baths. The large, mixed gender outdoor bath is iconic of the region, and there are single gender indoor baths available, as well. The springs come from 4 different sources of varying qualities, including the Shiro-yu, Kuro-yu, Naka-no-yu, and Taki-no-yu. The waters are effective on high blood pressure, arteriosclerosis, arthritis, skin diseases, and diabetes.
Address: 2-11-16 Funabori, Edogawa-ku, Tokyo
Hours: 3:30 PM – 12:00 AM *Closed on Wednesdays
Bathing Fee: 460 yen for adults, 180 yen for elementary school children, 80 yen for preschool children. There is a 300 yen of additional charge for sauna.
Pokapoka Land, Takaban-no-yu
This tattoo-friendly public bathhouse is located 7 minutes from Gakugei-Daigaku station. The water consists of metasilicic acid, which is used in various cosmetics and bath additives as it is effective in making the skin smooth and healthy. There are 2 floors. At the first floor, there is a high temperature dry sauna (90~100℃) that relieves stiff shoulders and improves the immune system. At the second floor, there is a salty sauna with a lower temperature than the dry sauna. The salt can remove the dirt and sebum on skin through sweating. There are also various kinds of jet baths, water baths, and an open-air bath
Address: 2-2-1 Takanobu, Meguro-ku Tokyo
Hours: 3:00 PM – 12:30 AM, 2:00 PM – 12:30 AM on weekends and holidays *Closed on Fridays
Bathing Fee: 460 yen for adults, 180 yen for elementary school children, 80 yen for preschool children
Konparu-yu
Konparu-yu was established in the late-Edo period and moved to its current location in 1957. "Konparu" is derived from the fact that during Edo times, the residences of Konparu-style Noh performers were located around Ginza 8-Chome. Body soaps and shampoos are provided, except for the second and forth Fridays of each month, during "Fureai Sento 100 Yen Day". Each season, irises, yuzu (a kind of citrus fruit) and lavender petals are placed in the bath. Thus, do check with the Sento before going there if you wanna have a dip with a pool of flowers.
Address: 8-7-5, Ginza, Chuo-ku, Tokyo, 104-0061
Hours: 2:00 PM – 10:00 PM *Closed on Sundays and holidays
Price: 460 yen for adults, 180 yen for elementary school children, 80 yen for preschool children
Mikokuyu
It's located on the 4th and 5th floors that alternate between men and women on a weekly basis. The 4th floor is designed like a cave-like Onsen, with hot water of about 35-36 degrees. The 5th floor features a high ceiling and open atmosphere. On the wall is a painting by Hiroki Sumida and a sculpture of Katsushika Hokusai. At the partly outdoor bath, you can have a great view of the Tokyo Sky Tree. If there is a need of nursing care, the welfare-type private family bath might be useful to you. You can also enjoy a deep black-spring bath and a Cypress-scented bath here.
Address: 3-30-8  Sumida-ku, Ishiwara, Tokyo
Hours: 3.30pm to 2am Tuesday to Sunday
Bathing fee: 1,500 yen per person for 90 minutes of private bath
All in all, Tokyo can be described as the house of Onsen. If you're visiting Tokyo, these hot springs would definitely be a good place to visit!