Akihabara Tokyo – Located in the Chiyoda ward of Tokyo around the station that bears its name, Akihabara is a district famous for its eccentric shops and establishments that cater heavily to those who love video games, anime and manga. Any self-respecting otaku who has ever planned a visit to Japan knows that the best place to go to satisfy their needs is Akihabara!
With so many people dying to shop in the many specialty stores around this interesting neighborhood, it's no surprise that the main street, Chuo Dori, is closed on Sundays to become a walking path. The street becomes an expanded sidewalk from 1:00 pm – 5:00 pm from April through September and 1:00 pm – 6:00 pm during the other half of the year. For real die-hard fans, there's no better place in Japan to explore than Akihabara Tokyo!
How to Get to Akihabara, Tokyo?
There are many trains that run directly to Akihabara Station and surrounding stations. You can also access Akihabara through Suehirocho Station, which will get you to the northern part of the district or Ochanomizu station, which is just a brisk 14-minute walk away. See below for suggestions:
From Tokyo Station: Take the JR Yamanote or Keihintohoku Line (towards Ueno) straight to Akihabara Station (5 minutes) – 140 yen
From Shinjuku Station: Take the Local Chou-Shobu Line (towards Tsudanuma) straight to Akihabara Station (20 minutes) – 170 yen
From Shibuya Station: Take the Ginza Line (towards Asakusa) straight to Suehirocho Station (25 minutes) – 200 yen
From Ikebukuro Station: Take the Marunouchi Line (towards Ogikubo) straight to Ochanomizu Station (25 minutes) – 200 yen
Akihabara Tokyo – Where to Stay?
You can find the closest, best places to stay in or around Akihabara below. Having a place to stay nearby makes it convenient for you to shop till you drop!
Capsule Hotel – Glansit Akihabara
What guests like about this hotel: 24-hour front desk, free toiletries, free WiFi, clean, safety deposit box and no credit card needed to book.
Price range: from 4,050 yen per person/per night
Address: 101-0021 Tokyo Prefecture, Chiyoda-ku Sotokanda 4-4-6, Japan (See on Google Maps)
Hotel – Ficus Tokyo Akihabara
What guests like about this hotel: air-conditioning, flat-screen TV, small refrigerator, hairdryer, close to JR and subway station and free WiFi.
Price range: from 7,500 yen per person/per night
Address: 101-0021 Tokyo Prefecture, Chiyoda-ku Sotokanda 3-8-8, Japan (See on Google Maps)
For those heading over to Akihabara straight from the airport who don't want to carry their luggage around, there is a 500 yen per day service that will hold your luggage for you. Stop by the Sakuragicho Station Tourist Information Center between 9 am – 9 pm everyday, drop off your bags and worry no more!
Read on to get more information about the exciting shops and sights to be found in Akihabara.
The Place to Be for All Otaku
Akihabara is well known to be the place to go to find anything and everything related to popular anime and manga. Along with the plethora of memorabilia, Akihabara also sports interesting spectacles that all otakus will love. With so many things to see, the hardest part will be deciding what to do first! But maybe one of the most Otaku thing to do in Tokyo is to play Mario Kart in Real Life. Whether your interests lie in playing video games, buying merchandise or having a lovely meal while beautiful maids satisfy your every need, Akihabara has something for everyone.
The Electric Town
If you've come to Japan in search of merchandise from your favorite anime and manga, then have no fear! Otaku culture is here! There are many shops that sell just what every mega-fan is looking for. Stop by any of these shops to satisfy those fanboy and fangirl cravings:
Animate
Offering just about anything to do with video games or anime, Animate has eight floors filled with everything an otaku could ever wish for – and more! Specializing in more risky subjects, Animate offers a large selection of 'forbidden love' memorabilia, along with an impressive selection of the popular "boy's love" genre of manga. Head on over to read all about it!
Website: Animate
COSPA
Are you fond of dressing up as your favorite character from a show to appear at conventions? Then COSPA is the place to go! No matter what cosplay event you're attending, you can be sure to find the perfect outfit to express your love for your favorite character. If you're not that into costumes, don't despair; they also sell goods and merchandise related to popular anime and manga series, so there's a bit of something for everyone.
Website: COSPA
Laox Asobit City
Are those posters and magazines just not showing your love for a particular show or series enough? Why not get a mug, makeup kit, frying pan or rice cooker imprinted with your favorite show's characters instead? Laox's Asobit City hosts a wider variety of merchandise and goods related to anime, manga and video games than just your average trinkets.
You can still find plenty of books, magazines and figurines if you journey up to the fifth and seventh floors but the first four are dedicated to cosmetics, electronics and home goods that show off a fan's undying love. As an added bonus: they sell free-tax items!
Website: Laox Asobity City
Akihabara Gamers
All three floors of this massive merchandise marketplace are dedicated to figurines and posters related to popular anime and manga, as well as CD's, DVD's, non-manga related figures and everyday supplies. Akihabara Gamers also has a large selection of voice actor CD's and drama's, to buy and listen to – now you can listen to your favorite characters at home, on long walks or in your car! Displays and items are changed throughout the year, so there's almost always something new to see.
Website: Gamers
Kotobukiya
Perfect for otakus and hobbyists alike, Kotobukiya is heaven on Earth for those who love popular shows and series. If you're too busy or can't be bothered to fight the crowds at a Pokemon Center, the first floor boasts a huge amount of Pokemon, Star Wars, and Studio Ghibli merchandise. The third floor is comprised entirely of supplies to allow enthusiasts and hobbyists to make and color their own models and figurines. Even beginners can find interesting kits to create figurines that personify their love for the Japanese arts.
Website: Kotobukiya
Video Gaming
Akihabara is the perfect place to both find and play retro and modern video games. With so many shops, it's hard to know which ones to visit. Here are a few that we recommend based on popularity and overall selection:
Super Potato
Jam-packed with retro games, Super Potato in Akihabara is a great place to find games from the past. Not only can you browse their selection of vintage video games but you can even play some of them in their retro arcade. After you've explored all three floors of video game heaven, you can relax by taking a seat in a very special chair made entirely from Nintendo game cartridges – how cool!
Website: Super Potato Akihabara
Retro Game Camp
These games might be old but they're well taken care of! At Retro Game Camp in Akihabara, employees make sure that all secondhand goods are handled with utmost care and checked for quality and usability. They can switch out console batteries at the drop of a hat and offer Nintendo games from every decade since the emergence of the original NES. If you're not sure about your purchase, you can also order online from the comfort of your home with worldwide shipping options available.
Website: Retro Game Camp
SEGA
Boasting more machines than most arcades can handle, you can bet on virtual horse races, take a spin on the 10 Virtua Fighter 5R and even get your Gundam on! The first floor is dedicated to U.F.O. machines – more commonly known as crane or claw machines, with other floors dedicated to the arcade and purchasable goods. There's even a cafe for when you work up an appetite winning prizes and achieving those high scores!  
Website: Sega
Hey Taito
If you're a fan of either classic shooting games or fighting games, then HEY (Hirose Entertainment Yard) has you covered. Taito has created a unique environment that gives avid gamers the chance to get a real arcade experience. Combining classics with contemporaries, this arcade is able to engage with communities of young learners, moderate gamers and old pros to provide everyone with a fun and energetic gaming atmosphere. 
Website: HEY Taito
Maid Cafes
Looking to relax after a tiring day walking around Akihabara? Why not try out a maid cafe and see what all the hype is about. Sing some songs, dance along, take a photo or two and enjoy yourself! Our personal favorites are:
Maidreamin
This cafe is so inclusive and cute that even couples and families are said to enjoy going together! The maids go above and beyond for foreign guests, offering menus in English as well as offering free WiFi services (in case you need to translate how happy and thankful you are!). The food and drinks are decorated with cute messages and patterns that are sure to please any stomach. If you want to join a special performance ceremony with some very pretty ladies before you dig into your meal, then Maidreamin is the right cafe for you!
Website: Maidreamin
Cure Maid Cafe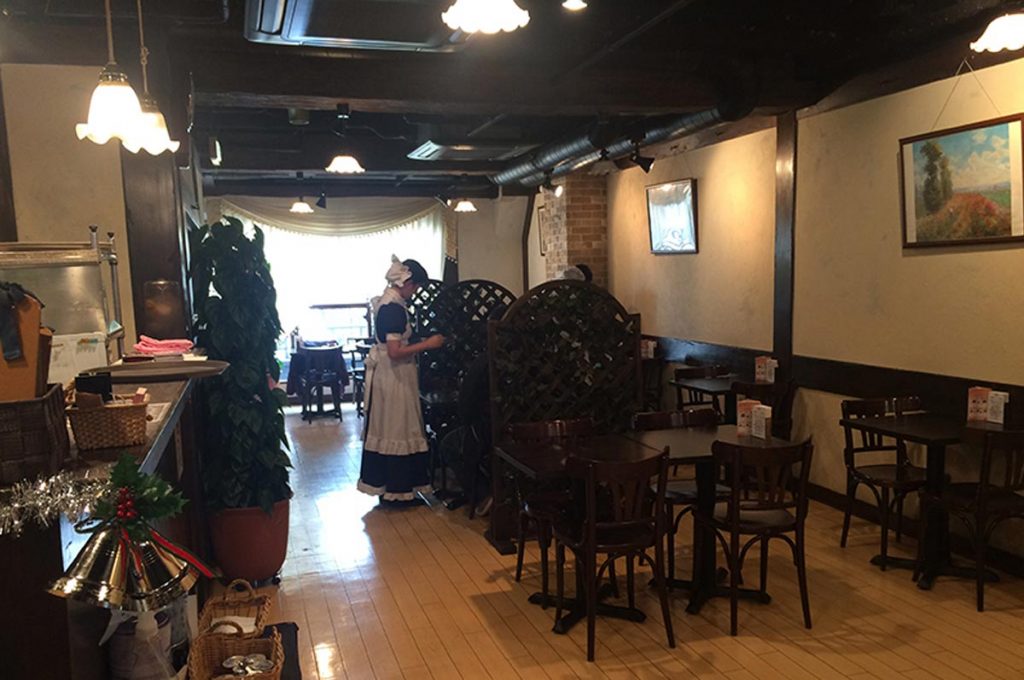 Said to be the first maid cafe to open in all of Japan, Cure is perfect for anyone looking to have a more proper experience. Decorated and styled as if it was straight out of the Victorian era, tea time has never been so much fun. Though the menu changes seasonally and weekly, Cure always maintains a European taste to their dishes. Even with food that is simply divine, it's usually the tea and cakes that keep customers coming back for more – that and the attentive maids!
Website: Cure Maid Cafe
Pinafore
Much like other maid cafes, Pinafore is staffed with adorable ladies who are more than happy to make sure your experience is nothing but pleasant. As an added bonus, you can watch as the "fairies" prepare your meals and drinks in the open kitchen. If you enjoy watching your food being made right before your eyes by gorgeous ladies, then Pinafore is the place to go!
Website: Pinafore Maid Cafe
@Home Cafe
In this cozy cafe in Akihabara, the theme of "moe" allows you to believe that you are the master of the house and are currently returning home to enjoy a meal. Your maids greet you warmly and offer you a "Majesty Card" if it's your first time visiting the cafe. The atmosphere is one of ultimate cuteness and the food and beverages only serve to reflect that fact. When you leave, your maids will call out to you to ask when you'll be back; which is hopefully soon!
Website: @Home Cafe
The Granvania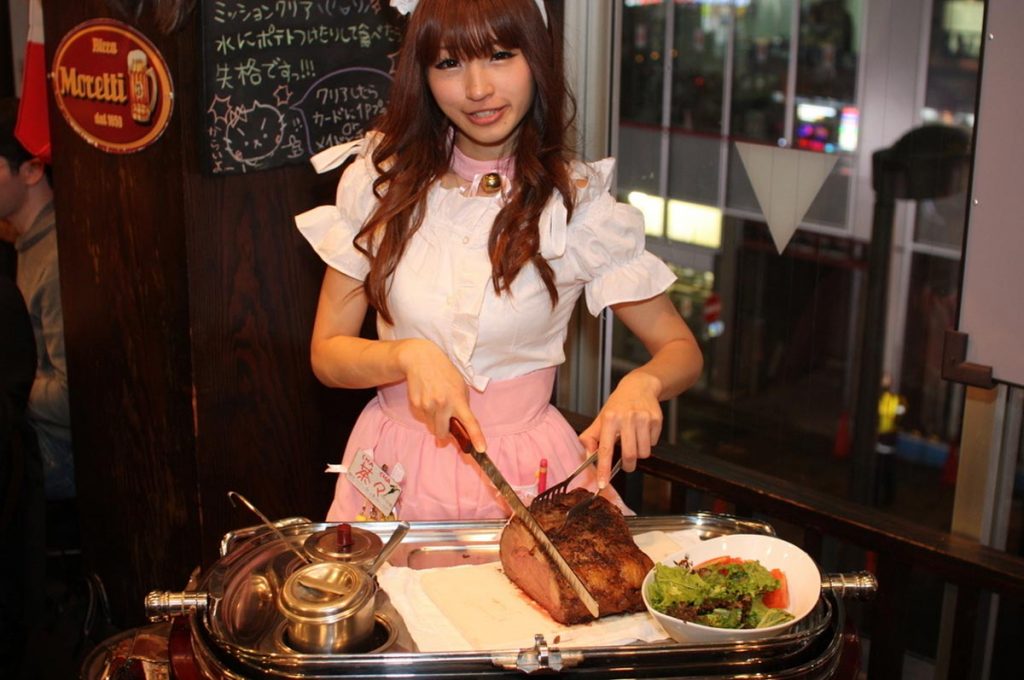 If you're looking for more filling meals than just deserts and drinks, The Granvania will serve you well. Cute maids are at your beck and call to bring you some of the most delicious gourmet food to be had in Akihabara. Thirsty? You have a selection of over 30 alcoholic beverages from a selection of 12 different countries to choose from. Eat and drink to your heart's content knowing that you're getting the best service and care possible from attentive maids who want nothing more than to make sure both your heart and stomach are full.
Website: The Granvania
Akihabara Tokyo – Final Thoughts
Even if you don't consider yourself an otaku, Akihabara is still one of the most fascinating places in Japan to visit. If you're coming to this quaint district without a favorite Japanese show or manga, chances are you'll be leaving with one! Though it may only be a small area in Tokyo, there certainly are some sizable experiences to be had amongst the interesting establishments in Akihabara.
Overall, Akihabara is sure to please anyone who wants to have a real Japanese experience in Japan. Are you looking to experience Japan to its fullest? Check our Japan Travel articles and discover how!
Also, you can share your adventures in Japan on our Facebook group. To know even more about Japan, follow us on  Facebook, Instagram, and Pinterest. Matane!