Japanese Garden – Japan is known for its beauty and wonder, and most people are privy to the fact that there are many historic gardens within the country. With such an abundant amount to choose from, it's hard to tell which ones are must-see if you've only got limited time within the country.
As such, we've created this list of the 10 best Japanese gardens in Japan to help you choose your perfect destination! Ranging from areas all over the country, you're sure to see at least one Japanese garden in this spectacular country!
Ryoanji Temple in Kyoto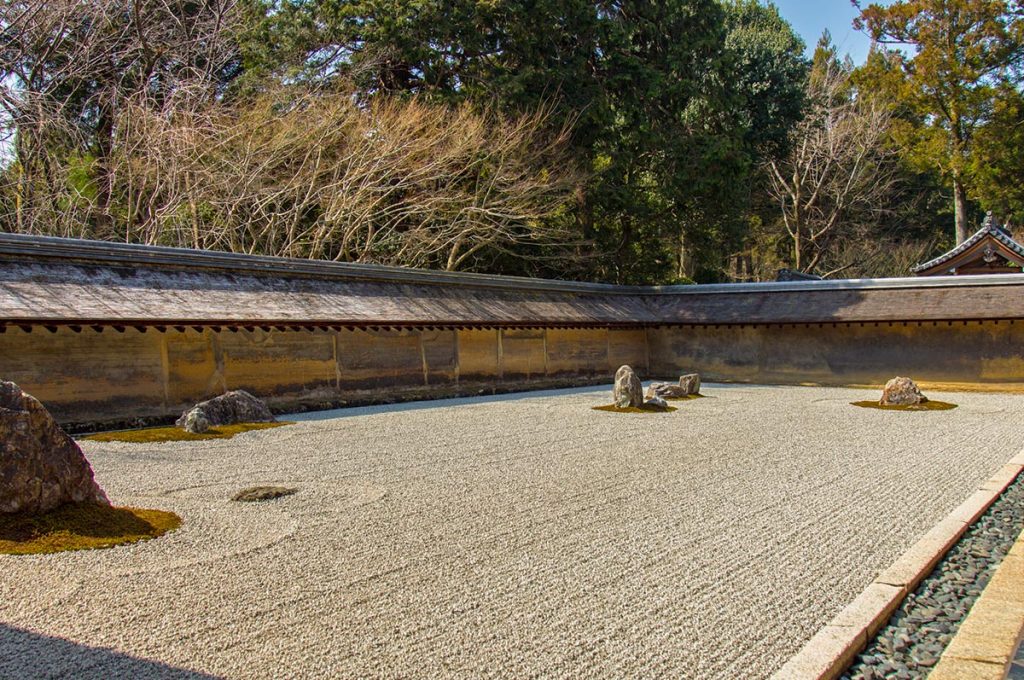 This beautiful Japanese garden, located in Kyoto, has a rich history behind it. Originally established in 1450, this zen rock garden has radiated tranquility and peace since its creation. This famous garden is comprised of 15 larger rocks with pebbles spread around and combed with special tools to make 'waves' in the pebbles.
Along with the zen garden, a large park with a pond can be found on the temple grounds. There's also a nearby restaurant that serves Yudofu (boiled tofu), the Kyoto specialty! You can even enjoy your food while looking out at the beauty of the Japanese gardens. By the way, if you want to have more specialities of Kyoto, you can check our Top 5 Best Food in Kyoto.
This garden is open from 8am-5pm from March to November, with hours shortening to 8:30am-4:30pm from December to February. With a price of only 500 yen for adults and 300 for anyone under 15-years-old, you'll have peace of mind that you're not breaking the bank to see this wonderful attraction.
More info: Ryonji Temple
Address: 〒616-8001 Kyoto Prefecture, Kyoto, Ukyō-ku, Ryoanji Goryonoshitacho, 13
Rikugien Garden in Tokyo
One of the largest gardens in Japan, the Rikugien Japanese Garden takes at least an hour to walk through and houses many beautiful and amazing sights. The Rikugien Garden, which was built around 1700, was created around the idea of its name, which translates to "six poems garden". Inside this Japanese garden, you can view miniature recreations of 88 scenes from famous poems. A path of multiple trails connects many of the larger features this garden has to offer: a large central pond, manmade hills, forests, and natural flora and fauna.
This Japanese garden is open everyday from 9am-5pm, and admission is only 300 yen per person. During the cherry blossom season and autumn color season, the park is open until 9pm, so plan accordingly for which season you visit in! The garden is closed from the day before New Year's to the day after, so don't plan to spend the New Year looking at these gorgeous sights! 
More info: Tokyo Metropolitan Park Association
Address: 6-16-3 Hon-komagome, Bunkyo-ku, Tokyo 113-0021
Kenrokuen in Kanazawa
Said to be one of Japan's three most beautiful gardens, Kenrokuen is a must-see for all nature-lovers traveling to or living in Japan! Spanning over 11.4 hectares, it's almost impossible to see everything in just a single day. Located next to Kanazawa Castle, this lovely Japanese garden features a large man-made pond, hills with houses on them, a beautiful fountain, and wonderful natural scenes everywhere within the gardens. Koenroken translates to "having six factors", and this Japanese garden was named thusly because it perfectly accentuates artifice, water sources, magnificent views, spaciousness, antiquity, and tranquility. 
The garden is open 365 days a year from 7am to 6pm, shortening from 8am-5pm between October 16 to the end of February. It costs 310 yen for an adult ticket, 100 yen for 6 to 18-year-olds, and free for anyone over 65-years-old. It makes you think that Kanazawa would be a highly sought after place to retire in! 
More info: Kenrokuen Park
Address: 〒920-0936 Ishikawa Prefecture, Kanazawa, Kenrokumachi, 1
Shugakuin Rikyu Imperial Villa in Kyoto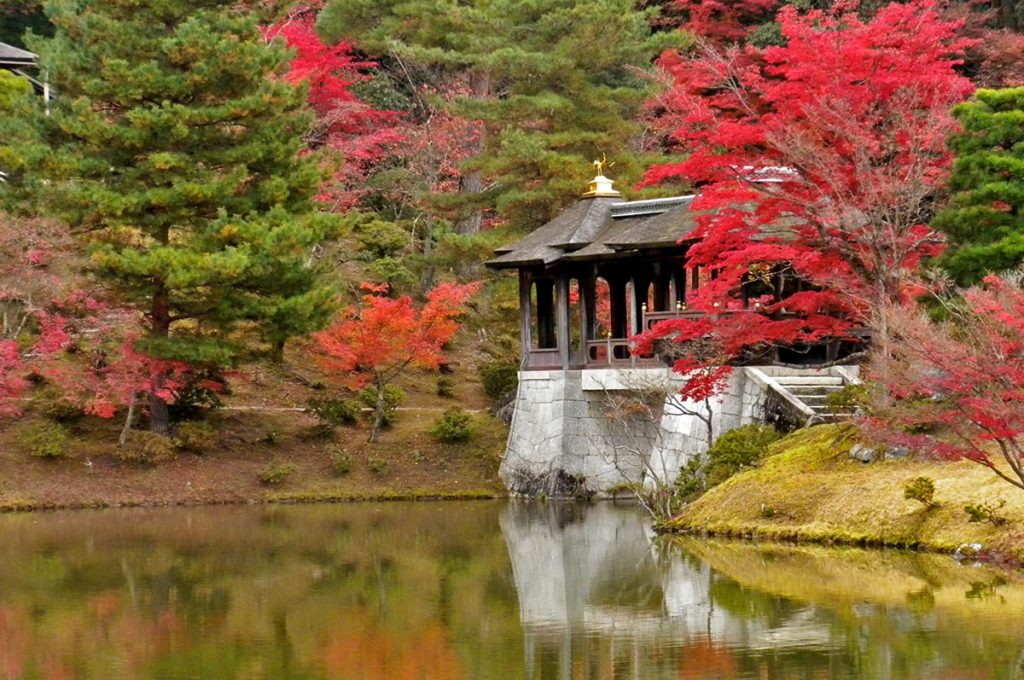 In order to see this amazing Japanese Garden, you first have to put in an application to join a public tour. Each tour last about an hour and a half and showcases all three levels of the villa. If your Japanese isn't all that great, there are audio guides in several different languages including English for you to use so you don't miss out on any historic details. This Japanese garden features many amazing sights of nature and architecture and is quite popular despite the extra security and lack of free roaming.
The best part about this Japanese garden? It's free! You can apply either online or in person (don't forget to bring your passport) to join one of the five tours held every day except for Mondays. You can even reserve a spot in a future tour on the Kyoto Imperial Park Agency's website, though these are limited and often get booked out. Make sure to try and book a reservation several days before you intend to visit, as tours fill up fast!
More info: Imperial Household Agency
Address: 〒606-8052 Kyoto Prefecture, Kyoto, Sakyo Ward, Shugakuin Yabusoe
Korakuen in Okayama
Another one of the three greatest Japanese gardens in Japan, Korakuen is a well-loved garden that many people enjoy visiting regularly. Even bigger than Kenrokuen in Kanazawa, Korakuen has many beautiful sights to showcase to anyone who loves the appeal of nature. If you look out at the park from Enyo-tei House near the main gate, you'll find an amazing view of Okayama Castle with surrounding mountains. Many amazing water features can be found in the park, as well as a bountiful plum grove that includes seasonal flowers like azaleas, irises, cherry blossoms, and lotuses. No matter what season it is when you visit, this park is beautiful and full of life year-round.
Open all year from 7am-6pm March to September and 8am-5pm October to February, this park has a lot to offer. Tickets are 400 yen if you're just seeing the park or 560 yen if you'd also like to explore Okayama Castle! It's a great deal to see two unique areas of Japan for one amazing price!
More info: Okayama Korakuen
Address: 〒703-8257 Okayama Prefecture, Okayama, Kita, Korakuen, 1-5
Ginkakuji – The Silver Pavilion in Kyoto
The original idea for this pavilion was that the finishing touch to its creation would be covering it completely in silver. Needless to say, this step never came to fruition. One of the biggest attractions in this Japanese garden is the dry sand garden knowns as the "Sea of Silver Sand". There's also a "Moon Viewing Platform", which is actually a large sand cone nearby. Many of the buildings cannot be entered, but their architectural beauty can still be observed from outside. Are you a fan of moss? If so, the massive moss garden might be just right for you! Along with the moss, there are various other plants to view as well (just in case you're not as crazy about moss as others might be). 
You can enter the gardens any day of the year for 500 yen. They're open from 8:30am-5pm from March to November and 9am-430 from December to February. With such wondrous sights that have survived every natural disaster thrown at them, you can rest assured that they'll be waiting for you to visit on your next trip to Japan!
More info: Ginkakuji
Address: 〒606-8402 Kyoto Prefecture, Kyoto, Sakyo Ward, Ginkakujicho, 2
Imperial Palace East Gardens in Tokyo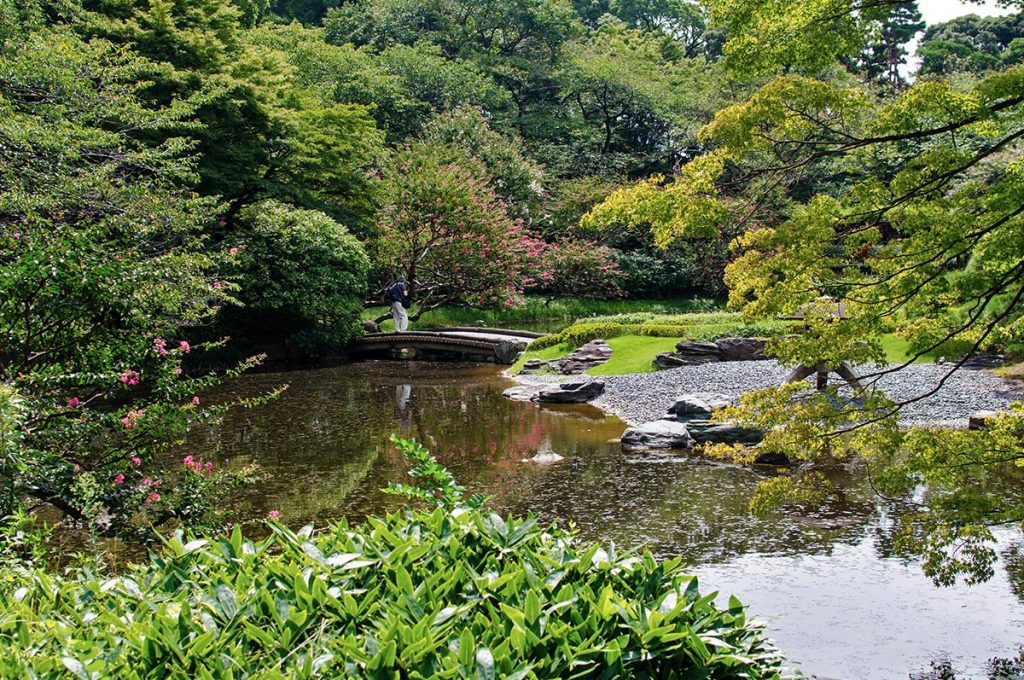 The Imperial Palace East Gardens, or Kokyo Higashi Gyoen, are a sight to behold. Due to the fact that the number of visitors is limited daily, it never feels crowded or overrun with tourists – a welcome reprieve to Japan's normally very busy attractions. If you'd like to get the most out of your time within palace walls, there are free guided walking tours that last approximately two hours to complete. You can join one on Wednesdays and weekends by meeting at the JNTO Tourist Information Center before 1pm. 
Hours vary, but generally, the palace is closed on Mondays, Fridays, and three days before and after New Year's. The gardens are open from 9am-5pm April to August and 9am-4pm November to February. Yet another great thing about this Japanese garden – admission and tours are completely free!
More info: The Imperial Household Agency
Address: 〒100-8111 Tokyo, Chiyoda, 1−1
Shukkeien in Hiroshima
The name Shukkeien translates to "shrunken scenery garden", which perfectly describes this Japanese garden's aesthetic. Through careful work, those maintaining the garden have been able to recreate large-scale sceneries in much smaller sizes. As is tradition, a large pond lies directly in the center of the gardens with small tea houses around it. You can enjoy your favorite Japanese tea while taking in the wonder and beauty the gardens around you have to offer. If you are planning to travel there, here are our selection of the best things to do in Hiroshima.
Only closed for the three days leading up to New Year's, this garden has desirable availability. Tickets are only 260 yen, and hours of operation are 9am-6pm April to September and 9am-5pm October to March.  
More info: Shukkein
Address: 〒730-0014 Hiroshima Prefecture, Hiroshima, Naka Ward, Kaminoboricho, 2−11
Adachi Museum of Art in Yasugi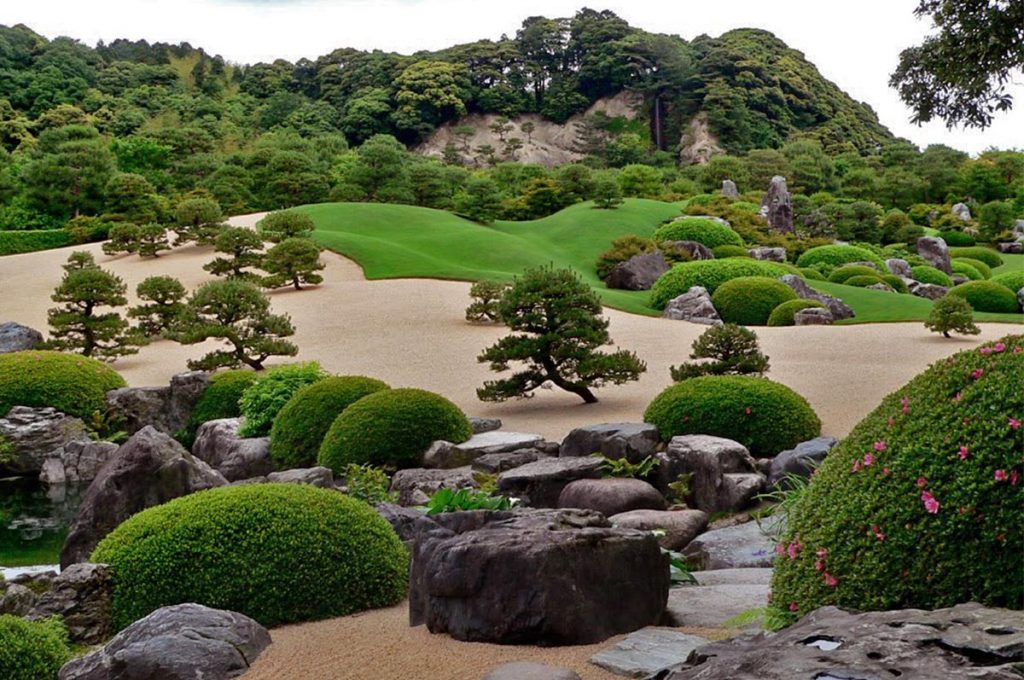 Another two-for-one deal; you can enjoy the splendor of this Japanese garden before or after you finish exploring the Adachi Museum of Art. Not sure if you'll like the sights this park has to offer? Much like many of the other Japanese gardens listed above, there are live feeds of the inside of the garden you can watch from the comfort of your own home! Take a peek at what the area has to offer before you head on over, though we're sure you'll like what you see!
Admission is normally 2300 yen, but ticket prices are halved for foreigners, so you can see everything for just 1150 yen! The gardens are open from 9am-5:30pm most months but shorten to a 5pm closing time between October and March. 
More info: Adachi Museum
Address: 〒692-0064 Shimane Prefecture, Yasugi, 古川町320
Kairakuen in Mito
Though it was seriously damaged by one of the largest, most recent earthquakes in Japan, this Japanese garden was able to be restored to its former glory due to the efforts and donations of many who love and appreciate it. Thankfully, the gardens most famous attraction of over three thousand plum tree has survived the natural elements and is still thriving. Ranked in the top three of Japan's finest landscape gardens, Kairakuen should be on the list of things to see for anyone traveling to the Eastern areas of Japan. 
Admission to the garden is free, though you can also enjoy the nearby Kobuntei Building for only 200 yen. The garden is open everyday from 6am-7pm February 20 to September 30, and 7am-6pm October 1 to February 19. 
Address: 〒310-0033 Ibaraki Prefecture, Mito, Tokiwacho, 1 Chome
Conclusion – Japanese Garden
Overall, any of these fine sights are worth seeing while you visit beautiful Japan. Whether or not you're a fan of viewing flora or fauna during your time in the Land of the Rising Sun, everyone can find something to enjoy at any of the Japanese gardens located in Japan. Even if you're not currently in the country, many of these gardens have live feeds you can watch online to quench your needs for seeing Japan's beauty up close and personal. Online feeds can only do so much, though, so make sure you head over to a garden in person to take in the natural beauty with your own eyes!
All these gardens will look differently according to Japan's unique seasons. Discover what is the best time to visit Japan. Join our Facebook group and be a part of a growing community of Japan enthusiasts. Also, follow us on Facebook, Instagram, and Pinterest and don't miss our Your Japan posts! Enjoy!