Hiroshima is a place that most people would associate with having a grim legacy, a history so haunting that only travelers interested in delving deeper into that history would consider a visit. However, this is far from the truth. Whilst Hiroshima does provide many opportunities around the city for those with a curious mind to understand more about the painful nuclear attack in 1945 that put them on the map, this is only a fraction of what the city proudly and compassionately offers, both to foreigners and locals alike. Check out our list of the top 10 things to do in Hiroshima.
As under-appreciated as the city is, it is still consistently voted as one of the most livable in Japan, and you can breathe it in the air and taste it in the food if you decide to hop on a 90-minute train ride from Osaka there. There is a plethora of activities to do in Hiroshima, and, whilst a day-trip is completely, 100% possible from Osaka or Kyoto, we highly recommend spending at least a few days there to really be able to take in all the cultural, historical, and traditional aspects of the city, and to bring home a piece of it with you. 
But before to discover what are the best things to do in Hiroshima, here are few tips about transportation and accommodation.
How To Get To Hiroshima
From Osaka
By Train
You will be able to catch a Shinkansen train from Shin-Osaka Station to Hiroshima station in approximately 90 minutes, Shinkansen are included in the Japan Rail Pass. A regular ticket costs 9,710 yen for a non-reserved seat, and around 10,200 yen for a reserved seat. Whilst Nozomi, Mizuho, and Sakura trains all operate this route, only the Sakura train will be valid for JR pass holders. 
To search for a train route, use Hyperdia, but remember to select 'More options', and unselect all vehicle types except for 'Bullet Train (SHINKANSEN)' (otherwise you'll be presented with a whole list of other options which might include hopping on regular trains, highway buses, and sometimes even a plane).
By Bus
For those who do not hold a JR pass and have a bit of time, the highway bus option will cost roughly half the price of a Shinkansen, but will take approximately 6 hours. Check out Willer Express for ticket prices and dates. They offer day buses as well as night buses, and you will be able to book tickets up to three months in advance.
From Tokyo
By Train
You will be able to catch a train from Tokyo Station to Hiroshima Station in approximate 4 – 5 hours, depending on the train you catch. The Nozomi train (unfortunately not included in the JR pass), will take you directly to Hiroshima, and will set you back 18,040 for a non-reserved seat, and 19,000 for a reserved seat. The Sakura and Hikari trains (both included in the JR pass) will take approximately 5 hours, and you will need to hop off at Shin-Osaka to change trains. Without the JR pass, they will cost 18,040 yen for a non-reserved seat, and 18,500 for a reserved seat.
To search for a train route, use Hyperdia, but remember to select 'More options', and unselect all vehicle types except for 'Bullet Train (SHINKANSEN)' (otherwise you'll be presented with a whole list of other options which might include hopping on regular trains, highway buses, and sometimes even a plane).
By Plane
Flights from Tokyo to Hiroshima can go as low as 10,000 yen for a one-way ticket, and go up to more than 50,000 yen for a one-way ticket (depending on the dates you book them for). A direct flight will take approximately 90-minutes, and flights are normally operated by ANA, JAL, Asiana, and China Airlines. These flights usually fly from Narita Airport.
To fly, it is best to organize flights ahead of time to avoid paying excessive amounts. To check for flights from Tokyo to Hiroshima during the time you're visiting Japan, click here.
By Bus
For those who do not hold a JR pass and have a bit of time, the highway bus option is the cheapest option, costing roughly a quarter of the price of a Shinkansen, and possibly half the price of a flight, but will take approximately 13 hours. Check out Willer Express for ticket prices and dates. This option is not recommended, as that is an entire day that you spend traveling if it is a day trip. However, they offer night buses as well, and you will be able to book tickets up to three months in advance.
Where To Stay in Hiroshima
Guesthouse – Hiroshima Guesthouse HARU
Located 15 minutes by foot from JR Hiroshima Station, each bed comes with a power outlet, a reading lamp, and a curtain to ensure privacy. In the shared lounge room, there is a flat-screen TV, a DVD player, and a Nintendo Wii for guests' entertainment. There is also complimentary bread for breakfast.
Why guests love it: nice staff, very friendly owner, nearby the bus stop, feels like home, cannot beat the comfort for the money paid, clean and cute common room, very comfortable beds.
Address: 732-0804 Hiroshima, Hiroshima, Minami-ku Nishikaniya 4-8-3, Japan
Hotel – APA Hotel Hiroshima-Ekimae Ohashi
Located only 4 minutes away from JR Hiroshima Station, APA Hotel offers free Wi-Fi, flat-screen TVs, and a private bathroom in all their rooms. There is also a 24-hour front desk, and luggage storage is available.
Why guests love it: beds were very comfy, staff had great English, there is a Lawson downstairs, there is an onsen onsite, good value for money.
Address: 732-0828 Hiroshima, Hiroshima, Minami-ku Kyobashicho 2-26, Japan
Ryokan – Tenryu Ryokan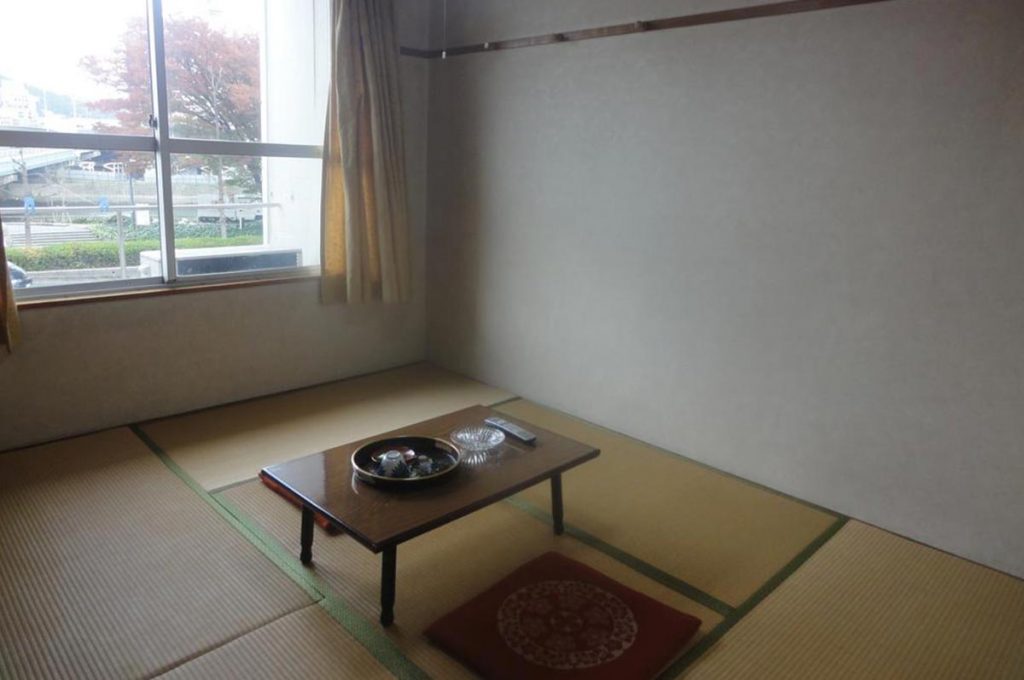 Located 5 minutes on foot from JR Hiroshima station, Tenryu Ryokan offers tatami flooring and futon bedding, with shared bathroom facilities, air-conditioned rooms, a coin-operated laundry, and has been rated by couples as a great accommodation for a two-person trip.
Why guests love it: excellent location to get around and to get to Miyajima, everything was clean, cheap accommodation, hot water with tea and cookies provided everyday.
Address: 732-0828 Hiroshima, Hiroshima, Minami-ku Kyobashi-cho 3-13, Japan
What To Do in Hiroshima
Hiroshima Peace Memorial Museum and Park
A visit to Hiroshima is not complete unless you dedicate some time to the Peace Memorial Museum, a museum which delves deeply and powerfully into the history of the nuclear bombing on Hiroshima in 1945, and explores the time before and the effects afterwards on the people of Hiroshima.
Whilst one, as a visitor, can never really fully understand the scale of the destruction and the extensive subsequent trauma, the museum is displayed in a way that takes the visitor through the journey of individual victims, allowing you to see through a first-person perspective on what was experienced. The images, videos, and descriptions are intensely graphic, and reading recounts of the horrors of the nuclear bombing will strip your soul bare and make you feel empathy on levels that you've never felt before. The museum is as confronting as it is information-laden, and it will probably take you a few hours to get through the entire museum.
The museum sits within Peace Memorial Park, which is also home to the Atomic Bomb Dome.
Address: 1-2 Nakajima-cho, Naka-ku, Hiroshima-shi 730-0811
Access: From JR Hiroshima Station, take the Hiroshima tram to the A-Bomb Dome. It will cost 150 yen. Check this map for which lines you can take. Otherwise, take Bus No. 24 for Yoshijima (from A-3 exit), and get off at Heiwa-Kinen Koen.
Hours: 8:30am – 6:00pm (March to July), 8:30am – 7:00pm (August), 8:30am – 6:00pm (September to November), 8:30am – 5:00pm (December to February)
Admission: Adults – 200 yen, High school students – 100 yen, Junior High and Younger – free 
Hiroshima Castle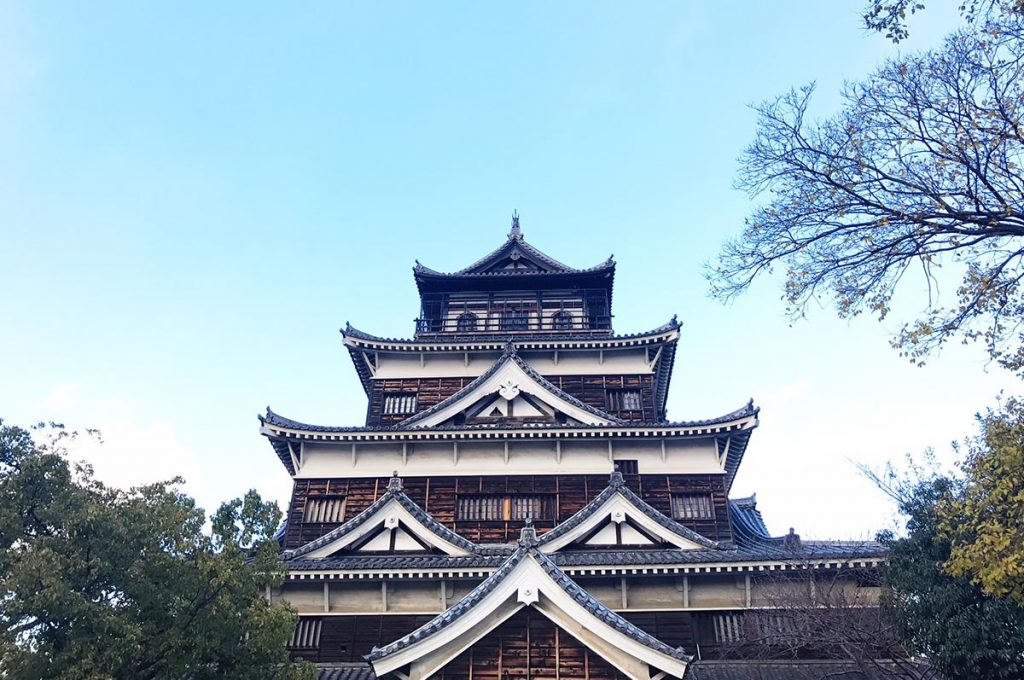 After World War II, Hiroshima Castle, which was first built in 1589 by feudal lord Mori Terumoto, was destroyed completely, and had to be reconstructed with concrete and a classic wooden exterior. Its stunning exterior is completely reminiscent of the original olden-day castle.
The castle today, like it was in 1589, is surrounded by a moat, and is five-stories high. Each level in the castle displays information on varying aspects of Hiroshima's history, from how the castle came about, what political challenges were born and bred from this castle, and how and why the castle became the economical center of the city during its inhabitant days. 
At the top of the castle, there is a beautiful observation deck that allows you to view a 360-degree perspective of Hiroshima City. It is stunning, particularly around dusk. 
Address: 730-0011 Hiroshima Prefecture, Hiroshima, Naka Ward, Motomachi, 21−1
Access: Head to Kamiyacho-nishi or Kamiyacho-higashi (on lines 1, 2, or 6 from Hiroshima Station), and walk 10 minutes to the castle.
Hours: 9:00am – 6:00pm (March to November), 9:00am – 5:00pm (December to February)
Admission: Adults – 370 yen, Seniors – 180 yen, High school students – 180 yen, Anyone younger – free  
Okonomi-mura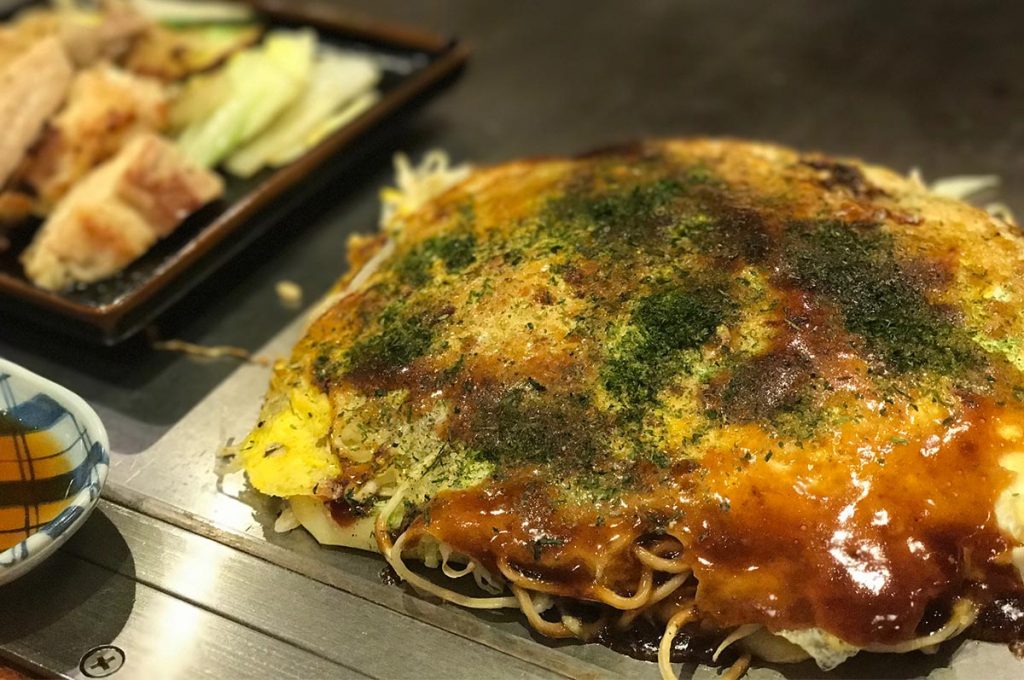 Hailed as the food that represents Hiroshima, Okonomiyaki is a favorite pastime of almost every Japanese person. It can be made fresh at a street stall by a vendor, or eaten in a restaurant, either way, the Japanese adore this savory pancake commonly made with flour, eggs, shredded cabbage, meat/protein, and top with a variety of condiments. Walk along the streets at night and you will come across drunken salary-men clinking beers over fresh pan-fried okonomiyaki, having a grand time. It will almost make you want to join them. 
In Hiroshima, the complexity of okonomiyaki is taken up a notch. Whereas the traditional okonomiyaki mixes all ingredients together (Kansai or Osaka style), in true Hiroshima-style, the dish has added ingredients of noodles and loads more vegetables, with all ingredients cooked via a layering procedure. The entire thing is topped with a savory-sweet black sauce (note: it's quite strong, so if you're not a saucy person, you can request for less sauce), and is usually served with a small metal spatula called a 'hera' to be eaten with.
Keen to try this intense sounding Japanese pancake? Head to Okinomi-mura ('Okonomi village'), a dedicated multi-level food village with 25 different okonomiyaki food stalls to choose from. You can spend all your time at one stall, sitting side by side with strangers, eating your heart out through the entire menu (most of which will include items other than okonomiyaki), or you can hop from one stall to another, sampling the best of the best – the choice is up to you!
Address: 5-13 Shintenchi, Naka-ku, Hiroshima
Access: From the Hiroshima Bus Centre, it is a 12-minute walk.
Hours: It varies from stall to stall, but a safe bet would be between 11:00am – 10:00pm
Cost: 600 yen – 1,300 yen 
Miyajima Island
As one of most famous islands near Hiroshima, Miyajima needs to be on our list of the top 10 things to do in Hiroshima. As mentioned before, Hiroshima city itself can be explored as a day trip, however, most people spend a few extra nights there so that they can dedicate a day trip to Miyajima Island, which is 100% worth the extra time. 
Miyajima Island is less than an hour outside of the city, and it can easily be reached via tram and ferry. The most popular attraction on the island would be the Itsukushima Torii gate (the 'floating' torii gate), but of course, there are many more sights and activities to see and do on the island. If you're interested, read more here about what Miyajima Island has to offer as we explore the island as the perfect day trip from Hiroshima.
Atomic Bomb Dome
Even if the aim is to focus on positive aspects of the city here, visiting the atomic bomb dome needs to be in list of the top things to do in Hiroshima. Visitors here will undoubtedly feel a sense of grief and sadness as they take in the remnants of the building, trying to imagine that if a building as solidly built and vast as the dome has been stripped away to this level, how did the people fare? Take a moment after visiting the Peace Memorial Museum to pay tribute here before you continue to explore Hiroshima city in all its modern beauty.
Address: 730-0051 Hiroshima-ken, Hiroshima-shi, Naka-ku, Ōtemachi, 1 Chome−1−10
Access: From Hiroshima Station (South Exit), catch a bus to the 'Atomic Bomb Dome'. This will take approximately 15 minutes.
Onomichi
Onomichi is a small, quaint, hilly seaside village that is just over an hour away from Hiroshima. If you're the type to love hopping off at random, relatively off-the-grid stations and taking your time exploring small streets, seeking observation points with awesome views, and feeling the sea breeze on your face, then a day trip (or a half day trip) to Onomichi might be just what you need.
Onomichi is situated near many small neighboring islands, which can be visited via small ferries. It hosts many slopes (some veering towards a vertical incline) that spread throughout the town, and one of the greatest things to come from this is the popular 'Temple Walk', which starts at one end of the town, and takes visitors through the town via multiple topsy-turvy slopes, passing 25 temples within the village.
If you're not keen for a strenuous walk (even with the gorgeous landscape you'll be trekking through), then another popular activity would be the head to Senkoji Park. After you take the ropeway up, you can head to the observation platform and take in the beautiful view of the picturesque town below against the Seto Inland Sea and neighboring floating islands. 
Details for Onomichi
Access: Take the JR West Sanyo Main Line to Onomichi Station from Hiroshima Station (80 minutes). Otherwise, head to the Hiroshima Bus Center, and grab a ticket to Onomichi Station, the trip will take 90 minutes, and cost 3,000 yen for a roundtrip. 
Details for Senkoji Park Ropeway
Address: 20-1 Higashidodo-cho, Onomichi, Hiroshima Prefecture 722-0033
Access: Onomichi station is about a 15-minute walk from the ropeway up to Senkoji Park. There is an information desk just outside the station where you can ask for the direction there.
Hours: 9:00am – 5:15pm
Cost: Adult – 320 yen one-way, 500 yen round-trip; Child (elementary or younger) – 160 yen one-way, 250 yen round-trip
Website: Onomichi Ropeway
Hondori Street
Hondori Street, located in downtown Hiroshima, is a lively arcade strip, bustling with locals and foreigners at almost all hours of the day, lined with every single type of store you can imagine. Anyone and everyone visiting Hiroshima will, at some point, familiarize themselves with the undercover area that plays host to some of the best restaurants, cafes, and shops in Hiroshima city. Some big names include Ichiran Ramen, Gram Pancakes, Adidas, Reebok, and Parco Shopping Centre amongst many others. There is even a gaming arcade here for those who are on a quest to win toys all over Japan.
Whilst the main strip is what had traditionally constituted Hondori Street, nowadays, many visitors peel off the main road to explore the smaller streets on the sides, and they are rarely disappointed. Smaller restaurants, and smaller cafes still, bakeries selling freshly baked buns and melon pan, and Japanese stores selling knick-knacks that might just be the souvenir you didn't know you needed.
If you're craving certain something or need to purchase a particular item, chances are, Hondori Street will have exactly what you need.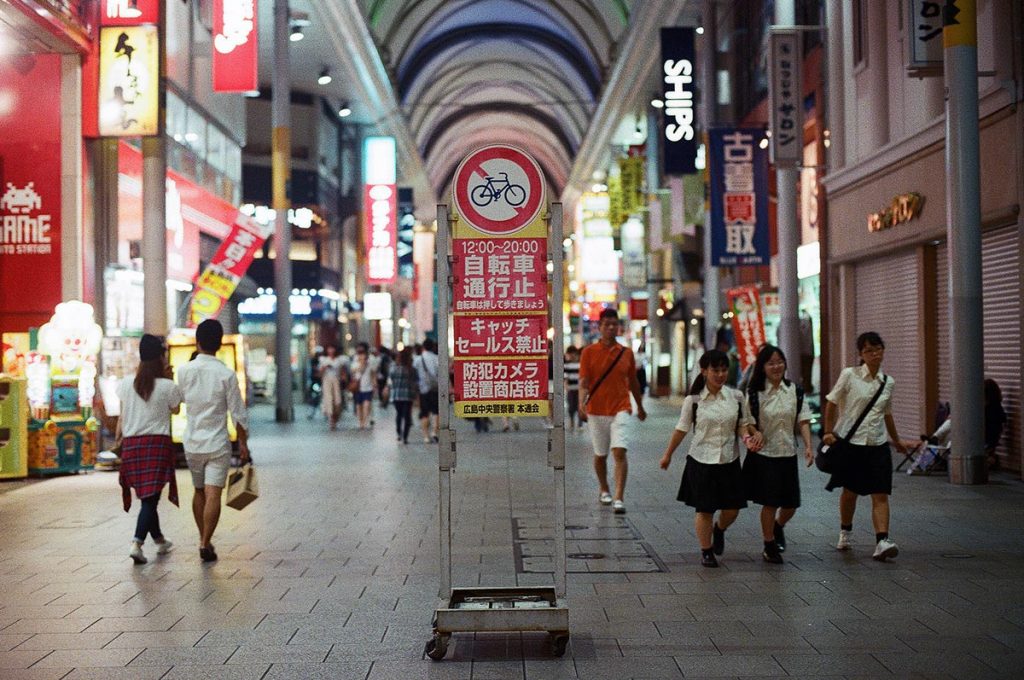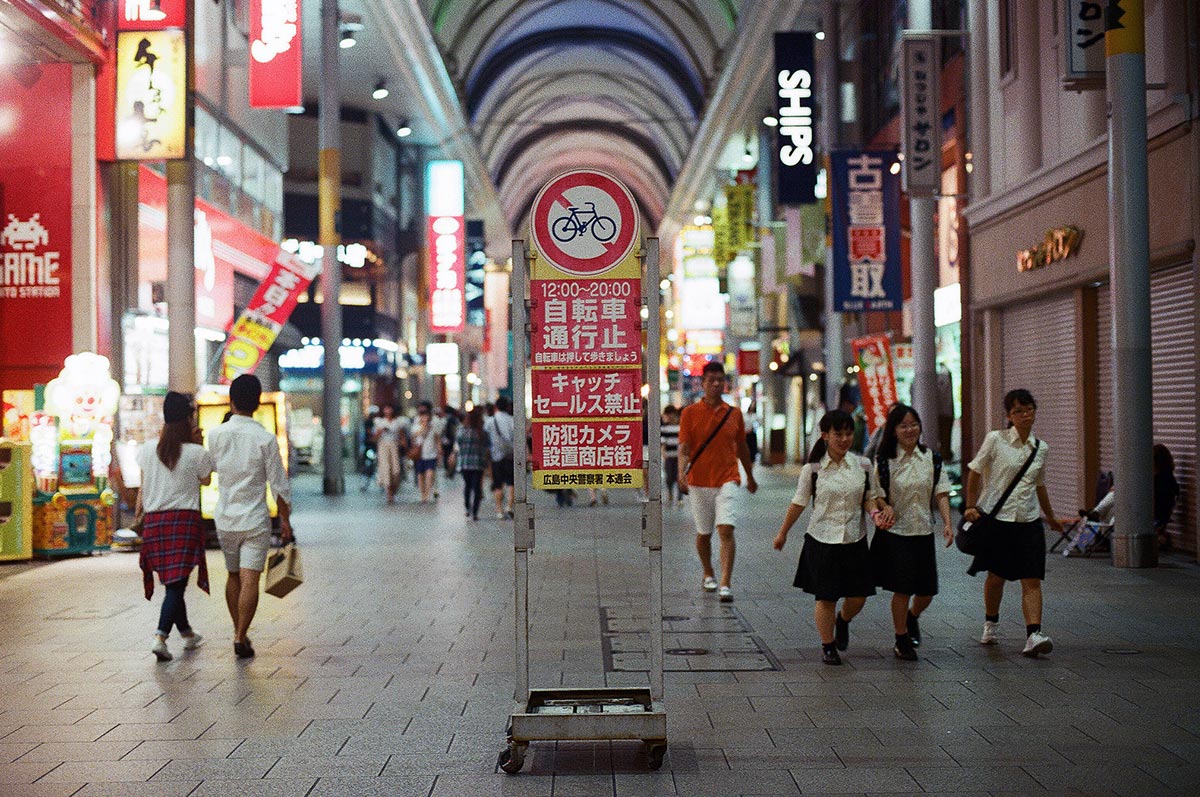 Address: Naka Ward, Hiroshima, Hiroshima Prefecture 730-0035
Access: It is accessible via a 20-minute walk from Hiroshima Station. Otherwise, take a 5-minute tram ride along lines 1,2 or 6 from the station. You can easily walk to Okonomimura, Atomic Bomb Dome, and the Peace Memorial Park from here.
Hours: Hours vary from store to store, but generally trade between 10:00am – 10:00pm 
Shukkeien Garden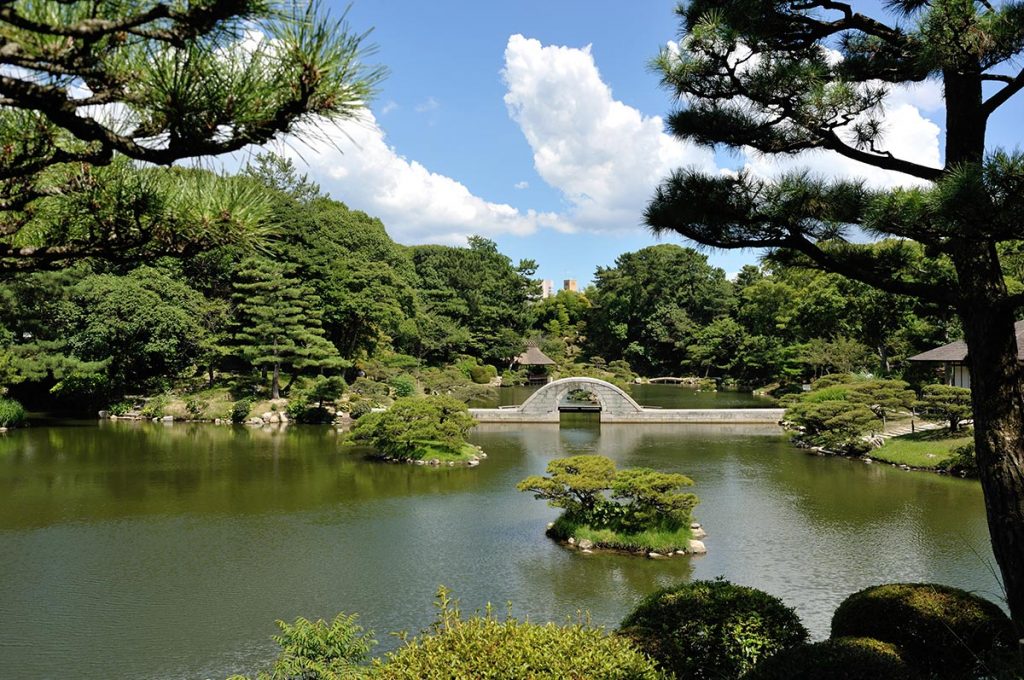 Shukkeien Garden, translating to 'landscape garden in miniature', is quite literally that. Most features of the garden, including valleys, mountains, and forests, have all been designed in a way to represent the miniature version of the actual life-size objects.
The original garden, which had completed construction in 1620, was developed using a method called 'chisenkaiyushiki', which means that a focal aspect of the garden is the pond in the centre around which you walk around, and to truly enjoy and encapsulate the entire beauty of the garden, you must follow the path all the way around, enjoying both the landscape and the pond in harmony with each other. 
The garden was sadly destroyed during the 1945 nuclear attack on Hiroshima, however, it was fully reconstructed in 1970, and is now a popular visiting attraction for its blooming flowers across the seasons (e.g. cherry blossoms in Spring, and the foliage in Autumn).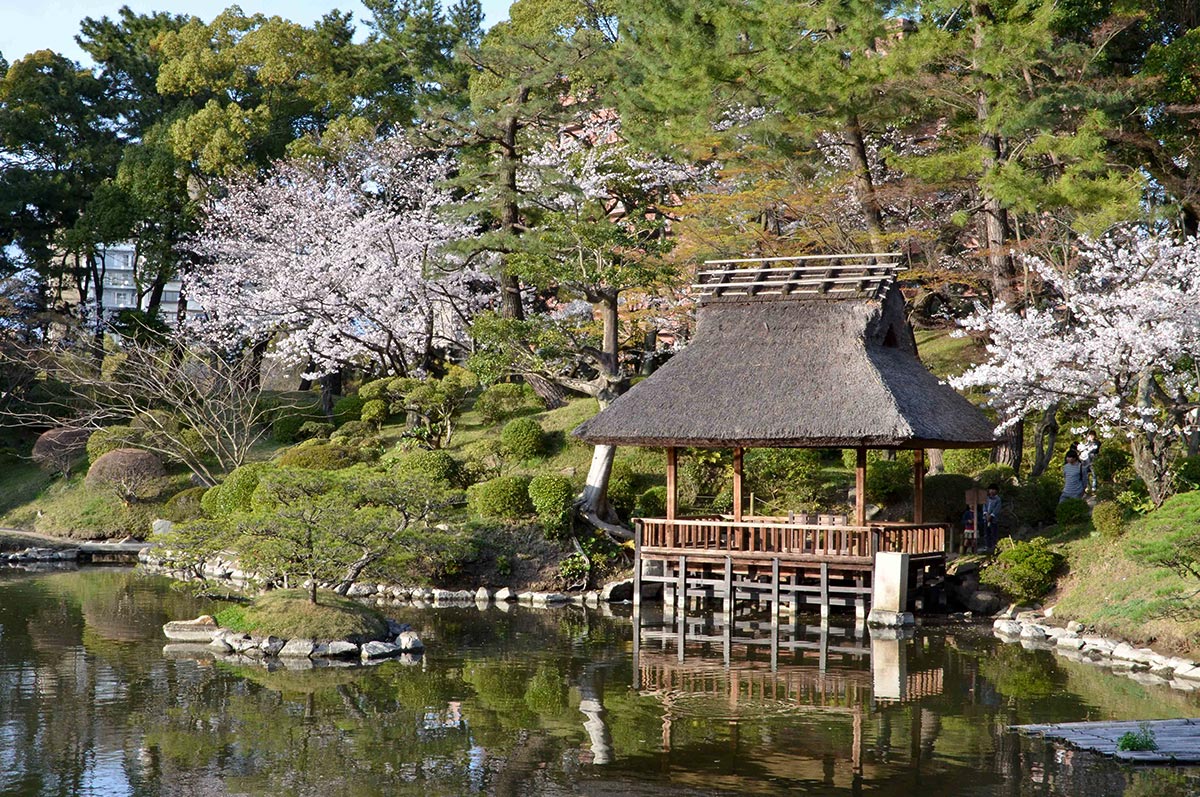 Address: 2-11 Kaminobori-cho, Naka-ku, Hiroshima City 730-0014
Access: From Hiroshima Station, it is a 15-minute walk. Otherwise, take the tram on lines 1, 2, or 6 and alight at Hacchobori stop. Transfer to line 9, and get off at Shukkeien-mae stop. This entire tram trip will take roughly 15-minutes, and cost 180 yen.
Hours: 9:00am – 6:00pm (April to September), 9:00am – 5:00pm (October to March)
Cost: 260 yen
Visit The Children's Peace Monument
There were many incredibly sad stories that arose from the nuclear bombing in 1945, but it is the ones involving the innocent children whose lives changed completely after that fateful day that tug just a bit harder at your heart.
The Children's Peace Monument is a monument representing peace to commemorate Sadako Sasaki (a victim of the resulting radiation of the bomb) and the thousands of children who were victims of the bombing. The monument, which is located in the Peace Memorial Park, is a testament to the vision and determination of school children from all over Japan, some of which were Sadako's classmates, to raise awareness and show to the world that they're all working towards the goal of a world without nuclear weapons – a wish that Sadako was vocal about during her final days.
Sadako folded one thousand paper cranes to be able to make a wish (a Japanese tradition), but unfortunately passed away eight months after her first diagnosis. Her death, her journey, and her final wish sparked a nation-wide campaign to shed light on all those children who were affected, and nowadays, millions of cranes are offered each year to the monument from all over the world.
Whilst this story is one of many, to be able to witness the empathy and outpour of various people doing what they can for a cause they believe in is a great thing to witness. 
Understanding how something good can result from something terrible is bittersweet, but it is real and it happened, so after you visit the Atomic Bomb Dome and the Peace Memorial Museum, you can head to the Children's Peace Monument for a few moments and take some time to pay tribute to the lost lives and send a prayer.
Because to the city history, visiting the children peace monument had to be part of our list of the top 10 things to do in Hiroshima.
Address: 730-0811 1 Nakajima-cho, Naka-ku, Hiroshima City (North-west of the Rest House in the north of the Peace Memorial Park)
Hiroshima Dreamination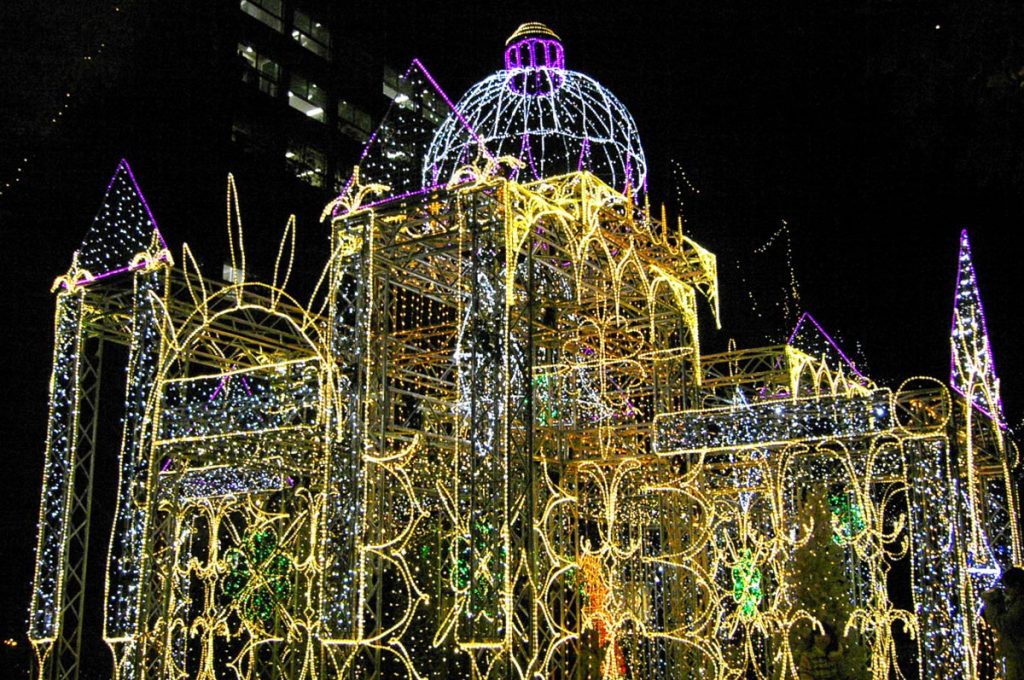 If you're heading to Hiroshima during winter, then you're in for a treat! The Japanese have long been known to absolutely smash it out of the ballpark when it comes to light shows and illuminations. They leave nothing for the imagination as they pull out all stops year after year to create the craziest, brightest, most beautiful light show you will see in your life, and the Hiroshima Dreamination, which happens everyday from mid-November until early January, is no exception.
In 2017, the theme was 'fairyland', and there were light sculptures of flowers, castles, teddy bears, carriages, love hearts, fairies and alike. This is the perfect event for Instagram-addicts and budding photographers, as the street becomes a gorgeous display of twinkling lights every night.
Usually located along Peace Boulevard, the extravaganza can be visited with friends of all ages, families with young kids (and those young at heart), the elderly – pretty much anyone and everyone who loves a good light show. It is quite central, being walkable from Hondori Street and Peace Memorial Park. 
Address: Peace Boulevard, Naka-ku, Hiroshima-shi
Access: From Hiroshima Station, take a Hiroshima Electric Railway streetcar to Fukuromachi Station (15 minutes). It is approximately 10-minutes by foot form there.
Hours: 5:30pm – 10:30pm
Cost: Free
Website: Dreamination
As surprising as it is, once you arrive in Hiroshima, you will immediately feel the sense that there is just so much more to the vibrant city than the legacy of the infamous attack. Whilst it is an incredibly important part of the city's history, the beautiful landscape, the vivacious atmosphere, and the stunning towns and islands just a few hours out from the main city center equally make the city what it is today.
Do you like our recommendations of things to do in Hiroshima? Do you have any other spot to add in our list? Share it with us on our Facebook group. We update our  Facebook, Instagram, and Pinterest frequently, follow us and don't miss a single post! Matane!