Naha Okinawa – Who have never heard of Okinawa? Probably nobody since this prefecture is the famous "Caribbean" of Japan, with beautiful islands, palm trees, blue water, and warm vibes. The capital, Naha, may be seen as the less attractive destination because it is a "normal" Japanese city. Is it so? 
Actually, Naha has much to offer, as we will see. First, it is the place where Shuri castle was erected which is now a UNESCO heritage site. The rides on the monorail are amazing, and the crazy Kokusai Dori gets on fire at night. Easily reachable from many Japanese airports, Naha can be visited from three to five days. You can also visit other places on the main island by bus or rental car (recommended if you stay more than three days).
Naha Okinawa – How To Get There?
From Narita Airport (Tokyo): Direct flights are offered by ANA or low-cost companies as Jet Star, Vanilla Air, Peach Aviation. It takes three and a half hours and prices can range from ¥5000 to ¥50,000.
From Haneda Airport (Tokyo): Direct flights are offered by JAL, ANA, and Skymark. It takes about three hours and prices can range from ¥10,000 to ¥50,000. 
From Kansai International Airport (Osaka): Direct flights are offered by JAL Transocean Air, ANA, and the low-cost companies Peach and Jet Star. It takes two hours and 20 minutes ca. and prices can range from ¥5000 to ¥40,000. 
From Fukuoka Airport: Direct flights are offered by ANA, JAL Transocean, Skymark, and Peach. It takes about an hour and 50 minutes and prices can range from ¥5000 to ¥40,000. 
From Kagoshima Airport: Solaseed Air and ANA are the only two companies operating flights to Naha Okinawa. It takes an hour and a half and prices are around ¥26,000 and ¥30,000.
Naha Okinawa – Where To Stay?
Hostel – The Kitchen Hostel Ao
Why guests love it: Perfect location, breakfast included, English speaking staff
Price: from ¥3,000 per person, per night
Address: 900-0015 Okinawa, Naha, Kumoji 1-4-1, Japan
Hotel – Palm Royal Naha Kokusai Street

Why guests love it: Excellent location, friendly staff, quality rooms, great view.
Price: from ¥7,000 per room, per night
Address: 900-0013 Okinawa, Naha, Makishi 3-9-10, Japan
Best Things to do in Naha, Okinawa
Shuri Castle
Shuri Castle is a mandatory stop during your Naha trip. This beautiful red building surrounded by stone walls and several different entrances (you can collect stamps at any of them!) finds itself on the top of a hill, immersed in a huge park. You can spot it from the monorail when approaching Shuri station (where you have to stop). Once you reach the castle, the visit of the interiors (of course without shoes) is a nice walk among wooden corridors, red carpets, and information panels. This UNESCO World Heritage site was the administrative center and home of the Ryukyu kings until Okinawa became a Japanese prefecture in 1879. 
Costs: ¥820
Opening Hours: 8:30 to 19:00 (until 18:00 from December to March, until 20:00 from July to September)
Website: Shuri Castle
Shikinaen Garden
Shikinaen garden is also a UNESCO World Heritage Site and was the second residence of the Ryukyu kings. Destroyed in the battle of Okinawa during 1945, it has been restored during the post-war years. It is a Japanese style garden with a central pond, near which the palace building stands. It is possible to visit the interiors that feature beautiful tatami rooms facing the garden. It is a perfect set for pictures! 
Costs: ¥200 each (Kondo Hall and Daito Pagoda)
Opening Hours: 8:30 to 17:00
Website: Visit Okinawa
Churaumi Aquarium
Have you ever seen whale sharks from a short distance? Be prepared to be surprised by the beauty of these animals, the protagonists of one of the biggest aquariums in the world. This huge center also hosts other animals such as manatees, giant sea turtles, and dolphins (their show is super cute!). To reach the aquarium you have to take a two-hour bus ride from Naha (¥4000 for the round trip), but it worth a visit also for the beautiful location: near it, there is Emerald beach, one of the best beaches of Okinawa's main island. 
Cost: ¥1850
Opening Hours: 8:30 to 20:00 (entry until 16:30)
Website: Churaumi Aquarium
Tokashiki Island
Like the aquarium, this is another destination where to spend an entire day. It features beautiful beaches (Aharen, Tokashiku), hiking trails and observatory decks. Ferries and high-speed boats connect Naha's Tomari Port with Tokashiki Port. The best time for swimming is between May and October, while from January to March you can join whale watching tours. 
Costs: Car ferry (70 minutes, ¥3160 round trip), high-speed boat (35 minutes, ¥4740 round trip)
More info: Tokakishi Island Official Website
Prefectural Museum
If you want to learn more about Okinawa's history and art, this museum is perfect for you. There is a history museum which shows information from before the time of the Ryukyu Kingdom to modern times and an art museum with paintings, sculptures, sketches, and videos. There are also special exhibitions at an additional fee.
Costs: ¥410 (history museum), ¥310 (art museum)
Opening Hours: 9:00 to 18:00 (until 20:00 on Fridays and Saturdays)
More info: Okinawa Prefectural Museum
Tsuboya District
Okinawa has an interesting pottery history dating back to ancient times. Take a walk through this district full of pottery stores and be amazed by the beauty of their creations. Shisa (Okinawan lion) is a famous subject and you will see it in every size and color. Do not forget to visit the Tsuboya Pottery Museum, where you can learn about the development of this art. 
Costs: ¥315
Opening Hours: 10:00 to 18:00, Tuesday-Sunday 
Kokusai Dori
Kokusai Dori is the craziest part of Naha Okinawa. During the day it seems a normal street, while at night it literally gets on fire: Neon lights, colorful stores stuffed with strange souvenirs, music and sounds coming from everywhere, and izakaya and restaurants featuring local food are waiting for you. Do not forget to go to the Kokusai Dori Food street, where you can find a lot of food stalls with delicious local and Japanese cuisine. 
Costs: Free
Opening Hours: In the Food Street most vendors close at 23:00 
Naminoue Shrine and Gokokuji Temple
Naminoue Shrine is a beautiful Shinto shrine located on a cliff facing the sea, and it was originally a sacred space of the native Ryukyuan religion. Gokokuji Temple is located immediately near Naminoure Shrine Torii (gate) and it is a Buddhist temple surrounded by a park with several unique.
Costs: Free
Opening Hours: 8:30 to 18:00 (if you want to get the Shrine and Temple stamp) 
Naminoue Beach
This relatively tiny beach is located near the Naminoue Shrine and Gokokuji Temple and features a typical Okinawan blue water. The presence of the highway spoils the atmosphere a little, but it is undoubtfully a relaxing spot for taking a rest, have a swim, or eating an ice-cream.
Costs: Free
Opening Hours: No closing times
More info: Okinawa Information
Fukushuen Garden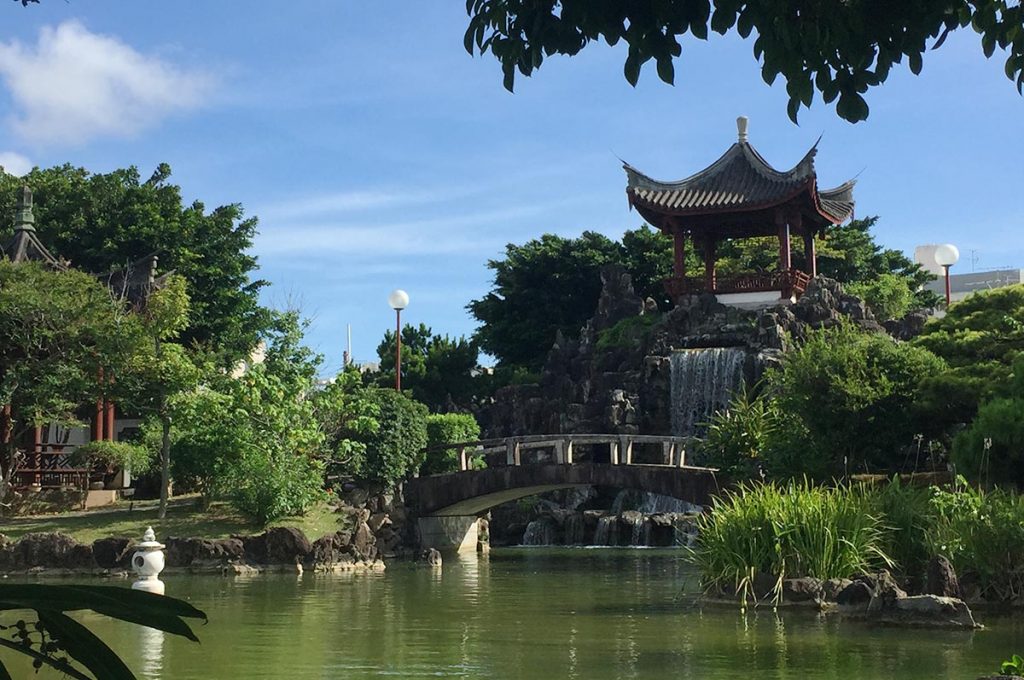 This beautiful Chinese garden finds itself in the city center, once the main Chinese cultural and trade area. It is a relaxing place where you can take amazing pictures and also feed Koi fishes (Koi fish food can be purchased through a vending machine near the main pond for ¥100).
Costs: ¥200
Opening Hours: 9:00 to 18:00 
Except from Churaumi Aquarium and Tokashiki island, in Naha Okinawa, you can access the main attractions by bus, monorail and walk.
Oh and by the way, it is amazing how many Shisa can be spotted on houses roofs. Since this is something you can see only here, do not forget to take some pictures! 
If you want more recommendations of places to visit in Japan, take a look at our articles about travel in Japan. You can share your pictures and experiences on our growing Facebook group, and do not forget to follow us also on Facebook, Instagram, and Pinterest. See you!
Born in Italy, raised in Switzerland, now living in Tokyo, I get my inspiration by travelling the world. I love writing, drawing, photographing, and video making. I am currently studying Japanese.