Japan welcomed its first Starbucks branch in 1996, in Ginza, Tokyo. Since then, Starbucks Coffee Company has continuously expanded and now boasts over 1,200 stores in the country. Over the years, the brand has successfully showcased its commitment in harmonizing the coffee chain's standard elements with that of different localities' atmosphere through their concept stores.  
This article lists 10 Starbucks concept stores across the country that guarantee you not only a taste of their signature coffee, but of rich Japanese culture as well.
Starbucks Dazaifutenmangu Omotesando
Situated in a historic neighborhood in Dazaifu, the Dazaifutenmangu Omotesando Starbucks branch is an eye-catching stop to get your caffeine fix when visiting the famous Dazaifu Tenmangu Shrine. It is after all located just along the walkway leading to the shrine or a mere 4-minute walk from Dazaifu station.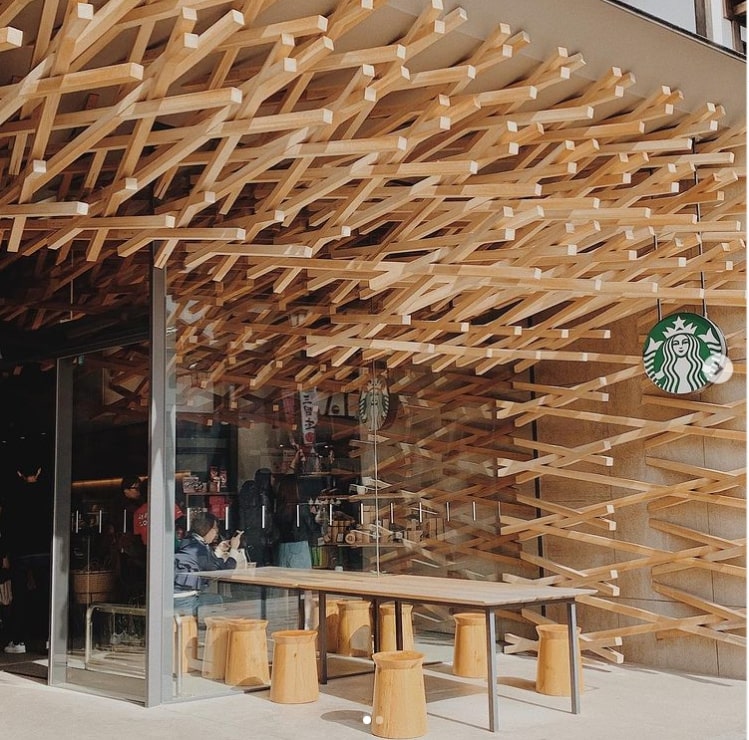 Designed by one of Japan's prominent architects, Kengo Kuma, the café emits an atmospheric vibe fitting with that of the area's old fashioned townscape. Adopting the kigumi method, a Japanese craftsmanship technique of putting pieces together sans nails, over 2,000 wooden beams were interwoven to decorate the store's structure. Indeed, this branch is more than just an ordinary coffee shop and might as well pass as an art installation. 
Although the area is already bustling with souvenir stores, do check out the café's limited-edition Starbucks merchandise unique to Fukuoka, which can also make for great gifts to your loved ones.
Address: 3-2-43 Saifu, Dazaifu-shi, Fukuoka
Business Hours: 8:00-20:00
Website: https://store.starbucks.co.jp/en/detail-1058/
Starbucks Kawagoe Kanetsuki Dori
Just north of Tokyo is a quaint town known for its Little Edo district, where one can find yet another Starbucks success story of blending the brand's modernity and traditional Japan. The Starbucks outlet along Kanetsuki-dori in Kawagoe, fully radiates the town's nostalgic vibe, that it almost feels like being transported back to Japan's feudal era. 
The café resembles that of a traditional merchant store with wooden facade and tiled roofs. In addition to that, printed on a white shop curtain and hung by the store's entrance, the coffee chain's prominent siren logo was also made to match the Edo-style town.
Inside, the shop's décor wonderfully conveys traditional Japanese elements and completely harmonizes with Starbucks' modern touch. The fabric of the benches are made of Kawagoe tozan, a local product that dates back to the Edo period, and held in place by knots called ume musubi, which represents bonds between people. 
At the back of the store are large windows that offer relaxing views of a lush Japanese garden. If the weather permits, take your favorite brew and dine at the outdoor terrace. Who knows you may just hear the city's iconic Toki no Kane ring.
Address: 15-18 Saiwaicho, Kawagoe, Saitama
Business Hours: 8:00-20:00
Website: https://store.starbucks.co.jp/en/detail-1554/
You might also like:
Starbucks Kyoto Ninenzaka Yasaka Chaya
Kyoto is widely known for keeping alive Japan's traditional beauty in its neighbourhood, that even a modern coffee shop has been transformed to reflect the same historic atmosphere.
The Starbucks outlet located on the cobbled street leading to World Heritage site Kiyomizu Dera, is not only the first of its kind to hang a noren, a traditional Japanese shop curtain, by its entrance, but is also the first globally to offer tatami (straw matting) floor seating. Housed in a two-storey 100 year-old machiya, or traditional wooden house, customers can enjoy their drinks whilst sitting barefoot on tatami seats. Surely one don't get to experience this at their usual cafe. 
Keep in mind that the shop prohibits customers from lining up outside as this may cause inconvenience to other customers and passer-by's.
Address: 349 Masuyacho Kodaijiminamidori Shimogawara-Higashiiru Higashiyama-ku, Kyoto
Business Hours: 8:00-20:00
Website: https://store.starbucks.co.jp/en/detail-1476/
Starbucks Kyoto Sanjo Ohashi
Another Starbucks branch worth checking out when in Kyoto is the one in Sanjo Ohashi, along Kamo River. The café makes for the perfect place to recharge after a day of temple-hopping especially during the summer.
As it can be uncomfortably hot in the city during this time, the concept of noryoyuka (cooling floor) is popular among many riverside restaurants in the area. This concept introduces sitting areas on wooden platforms erected atop the riverbank. From May to September, customers of the coffee shop can take their drinks to the store's outdoor deck and savor the cool breeze coming from the river, as well as the stunning views of the Sanjo Ohashi Bridge.
Address: 113 Nakajimacho, Sanjo-Kawaramachi-Higashiiru, Nakagyo-ku, Kyoto
Business Hours: 8:00-23:00
Website: https://store.starbucks.co.jp/en/detail-68/
Starbucks Toyama Kansui Park
Take a break and bask in natural sunlight with your favourite brew in hand at Starbucks Coffee Toyama Kansui Park branch. It is located inside Fugan Canal Kansui Park and is only a 15-minute walk from JR Toyoma Station. 
With floor to ceiling glass windows and a balcony facing a gleaming waterfront, guests will certainly appreciate the scenic views of Fugan Canal and Tenmonkyo Bridge in all of Japan's seasons – from cherry blossoms in spring to maple leaves in autumn. Fun fact: this branch was dubbed as the World's Most Beautiful Starbucks during the Store Design Awards in 2008.
Address: Toyama Fuganunga Kansui Park 5, Minatoirifunecho, Toyama
Business Hours: 8:00-22:30
Website: https://store.starbucks.co.jp/en/detail-897/
Starbucks Yomiuriland HANA BIYORI
Get away from the hustle and bustle of the city and see the country's first ever Starbucks housed in a botanical garden. The café is part of Yomiuriland's newest attraction, HANA BIYORI, which was recently opened in March 2020.
With flower chandeliers hanging from its glass roof and blossoming flower walls, customers will feel like they have stepped into a floral wonderland. Sit back, relax and enjoy a tall size of your favourite brew while watching over a thousand of colourful fish swim in the café's 8-meter long aquarium.
Although the café is within Tokyo's largest amusement park, the admission fee is separate. If you only opt to visit the flower park and the café, tickets cost 1,200 JPY for adults and 600 JPY for children.
Address: YOMIURILAND HANA BIYORI 4015-1, Yanokuchi, Inagi, Tokyo
Business Hours: 9:30-17:00
Website: https://store.starbucks.co.jp/en/detail-1858/
Admission ticket is required*
Starbucks Hakodate Bayside
Kanemori Red Brick Warehouse district is one of the go-to places in Hakodate, with buildings dating back to the early 20th century now restored and turned into shops and restaurants, including the popular Starbucks Coffee chain. The two-storey café has successfully preserved the original flooring and staircase of its building and seamlessly blends with the rest of the stores along the port.
On warm days, customers can head to the outdoor deck on the second floor with an iced latte and enjoy spectacular views of Hakodate Bay. While during the colder seasons, from autumn to early spring, customers may gather around the café's fireplace for extra warmth if a cup of coffee isn't enough to beat the cold.
Address: 24-6 Suehirocho, Hakodate-shi, Hokkaido
Business Hours: 8:00-23:00
Website:  https://store.starbucks.co.jp/en/detail-1012/
Starbucks Dogo Onsen Ekisya
Matsuyama city is about a 7-hour trip from Tokyo and is home to not only Japan's oldest hot spring and inspiration behind the bath house from Studio Ghibli's Spirited Away, Dogo Onsen, but also to one of Starbucks' concept stores.
Starbucks Dogo Onsen Ekisya occupies a two-storey building reminiscent of the city's train station that was built during the Meiji-era.  Situated beside Dogo Onsen station, the café is sure to make any traveller stop and admire its town-house looking exterior with long panel windows and Victorian-style roofing. It is definitely one of the instagram-worthy Starbucks outlets out there! 
The interior of the café is carefully designed to maintain the original building's old-style train station vibe, that even the tables and chairs were repurposed from old rails and railway sleepers. Take your drink to the second floor, relax and idly watch trains pass by.
Address: 1-10-12 Dogomachi, Matsuyama, Ehime
Business Hours: 8:00-21:00
Website: https://store.starbucks.co.jp/en/detail-1577/
Starbucks Reserve
®

Roastery Tokyo

Opened in February 2019, Starbucks Reserve Roastery Tokyo is the fifth and biggest Starbucks Roastery worldwide. The Roastery's exterior is yet another masterpiece by world-renowned architect, Kengo Kuma, and its interior was designed by the Starbucks community team, boasting four floors of elevated coffee, tea, and even alcohol, experience. 

The first floor is where the magic of coffee craftsmanship happens. Aside from ordering Starbucks' signature creations and striking a conversation with their friendly baristas at the main bar, customers can also observe roasters at work. And if watching the roasting process is not enough, you can head to the Coffee Scooping Bar or Retail Area and bring home a bag of their freshly roasted coffee beans. 

The second floor is a nod to the importance of tea in Japanese culture, as well as proof that Starbucks is more than just coffee. The Teavana floor has a charming 3D-printed bar where guests can drink delightfully aromatic tea. This floor also has a Scoop Bar where tea lovers can select and bring home their favourite tea.
And just when you think the selection of beverages couldn't get any better, head to the third floor or the Arriviamo Bar, where coffee and tea meet mixology. Take your choice of cocktail infused with either coffee or tea to the veranda and delight in pleasant views of the Meguro River, especially during springtime where cherry blossom trees line up the streets. 
The Amu Inspiration Lounge takes the last floor of the Roastery and is the perfect place for holding meeting sessions, seminars and events. On this floor, you can also observe the packing process of coffee beans that will be distributed to all Starbucks outlets in the country.
Address: 2-19-23 Aobadai, Meguro-ku, Tokyo
Business Hours: 7:00-23:00
Website: https://www.starbucks.co.jp/reserve/roastery/
Conclusion – Top Starbucks in Japan
And there you have it! Aside from their seasonal and regional drinks that are unique to Japan, Starbucks has truly stepped up their game with these concept stores. Which of the stores listed above made it to your travel bucket list?
Be sure to follow us on Facebook, Instagram, Twitter, and Pinterest for more fun stuff! Visit our online shop: shop.itsyourjapan.com
Yukari is a half-Japanese, kawaii-loving girl from the Philippines. In her free time, she juggles writing poetry, making art, and playing with her fur baby. She dreams of traveling the world and moving to Japan permanently. But for now, she takes pleasure in virtually sharing Japan's beauty and uniqueness.