Best Coffee Shops in Tokyo – Japan's capital city is not lacking of cafes that offer only the best caffeine a beverage can offer. There's bound to be a coffee shop in every corner of every street, regardless if it's near or far from the city center. Coffee is without a doubt a staple in the life of the Japanese — be it a morning cup for that surge of energy to start the day or just a casual sit-down with a bunch of friends for an afternoon sip. From drip and espresso shots to lattes and siphons, Tokyo has got you covered with the finest beans from all over the world.
With such a saturated market, it may be difficult for a newly opened local coffee shop to stand out from the crowd. Coffee lovers might have a headache scrolling through the endless options of potential places to get their caffeine fix. Not to fret, here's a carefully curated list of the best cafes to grab that boost of energy in Tokyo.
Little Nap Coffee Stand
Little Nap Coffee Stand is like a hole in the wall of a coffee shop. With only five chairs in the cafe, it's almost impossible to snag a seat, especially with its slithering queue out the door everyday. All of their brews are locally made and prepared on a Synesso machine, made from the high-quality beans are roasted on-site, maintaining the utmost freshness one can ever get from coffee beans.
The laid back ambience and warm hospitality of the owner is what keeps the customers coming day in and day out. Grab a cup of your daily fix and cross over to Yoyogi Park just steps away from this wonderful coffee place.
Location: https://goo.gl/maps/zxxoQMHbZ3Sxi8Ur8
Website: http://www.littlenap.jp/
Turret Coffee
Named after the turret mini trucks that used to go around the Tsukiji fish market back in the days, Turret Coffee brings a pang of nostalgia with actual turret set up in the coffee shop itself. Along with other "normal" seats, this cafe oozes a warm vibe that goes perfectly well with their banging coffee. The espresso machines here pull and pour top-notch espresso for those who are looking for an instant boost of caffeine, but the real hit is the Turret Latte which features a double shot of espresso, topped with some beautiful latte art.
Turret Coffee also has seasonal treats that are specially made for the shop, including a local japanese sweet called the dorayaki which is a pancake sandwich filled with red bean paste. Whether one's looking for a morning fix or a casual afternoon coffee with a dessert, Turret Coffee is the place to be.
Location: https://g.page/TurretCOFFEE?share
Facebook page: https://www.facebook.com/TurretCOFFEE/
Glitch Coffee & Roasters
Sourcing beans from all over the world gives Glitch Coffee & Roasters an edge over the rest. Because of that, this coffee shop has accumulated a decent size of raving, coffee-loving fans. The display of all the roasts offered in the middle of the cafe space is a wonderful detail to the store. Not only does it add on to the aesthetics but it also gives a sense of what Glitch Coffee has to offer to the customers.
Glitch is the perfect place for a lighter roast. The Guatemalan one seems to be a huge hit with the crowd. If you're overwhelmed by the choices they have, the staff are more than willing to offer suggestions such as the fruity Kenya Karinga AA or whatever else that is preferable for your coffee palate. Packed with a powerful coffee range alongside the kissaten-inspired decor, Glitch is a one-stop for all the coffee drinkers.
Location: https://g.page/glitchcoffee
Website: https://glitchcoffee.com/
Lattest Omotesando Espresso Bar
While it is a bit of a walk from the mainstreet and the nearest station, that's never an inconvenience to Lattest lovers. This chill coffee shop lies in the back streets of Omotesando — central of Tokyo but far enough from the busy and noisy crowds. While the lattes and black coffees are ones to try, the signature item is definitely the one that's named after the store. "Lattest" is a shot of their fine espresso in cold milk, giving the picturesque mix of espresso colour and milk visible through the transparent glass cup.
With a big community table in the middle and some cosy cart tables at the side for a more intimate experience, Lattest may rank one of the most famous coffee shops in the whole city — especially after its small feature in the show Terrace House.
Location: https://goo.gl/maps/QKTWGCt1xnAg5SCo6
Website: http://lattest.jp/
Fuglen
Fuglen has a high reputation in both the cafe and bar scene. The original shop is in Oslo, Norway, and its expansion to Tokyo has caused waves of buzz among the locals. This blend of cafe and cocktail bar serves a remarkable range of quality coffee in the mornings through afternoons, and switches to bar mode in the evening, serving anything from Japanese and Norwegian craft beers to cocktails and spirits.
Just as its reputation, the coffee at Fuglen is spectacular. It's definitely premium quality as the beans are one of the most expensive to buy in the whole city. They also have their own roastery right around the corner, so if you love their ambience and caffeine here, be sure to take a look there as well.
Location: https://g.page/Fuglen_Tokyo
Website: http://fuglen.com/
Blue Bottle Coffee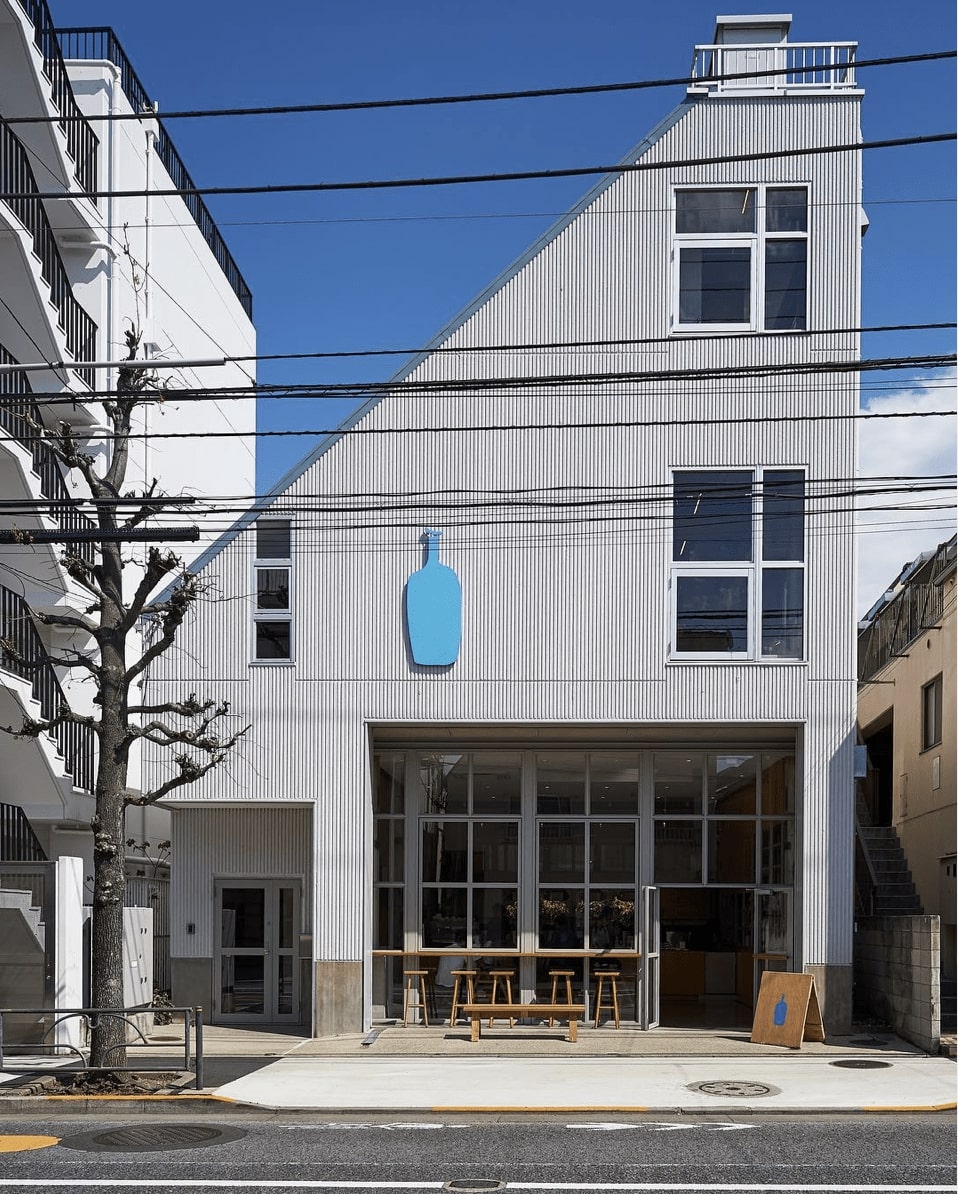 Everyone who's in-the-know with the coffee scene in Tokyo would have heard about Blue Bottle Coffee. This coffee chain shop originated in California and has expanded to Japan with multiple outlets spread out across the city Tokyo itself. The reason why this coffee shop is extremely well known is due to its use of high technology in the brewing od drip coffee as well as their carefully selected range of coffee beans. For such high quality, Blue Bottle Coffee prices their products extremely affordably, which includes the classic latte and their Hayes Valley espresso.
As their coffee beans are for sale, many are eager to get a bag of grinded coffee beans for themselves to make at home. Almost everyone knows that you can get just about any flavours of coffee beans to suit your taste at Blue Bottle Coffee.
Location: https://goo.gl/maps/M7GWypNfDxYVowQh7
Website: https://bluebottlecoffee.jp/
The Roastery by Nozy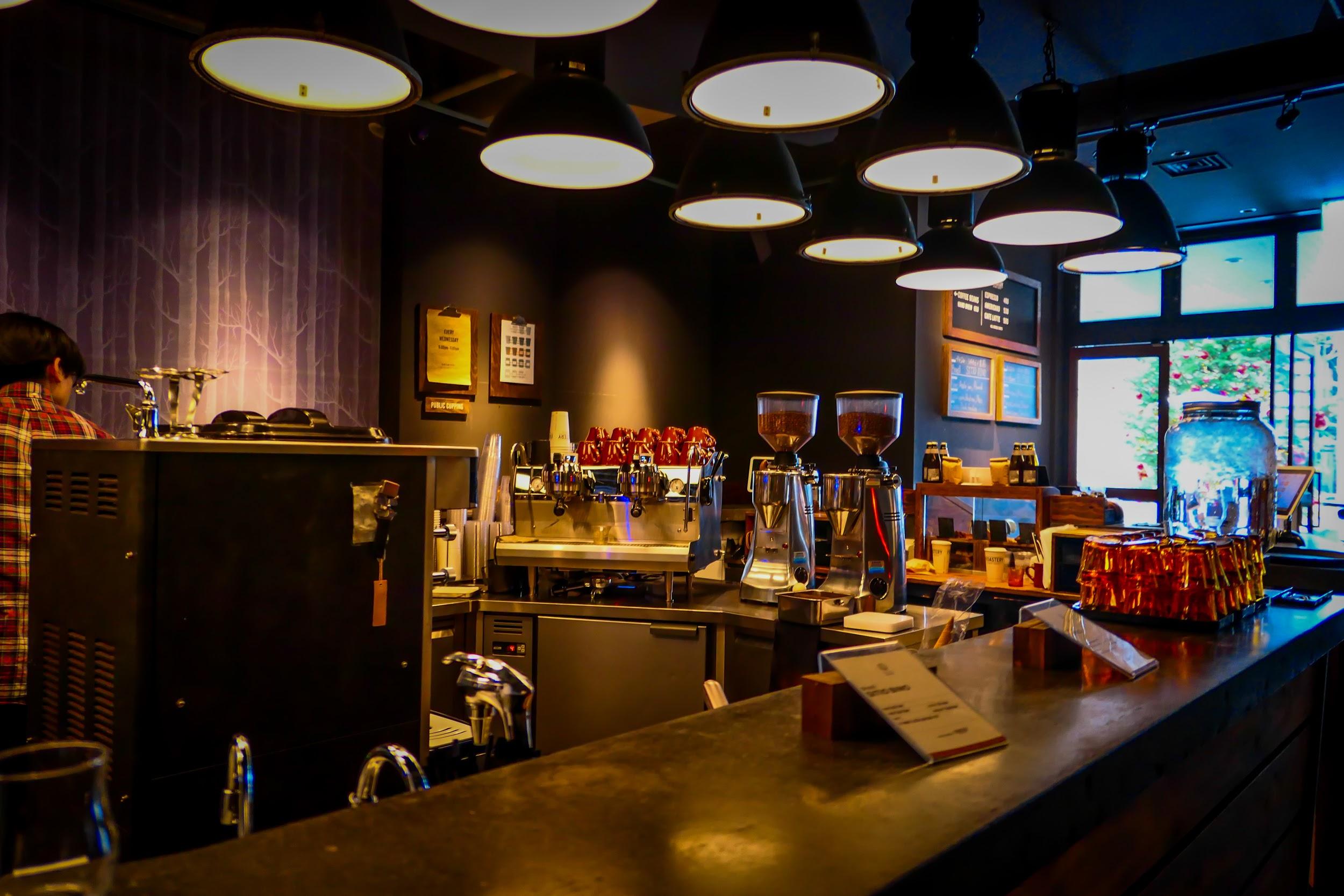 Arguably one of the most famous coffee shops in all of Tokyo is The Roastery by Nozy, located on the busiest street of Tokyo known as the infamous Cat Street. There's always two different kinds of single-origin beans served daily, used for any caffeinated drink from drip coffees and americanos to the loved lattes. If you order an espresso shot, don't be shocked when you get served a champagne glass — it's not actually champagne in it, it's your ordered shot.
There are also sweet and savoury treats to go along with your freshly brewed coffee. The Roastery also does coffee cupping on Wednesdays, so for those who want to learn a little extra information on the coffee craft, the doors are always open.
Location: https://goo.gl/maps/w7z8LmYACr6e7EjQ6
Website: https://www.tysons.jp/roastery/
Kitsune Cafe
One of the most aesthetic and beautiful coffee shops in all of Tokyo is definitely Cafe Kitsune. With multiple shops opened worldwide, this one in Japan has local influence everywhere — the interior is a seamless blend of traditional Japanese home and modern elements. Most come here for the great coffee to match the equally outstanding visual concept. Some even get a pastry or two for their casual sitting on a nice afternoon.
Location: https://goo.gl/maps/7jJh5WUacMY6r2d18
Website: https://www.maisonkitsune.com/mk/cafe-kitsune/
Amameria Espresso
Amameria Espresso brings popularity to the Musashi-Koyama neighbourhood with its strong coffee aroma that seeps out the doors of the cafe. This coffee shop brews its own beans, which are available for customers to purchase and brew their own at home.
The coffee at Amameria is stronger than most of the others in Tokyo, but that just adds the uniqueness to their coffee — on top of their citrusy and buttery flavours of their espresso prepared on the advanced Synesso machine. Grab their bestselling Gilraltar, which is a condensed latte in a dinky glass, along with something from the food menu to add on to your Amameria coffee experience.
Location: https://goo.gl/maps/kLwhN68Tm77rmVDF7
Website: http://www.amameria.com/
CIBI
The Melbourne vibes that this cafe gives off is due to the owners' first shop opening up in the very city of Australia, before opening CIBI in Tokyo. The mismatched chairs and tables are on purpose to go along with its modern-vintage aesthetics. All of these add on to the excellent coffee CIBI offers, made from beans from Kanagawa's 27 Coffee Roasters.
Along with your freshly brewed cup, why not get a seasonal Japanese-Australian fusion dish while you're at it? It's not everyday a cafe like this comes around. CIBI is one of its kind and an inspiration to many future cafes who aspire to be like it.
Location: https://goo.gl/maps/bJQLgzu2LurqyjRA6
Website: https://www.cibi.jp/
Streamer Coffee Company
Amidst the sea of lightly roasted coffee is this dark roaster, Streamer Coffee Company. With multiple stores opened in Tokyo, they have quite a following — and it's for good reason, the coffee here is excellent! Every cup is completed with a different latte art each time and served in a bowl-sized mug, the latter specifically for the signature Streamer Latte which makes every penny worth it.
Its chill and laid back environment has made Streamer Coffee Company one of the best places for customers to grab their laptops and do some quick work, too.
Location: https://goo.gl/maps/poeTuU2pJUZF6Jhd8
Website: http://www.streamer.coffee/
Verve Coffee Roasters
Shinjuku is known for their nightlife, but in the daytime, the American coffee shop Verve shines the brightest. The natural, earthy colours of the interior space makes you feel calm instantly, completed with a long table in the middle of the shop and a cosy outdoor seating at the shop's entrance.
No cup of coffee can go wrong at Verve, and beans are even available for purchase if you love their flavourful tastes — there's a free cup of drip coffee given together with any purchase of coffee beans, what a deal!
Location: https://goo.gl/maps/poeTuU2pJUZF6Jhd8
Website: https://www.vervecoffee.jp/
Conclusion –  Best Coffee Shops Tokyo
There's an endless list of great coffee shops in Tokyo. Each and every one of them contributes an original aspect to the coffee scene in the city. Local coffee lovers and those from abroad can enjoy a good cup of coffee almost anywhere as there's never an average coffee place in town. For the really devoted caffeine drinkers, why not get a notepad to jot down all the possible coffee shops in the city one can possibly list and go on a whole coffee shop hop?
You can also join our Facebook Group and share your Japan with us! Last but least, follow us on Instagram, Facebook, and Pinterest and don't miss any blog post.
Usually tucked away in a cafe anywhere she goes, Azra Syakirah is a fashion designer and entrepreneur living in Tokyo, Japan. Born and bred in Singapore, her heart belongs to the world. Also a language enthusiast, she virtually scribbles her thoughts on a blog as well as freelances as a writer. She is experimental and versatile with her writing genre and content creation, seeking to put her passion in linguistics and hunger for creativity into practice.