Matsuyama Japan – Matsuyama is the capital of Japan's Ehime Prefecture. It is also the largest city on Shikoku. Matsuyama offers great historical insight into Japanese culture and fantastic views of Shikoku Island and the beautiful Ehime Prefecture. History buffs and outdoor enthusiasts love visiting this capital city for its cultural significance and scenic landscapes.
Matsuyama is located on the northeastern side of the Dogo Plain and is cradled between gorgeous green mountains and the peaceful Seto Inland Sea. Many hikers and cyclists enjoy the city and the surrounding area for its scenic mountain paths and many suspension bridges which hold the islands of the region together.
How to get to Matsuyama?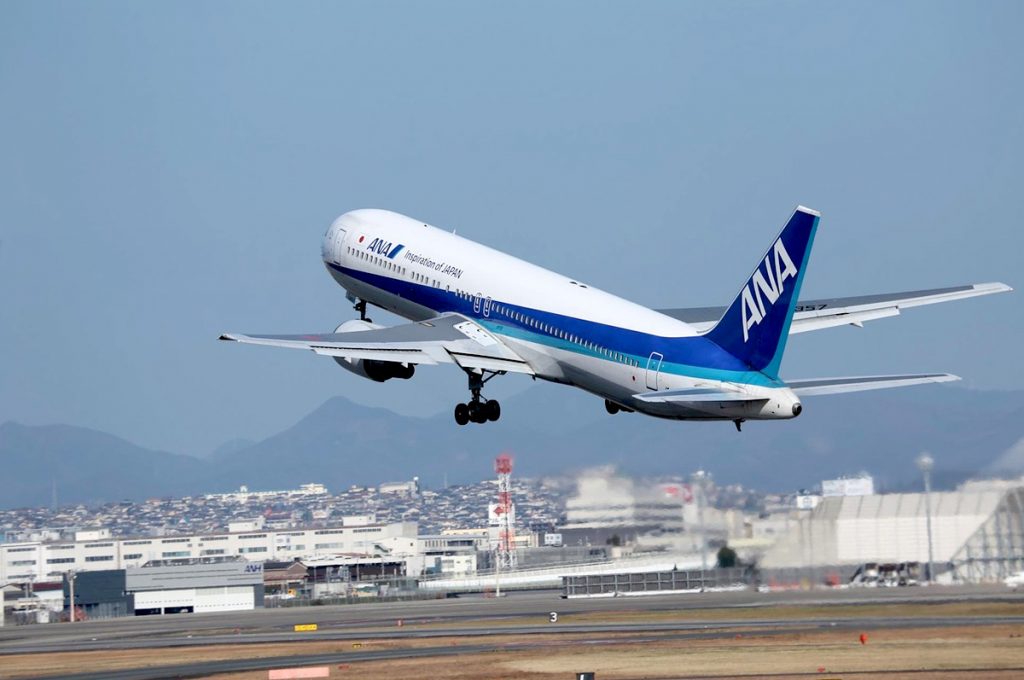 By air: Many flights from Tokyo's Haneda Airport to Matsuyama Airport are available daily from ANA and JAL for about 39,000 yen. Discount airlines like Jetstar also offer flights from about 5,000 yen. The flight takes about 90 minutes in total. From the airport, there are several shuttle busses which take passengers to Matsuyama city in only 15 minutes.
By train: Tokyo is not connected directly to Matsuyama by Shinkansen. The fastest way to reach the city from Tokyo is to first take the JR Tokaido or Sanyo Shinkansen to Okayama. From there, limited express trains bound for Matsuyama are available. In total, the trip will take over 6 hours and cost 20,000 yen.
Where to Stay in Matsuyama?
Matsuyama is a great Japanese city full of many attractions. After the long journey to reach Ehime's capital city, it's worth taking your time and staying the night. There are many options available for travelers to take a rest after a long day of exploring amazing Japanese culture.
Hostel – Cinnamon Guest House
Why guests love it: Hostels are an inexpensive and fun way to travel in Japan. For visitors on a budget or love meeting new people while exploring Japan, Cinnamon Guest House in Matsuyama is a great option. This comfortable hostel has a very fresh and modern design and offers a number of amenities. This cozy hostel is also located close to Dogo Onsen.
Price: 3,000 yen
Address: 790-0842, Matsuyama Dogo yunomachi 4-50, Ehime, Japan
Hotel – Matsuyama New Grand Hotel
Why guests love it: The Matsuyama New Grand Hotel is a great budget choice for travelers wanting a more familiar experience. This hotel offers all the modern amenities and styles of western hotels like free wifi, breakfast buffet, and western beds. However, Matsuyama New Grand Hotel also offers a great spa and public bath to still give it that Japanese feel. Many shops and restaurants are nearby, as well as the famous Matsuyama Castle.
Price: from 4,343 yen
Address: 790-0002 Ehime, Matsuyama, Nibancho 3-4-10, Japan
Ryokan – Funaya
Why guests love it: Funaya is one of the best Japanese ryokans available in Matsuyama Ehime. The ryokan has over 380 years of experience pleasing customers from all over Japan and the world. The traditional ryokan offers delicious Japanese meals, a beautiful Japanese garden to relax, and convenient access to Matsuyama's famous Dogo Onsen. This traditional Japanese ryokan is in high demand, so it is best to plan your stay well in advance to get the best price.
Price: from 25,500 yen
Hours: 3pm – 8pm (Check-in), 7am – 10am (Check-out)
Address: 790-0842 Ehime, Matsuyama, Dogoyuno-machi 1-33, Japan
Want to know more about ryokans? Read about it: What is a Ryokan – The Best Way To Experience Japanese Culture.
Best Things to do in Matsuyama, Japan
Dogo Onsen
Dogo Onsen is one of the oldest and most well-known hot springs in Japan. The famous onsen has had many visits from the Japanese Imperial Family. Dogo Onsen even has a private bath just for the emperor. The bathhouse from the popular animated film "Spirited Away" is said to have been inspired by Dogo Onsen's incredible wooden architecture and atmosphere. Before or after bathing in either of the onsens fantastic baths, guests may relax in the resting area on the upper floor. A number of tours are available for exploring the historic onsen in Matsuyama Japan. For more information on Japanese onsen, check out our article on the best hot springs in Japan.
Hours: 9am – 10pm
Price: from 260 yen
Address: 790-0843 Ehime, Matsuyama Dogomachi, 1-7, Japan
Do you know where to find the best onsen? Read all about it in our article Best Onsen in Japan.
Matsuyama Castle
Matsuyama Castle is an ancient castle built between 1602 and 1628 during the feudal era. It is one of Japan's twelve "original castles" which has survived through the country's long history. The area is covered with over 200 cherry blossom trees, making it a great place to visit during spring for the Japanese hanami (cherry blossom viewing) season. The famous castle was constructed on top of a large hill in the city center called Mount Katsuyama. A ropeway is available to take visitors up to the castle to get an incredible view of Matsuyama and the Seto Inland Sea.
Hours: 9am – 4:30pm
Price: 510 yen
Address: 790-0008 Ehime, Matsuyama, Marunouchi 1
Botchan Train
The Botchan train is a must-see attraction in Matsuyama, Japan for train hobbyists and travelers who love history. This charming tram replicates the look of classic trains that once carried people through the city of Matsuyama. Stepping onto the Botchan Train is like being transported back in time. The train operates on only 2 lines. One goes from Dogo Onsen Station to Matsuyama Station. The other goes from Dogo Onsen Station to Komachi Station. Visitors who want to take a ride on the old train must pay careful attention to the timetable to catch a ride.
Hours: 7am – 9pm
Price: 300 yen
Address: 790-0012, 4-4-1 Minatomachi, Matsuyama, Ehime, Japan
Bansuiso
Bansuiso is one of Matsuyama's hidden gems. Unlike the many temples, shrines, and traditional Japanese buildings travelers encounter while exploring Japan, this beautiful mansion was built using gothic French style architecture. Though the original owner of this property was Japanese, his years spent in France inspired him to build Bansuiso in the French fashion. Located just below Matsuyama Castle, Bansuiso offers an intriguing look at Japanese history and the country's relationship with western culture through the years.
Hours: 9am – 6pm
Price: Free- 300 yen
Address: 790-0001 Ehime, Matsuyama Ichibancho 3-3-7
Ishiteji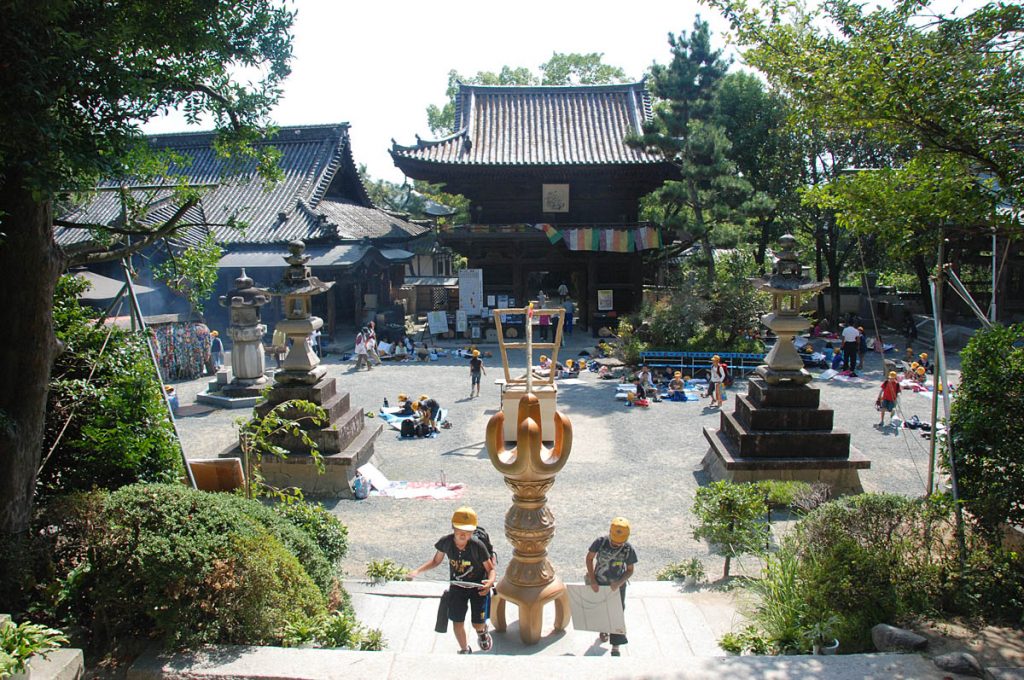 Ishiteji is a Japanese temple near Dogo Onsen in Matsuyama, Japan. The beautiful temple was built in the style of the Kamakura Period's architecture – an era which lasted from 1192 to 1333. In addition to the main hall, Ishiteji also houses a beautiful Japanese pagoda. The temple is also famous for its incredibly crafted wooden entrance, the Niomon Gate. What really separates this temple from the many beautiful Japanese temples is its inner temple.  After walking through a narrow cave filled with statues, visitors will emerge to find a peculiar golden dome-shaped hall.
Hours: 24 hours
Price: free
Address: 790-0852 Ehime, Matsuyama Ishite 2-9-21, Japan
Nogutsunajima Island
Nogutsunajima is an island located in the Seto Inland Sea. This island is a great destination near Matsuyama for hikers looking for some beautiful trails and incredible panoramic views of the Seto Inland Sea and mountains in the area. Nogutsunajima offers some great sandy beaches like Nukabe Beach and other scenic attractions like the Sarayama Observation Platform. A ferry from Matsuyama's Mitsuhama port and Takahama port is available to take visitors to the island. The ride takes about 1 hour and costs 670 yen.
Location: 791-4432, Nogutsunajima, Matsuyama, Ehime, Japan
Matsuyama's General Park
This park in Matsuyama, Japan is another excellent place for sightseeing. Unlike the historic Matsuyama castle in the center of the city, the small Freiburg Castle at this park was built in the style of a European Castle. From the top of the hill, you can get a great view of the city and the nature around Matsuyama. The park has many cherry blossom trees making it a great destination for spring and autumn for viewing nature.
Location: 791-8024 Ehime, Matsuyama Asahi Months Hill 1-1633-2
Iyo Railway
One more way for train lovers to enjoy their visit to Matsuyama Japan is by taking a ride on the city's famous Iyo Railway. The tram service is the best way to travel around the area, and it is very cheap. Day passes are available for just 600 yen and can be bought directly from the conductor after getting on the tram. The well-preserved train system in the city hosts a number of unique streetcars – modern and old. Travel the city in style just like locals did back in the 1950's
Isaniwa Shrine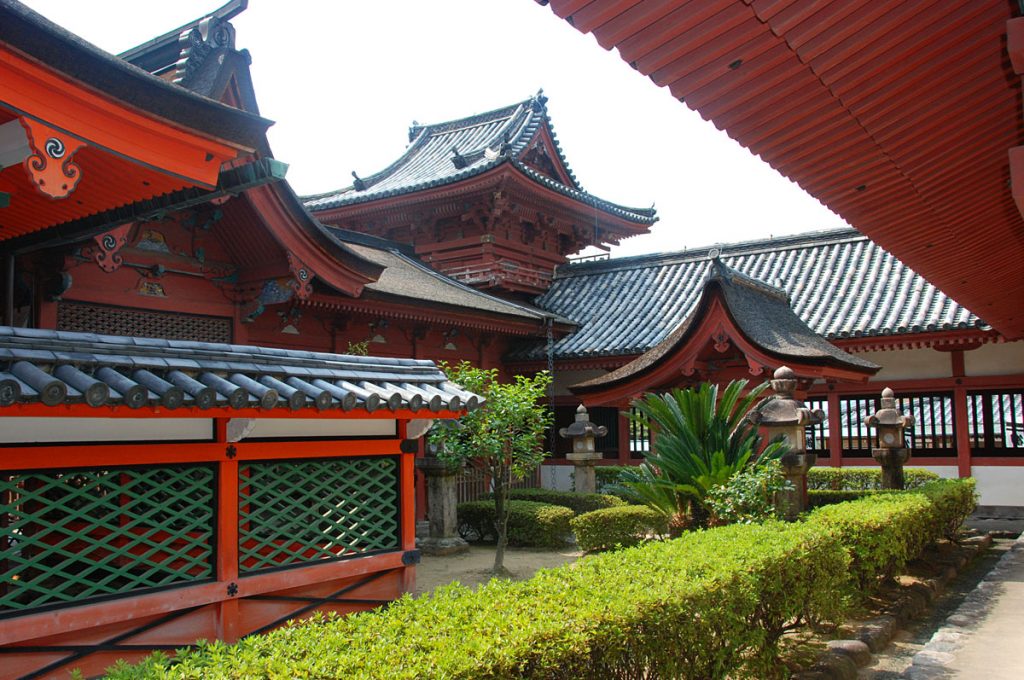 The Isaniwa Shrine is conveniently located nearby one of the city's most popular landmarks, Dogo Onsen. After soaking in the soothing waters, take a short walk up a flight of stone stairways over to this beautiful traditional Japanese Shrine. In addition to its astonishing architecture, the shrine also offers a great view of the area thanks to its elevation above the streets.
Address: 790-0838 Ehime, Matsuyama, Sakuradanicho 173
Dogo Park (Ruins of Yuzuki Castle)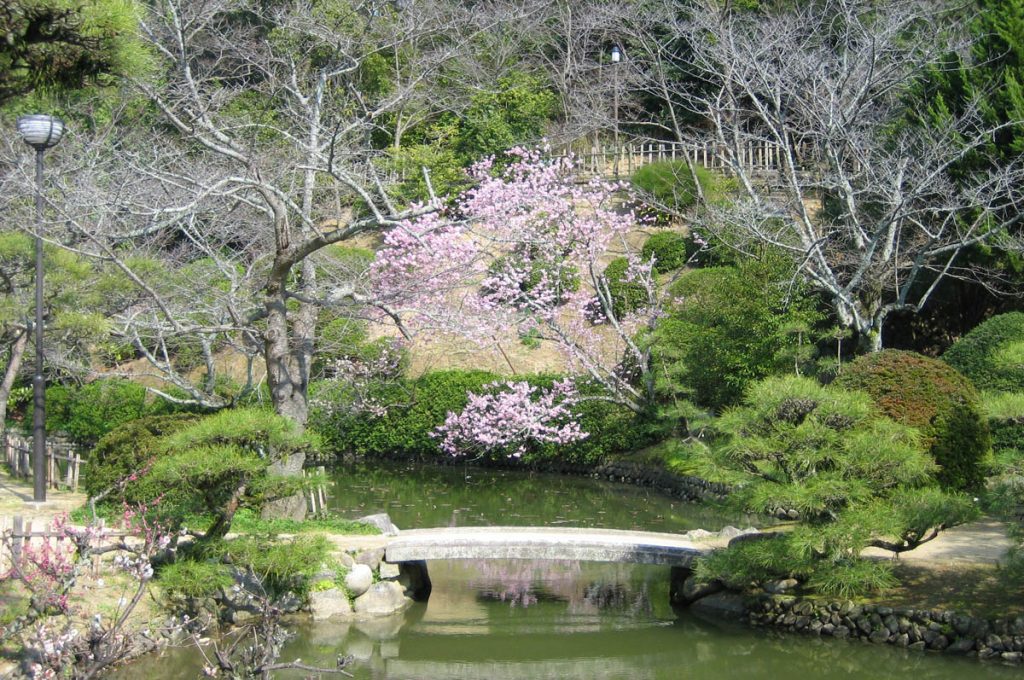 Another historic landmark in Matsuyama, Japan is Dogo Park. This park is full of natural beauty and cultural significance. Take a walk under the many cherry blossom trees while checking out the ruins of what once was Yuzuki Castle. On the grounds is a replica of an ancient samurai compound which houses many artifacts from that time. It's an excellent opportunity to learn about Japanese culture and history while also enjoying the natural beauty of Japan.
Learn things you never knew about the Japanese samurai in our article 10 Surprising Things You Didn't Know About Samurai.
Location: 790-0857, Dogo Park, Matsuyama, Ehime, Japan
Ehime is one of Japan's most beautiful prefectures, and as the capital city, Matsuyama does not disappoint. The city offers a number of great attractions to leisurely enjoy all year long. Whether you love Japanese culture, Japanese history, Japanese nature, or Japanese art; Matsuyama has it all. It is a very easy city to navigate and explore, and it is worth taking your time.
If you have been to beautiful Matsuyama, let us know on our Facebook group. Follow us on Facebook, Instagram, and Pinterest for more Japan goodies!
Mata ne!
Andrew Smith is an American writer living in Tokyo. In his free time, he enjoys, photography, live music, and exploring Japan. His goal is to visit and write about every prefecture in Japan someday.