Kyoto Prefecture is known as a matcha heaven, where many of the most well-known Japanese matcha houses hail from. If we brought you back a hundred years in Kyoto, you would see matcha tea houses such as Itohkyuemon, Tsujirihei Honten, Nakamura Tokichi and Marukyu Koyamaen.
Fast forward to today, these matcha houses that have over a hundred years of storied history and rich heritage are still around and thriving. Many of these brands operate cafés where you can try various sweets, drinks and even savoury food. And of course, all their menu items contain the brand's award-winning matcha powder.
Even if you're not visiting one of these olden – but just as golden – matcha houses, there are plenty of stalls on the streets of Kyoto selling delectable matcha treats. Whether it's a classic matcha latte and matcha soft serve or the more adventurous and wacky matcha beer and matcha gyoza, Kyoto has it all. Read on to find out what matcha foods you should try to get a taste of the best matcha that Kyoto has to offer.
Usucha
Simple yet satisfying, usucha means 'thin tea'. It consists of finely ground matcha powder skilfully whisked with a chasen (a special bamboo whisk for making matcha) in hot water and served. This would be similar to sencha, which is made with green tea leaves rather than powder. Most shops you find will serve this classic drink. Take a seat in a café and enjoy it leisurely, or sip it on the go as you explore the old streets of Kyoto!
Koicha
The thicker, more syrupy sibling of usucha, koicha is made with double the amount of powder and half the amount of water as compared to usucha. Characterised by its vibrant green colour, koicha is an indulgence typically drunk during a traditional tea ceremony.
Owing to the formal nature in which koicha is usually drunk, you will probably have to attend a tea ceremony if you want to try this silky, umami beverage. If anything, it will be an eye-opening experience to see how the hosts prepare a cup of tea with the ultimate pride, precision and care.
Read also:
Latte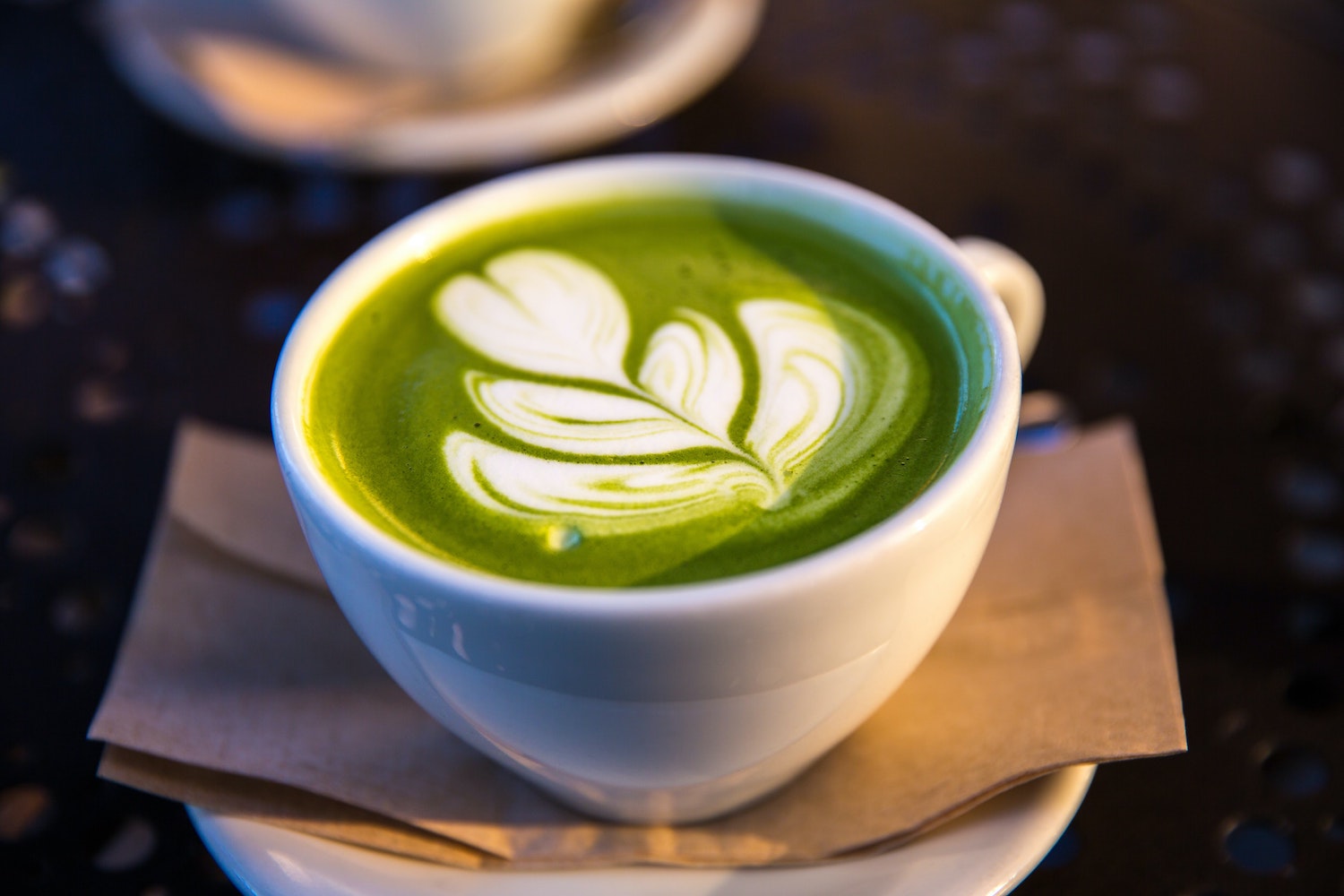 If the astringency of matcha isn't quite for you, or you're new to matcha, try it with milk in the form of a matcha latte. Milk adds to the drink a creamy and mildly sweet flavour while still enabling you to fully savour the complex flavour profile of matcha. By default, shops serve it with cow's milk, but you'll see that a soy milk option will occasionally be available too.
Soft serve
Voir cette publication sur Instagram
If you want to try matcha while still satisfying your sweet tooth, get a matcha soft serve cone. Soft serve alone not enough? Get your cone from a shop that coats the soft serve with a generous dusting of matcha powder. These stands are common throughout Kyoto – just watch out for someone wielding a sieve in one hand and a matcha soft serve cone in the other!
For a truly luxurious treat, look out for a shop that sells gold leaf matcha soft serve. A whole piece of edible 24K gold leaf is pasted on top of the soft serve, though we've heard it doesn't have any flavour of its own.
7 levels of matcha gelato
Nanaya Kyoto is best known for their matcha gelato that they offer in seven levels of intensity, ranging from a pale pastel green to a rich emerald hue. Their premium Level 7 matcha gelato is touted to be the strongest in the world, with a supposed concentration of 70%. Try a few scoops to experience the different intensities, and don't be afraid to try Level 7 – it is the most popular one after all.
Website: https://nanaya-matcha.com/
Opening hours: 10:00-18:00
Address: 92-1 Jyoru Aburaya-cho, Yanagibaba Sanjyo, Nakagyo-ku, Kyoto
Parfait
For the ultimate matcha treat, try a matcha ice cream parfait. Many of the tea houses in Kyoto sell decadent parfaits that are assembled meticulously and served in elegant tall glasses. Each shop puts their unique spin on it – Nakamura Tokichi's version features fluffy matcha chiffon cake and silky matcha jelly, while Itohkyuemon is known for their seasonal parfaits that contain no less than 10 ingredients.
Looking for something more intense? Opt for Tsujirihei Honten's edition take on the parfait that has thick dark matcha sauce, matcha cookies, matcha cake and matcha chocolate truffle piled on rich matcha soft serve. Besides these tea houses, many shops sell delicious parfaits with toppings like chestnut, shiratama and red bean.
Read also:
Beer
Yes, you heard that right. Matcha beer! There are two types that exist – matcha brewed in the beer itself, and regular beer with a healthy dose of usucha. This unique combination is apparently quite delicious, as the aromatic beer is further accented by the umaminess of matcha. Shops that sell this will often advertise it on a signboard.
Zenzai
Zenzai is a sweetened red bean soup served with mochi, dango, and chestnuts. This popular traditional Japanese dessert can be eaten either hot or cold, depending on the season. And of course, Kyoto puts their own unique spin on this soup by adding matcha which perfectly balances out the sweetness of the dessert. Zenai is commonly featured on shops' takeout menus, but dine in to fully savour this unique soup.
Tiramisu
As Instagrammable as it is delicious, Maccha House's gooey square-shaped matcha tiramisu is made up of a thick layer of matcha powder coating oh-so-creamy mascarpone and sponge cake beneath. This may not be a hardcore matcha dessert, but the unique combination of matcha, cheese and cake is definitely worth a try at least once. Don't forget to whip your phone out and capture the money shot when you break into the matcha layer of the tiramisu!
Website: https://www.create-restaurants.co.jp/shop/index.php?controller=FrontCrShop&action=shop_show&id=1106&lang=ja
Opening hours: 11:00-18:00 (weekdays), 11:00-19:00 (weekends)
Address: 382-2 Komeyacho Kawaramachidori Shijo-agaru, Nakagyo-ku, Kyoto 604-8026, Kyoto Prefecture (Shinkyogoku Shopping District)
Nama dorayaki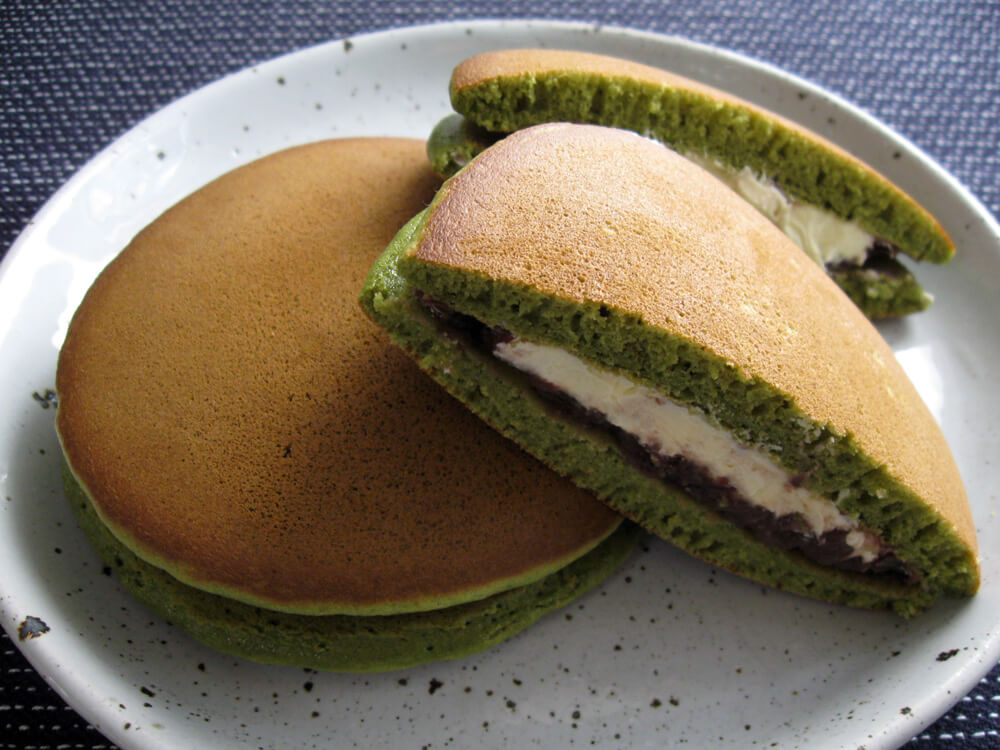 Fluffy, marshmallowy matcha cream sandwiched between two mini pancakes. The bitterness of the matcha is offset by the rich cream, and the dorayaki is easily devoured in a few bites. Just beware, one of these usually isn't enough!
Crêpe
Although crêpes have French origins, they are wildly popular in Japan. Crêpe shops whip up many versions of it, often with fresh cream, fruits and ice cream. In Kyoto, it's no different. Many shops even use matcha-flavoured batter for the crêpe. Some shops dust matcha powder to create a cute design on top of the crêpe, while others choose to display the yummy toppings like a scoop of ice cream, red bean or whipped cream.
Read also:
Kakigori
Kakigori is a shaved ice dessert, featuring fluffy shaved ice piled high in a bowl, drizzled with flavoured syrup and sometimes, condensed milk. Kakigori is also most commonly topped with shiratama (chewy rice balls) and azuki (red bean). Get a matcha kakigori to cool down on a sweltering day, and be sure to get the shiratama, azuki and ice in one bite for an explosion of flavours and textures. Some shops may sell a kakigori called Ujikintoki – definitely get that if you spot it on the menu, as it includes an additional scoop of matcha ice cream!
Cheese tart
Creamy, cheesy, sweet and bitter all at once, BAKE Cheese Tart's matcha cheese tarts will leave you wanting more. BAKE Cheese Tart outlets can be found countrywide, but the matcha version is unique to their Kyoto location. For a cheese tart, it is surprisingly rich in matcha, and the cheese and matcha create an explosion of taste in your mouth. Eat it on the spot to enjoy the thick cheese cream, or heat it up for that matcha ooze. Or if you'd like, freeze it to eat it like an ice cream.
Website: https://cheesetart.com/en/
Opening hours: 8:00-21:00
Address: Kotochika Kyoto, Kyoto Subway Lines – Kyoto Station, Higashi shiokouji-cho, Shimogyo-ku, Kyoto-shi, Kyoto-hu
Warabimochi
Made from bracken starch, warabimochi is a mochi that surprisingly, has a texture more akin to jelly. It has a sticky surface, and is usually coated in roasted soybean or matcha powder. Warabimochi is a popular summer snack, sold from trucks although plenty of roadside stalls and cafés sell it too. As the mochi is inherently sweet, you can eat it with just the matcha powder. But if you prefer your snacks on the sweeter side, the warabimochi usually comes with a side of kuromitsu (black sugar syrup) that you can drizzle over the mochi. 
Uji Matcha Shake
Shake Shack fans, you've probably tried one of their legendary milkshakes before. Well, Shake Shack has a location in Kyoto, and they have a Kyoto-exclusive Uji Matcha Shake. Imagine Shake Shack's creamy thick milkshake in a matcha flavour, what a decadent treat! If you're worried about the quality of the matcha used, fret not, as Shake Shack only uses premium matcha from Itohkyuemon.
Website: https://www.shakeshack.jp/
Opening hours: 11:00-22:00
Address: Kyoto-fu, Kyoto-shi, Nakagyo-ku, Higashinotoin dori, Ttakoyakushi Sagaru, Mototakedacho 643, Higashinotoin Bino 1F
Kyoto Cookie Crete
If you're a fan of Shake Shack's concretes, then you've got to try their Kyoto Cookie Crete which are essentially Shake Shack's American-style rendition of Japanese parfaits. The frozen custard dessert features a matcha vanilla custard base mixed in with matcha marshmallow sauce, dried strawberries and matcha chocolate cookies made by the famed Japanese confectioner JOUVENCELLE.
Website: https://www.shakeshack.jp/
Opening hours: 11:00-22:00
Address: Kyoto-fu, Kyoto-shi, Nakagyo-ku, Higashinotoin dori, Ttakoyakushi Sagaru, Mototakedacho 643, Higashinotoin Bino 1F
Baumkuchen
Baumkuchen is a hollow cake that has rings resembling a tree trunk. Kyo Baum's soft and moist baumkuchen cake is made from soy milk and high quality matcha. The cake is dense yet light and has a pleasant sweet smell coming from the soy milk with a hint of matcha aroma. The baumkuchen comes in different forms. You can buy a whole cake or enjoy a few slices with your soft serve or smoothie.
Opening hours: 10:00-17:00
Address: 2-229 Shimizu, Higashiyama-ku, Kyoto-shi, Kyoto Prefecture, 605-0862
Dango
Dango is a sticky, chewy and subtly sweet rice ball snack that's mostly eaten on skewers. One of the most popular Japanese treats, it is simple, comprising glutinous rice, sugar and water. Matcha is often added into the mix, turning the colour of the dango from white to green. There are many methods of enjoying dango – roast it over charcoal to add a smoky flavour, eat it by itself or even drizzle some matcha glaze over the dango.
Soba
Made with buckwheat flour and infused with a dash of matcha, matcha buckwheat soba is a slurping-good dish that can be eaten several ways. Eat it cold with spring onions, wasabi and mouth-watering tsuyu dipping sauce on the side, or savour it in a piping hot broth topped with meat and vegetables.
Takoyaki
When one thinks of Japanese street food, takoyaki will definitely come to mind. These balls of chewy warm octopus-y goodness usually come with takoyaki sauce, but they do it differently in Kyoto. Instead, this snack comes with light green creamy matcha sauce and a sprinkling of matcha powder. The taste is unusual – bitter, sweet and savoury all at once, a combination that leaves you craving more. 
Read also:
Gyoza
Another popular Japanese street food, the gyoza you'll find in Kyoto is made with matcha dough and served with matcha salt on the side. The addition of matcha gives the gyoza a subtly bitter flavour that surprisingly complements the meat filling very well. Try it for yourself!
Tonkotsu Ramen
Some ramen joints in Kyoto may occasionally offer a matcha version of their signature ramen – be sure to try it if you ever spot it on a menu! The astringency of the matcha goes very well with the creamy tonkotsu broth, adding a certain earthiness to the flavourful dish.
Conclusion – Must Try Matcha Foods in Kyoto
With all these matcha delights in store, no wonder Kyoto is a destination that any matcha lover worth their salt would be sure to stop by when on a trip to Japan. Fans of the bittersweet green powder, make sure to include Kyoto as one of your stops if you're ever in Japan!
Be sure to follow us on Facebook, Instagram, Twitter, and Pinterest for more fun stuff!
Natalie is a matcha enthusiast who is on a mission to find the best matcha treats around the world. Aside from that, she loves all things Japan, whether it's purikura or Japanese cosmetics.