The festive season is upon us again! As beautiful as this time of the year may be, there's probably something looming at the back of your mind – what gifts should you buy for your loved ones? Well, look no further. We know how hard it can be to shop for anyone, even when you know them well, so we got you!
This Japan-themed gift guide will guarantee that you can find a gift for everyone, or even yourself! Bonus: The gifts will reflect your personality as much as it reflects theirs, whether they're a whiz in the kitchen or a skincare addict. Here is our selection of 20 awesome gift ideas for Japan lovers!
For the tea connoisseur
Tea and tea ware
For the tea lover in your life, it's hard to think of a better gift than buying them some tea or beautiful tea ware. Ippodo Tea is a famed Japanese teahouse with a history dating back to 1717, known for serving the highest quality Japanese teas. Several types of tea utensils are also available for sale, such as tea pots, tea canisters and whisks for matcha.
Credits: Ippodo Tea
Credits: Ippodo Tea
They have a website where you can shop their wide array of meticulously made tea ware and matcha, hojicha, sencha and more, so take your pick.
Website: https://global.ippodo-tea.co.jp/
You might also like:
For the skincare enthusiast
Facial and skincare products
Japanese skincare products are bestsellers worldwide, and some products are so highly-raved about, they have a cult following of their own. Take Hada Labo as an example – their famed hyaluronic acid Hydrating Lotion has been sold over a 100 million times in Japan alone. SK-II too, whose massively popular Facial Treatment Essence incorporates a top-secret formula to fight aging and reduce the visibility of pores.
Credits: SK-II, Hada Labo
Credits: SK-II, Hada Labo
 The bulk of these products focus on brightening and hydrating the skin, giving one that coveted flawless mochi-hada, the Japanese term that refers to skin with a texture akin to smooth, bouncy mochi. The Hydrating Lotion and Facial Treatment Essence are holy grails in the world of skincare, so they will surely delight any skincare enthusiast.
SK-II's website: https://www.sk-ii.com  / Hada Labo's website: https://jp.rohto.com/hadalabo
For the drinker
Sake and sake set
Sake, more accurately known as nihonshu in Japan, is a clean, subtly sweet alcohol made with fermented polished rice. Any sake drinker would be more than happy with a gift of sake or an intricately-crafted sake set to enjoy their drinks in.
Credits: Asahishuzo, Musubi Kiln
Credits: Asahishuzo, Musubi Kiln
A popular choice would be Dassai 23, a Junmai Daiginjo sake (sake of the highest grade) from Asahishuzo known for its delicate fruity flavour. You can purchase Dassai 23 and other popular Dassai sakes from their online store. And if you're looking to buy a sake set, consider Musubi Kiln, which sells gorgeous traditional Japanese tableware such as sake sets with gorgeous flower motifs.
Dassai's website: https://dassai-shop.com / Musubi Kiln's website: https://musubikiln.com/
For some slurping good ramen
Ichiran Ramen
Ichiran Ramen serves up some seriously deliciously creamy tonkotsu ramen at their multiple outlets worldwide. With Ichiran Ramen's take-home ramen kit, you finally have the opportunity to recreate Ichiran's iconic taste at home!
Credits: Ichiran Ramen
Credits: Ichiran Ramen
This will be the perfect gift for those who haven't had the chance to try their ramen, or are craving another taste after trying it while overseas!
Website: https://www.ichiranstore.com/shop/
You might also like: 
For the sweet tooth
Candy and snacks subscription box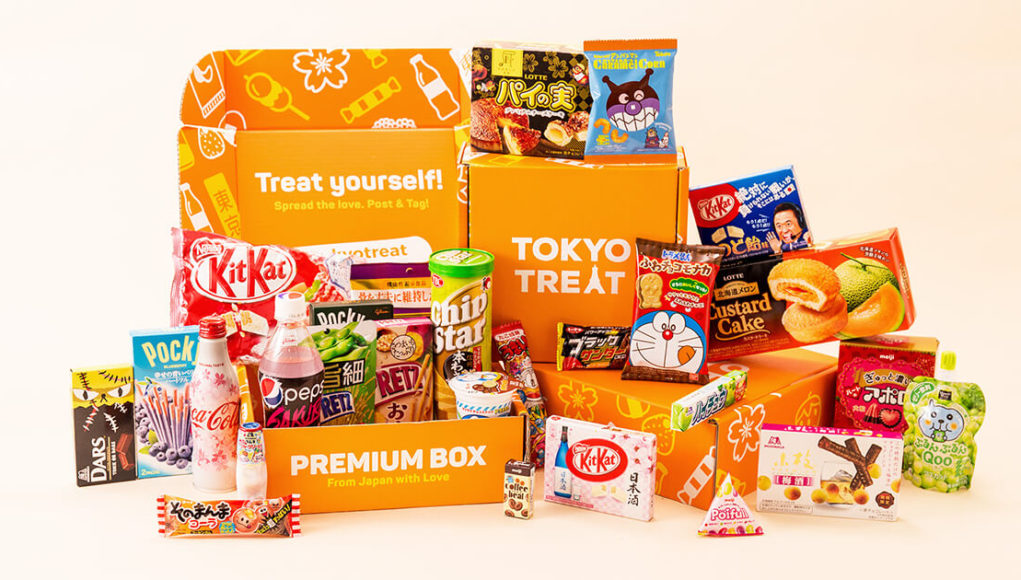 For a gift that (quite literally) keeps on giving, subscribe to a candy or snacks subscription box from Tokyo Treat. Each month, Tokyo Treat curates a unique set of Japan-made snacks and candy that will then be delivered straight to the recipient's doorstep.
The snacks adhere to a monthly theme which incorporates the joy of festivals and seasons into the box, so one can get a taste of Japanese food and culture from the comfort of one's own home!
Website: https://tokyotreat.com/ 
Japanese Kit Kats
In Japan, Kit Kats are known for coming in exclusive, limited-edition flavours that aren't available elsewhere. To date, more than 300 flavours have been produced. Some flavours are as kawaii as they are yummy, like the Rilakkuma hotcake Kit Kats and Halloween-themed ones. However, as it's Japan, many of their past seasonal flavours are downright wacky too – we bet you never thought you would see cough drop or vegetable juice-flavoured Kit Kats.


Japan Candy Store has one of the widest varieties of Kit Kats available, so shop to your heart's content. The only downside? You'll have to restrain yourself from adding too many to your cart.
Website: https://www.japancandystore.com/chocolates/kit-kat
For the minimalist
MUJI products
MUJI is a lifestyle brand known for their clean-cut, minimalist aesthetic, selling anything from furniture and kitchenware to apparel and stationery. MUJI is so popular, it isn't just a brand, it's a lifestyle!
Any minimalist will likely have MUJI products as a mainstay in their life, so they will surely appreciate it if you buy them something from MUJI. Or better yet, if you're still unsure what to buy, get them a MUJI gift card instead.
Website: https://www.muji.com/
For a sense of nostalgia
This nostalgic vintage kakigori (shaved ice) maker is perfect for reminiscing about sweltering summers, bringing back memories of us hastily eating kakigori before it melts.
Credits: Japan Trend Shop
Credits: Japan Trend Shop
There are many options available online, including machines with Doraemon's adorable face plastered on the side. And because you'll be making it yourself, you have all the freedom to create any flavour you wish! You can even add ice cream in the middle, or top off your shaved ice with some chewy mochi balls.
Website: https://www.japantrendshop.com/
For the reader
Self-help books
Self-help books perpetuating Japanese principles have been gaining popularity in recent years, especially with the rage over Marie Kondo's decluttering tactics. These life-changing books will teach the reader about various Japanese philosophies, like wabi-sabi, the art of imperfection or ikigai, the purpose of life.
One of the most popular books would have to be Marie Kondo's The Life-Changing Magic of Tidying Up, which allows the reader to gain some insight into the KonMari Method and how to get rid of things that don't 'spark joy'. (Her words, not ours!) 
Website: https://konmari.com/
Manga set
Manga lovers, what better way to spend your free time than by binge-reading your favourite manga series? Purchasing a manga set is a great way to get all the books in a series at a discount, packaged in a beautiful box. Amazon has a lot of options, from the beloved One Piece to the ethereal Sailor Moon series.
Follow the adventures of Luffy and his Straw Hat Pirates as they sail the seas to chase their dreams!
Website: https://www.amazon.com/One-Piece-Box-Set-Baroque/dp/1421560747
You might also like:
For the kids (or kids at heart)
Sushi conveyor belt toy
Remember being wowed by the fast-moving conveyor belts or trains at sushi restaurants? Now, with mini sushi conveyor belts, you can recreate this experience at home. This fun toy will definitely be a hit with the family, but do remember – you'll have to buy your own sushi 'cargo' for the shinkansen!
Website: https://www.amazon.com/dp/B01LZSBHE8/ref=cm_sw_em_r_mt_dp_XQN4PXTF6E2K1X19E4K3
Popin Cookin' Kits
Kracie's Popin Cookin' kits allow you to make your own miniature candy versions of popular foods. The options aren't limited to sweet foods – with Popin Cookin', you can make takoyaki, ramen (complete with soup!) and even elephant-shaped naan. Even if the recipient of your gift doesn't have nimble fingers, fret not, these kits come with templates to follow, and measuring cups to help.
Credits: Japan Candy Store
Credits: Japan Candy Store
Website: https://www.japancandystore.com/popin-cookin
Character merchandise
Sanrio, the company behind characters like the well-loved Hello Kitty, Cinnamoroll and Pompompurin, has an extensive line of merchandise available for sale. This ranges from classic plushies, to more sophisticated options such as jewellery and cosmetics. 
Credits: Sanrio
Credits: Sanrio
These Japanese characters have appealed to people worldwide for decades now, and it's showing no signs of slowing down. It will surely make a gift that will be treasured for years to come!
Another immensely popular Japanese character with readily available merchandise would be Rilakkuma, who along with his companions Corilakkuma and Kiiroitori, have captured hearts worldwide! Rilakkuma was created by San-X, who is also behind the endearing Sumikko Gurashi characters. 
Sanrio's website: https://www.sanrio.com / San-X's website: https://shop.san-x.co.jp/
For the chef
Japanese cuisine cookbook
Many types of Japanese cuisine take chefs months, if not years, to master. Take sushi as an example. To become a sushi chef, one must undergo training and an apprenticeship under a master sushi chef. This process lasts anywhere from two to 20 years! Knowing that, preparing Japanese food at home may seem intimidating, so cookbooks can be a great help. Some popular cookbooks would be Japanese Soul Cooking: Ramen, Tonkatsu, Tempura and More by Tadashi Ono, and Rika's Modern Japanese Home Cooking by celebrity chef Rika Yukimasa.


Rizzoli New York's website: https://www.rizzoliusa.com/book/9780847866922/
Penguin Random House's website: https://www.penguinrandomhouse.com/books/218238/japanese-soul-cooking-by-tadashi-ono-and-harris-salat/
Sushi making kit
Ever wanted to try making sushi at home? Get a sushi-making kit! These kits contain everything you need to make sushi rolls in any shape you like, whether it's a circle, heart or even an animal. Making sushi with one of these kits will be a fun activity for all to try, whether they're a Gordon Ramsay in the making, or a novice in the kitchen.
Website: https://www.amazon.sg/Sushi-Making-Kit-Complete-Off-white/dp/B08BZMT9FH
For the fashionista
Yukata
Those who appreciate the elegance and sophistication of a kimono would probably love a yukata as a gift. Essentially, a yukata is a lightweight, dressed-down version of a kimono, which is elaborate and sometimes requires assistance to wear. The yukata, made of cotton, is more suitable for daily wear, such as lounging around at home. Women tend to wear yukatas with bright, eye-catching motifs while men usually don darker yukatas with simple or no designs at all.
Kimono Yukata Market Sakura has many authentic Japanese yukatas in a crazy assortment of over a thousand designs, ensuring that you will find a design you (or your recipient) likes!
Website: https://www.kimono-yukata-market.com/
Apparel
Issey Miyake, Comme des Garçons, Maison Kitsuné. These are a few popular Japanese fashion brands that have followings worldwide. If the recipient of your gift is a fashion-forward individual who expresses themselves through the way they dress, you'll find something for them from one of these brands.
Issey Miyake is one of the most prolific Japanese fashion designers who is at the helm of over 10 fashion brands, which he oversees. Fun fact: Issey Miyake was friends with Apple's CEO Steve Jobs, and is the designer behind Jobs' synonymous black turtlenecks.
His numerous brands such as Issey Miyake, Pleats Please, HaaT and A-POC all take inspiration from technology, selling clothes for both men and women. He also has a very popular bags line, Bao Bao Issey Miyake, known for its geometric, reflective designs.
Comme des Garçons (also known as CDG) and Maison Kitsuné are both French-Japanese fashion labels whose clothing is commonly seen on street style personalities. CDG is known for its Play line, which is a collaboration with Filip Pagowski, an American artist. The Play line stars the recognisable motif of a red heart with a set of eyes on a variety of apparel, from classic T-shirts to pullovers and sneakers.
Credits: Maison Kitsuné
Credits: Comme des Garçons
Similarly, Maison Kitsuné is known for a motif too – a red kitsune (fox in Japanese) that is featured prominently on all their goods, be it a subtle embroidery on the breast pocket of a shirt or a leather pouch shaped like the kitsune's head. Most recently, Maison Kitsune has collaborated with Samsung to release Maison Kitsuné-branded wearable tech.
Issey Miyake's website: https://www.isseymiyake.com/en/
Comme des Garçons' website: https://www.comme-des-garcons.com/
Maison Kitsuné's website: https://maisonkitsune.com/fr_en/
Your Japan Shop
Your Japan has recently launched his online shop with unique and original Japanese style designs.






Your Japan online shop website: https://shop.itsyourjapan.com/
For fun at gatherings
Sushi Go! Card game
Sushi Go! is a card game in which the players 'dine' at a sushi restaurant and attempt to score the best sushi plates and garner the most points.
This game combines two classic board games, Fairy Tale and 7 Wonders, into one game that's suitable for all ages! The rules are few, and easy to comprehend. In this game, you select certain sushi cards (each card has points assigned to it) in an attempt to get the highest points.
Website: https://boardgamegeek.com/boardgame/133473/sushi-go
Conclusion – 20 Christmas gift ideas for Japan lovers
There you have it! Over 20 suggestions on what to buy for your loved ones this festive season. Even if you haven't found something to buy, we hope this Japan-themed gift guide has at least given you some inspiration.
Be sure to follow us on Facebook, Instagram, Twitter, and Pinterest for more fun stuff! From all of us at Your Japan, happy holidays 🎄
Natalie is a matcha enthusiast who is on a mission to find the best matcha treats around the world. Aside from that, she loves all things Japan, whether it's purikura or Japanese cosmetics.