The coastal prefecture of Tottori may not be a destination that you consider when planning your next trip to Japan, but this underrated region is perfect for a day trip from Osaka. Unlike the major cities, you'll get to experience raw nature at its finest. Ride on the back of a camel in sand dunes, hike scenic mountains or relax in a natural hot spring. Here are 12 things to do in Tottori that will guarantee you'll be looking at train routes after this:
Ride a camel at the Tottori Sand Dunes
Have you ever ridden a camel in the sand? Well, here in Tottori, you can do just that. This may come as a surprise for those who know Japan for its neon-lit buildings, scenic temples and snow-capped mountains, but yes, Japan has sand dunes. And they are beautiful!
Undeniably Tottori's largest attraction, the Tottori Sand Dunes is the only one in Japan, spanning 16 kilometres. With its coastal location, you can see the earthy sand contrasted with the deep sea and vast blue sky. Other than sightseeing, there's activities you can experience too. If you're feeling adventurous, try sandboarding or paragliding. Otherwise, you can try riding a camel or create a sand sculpture.
And be sure to snap a pic when you're there, as the ever-changing sand dunes will probably look different the next time you visit, thanks to the winds.
Website: https://www.sakyu-vc.com/en/
Opening Hours: 9:00-17:00
Address: 2164-661 Fukubecho Yuyama, Tottori, 689-0105
Tottori Sakyu Sand Board School
Website: https://en.asoview.global/item/activity/206/
Opening Hours: 9:00-18:00
Address: 2164−806, Yuyama, Fukube-cho, Tottori-shi, Tottori
Tottori Sand Dunes Paraglider School Sakyu Honpo
Website: https://para.sakyu.info/
Opening Hours: 6:00-22:00
Address: 1390-239 Hamasaka, Tottori, 680-0001
Tottori Sand Dunes Rakudaya (Camel Riding)
Website: http://rakudaya.info/
Opening Hours: 10:00-16:00 (subject to weather conditions)
Address: 2164−806, Yuyama, Fukube-cho, Tottori-shi, Tottori
Bird-watch at Yonago Waterbirds Sanctuary
As a UNESCO Ramsar Site (wetlands determined to be of international importance), Yonago Waterbirds Sanctuary houses about 130 species of birds including several varieties of geese, eagles, heron and duck. Witness them flying in perfect formations, or observe their eating habits.
There are observation halls equipped with telescopes and binoculars for use, if you're looking to spot a specific bird. And if you happen to visit from mid-October to early March, check out the 1,000 swans flock here to spend the winter.
Website: http://www.yonago-mizutori.com/
Admission: ¥310 for locals, ¥200 for foreigners with valid ID. Free for children
Address: 665 Hikona Shinden, Yonago-shi, Tottori
Slurp down some gyukotsu ramen at Menya Muso
Tottori is unlike the rest of Japan, in the sense that while tonkotsu ramen is the norm, Tottori locals think otherwise – gyukotsu ramen, made with beef bone broth, is the de facto ramen here! The dish itself is simple, featuring springy yellow noodles, succulent chashu, crunchy bamboo shoots and spring onions, in a clear yellow broth. The delicious beefy soup comes in both shio and shoyu options, leaving it light yet full-bodied at the same time.
Every visitor to Tottori should try this at least once, and the place to try this dish would no doubt be Menya Muso, a favourite among locals for their splendid ramen.
Opening Hours: 11:00-22:00 (closed on Wednesdays)
Address: 6 Chome-3-3 Shinkai, Yonago, Tottori 683-0801
Take a relaxing soak at Misasa Onsen
In the town of Misasa, make sure to take a calming onsen bath. Misasa's waters are supposedly one of the most radioactive. But don't be alarmed – it's high in radon, which, when exposed to your body, actually increases your metabolism and improves your immunity and healing ability!
But it's not just the health benefits that are legendary, there is a legend behind Misasa Onsen as well. During the Heian period nearly 900 years ago, Samanosuke Obuko, a samurai, met an aging white wolf. Initially, he wanted to shoot down the wolf but decided not to. That night, the deity Myoken came to him in his dreams, and expressed his gratitude for sparing the wolf by sharing the location of the hot springs. Afterwards, the villagers' illnesses were cured with the miraculous water of the hot springs.
If you're looking to maximise the health benefits, you can even drink and smoke the hot spring water here! When the radon is ingested, its antioxidant effects will work wonders on your body, enhancing your blood circulation and more. Cosmetic products made with the onsen water are available for purchase too, such as a Misasa Mist that will allow you to bring a piece of Misasa Onsen home with you.
There are a variety of locations to enjoy the onsen, available on the website below.
Website: https://misasaonsen.jp/en/
Experience a blast from the past at the Tottori Castle Ruins in Kyusho Park
Tottori Castle was a once-majestic castle that has been around since the 1500s. Now part of Kyusho Park, you can view the castle and imagine how grand it once was. In the park, take a look at the Jinpukaku Guest House, a residence built in the opulent style of the French Renaissance that was commissioned by a feudal lord from the late 1800s.
The park also has about 400 cherry trees located throughout, so when they're in full bloom during spring, it makes for a gorgeous sight, especially with the couples, friends and families gathering to take in the beauty of the flowers.
Address: 2 Chome Higashimachi, Tottori, 680-0011
Hike the sacred Mount Daisen
Mount Daisen is a 1,729m-tall volcanic mountain that is home to several popular hiking trails and the historic Daisen Temple, which is over 1300 years old.
Up till the Edo period, climbing the mountain was strictly prohibited because the mountain was highly sacred. Even now, the mountain is of great religious importance, as the foothills around the temple are recognised as Japan's largest Gyuba-Ichi that cultivated the Jizo faith, and the temple itself has been declared a National Important Cultural Property.
Climb the three-hour-long trail to reach Misen Park, and you'll be rewarded with views like no other as you'll see Western Japan in all of its glory. However, this gruelling trail may not be suitable for beginners, but fret not, there are lower peaks with easier trails that still offer a beautiful view.
Opening hours: 9:00-16:00
Admission: ¥300
Address: Daisen, Saihaku District, Tottori 689-3318
Indulge in creamy milk soft serve from Daisen Makiba Miruku-no Sato
Known as the House of Milk, this farm in Daisen sells up to 5,000 cones of soft serve daily! Purchase a cone of their famous milk soft serve while observing the grazing cows and appreciating the views of Mount Daisen, then enjoy a dinner at the adjacent restaurant that serves up dishes made with fresh milk.
Opening hours: 10:00-17:00 (Closed on Tuesdays and from early December to mid March)
Address: 2-11, Kobayashi, Hoki-cho, Saihaku-gun, Tottori
See the beauty of vibrant flowers at Tottori Hanakairo Flower Park
Located near the foot of Mount Daisen is a flower park with a myriad of rainbow-hued flowers and beautiful blossoming trees year-round. Take a leisurely walk around the 50-hectare park, or enter their Flower Dome to view their exotic tropical flowers such as orchids that are cultivated right there.
If you're looking for a pretty souvenir to take home, there's a corner where you can make keyrings and magnets with pressed flowers. And if you get hungry, go to the soft serve stand and get a refreshing cone of soft serve made with Tottori's specialty Nijisseiki pears. We recommend that you come during spring to catch the elusive Dutch tulips in full bloom!
Admission: ¥1,000 for adults in spring, summer and fall, ¥700 for adults in winter, ¥500 for children in spring, summer and fall, ¥350 for children in winter
Website: https://www.tottorihanakairou.or.jp/en/
Opening Hours: 9:00-16:30
Address: 683-0217 110 Tsuruta, Nanbu-cho, Saihaku-gun, Tottori
Watch Mario Kart in real life at the Eshima Ohashi Bridge
The Eshima Ohashi Bridge, completed in 2004, connects the cities of Matsume, Shimane to Sakaiminato, Tottori and spans the width of the serene Lake Nakaumi. Similar to other bridges, this one allows ships to pass beneath. But there's one thing that sets it apart from others – the bridge looks like the incline on a heart-stopping roller coaster. It is so steep, it looks as if cars drive up into the sky then drop off, something we previously only saw when playing Mario Kart.
Cross over to Matsume to see it as its steepest. The bridge also serves as a lookout point, as there are binoculars and telescopes for visitors to use (free of charge!) and you can even catch a glimpse of Mount Daisen on a clear day.
Address: Yatsukacho Eshima, Matsue, Shimane 690-1401, Japan
Visit the 'floating' Mitokusan Sanbutsu-ji Temple
Legend has it that En no Ozuno, who founded the Shugendō religion, used his supernatural powers to throw the temple into the cliff face, giving its main hall its name 'Nageiredo', which literally means 'thrown-on hall.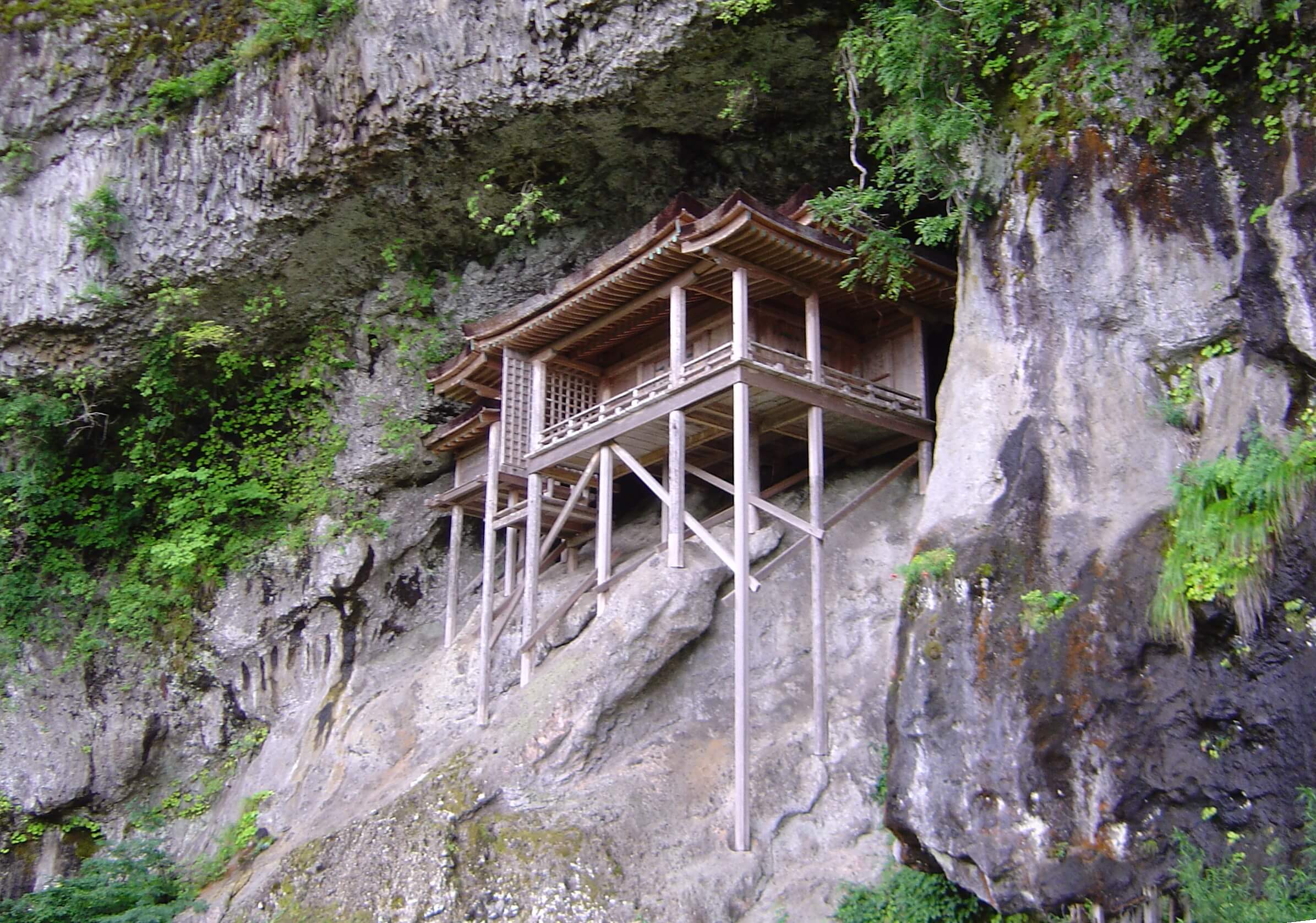 Due to the unique construction of Sanbutsu-ji which gives the illusion that it floats above a sheer precipice, it is a national architectural gem that draws visitors from far and wide. There are two ways to view the temple, up-close or by climbing it and seeing it from the side. However, the latter may not be for the faint-hearted as the heart-stopping narrow paths and chain guardrails may prove daunting. But if you decide to take the climb, straw sandals suited for navigating such terrain will be available for sale.
Admission:¥800 for adults, ​​¥400 for children
Website: http://mitokusan.jp
Opening Hours: 8:00-15:00
Address: 1010 Mitoku, Misasa-cho, Touhaku District, Tottori
Take a stroll in Utsubuki Park
This scenic park, situated at the foothills of Mount Ustubuki, is popular in the region for flower viewing as it has 4,000 cherry trees and an impressive 40,000 bushes. The classic Japanese garden is definitely worth a visit, especially during spring, when the cherry blossom season is in full swing.
Address: 3445-1 Nakano-cho, Kurayoshi, Tottori 682-0824
Conclusion – Best things to do in Tottori Prefecture
What's there not to love about Tottori? It has breathtaking scenic views, Mario Kart-style bridges, tasty soft serve and ramen, and tranquil parks. This underrated prefecture definitely deserves more love – so next time you're looking for day trip ideas, consider Tottori!
Be sure to follow us on Facebook, Instagram, Twitter, and Pinterest for more fun stuff!
Natalie is a matcha enthusiast who is on a mission to find the best matcha treats around the world. Aside from that, she loves all things Japan, whether it's purikura or Japanese cosmetics.