Although considered unique and interesting locations for travel, Osaka and Kyoto probably aren't the first places people would consider when travelling with children but they have a surprising amount of adventurous, interesting and unusual activities that children will love, leaving both cities an ideal location for family fun.   
Here are 20 things to do in Osaka and Kyoto with Kids:
Osaka
Osaka is a large, lit up, animated city, full of entertainment that all ages can enjoy, here are 10 areas in particular that kids will love:
Universal Studios Japan
It goes without saying that a world wide famed theme park hosting rides inspired by movies such as Jurassic Park, The minions franchise, Spiderman and Harry Potter is an unbeatable attraction for children in Osaka but I'm going to say it anyway!
It's the perfect spot for the whole family, with attractions for all ages and if you happen to be lucky enough to be visiting between September and November and want to get the most out of your visit, the spooky extras inspired by Halloween are well worth the trip with no extra cost!
Website: https://www.usj.co.jp/web/ja/jp
Address: 2 Chome-1-33 Sakurajima, Konohana Ward, Osaka, 554-0031
Osaka Aquarium Kaiyukan
From the moment kids arrive at osakako station, the excitement will begin as they follow the cute fishy art towards the exit before coming to the architectural delight that is the 6th largest aquarium in the world, Kaiyukan!
The aquarium includes a wide array of species including otters, penguins, dolphins, sharks and sea lions.  Guests enter on the 8th floor and work their way downward, spiraling a large central tank allowing every possible view of the animals. There are petting areas and a floor dedicated solely to jelly fish, it's the perfect place for a rainy day in Kansai.
Website: https://www.kaiyukan.com/
Address: 1 Chome-1-10 Kaigandori, Minato Ward, Osaka, 552-0022
LegoLand
If they're not too tired after all the aquarium fun, they happen to be lego enthusiasts or they spotted the giant lego built giraffe on the way to Kaiyukan, then a trip to legoland right next door, might be an ideal experience for the kids.
With a miniland, built using over 1,000,000 blocks, virtual reality gaming, 4D cinemas, a factory tour and many more exciting activities, kids will find it difficult not to enjoy.
Website: https://osaka.legolanddiscoverycenter.jp/
Address: 〒552-0022 Osaka, Minato Ward, Kaigandori, 1 Chome−1−10 天保山マーケットプレース3F
Osaka Jo park
For a more budget friendly experience, a picnic at Osaka Jo park can provide hours of entertainment for children. With spectacular play areas that the adult in me resents, fountains to splash around in, fully clothed or costumed dogs roaming around, a stunning Japanese castle to admire or even tour and simply people watching can be of great interest as I've experienced many a pleasant surprise during my frequent visits, a man pram walking an owl, talented break dancers, well dressed and outgoing pet rabbits wandering around and falcon owners coming together to socialise their birds!
Address: 1 Osakajo, Chuo Ward, Osaka, 540-0002
Spa world
A large hot spring theme park with a kids play area and waterslide park is the ideal experience for families visiting Osaka. Not only is it a particularly unique experience and allows everyone to learn more about Japanese culture but it's also a fun packed day out that everybody can enjoy.
Parents can enjoy the Asian and European themed onsen, steam in a relaxing sauna or destress with a massage and kids can enjoy the rooftop waterslide park and children's play areas while everyone can enjoy the abundance of yummy restaurant options.
Voir cette publication sur Instagram
Website: https://www.spaworld.co.jp/
Address: 3 Chome-4-24 Ebisuhigashi, Naniwa Ward, Osaka, 556-0002
Expo city
Expo city offers so much fun in one place, it makes for an easy to plan day trip, just show up at Bampaku-Kinen-Koen station and it won't be long before you find something fun for the kids. A day may not even be enough time to partake in all the fun this multi-venue complex has to offer.
To name a few attractions, there is  a cinema, a ferris wheel, an aquarium, a famed and unusual monument (the tower of the sun), an English village, a Shuan the sheep amusement park, a LaLaPort shopping mall and a large amount of dining options including an all you can eat KFC buffet!
Voir cette publication sur Instagram
Website: https://www.expocity-mf.com/expo/
Address: 2-1 Senribanpakukoen, Suita, Osaka 565-0826
VS Park
Also located in expo city but worth it's own mention, is VS park! A virtual reality gaming and sport facility. With bungee racing, techno sports, mini golf, a panic cube, wall climbing, tightrope walking, human sized billiards and so much more, this is the best place to keep kids happy, healthy and nice and exhausted so the adults can get some quiet rest afterwards.
Voir cette publication sur Instagram
Website: https://bandainamco-am.co.jp/others/vspark/expocity/index.html#pageTop
Address: 〒565-0826 Osaka, Suita, Senribanpakukoen, 2−1 EXPOCITY
Kids plaza Osaka
An interactive, educational and fun museum. Children get the opportunity to learn through all their senses and can enjoy some of the available workshops.
The museum is broken into 3 main floors, the creativity floor, the adventure floor and a discovery floor. The museum truly goes above and beyond to make learning fun and is conveniently located next to a park with a large children's play area so the fun just never ends.
Website: https://www.kidsplaza.or.jp/en/
Address: 2 Chome-1-7 Ogimachi, Kita Ward, Osaka, 530-0025
Dotonbori
Kids have a special ability that most adults no longer possess, they're able to notice and appreciate all individual details surrounding them. Children can spend a lot of time studying a ladybug that wanders by, an oddly shaped rock or a cloud that slightly resembles something. This is why the chaotic, Dotonbori may be more kid friendly than one may expect.
Most adults who experience the street are completely awestruck by the bright lights and tacky advertising that makes the location so inviting and children could be able to benefit in the same way while being able to point out all the things us adults could miss like the spidermen that can be randomly spotted on some of the buildings.
Address: 1 Chome-9 Dotonbori, Chuo Ward, Osaka, 542-0071
Den den town
This area can be found between Nipponbashi Station and Ebisucho station. It's not only the perfect place to bring any child with a fondness for gaming but everybody can enjoy the anime street art that accompanies the walk.
Den Den town is home to all sorts of large electronic stores and shops full of old/original and modern day gaming consoles, games, memorabilia and collectables.
Voir cette publication sur Instagram
Address: 4 Chome-12 Nipponbashi, Naniwa Ward, Osaka, 556-0005
Kyoto:
Although considered a quiet, peaceful, calm, historical area, especially in comparison to the large bright lights of Osaka. Kyoto still offers many forms of entertainment for children.
Iwatayama Monkey Park
Located in the famed Arashiyama area, the Iwatayama monkey park offers children the opportunity to get a closer viewing of monkeys. Monkeys do their own thing in their natural habitat while humans are welcome to visit and politely observe all the monkey shenanigans. Snacks for the monkeys can be bought on site and the animals are not dangerous although one did slap me across the leg once but that just added to the fun.
The park is a small hike, not too strenuous but I'd recommend comfortable clothing. It's only 550 yen per person and provides a wonderful memory for the family.
Website: http://www.monkeypark.jp/Englishpage.html
Address: 〒616-0004 Kyoto, Nishikyo Ward, Arashiyama Nakaoshitacho, 61
Pug cafe 'living room'
For those dog loving children, Japan can be a great place to visit with many dog cafes available but this pug cafe is especially adorable. Not only because of all the cute and friendly pug dogs but also because on the first Friday of every month, the cafe invites dog visitors too and the excitement that ensues as the Pugs get to see their friends enter is an experience all children would love.
Voir cette publication sur Instagram
Website: https://kyotopug.com/en/
Address: 151 Katsurakawatacho, Nishikyo Ward, Kyoto, 615-8017
Kyoto Samurai and Ninja Museum
You've heard the expression 'When in Rome' right? For Children visiting a country, it can be difficult to excite them about the new culture they are experiencing which is why the Kyoto samurai and ninja museum is the ideal experience for children to both learn and have fun.
There's a small museum tour with authentic swords and replicas of armor followed by the ninja experience where everyone gets an introduction to warrior skills and sword lessons. There is also a popular samurai show likely to get children interested in the rich history of Japan.
Website: https://mai-ko.com/samurai/
Address: 〒604-8043 Kyoto, Nakagyo Ward, Higashidaimonjicho, 292 寺町詩の小路 2F
Kyoto Railway Museum
For those little Thomas the tank engine fans or just train addicted children, Japan is the place to be and Kyoto offers an exciting Railway Museum. Visitors can use simulators to experience being real train conductors, they can get close up to trains and engines while learning about their evolution throughout the years, ride in a stemmed locomotive and view the giant diorama with fully functioning mini trains.
Website: http://www.kyotorailwaymuseum.jp/en/
Address: Kankijicho, Shimogyo Ward, Kyoto, 600-8835
Kimono dress up and tea ceremony Maikoya
For the photo opp alone, this is a great way to spend a day in Kyoto with kids. Everybody gets to play dress up while learning and experiencing a truly Japanese tradition. Kimonos can also be rented and worn for the day around Kyoto, to get those perfectly located family shots.
Voir cette publication sur Instagram
Website: https://mai-ko.com/culture/tea-ceremony/
Address:  565-4 Nakanocho, Nakagyo Ward, Kyoto, 604-8042
Japanese origami folding workshop
Maikoya also offers an origami workshop. While already soaking in the culture and experiencing the tea ceremony why not also opt for an origami folding lesson so children can not only enjoy some arts and crafts but also gain a skill they can take home with them along with creating some perfect little heart made souvenirs.
Voir cette publication sur Instagram
Website: https://mai-ko.com/culture/tea-ceremony/
Address:  565-4 Nakanocho, Nakagyo Ward, Kyoto, 604-8042
Kyoto city zoo
Zoos are always a great option for kids and this particular little zoo is located conveniently close to many popular shrines and temples allowing compromise for the whole family.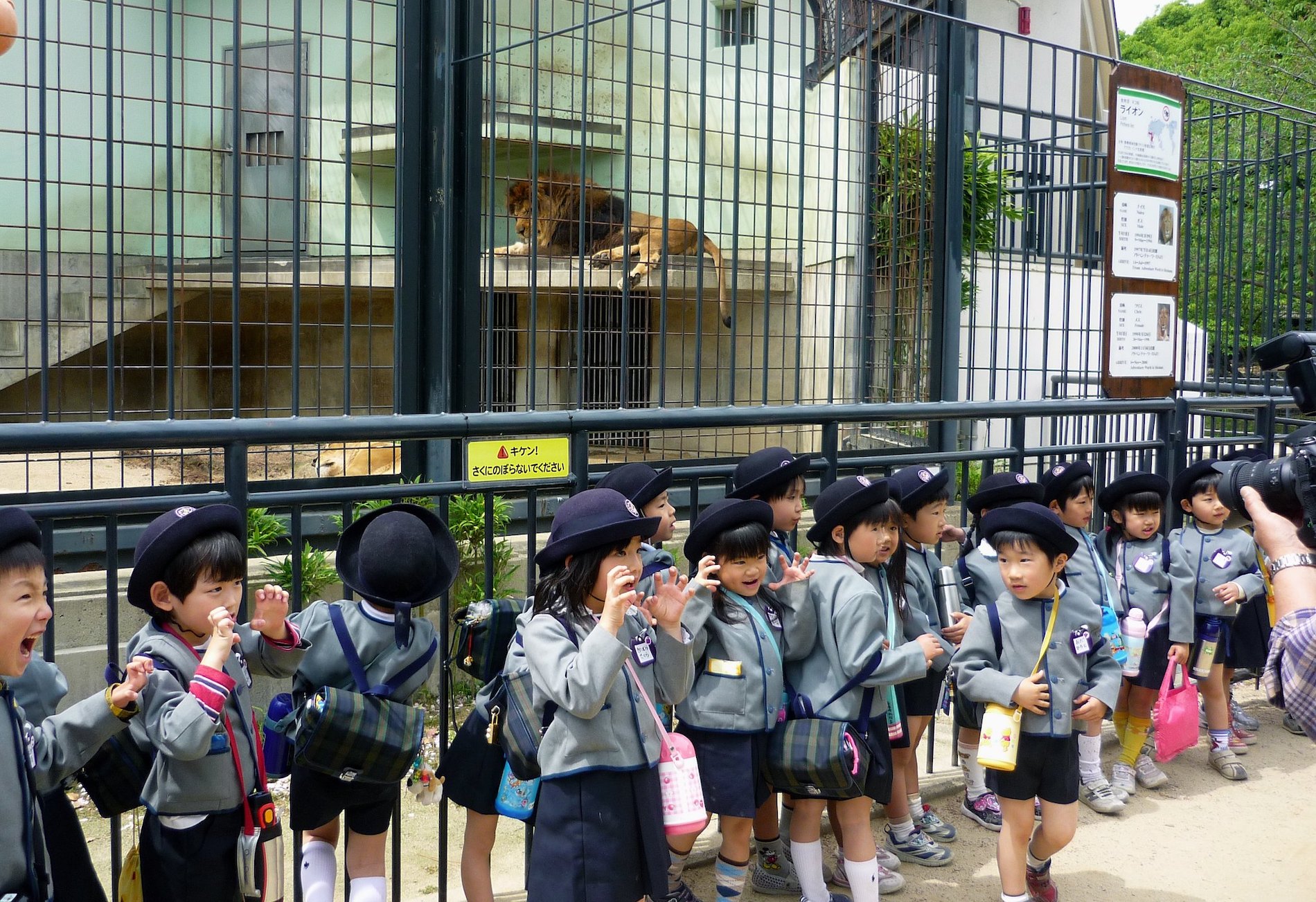 The zoo has all the animals one would hope to see along with a few unusual Japanese species, an adorable petting area, an interesting reptile house and even a small theme park with some fun rides and a ferris wheel that allows a nice view of the city.
Website: https://www5.city.kyoto.jp/zoo/
Address: Okazaki Hoshojicho, Sakyo Ward, Kyoto, 606-8333
Arashiyama Bamboo Grove
Wandering through a large bamboo consumed maze like forest is an experience all children are likely to enjoy. Located close to the monkey park and free of charge, this could conclude a perfect fun packed family day out and is likely to strike awe in Mammy and Daddy too along with allowing for more wonderful photo opportunities.
Address: Arashiyama, Ukyo-ku
Snoopy cha-ya
Although not as famed as he once was in the Western world, Snoopy is a very beloved cartoon throughout Japan. You are more than likely to come across the dog on many occasions throughout your time in the country and although your little ones may not be as familiar with the character I'm still willing to bet they will enjoy dining on the snoopy shaped treats available in this themed cafe.
Voir cette publication sur Instagram
Website: http://www.snoopychaya.jp/
Address: 480 Nakauoyacho, Nakagyo Ward, Kyoto, 604-8125
Otter cafe, Loutre
Although animal cafes are popular throughout Japan and can be found easily, there are only two otter cafes available so this one in Kyoto may be your only opportunity. Children can pet and play with the otters or simply watch the cute little friendly creatures, swim, play with their toys and eat.
Voir cette publication sur Instagram
Website: https://www.loutre-kyoto.com/
Address: 〒604-8061 Kyoto, Nakagyo Ward, Shikibucho, 259-1 舟木ビル2階
Conclusion
In conclusion, both Osaka and Kyoto should not be overlooked when planning a trip with kids.  You may think you won't be able to really dive deep into the culture when travelling with younger ones but actually you may find that not only will the kids immensely enjoy a trip to both areas, the whole family will be able to learn a lot more about Japan and gain some extra little skills from the experience too.
Be sure to follow us on Facebook, Instagram, Twitter, and Pinterest for more fun stuff! See you again next time!

An Irish girl, living and working in Osaka.  Kat came to Japan expecting to stay a year and 3 years later, has no plan to leave after falling in love with the culture and beauty of the country.  She's passionate about writing, travel, fitness and new experiences.