The Gion district was once the largest pleasure district in Kyoto and is known for its geisha culture. It is, without doubt, a rich and rewarding place to visit. The best way to experience Gion is on foot in the evening. This is so you can wander between the atmospheric mazes of old-style Japanese buildings whilst day turns to evening. If you are lucky, you might even spot one of the geisha girls themselves.
Quick Note:
The geiko and maiko (Kyoto's term for geisha and the trainee geisha) are performance artists, entertaining customers and acting as guardians of traditional Japanese arts. Notoriously private, spotting a geiko or maiko is an exciting privilege. However, read this word of warning. There is a strict photography ban in place due to the impolite behaviour of previous travellers. Be respectful and make sure to remember the special moment with your eyes only.
The following sites can be viewed in the order they are written here, as they are organised geographically, and are all accessible by foot.
Shibashi Street and Tatsumi Bridge
Shibashi Street features a gentle river lined with delicate cherry blossoms and exclusive fine dining restaurants. A small Japanese bridge (Tatsumi Bridge) stands at the end of the street looking down a darkly lit alleyway. A visit at dusk will provide an excellent 'quintessential Kyoto' photograph.
Interesting Fact
Shibashi Street and Tatsumi Bridge were recreated in the film 'Memoirs of a Geisha.' Unfortunately, many of the original teahouses that lined the streets of Kyoto were destroyed during WWII. Director Rob Marshall decided he would build a replica set back in California to include more of the original setting. Some consider this a shame however it is not the only controversial aspect of the film.
The decision to cast Chinese actresses in the lead roles raised a few eyebrows to say the very least. Anyway, if nothing else, the film does offer an insight into geisha culture for those wanting to learn more.
Teahouses
The Kyoto teahouses (ochaya) are as iconic as they are exclusive. They are a place where the wealthy go to relax and unwind. Customers typically spend the evening being entertained by the geiko or maiko. Entertainment might include a food and drinks service such as a tea ceremony. Geiko are also highly skilled dancers and musicians so the evening may include a number of these features. You will have to look carefully to find the teahouses as the front of the buildings have always been deliberately nonchalant so as not to attract too much attention.
Maiko Boarding Houses
Still in the region of Shibashi Street, you can find a maiko boarding house. The maiko, who are aged between 16 and 20, learn their craft over several years. Clients are often important societal figures and well educated so the girls must study to be up to date with current affairs. Wooden plaques on the door of the boarding houses represent how many maiko-san are in training at that particular establishment.
The Minamiza Kabuki Theatre
At the top of Shijo-dori and just next to the station is the magnificent Minamiza Kabuki Theatre. The theatre itself was founded in the Edo period around 1415. The current building, however, was built in 1929 and is as beautiful inside as it is out. The art of kabuki has been listed as a UNESCO Intangible Cultural Heritage. The art involves exaggerated actions and elaborate costumes and if you have time during your stay in Kyoto, you should try and catch a show.
Shijo-dori
The main shopping street of Gion is Shijo-dori. Around half way along, you will find a hair accessory and jewelry shop specifically for geiko-san and maiko-san. The shop is a family business that has been passed down through five generations. Even just looking inside the window is a special experience as you marvel at the well crafted and expensive objects. Geiko and maiko must be immaculately presented with beautiful kimonos, jewelry and hair accessories and this shop gives you a glimpse of the cost and glamour of maintaining that lifestyle.
Fun Facts:
One of the key differences between geiko and maiko is their hair and how they decorate it. Maiko must style their own hair. They wear long elaborate hairpieces during their first year of training. By comparison, Geikos wear wigs and decorate them with simpler hair pieces. It is traditional for the girls to wear hair pieces that reflect the current season.
Yasaka Shrine
The most famous shrine in Gion, Yasaka Shrine looks down along Shijo-dori. Yasaka Shrine was once called Gion Shrine but the name change was the result of the separation of the Buddhist and Shinto shrines during the Meiji Restoration. It's stunning vivid red colours hold 1350 years of history.
Ichiriki Chaya
In the middle of Shijo-dori is Ichiriki Chaya. This is one of the oldest, largest and most exclusive teahouses in Gion. It is reported that to book one maiko or geiko for one hour is 20,000 Yen.
Voir cette publication sur Instagram
Standing at over 300 years old, Ichiriki is known to entertain important political and business powers old and new. For example, samurai warriors would once meet here to plot against the Shogun's government in the 19th century.
After the Meiji Restoration period, the teahouse that had once lined the edges of Shijo-dori were instructed to relocate to South Gion. The clever owners of this establishment simply moved the front entrance to a side door on another street. Therefore, this was the only teahouse to remain on Shijo-dori.
Gion Corner
Now you are entering the heart of Gion. The whole area is completely charming and filled with the traditional wooden machiya merchant style houses. At Gion Corner, you will find Yasaka Hall. This is a great place to catch a dance performance from the geiko or make. There are five big dance festivals held every year which include:
Miyako Odori (held daily in April)

Kyō Odori (held daily first to third Sunday in April)

Kitano Odori (held daily between 15 and 25 April)

Kamogawa Odori (held daily between 1 and 24 May)

Gion Odori (held daily between 1 and 10 November)
Kennin-ji Temple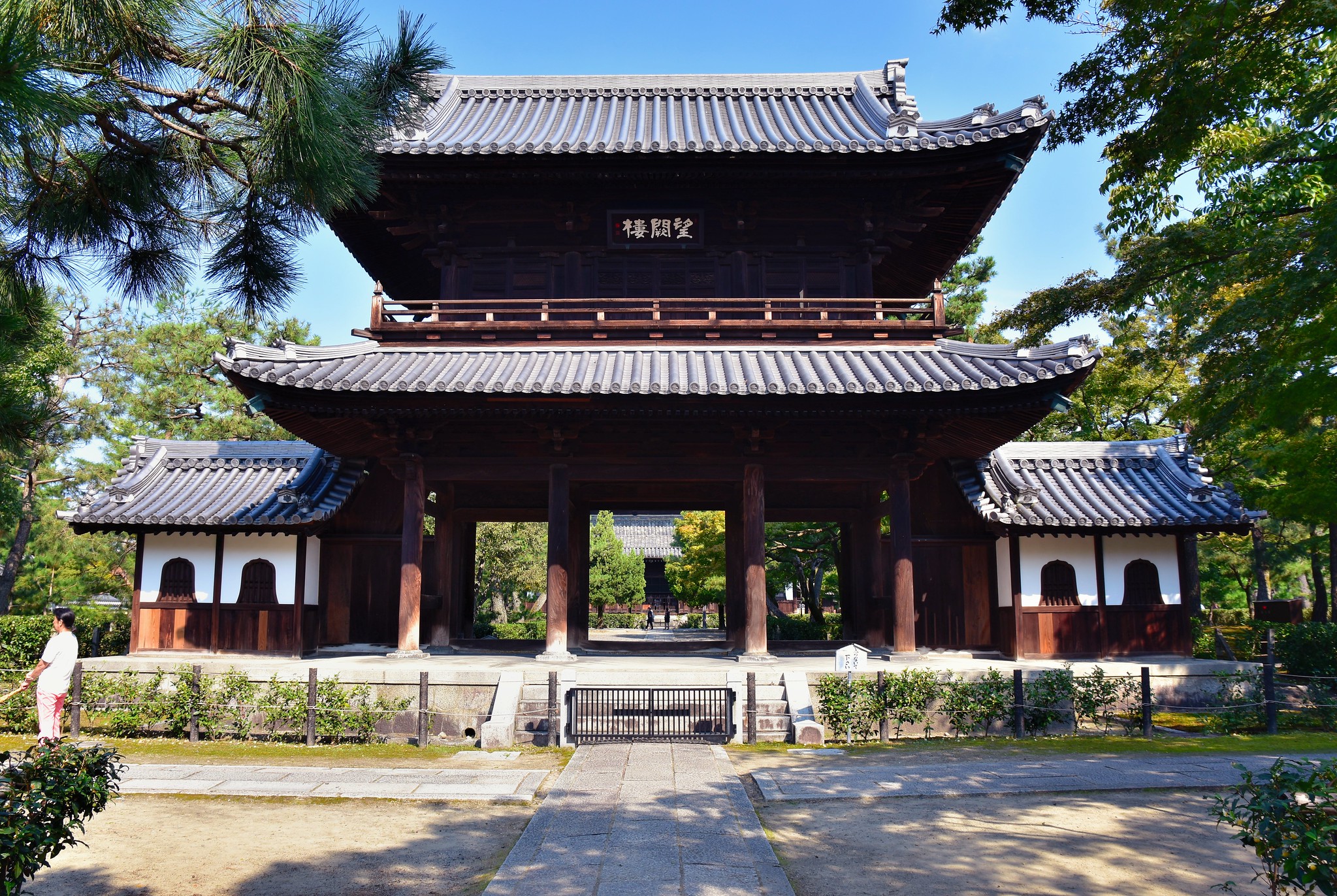 Further along from Gion Corner you will find the oldest zen temple in Kyoto, Kennin-ji Temple. Founded in 1202, the temple features a classic zen stone garden and some very interesting artwork to appreciate.
Yasui Kompira-gu Shrine
To end your walking tour of Gion, you should visit Yasui Kompira-gu Shrine. This shrine has one particularly interesting feature, the enmusubi stone. This roughly translates as a stone that will bind good loving relationships tighter and sever toxic relationships. First, write your wish on an amulet. When ready, climb through the large hole in the stone and return back through it again. Then, pin your amulet onto the stone. Apparently, the shrine is very popular with Japanese women.
Final Note:
Geiko numbers have been declining for years but their reputation for beauty and skill in the traditional arts lives on. Estimates suggest there are less than 100 geiko and 100 maiko in all of Kyoto at this time. As with many others in the world, the geiko and maiko have been hit hard with the challenges of the coronavirus and strict social distancing rules. The financial burdens of the pandemic could lead to even more girls leaving the profession behind. Furthermore, the entire industry including wig stylers and kimono dressers could be in jeopardy in the long term. It is important now more than ever to appreciate the rich cultural value of these girls and their relation to Japan.
Conclusion
Gion is an exceptional place to visit in Kyoto. It is a location you can revisit time and time again to experience a hearty slice of Japanese history and culture. I cannot wait to return some time soon.
Be sure to follow us on Facebook, Instagram, Twitter, and Pinterest for more fun stuff!
Originally from England, Lizzy has finally made her dreams of moving to Japan a reality. For as long as she can remember, Lizzy has been dazzled by the bright lights of Tokyo and enchanted by the historic streets of Kyoto. She loves dining out, hates people who talk too much in meetings and enjoys a good ten hour sleeping marathon at the weekend.