Established by ZenMarket Inc, an online shopping and proxy service based in vibrant Osaka, ZenPop has been shipping authentic Japanese goodies to fans worldwide since 2016. Yes, this service has operated for six years now, making it one of the most established names in the market.
ZenPop also offers not just one but six types of subscription boxes, or packs. Currently, there are three food boxes, a stationery one, one for anime fans (like me), and a limited edition box with oh-so-kawaii quirky collectibles.
What's cool about the service is furthermore how it's managed by an international team, with staff from all over the world. In other words, box items are carefully curated with international tastes and sensibilities in mind.
For this review, I comb through two September 2022 ZenPop subscription boxes. The first is the Refreshing Picnic Ramen + Sweets Mix Pack, a collection of savory snacks, instant ramen, and a fizzy soda great for a lazy afternoon outdoors.
The second is the Shounen fighting anime-themed Destiny Loop Anime Pack. Centered on the hit Tokyo Revengers series, this collection is a treat for aficionados of popular fighting Anime series old and new. It is, of course, also a thrill for any Revengers fan.
Refreshing Picnic Ramen + Sweets Mix Pack
Refreshing Picnic is ZenPop's September 2022 curation under its Ramen + Sweets Mix Pack category. As the name states, this assortment of snacks and noodles is wonderful for, say, an afternoon at the park with a loved one. Or just lazy me-time alone under awesome weather.
In total, there are eight curated food items in this collection.
In summary, the goodies are:
Chicken Ramen Donburi from Nissin
Cup Star Cheese Shio Tom to Jerry from Sanyo Shokuhin
Otona no Jagariko Ninniku Syoyu Karaage Aji from Calbee
FANTA Seishun Sweety from CocaCola Japan
Cola Fusen Gum from Coris
MOS BURGER POTATO Teriyaki Burger Flavor from Ajigen
Noukou Cheese Pizza Potato Aji from Natori
Country Ma'am Jiwaru Butter Middle Pack from Fujiya
The Instant Ramen
Refreshing Picnic features two instant ramen/noodles; one bowl and one cup. Before all else, let me highlight that both are the pre-mixed type, you simply need to add hot water and they are ready to eat. This makes them great for an excursion, as long as you bring along a canteen of hot water.
Taste-wise, both are light and refreshing too, with an emphasis on a signature taste in the toppings. Nissin's Chicken Ramen Donburi comes with a Torofuwa Tamago, a fluffy omelet spread that rests atop the noodles once cooked. Sanyo Shokuhin's Cup Star Cheese Shio Tom to Jerry has lots of soft cheesy bits as highlights.
To be honest, I was initially a little worried about the Cup Star Cheese Shio being a little too weird. (Cheesy ramen? Huh? Is it pasta-like?) But it turned out quite fine. The salty cheese bits went surprisingly well with the smooth noodles.
Nissin's chicken ramen was flavorful and filling too, and as promised, full of rustic eggy fragrance.
As quick meals in between work or play, these two instant noodles are splendid.
The Savory Snacks
ZenPop curated three packs of savory snacks in this collection. All three are heavier in taste. However, they differ quite markedly in texture.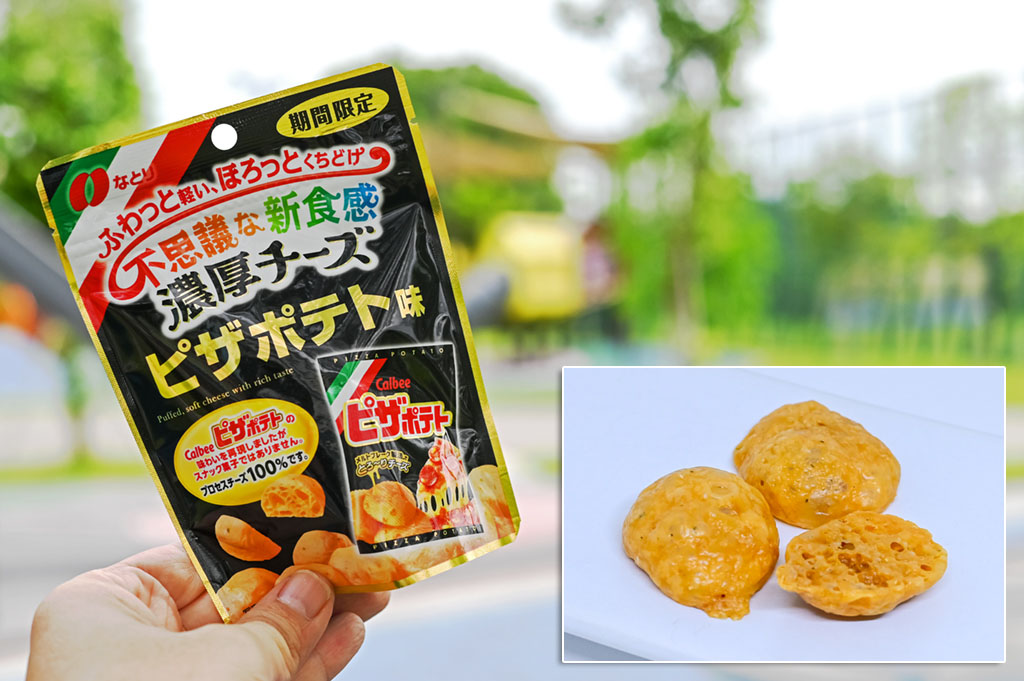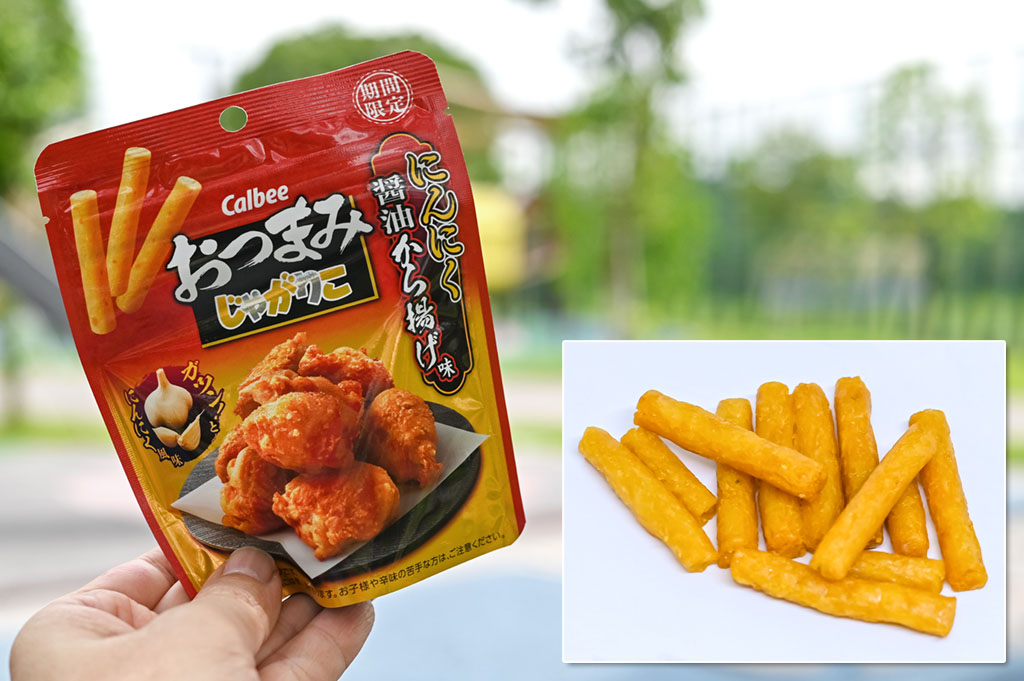 Of the trio, my favorite is the Noukou Cheese Pizza Potato Aji by Natori. 
Simply put, this pizza-inspired snack looks crispy but is actually bread-like in texture. Each piece is also rich with a classic tomato taste. I'm not exaggerating, eating a piece is like biting onto an actual pizza. The ninja turtles will approve.
As for the Jagariko, or fried potato sticks, I feel both packs are equally great as munchies or for going with drinks. For the unfamiliar, these crunchy snacks would be great introductions to Shoyu and Teriyaki too. These are tastes inseparable from modern Japanese cuisine.
The Sweet Snack: Country Ma'am Jiwaru Butter Middle Pack
This is the largest pack of snacks. Hands down, my favorite item in the Refreshing Picnic box too.
Made by Country Ma'am, a beloved Japanese cookie maker under the Fujiya brand, each piece of this heavenly pastry is dense, moist, and absolutely bursting with buttery richness. Following ZenPop's online recommendation, I warmed up two pieces and, oh goodness, they tasted even more wonderful. A perfect compliment to tea or coffee, or just by themselves.
My only regret, the "Middle Pack" contains only 13 pieces. Why couldn't there be more?
Needless to say, this was a great introduction to Country Ma'am too. I'll definitely be on the lookout for their cookies the next time I'm in Japan.
A Fizzy Drink and Gum as the Sweet Finish
Last but not least, ZenPop included a FANTA soda and a piece of cola-flavored gum by Coris in this Mix Pack. Both are sweet with mild tangy notes, making them great as palate cleansers, of sorts, for all the sweet and savory snacks.
The sparkling soda has an interesting name too. Titled Seishun Sweety, it is a limited edition featuring the citrusy freshness of sweetie, a grapefruit-like fruit.
Seishun itself means "youth" and for Anime fans like me, this Japanese word denotes not just the age group but also the vitality, boldness, and enthusiasm that comes with adolescence. It's a word so often used in RomCom and fighting anime.
Which brings me to…
Destiny Loop Japanese Anime Pack
As mentioned in my introduction, ZenPop's September 2022 Destiny Loop Japanese Anime Pack features items from popular Shounen (youth) fighting anime retro and new. There are six items and half of these are for the 2021 hit series, Tokyo Revengers.
According to ZenPop's description, this pack is so-named to highlight the connection between the old and new. If you ask me, I think the inspiration might also stem from the story of Tokyo Revengers. If you've watched the hit youth gangland series, you'd know the series is all about altering destiny by changing the past.
As for what I received:
Tokyo Revengers Yura Yura Head Figure
Dragon Ball Fuwa Kororin Plushy
Jujutsu Kaisen Adverge Motion 2 Figure
My Hero Academia Figure (in a gashapon capsule)
Tokyo Revengers Flag
Tokyo Revengers B5 Notebook
Note: Each Destiny Loop box curated by ZenPop is different. Every item has at least one variation. For the Yura Yura Head Figure, there are four possibilities. Subscribers could get Mikey, Draken, Matsuno, or Baji.
In other words, someone else's box could be completely different from mine. Opening a box is somewhat like opening a gashapon capsule.
Limited Edition Tokyo Revengers Collectibles
As a huge fan of Ken Wakui's hit manga/anime, the sight of any character from the Tokyo Manji Gang is enough to make me grin.
So imagine my delight when other than an adorable bobbing head figure of Manjiro Sano, there are two other Revengers memorabilia featuring the most popular characters from the anime.
Don't you agree the selection is simply superb for fans of the anime? (And for those who aren't, a great encouragement to start watching)
I highlight too that Mikey's Yura Yura Head Figure is substantially heavy, and as you can see from my picture, beautifully made. Even if I'm not a Revengers fan, I'd love to have this cutesy figure on my shelf.
Jujutsu Kaisen Adverge Motion 2 Figure
I have a lot to say about Jujutsu Kaisen and this superbly made chibi-style miniature by Bandai. But I think I'll let my picture do the talking.
Yup, though just over 2 inches tall, this Satoru Gojo Motion 2 Figure is incredibly well made. The stylized pose adds a quiet hint of power too, one that provides for so many wonderful photo-taking opportunities.
This lovely masterpiece is going to be on my work desk for a long, long time. Actually, Satoru Sensei is staring at me as I type this.
My Hero Academia Figure
My Hero Academia's representative in this anime subscription box is the bubbly Ochaco in her hero costume. She comes in a gashapon capsule and is the smallest collectible in the pack. I'm not a big fan of her series but I have to admit her exuberant expression and pose immediately made me chuckle.
The figure is reasonably well-made too, with only some roughness at the edges of the visor. The transparent plastic stand, however, was really hard to attach. As in, I could only insert the arm into the figurine by applying brute force.
In fact, I took the above picture by resting Ochaco against the arm. Hopefully, other figures from this range aren't the same.
Dragon Ball Fuwa Kororin Plushy
The sole representative from the world of older action anime is Son Gohan from Dragonball. The sweet kid he is, he looks utterly lovable, and squeezable, in plump plushy form.
Personally, I'm not too fond of plushies, I prefer figurines. That said, I feel the inclusion of one in the Destiny Loop pack gives the entire collection better character and variety.
And who knows? With new Dragonball films still regularly released, I might soon appreciate having a "companion" to bring to the cinema.
Review Conclusion: Is ZenPop Worth It?
The short answer: Yes, I feel it's worthwhile.
While waiting for my subscription boxes, or packs, to arrive, I didn't read ZenPop's online previews. I did this to main a genuine element of surprise.
After the delivery, I'd say I'm pleased with the curation. Food items and collectibles were of high quality. The food selection also reflects a certain international sensibility. As in, no snack or drink was too exotic or experimental, or bizarre, if you know what I mean.
For the Ramen + Sweets Mix Pack, there was also a noticeable effort to introduce popular flavors of modern Japan. Teriyaki, Shoyu, Japanese butter confectionery, etc.
As for the Destiny Loop Japanese Anime Pack, it is clearly targeted at fans of a specific anime genre. On this, if you intend to purchase the pack as a gift or for yourself, or any other ZenPop Anime Pack, I suggest reading ZenPop's previews beforehand. If you're subscribing for an extended period, you should be prepared that certain collectibles might not be to your immediate liking. (It could be great introductions to anime you've missed, though)
Coming to current 2022 prices, the Mix Pack is USD 36.90 by itself, with discounts of almost 20 percent if you subscribe for 12 months. The Anime Pack is USD 39.16 per month, with discounts of about 17 percent if you subscribe for 12 months. You can enjoy another USD 6/- discount when you quote our discount code, YOURJAPAN .
These prices are in line with other subscription services. They feel reasonable too, for a slice of Japanese culture delivered to one's doorstep. What's more, ordering from ZenPop is safe as it has a clear customer service policy to ensure buyer satisfaction. You can read about their policy here.
Give the service a try and I'm sure you'd have a yummy and fun time.
A devoted solo traveler from Singapore who has loved Japan since young. His first visits to the country were all because of video game and Manga homages. Today, he still visits for the same reasons, in addition to enjoying Japan's culture, history, and hot springs.