7 Best Korean Restaurants in Shin-Okubo, Tokyo's Koreatown – Located just one stop away from massive Shinjuku Station, Shin-Okubo (新大久保) might seem little different from other Tokyo districts, especially to first-time visitors to the Japanese capital.
And yet, a more detailed look at the colorful shopfronts and you will immediately notice the differences. For a start, a dissimilar Asian script accompanies Japanese text on some signs. Dishes promoted by eateries also look decisively different from those found elsewhere in the capital. Some shops even prominently fly the South Korean flag.
In a nutshell, Shin-Okubo is Tokyo's Koreatown, famed and beloved for its Korean products and cuisine. If you're craving Dak Galbi, Yangnyeom Chicken, Bibimbap, or other savory Korean dishes during your Tokyo trip, this is the district to head to. The lively restaurants here would likely steal your heart too, and see you soon return for more feasting.
Macchan
Macchan is beloved in the Tokyo food scene for Samgyeopsal i.e. Korean barbequed pork belly. Prepared in front of diners by chefs, and in unassuming and comfortable settings, this lively BBQ restaurant is renowned for the thickness of its serving. Many diners have likened Macchan's pork bellies to steaks.
Credit: Google Maps
Credit: gurunavi.com
Samgyeopsal aside, Macchan also serves a colorful array of other classic Korean dishes, from Kimchi soups to Bulgogi rice bowls, to Naengmyeon i.e. cold noodles. If you're keen on trying a bit of everything, consider going for the ¥1,500 lunch set. Not only would you get an unforgettable taste of Macchan's succulently thick pork bellies, drinks are free-flow too. The set even includes side dishes of stir-fried glass noodles (Japchae) and savory pancakes (Chizumi).
Website: http://www.macchan.jp/ 
Tonchang
Credit: tonchang.com
Tonchang Korean BBQ at Shin Okubo
No list featuring great Korean restaurants at Shin Okubo is complete without a mention of Tonchang. The first Korean restaurant to specialize in Samgyeopsal in Japan, Tonchang has been serving mouth-watering, sizzling barbequed feasts for decades. Today, it operates a long list of outlets across Tokyo.
With prices between ¥980 and ¥1,480, Tonchang's set meals are also suitable for all travel budgets, with sets always encompassing a variety of side dishes, and grilled before you. If you're not into pork belly, just order your set with other cuts! Naturally, Tonchang also serves a variety of other popular Korean dishes. For example, Beef Bulgogi rice plates.
Website: http://tonchang.com/ 
Shin-Chan
Shin-Chan's front humorously features a cartoon chicken spewing fire, and that is exactly what diners come here for. Hugely popular with Korean students in Tokyo for its chicken dishes, Shin-Chan's bestselling item is charcoal-grilled chicken, this available salty, spicy, or super spicy. Naturally, there are also other types of finger-licking good fried chicken items. For example, spicy-sweet Goshu boneless chicken.
Outside of chicken, this Korean restaurant also serves many other perennial favorites, such as Korean-style seaweed rice rolls (Kimbap) and cold noodles. Oh, if you're wondering, there are more than enough choices for diners not into mouth-burning hot. (Though I encourage you to have a go at "super spicy") Prices are also very reasonable, with signature main dishes mostly between ¥980 to ¥1,980.
Credit: zakara.club
Shin Chan's Super Spicy Chicken / Credit: zakara.club
Website: https://sinchang.owst.jp/en/
Delica Ondoru
If you're exploring Shin-Okubo in a group, Delica Ondoru is a great option for a mini feast.
This modern, café-like Korean restaurant offers mini-banquet courses at ¥2,500 and ¥4,000 for groups of four or more. Other than barbequed meat, these two-hour courses come with an assortment of side dishes, with dessert also thrown in. For visitors traveling alone or in pairs, not to worry, Delica Ondoru also has quite a dazzling ala-carte selection of classic and modern Korean dishes too. Actually, you might need extra time just going through the extensive listings on the menu.
Credit: https://www.facebook.com/delicaondoru
Credit: tripadvisor.com
Of note, Delica Ondoru also has two outlets within walking steps of each other, with one operating 24 hours. That makes it a superb location to head to for supper, after an exciting evening exploring nearby Shinjuku.
Website: https://delicaondoru.com/
Shijan Dakgalbi
Credit: facebook.com/jkslove.junko
Credit: facebook.com/naoko.nagura.1
Have you heard of Cheese Dakgalbi, the indulgent Korean creation that has taken the world by storm?
Consisting of chicken and vegetables grilled or stirred fried with a spicy-sweet sauce, then drizzled with cheese, this is very simply, a dish bursting with the best of the East and West with each bite. Within Shin Okubo, one of the best places to try this awesome creation is undoubtedly Shijan Dakgalbi. Presented on hotplates absolutely filled to the brim with ingredients, the Cheese Dakgalbi here is nothing short of picture perfect. That is if you can resist digging in long enough to take some good shots.
Speaking of photos, did I mention the restaurant interior resembles a picturesque Korean farmhouse? When here, you might also want to try their UFO Chicken. Like other Korean restaurants in the area, this quirkily named dish consists of chicken drumlets prepared in four different styles. The drumlets are then served with a large pot of melted cheese as dip.
Website: http://www.sijang-dakalbi.com/index_01.html
Shijan Dakgalbi on Google Maps
Minzoku Mura
If you're looking for a straight-forward, affordable meal, Minzoku Mura is the place to head to. Housed in rustic settings reminiscent of traditional Korean homes, this restaurant specializes in Korean home cooking. The bulk of most dishes are also priced at ¥1,000 or lower.
Food-wise, portions are generous and well-cooked, with Samgyeopsal especially popular with lunch crowds. Lastly, Minzoku Mura has several semi-private booths, as well as window seats directly overlooking Okubo-Dori, the main thoroughfare of Shin Okubo. A yummy dinner at the latter, during sunset, could be a memorable dining experience.
Credit: tabelog.com
Credit: tabelog.com
Homibing
Credit: tabelog.com
Credit: tabelog.com
After all the hearty food mentioned above, surely you would need something cold and sweet to cool down with?
If so, head over to Homibing, located two minutes away from Shin Okubo Station. This modern Korean dessert café serves a variety of selfie-perfect Bingsu plated with fruits, cakes, or other snacks. There's also a variety of drinks available, including fruit juices and beer.
And if you're hungry again after chilling, Homibing has various light meals available. How about a Mango Tortilla Pizza to return to your hotel with?
It's Not Just About Food
While at Shin Okubo, don't forget to check out the many supermarkets and shops. Full of ethnic Korean foodstuffs, drinks, and K-Pop memorabilia, these outlets will be the perfect finish for your day of exploration at Tokyo's Koreatown.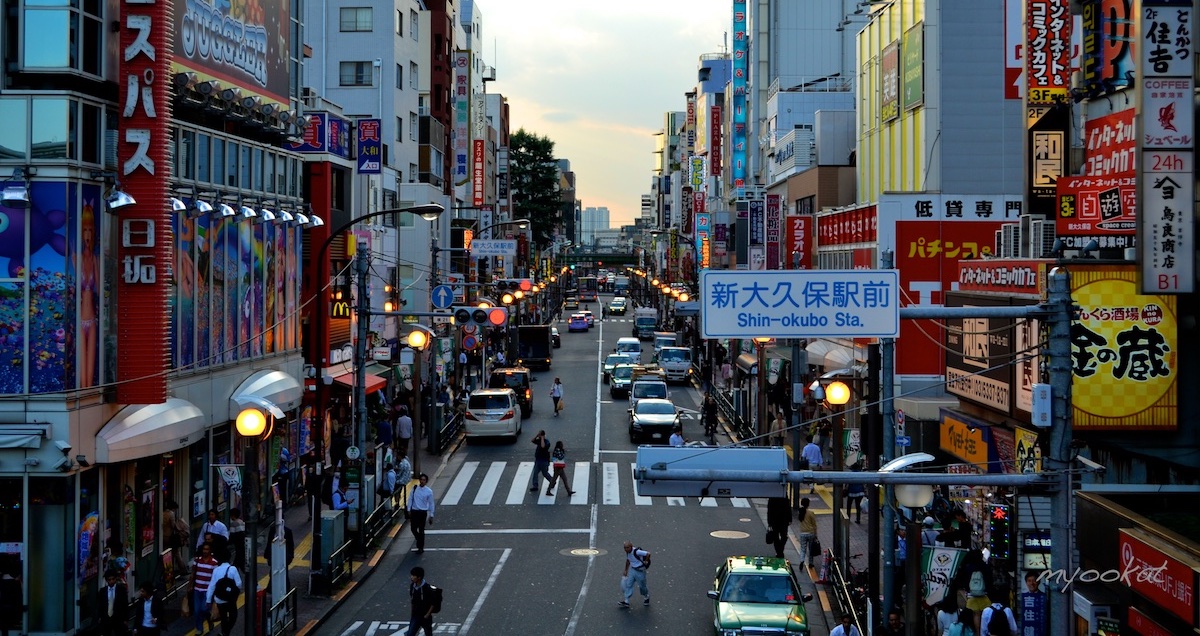 Be sure to follow us on Facebook, Instagram, Twitter, and Pinterest for more fun stuff! See you again next time!
A devoted solo traveler from Singapore who has loved Japan since young. His first visits to the country were all because of video game and Manga homages. Today, he still visits for the same reasons, in addition to enjoying Japan's culture, history, and hot springs.