10 Must Visit Temples in Japan – Even if you're completely uninterested in Japanese Buddhism, you must visit at least one temple when in Japan. If not several.
Much more than just institutions of worship, the most beloved and famous Japanese temples are often architectural gems. If not, they house priceless cultural artefacts or have played prominent roles in Japanese history.
In other words, any visit to a Japanese temple promises more than religious sightseeing. The experience will be a brief but unforgettable immersion in culture and history.
Difference Between a Japanese Shrine and Temple
In general, Japanese temples are Buddhist institutions of worship and cultivation while shrines typically venerate Shinto gods. Do take note, though, that some shrines also venerate Buddhist saviors.
The dress code for Japanese Buddhist temples is also the same as for any place of worship. That being, modest clothing without excessive exposure of skin. More details about the difference between a Shrine and Temple.
Senso-ji, Tokyo (
浅草寺

)

Tokyo's world-famous Senso-ji deserves the first mention. The oldest temple of the capital, visiting this beloved Asakusa landmark can be described as a one-in-all experience.
There is striking vermillion architecture to photograph. The main Kannon shrine is utterly atmospheric too. Best of all, the nakamise alley leading to the temple is flanked by shops selling traditional goods. There is simply no better place in Tokyo for you to experience Shitamachi i.e. traditional downtown vibrancy.
Come sunset, the gorgeous structures of the temple are also wonderfully illuminated, transforming the grounds into a night photography paradise. Finally, Senso-ji is situated between the Tokyo Skytree and massive Ueno Park, the latter with its many museums. You can easily spend a full day exploring all three attractions.
2 Chome-3-1 Asakusa, Taito City, Tokyo 111-0032, Japan
Kotoku-in, Kamakura (
高徳院

)
Many travelers wouldn't be familiar with the name Kotoku-in. On the other hand, you'd find it hard to find someone who hasn't at least seen a picture of the temple's key attraction. This being the Great Buddha of Kamakura.
Known as the Kamakura Daibutsu in Japanese, this massive outdoor statue of a seated Amita Buddha has existed since AD 1243. Mysteriously, the structures housing the Daibutsu were also always destroyed by natural disasters. And so since AD 1498, the solemn statue has stood under the skies.
Contemplative and serene, yet with traces of melancholy, the visage of the Daibutsu will furthermore evoke complex reactions from you; it could be a totally different experience depending on your hour of visit.
Lastly, nearby Hase-dera Temple, with its massive wooden Kannon statue, is a must-visit as well. If you have more time on your hands, you could also ride the Enoden Tram to the nearby island resort of Enoshima. Wonderful coastal scenery and yummy street snacks await you there.
4 Chome-2-28 Hase, Kamakura, Kanagawa 248-0016, Japan
Kiyomizu-dera, Kyoto (
清水寺

)

The "clear water" temple is Kyoto's equivalent of Senso-ji. World-famous for its massive wooden veranda, this is the Kyoto attraction not to be missed no matter the month of your visit. During cherry blossom and autumn foliage seasons, the surrounding hillside transforms into truly incredible paintings of colors.
The temple itself is home to several unusual attractions too, including a pitch-black tunnel where you have to rely on touch to move forward, and the opportunity to drink from the waterfall the temple takes its name from. Like Senso-ji, the pathway leading to Kiyomizu-dera is also flanked by numerous handicraft and souvenir stalls. This itself is one of Kyoto's main travel attractions.
Travel tip: If visiting in late March, Mid August, or November, try to time your visit with the illumination events of Kiyomizu-dera. Let's just say, to gaze at nighttime Kyoto from the illuminated temple will be one of your best travel memories ever.
1 Chome-294 Kiyomizu, Higashiyama Ward, Kyoto, 605-0862, Japan
Read also:
Tenryu-ji, Kyoto (
天龍寺

)
One of the most beloved autumn foliage viewing spots of Japan, lush Tenryu-ji is for many travelers, the high point of a visit to the Arashiyama District in Western Kyoto. While often crowded, the immaculately landscaped garden is still spacious enough to be enjoyable for anyone. Move away from the main temple complex and into the hillside, and you will surely find your own private spot too.
More importantly, the northern exit of Tenryu-ji directly connects to the world-famous Arashiyama Bamboo Forest. Apart from being the perfect finish to a visit, the shady route through the forest leads to other noteworthy temples of the district. For example, the beautiful hillside Jojakko-ji, another autumn foliage golden spot.
68 Susukinobaba-cho, Saga-Tenryuji, Ukyo-ku, Kyoto-shi, 616-8385 Japan
Enryaku-ji, Kyoto (
延暦寺

)

If you're looking for a picturesque full-day side trip when in Kyoto, head to Enryakuji in the mountains northeast of the city.
The headquarters of the Tendai school and one of the most important monasteries in Japanese history, Enryaku-ji is situated atop Mount Hiel and accessible by the cablecar and ropeway. Apart from various eye-catching structures and rustic complexes, several pleasant walks crisscross the expansive grounds. This is the temple complex to head to if you're looking for light exercise and sightseeing.
Historically, Enryaku-ji was also the site of Warlord Nobunaga Oda's worst atrocity. In 1571, the brutal general razed the monastery as part of his efforts to eliminate rivals. He did so as Enryaku-ji, back then, maintained a powerful warrior monk army and was a significant political player.
The current structures thus date from the 17th Century onwards. While this makes Enryaku-ji architecturally "newer" than other temples on this list, be assured that any visit would still be a memorable one.
4220 Sakamotohonmachi, Otsu, Shiga 520-0116, Japan
Koyasan (
高野山

)

There are many prominent, enlightened monks in Japanese history. However, it is fair to say none are as widely venerated as Kukai, the founder of Shingon Buddhism.
Lovingly referred to as Kobo Daishi, the 8th Century abbot is credited with many things, including the development of the modern Japanese language and the construction of major public projects such as To-ji (see below). In AD 816, Kukai successfully petitioned Emperor Saga to establish a mountain retreat at Mount Koya too. Though the project was only completed after Kukai's passing, the retreat survived subsequent centuries to become Japan's most famous temple settlement. In 2004, Koyasan was even designated a UNESCO heritage site.
As for what to look out for when visiting, well, it's an entire settlement that needs a full day to explore. One full of historical wooden structures and gardens. There is also a gorgeous vermillion pagoda (Danjo Garan) and lodging facilities for visitors who wish to spend the night.
Add to which is Okunoin (奥の院), the largest graveyard in Japan. As unappealing as visiting a graveyard will sound, the graves of several famous Japanese warlords are here. These include those of Nobunaga Oda, and his successor, Toyotomi Hideyoshi. 
Todai-ji, Nara (
東大寺

)

"Large" is a word inseparable from magnificent Todai-ji, the one must-visit temple of Nara.
Until 1998, the wooden hall forming the main complex was the largest in the world, with the immense statues housed within all artistic masterpieces. These, including the world's largest bronze statue of Vairocana Buddha.
The surrounding grounds are also home to several other historical buildings, some of which also exhibiting priceless religious artifacts. Oh, those grounds are home to what is probably Japan's most unusual natural attraction too. Every day, over a thousand adorable deer freely roam here. (Be careful when feeding them!)
Touristy as Todai-ji might sometimes feel during peak seasons, this is one "big" attraction not to miss when in Nara. 
After visiting, stroll to nearby Kofuku-ji too. Equally as old and important as Todai-ji during the Nara Era, this is another historical gem that will awe you.
406-1 Zoshicho, Nara, 630-8211, Japan
Read also:
Senkoji, Onomichi (
千光寺

)

The seaside town of Onomichi, 30 minutes by local train from Hiroshima, is home to tens of small, charming temples you could spend a whole day exploring. Among these, the lofty Senkoji shines as the most spectacularly located. Simply put, the sprawling view of the Seto Inland Sea from its veranda is one that will take your breath away.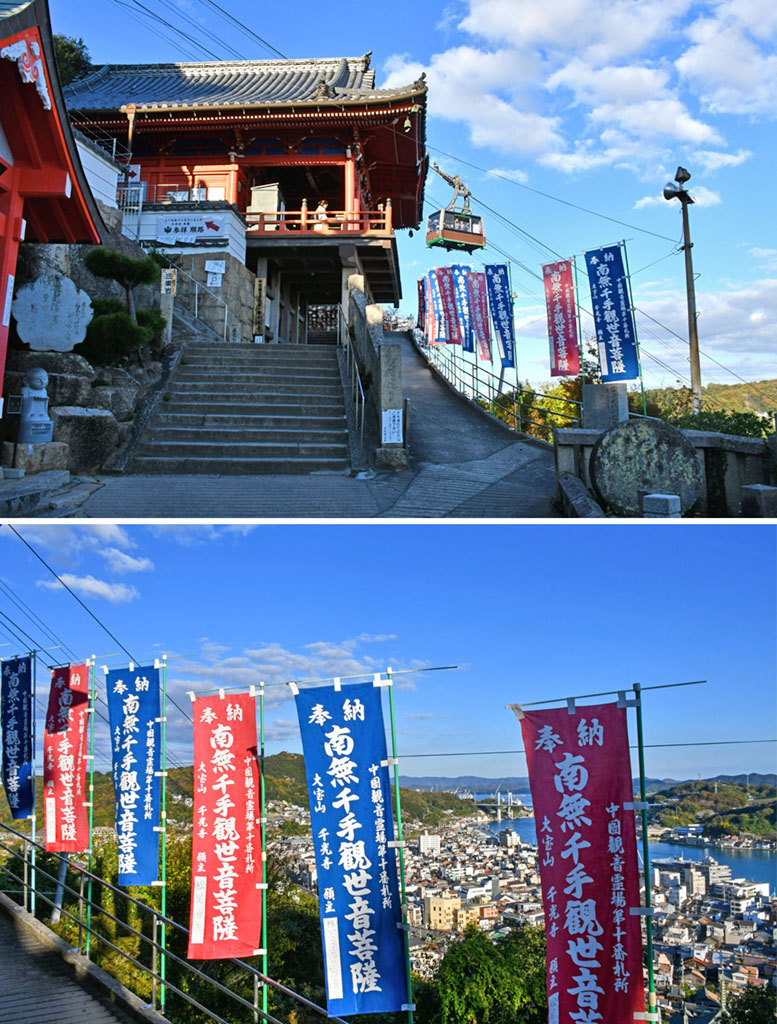 Accessible via a route connecting the summit of Mount Senkoji and Onomichi, Senkoji is also over a thousand years old and part of a "Path of Literature" honoring Japanese authors related to the town. To be honest, the actual temple itself is little more than a shrine, but who would mind given the splendid views surrounding it?
Recommended route if visiting: Take the Senkoji Ropeway to the summit, enjoy the modern park there, then make your way downhill to the temple. After Senkoji, continue downhill to return to Onomichi Station. Along the way, don't forget to keep a lookout for Onomichi's famous cat population.
Visited on a clear day, you will find yourself utterly rejuvenated, spiritually and physically.
15-1 Higashitsuchidocho, Onomichi, Hiroshima 722-0033, Japan
Zenko-ji, Nagano City (
善光寺

)
Many prominent cities in Japan began as temple towns. In the case of Nagano City, the primary host of the 1998 Winter Olympics, the city started as a small town surrounding Zenko-ji, a 7th-century Buddhist temple supposedly relocated from India. Historically, Zenko-ji is also famous for being a base of warlord Uesugi Kenshin during Japan's Warring States Era.
Today, the lively temple remains the primary Buddhist temple of Nagano City, located just over a mile from the Shinkansen Station and with a bustling traditional shopping street leading to it. Other than historical wooden structures, attractions here include a mini-museum with intricate Buddhist statues and a dark tunnel in which you use your hands to locate a hidden key. For the latter, finding the key is said to be equivalent to salvation, or enlightenment.
Of note, Zenko-ji is unique because it's co-managed. Nearly all other Buddhist temples in Japan belong to a specific denomination. Zenko-ji, however, belongs to both the Tendai and Jodoshu schools. The temple is thus co-managed by teams of representatives from both schools.
The Hidden Image
Zenko-ji is especially famous for its hidden Buddhist icon, said to be the first-ever Buddha Statue brought to Japan. The statue is never shown to the public but every six years, a copy is exhibited. The latest exhibition in 2021 was deferred to 2022 because of the Coronavirus Pandemic.
491 Naganomotoyoshicho, Nagano, 380-0851, Japan
Yama-dera, Yamagata City (
山寺

)

Here's another great mountain temple to visit, if you're looking for panoramic views.
With its common name literary meaning "mountain temple," Risshaku-ji (立石寺) at the outskirts of Yamagata City is today, one of the most popular attractions of the Tohoku Region. Other than centuries-old structures clinging to the rocky hillside, the higher complexes such as the Godaido Hall afford soaring views of the surrounding valley. Such views are especially unforgettable during the autumn foliage season.
With about a thousand steps to the summit, the ascension route is admittedly not for everyone, but not to worry, the lower complexes are still worthy of your time. The Konponchudo Hall, for example, houses a flame that has supposedly been burning since the founding of the temple over a thousand years ago.
Last but not least, Yamagata City itself is easily accessible by Shinkansen from Tokyo. After visiting Yama-dera, you can hop back onto the same service and head to the nearby Kaminoyama Onsen to re-energize.
4456-1 Yamadera, Yamagata, 999-3301, Japan
Other Beautiful Japanese Temples Worth a Visit
Rokuon-ji, Kyoto: Like Kotoku-in, Rokuon-ji is more commonly referred to by the name of its key attraction, i.e., the stunning Golden Pavilion. Like the Kamakura Daibutsu, the Golden Pavilion is also an icon of Japan.
Tsukiji Honganji, Tokyo: Looking for a different visiting experience? Located beside Tsukiji Outer Market, Tsukiji Honganji will make you think you're in India rather than Japan. The main hall also welcomes all visitors.
To-ji, Kyoto: A famous public project of Kobo Daishi, To-ji, or the eastern temple, marks the previous southern entrance to Kyoto. It is home to the tallest wooden pagoda in Japan and numerous treasures. It is also the site of a popular flea market that takes place on the 21st of every month. 
Tochoji, Fukuoka City: While small, Tochoji has a striking vermillion pagoda and a huge 10.8 m seated Buddha. It is also but one metro station away from Hakata Station and walking distance from Kushida Shrine.
Hasedera, Sakurai: Other than ancient wooden staircase tunnels, Hasedera in Sakurai is one of the best flower viewing spots in the Kansai Region. There are also numerous important cultural relics on-site.
Chusonji, Hiraizumi: The headquarters of the Tendai School in Tohoku, Chusonji's chief attraction is the stunning Konjiki-do. Except for the roof, this historical hall is covered with golden leaves everywhere.
Wooden stairs tunnel at Hasedera, Sakurai.
Be sure to follow us on Facebook, Instagram, Twitter, and Pinterest for more fun stuff! Matane!
A devoted solo traveler from Singapore who has loved Japan since young. His first visits to the country were all because of video game and Manga homages. Today, he still visits for the same reasons, in addition to enjoying Japan's culture, history, and hot springs.