The Best Sentos in Tokyo – For visitors new to Japan, it is easy to confuse sento (銭湯) with onsen (温泉).
Both facilities essentially serve the same purpose of hot-water bathing. However, while onsens feature geothermically heated waters and are usually situated amidst natural beauty, sentos are affordable public bathing houses intended as communal facilities. Also, with pools that might or might not be naturally heated.
Historically, the predecessors of sentos were only used by Buddhist priests but the concept achieved popularity with the masses in pre-modern Japan. For today's visitors, a visit to any of these communal baths is assured to be an atmospheric experience. The actual bathing process requires some know-how, but it is nothing too complicated and well worth the effort.
Note: The below sentos are gender-segregated, and are typically open from 3 to 3.30 pm to mid-morning the next day. Bathing suits are not allowed in the soaking pools.
Daikokuyu (
大黒湯

)
Lovely Daikokuyu in Sumida Ward, a short walk away from Tokyo Skytree, is the best sento to visit in Tokyo if you're new to Japanese-style communal bathing.
Designed with a classical layout, the showpiece of this modern and well-maintained bathhouse is a gorgeous mural of Mount Fuji. In terms of facilities, there are multiple soaking pools, a sauna, a steam bath, and even an outdoor pool.
Best of all, at the relaxation wooden deck, there's a limited view of the Skytree. After spending a full day at the world's tallest tower, there are few better places to relax at. By the way, Daikokuyu regularly showcases local handicrafts too. Any visit is thus also an artistic experience.
Read also:
Azabu Kokubisui Onsen Takenoyu (
麻布黒美水温泉

竹の湯

)

Azabu Kokubisui Onsen Takenoyu deserves a place on any list of best sentos in Tokyo despite its location in a residential building away from metro stations. Famous for its very hot, coffee-like pools, fans of this sento swear by the beautifying properties of the unusual water.
In fact, the word "Kokubisui" literally means "black beauty water." According to the owners, the unusual dark hue is the result of beneficial ancient minerals and plants (peat) mixing with water.
A soak at Azabu Kokubisui Onsen Takenoyu is doubly worthwhile because of its unusual murals too. While most sentos nationwide feature paintings of natural landscapes, this sento has a map of Japan's prefectures and a lovely painting of the Nippon Maru, a historical training barque. (The actual vessel is today a museum in Yokohama) Apart from beautifying yourself with the silky dark water, you can immerse yourself in Japanese naval heritage.
Fukunoyu (
ふくの湯

)
Recently renovated with an eye for traditional beauty, having a bath at Fukunoyu is akin to visiting a mini art gallery. Other than the vivid main murals, eye-catching Japanese art adorn the walls above the washing facets. With all paintings, the masterpieces of Japanese artists.
Even the architecture is a work of art, with the design harmoniously incorporating retro and modern elements. When planning a visit, do take note of monthly events. Fukunoyu regularly hosts special features. For example, rose-scented water was the theme for the third weekend of March 2021 in the women's bath.
These events would surely make your visit to this beautiful Tokyo sento all the more memorable.
Akebonoyu (
曙湯

)

Travelers not in the know might mistake Akebonoyu for a samurai residence museum when passing by this beloved Asakusa sento.
Tokyo's oldest sento, the majestic building is traditional on the exterior but modern on the inside, and home to over ten different types of baths. Unlike many other sentos in the capital, the waters here are also not heated indoors. They are filled with water direct from a natural hot spring.
Furthermore, as part of efforts to appeal to younger and international visitors, Akebonoyu has quirky features on its main murals; you'd see a certain world-famous kaiju peeping over a mountain while a witch on a broomstick hovers in the distance. Should you be visiting in spring, you will be treated to gorgeous wisteria blooms draping over the façade too.
Simply put, this is one historical bathhouse that works hard to showcase the best of past and modern Japan. It is a must-visit for any visitor remotely curious about sento bathing.
Bunka Yokusen (
文化浴泉

)
Renovated in March 2011, Bunka Yokusen at the Meguro District offers a slightly different communal bathing experience. Housed in the ground floor of a modern residential building, entering this sento is somewhat akin to visiting an intimate restaurant.
Facilities-wise, Bunka Yokusen's showpiece is its "nano bath," which features silky water infused with nanoparticles. (Described as beneficial for dieting, and for relieving Arteriosclerosis) The pools and peaceful ambiance aside, this sento is mere steps away from the Meguro River, the venue for one of Tokyo's most spectacular cherry blossom displays each year.
In other words, this is a wonderful place to conclude a day with after enjoying Japan's signature bloom. It is also the perfect finishing touch to a beautiful day in springtime Meguro.
Ofuro no Osama (
おふろの王様

)

For a taste of the modern, as well as subtle opulence, head to Ofuro no Osama in Shinagawa, just steps away from Oimachi Station.
A "super sento," there are eight types of pools here, as well as a variety of dry baths i.e. sand baths, heated rooms, hot stone beds, etc. Unlike traditional sentos, Ofuro no Osama opens early in the morning too, at 9.30 am to be precise. This means you could refresh yourself here, right after arriving in Tokyo from an overnight flight.
Like other such modernized bathing houses, Ofuro no Osama also has a dining area as well as a variety of body care services. If you have the budget and time, how about enjoying an akasuri (あかすり) body scrub before soaking in the pools? This indulgence will surely remove all travel fatigue from you, and prepare you for unforgettable adventures.
Okada-yu (
岡田湯

)

Located away from downtown Tokyo, Okada-yu in the Adachi District is notable for its homely ambiance.
As in, entering this sento is akin to stepping into someone's Scandinavian-themed home, one that comes with a spacious and naturally lit lounge. The baths themselves are also varied. There are round baths in a home garden-like setting. There are also herb jet baths to rejuvenate visitors with the power of nature.
As for the location, Adachi doesn't feature any major Tokyo attractions but is nonetheless still home to a collection of entertaining sights for children. For example, the Adachi Park of Little Things and the Yokai-themed Kuritsu Toneriikiiki Playground. Young families could thus enjoy a fun day in the vicinity, before visiting Okada-yu.
Komeisen (
光明泉

)

Another gem in Meguro, Komeisen is notable for two things. Its unusual entrance artwork. And its beautiful rooftop pool.
The latter wouldn't offer you any sprawling city views of the world's largest city, but the rustic, wood-heavy design still makes it's a splendid location to relax at. Other than this key attraction, Komeisen also has different indoor baths and a sauna. Making it on the whole, one of the best sentos in Tokyo to rejuvenate yourself at.
Incidentally, the nearby Naka Meguro Station is surrounded by numerous small shops and eateries. Do consider ending your day with a meal or a drink here, after a thorough soak.
Spa Laqua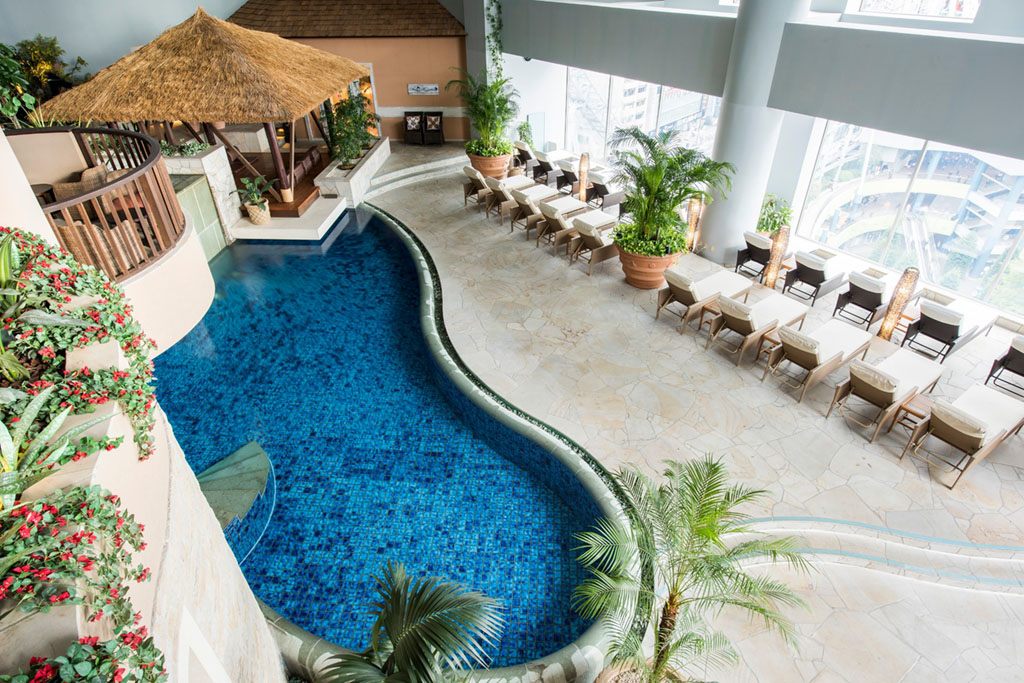 Some purists would not consider Spa Laqua a sento, given its size. However, if you're at Tokyo Dome City and are worn out by shopping, or thrilling rides, this is the oasis to head to.
A key attraction of Tokyo Dome City, this spacious and modern bathing complex has various well-maintained zones for you to rejuvenate at. The Spa Zone features traditional outdoor bathing and an assortment of pools with natural onsen water. On the other hand, the adults-only Healing Baden Zone has a variety of saunas and lower temperature relaxation rooms, including a ladies-only sauna and a relaxation area made of Maifan Stone.
Naturally, a plethora of esthetic treatments and dining options are also available to complete your visit. Last but not least, the 7th floor has an open-air area with views of the rides of the Dome City. You can relax here while watching other travelers entertain themselves on those exhilarating rides.
Oedo Onsen Monogatari (
大江戸温泉物語

)

Purists would not consider the famous Oedo Onsen Monogatari resort at Odaiba a sento, given its size and its nature as a travel attraction.
However, this "bathing theme park" is undoubtedly an evolved form of the classic Japanese bathhouse, and loads of fun for visitors willing to let their hair down. Apart from a variety of large indoor and outdoor pools, there's a massive garden, several F&B establishments, and overnight accommodation. For pet lovers, there's also a devoted resort/bathing area for dogs.
Every entry ticket even comes with a choice of colorful yukata to wear while in the resort!
What's more, a vibrant festive area is right before the bathing facilities, one that's full of traditional matsuri games and snacks. Before or after bathing, you could check out the stalls while donning your chosen yukata i.e. indulge in the illusion that you are in a festive Japanese village. For me, a night at Oedo Onsen Monogatari is always the perfect end to a holiday in Tokyo.
Oedo Onsen Monogatari has permanently closed on September 5th, 2021 – More details
How to Enjoy a Sento
There are certain "rules" to observe when visiting a sento. Do not be put off, though. All are simple and straight-forward.
Deposit your footwear at special locker boxes after entering.
Tickets at smaller sentos are usually sold via vending machines. Nowadays, many would have English words.
An undressing i.e. locker area always precedes the actual baths. You can use any vacant locker.
Always wash yourself clean before entering the pools. Do not enter when soapy. Do not wash yourself or your hair in the pools too!
In the case of special baths such as those with mineral-infused water, it is recommended not to wash yourself again after soaking. However, this depends on your preference.
Do note that many sentos keep their pools very hot! If you're unused to this, enter slowly.
Lastly, many Japanese consider it a must to drink chilled fresh milk after a soak. Bottles of this are thus often sold via vending machines.
Be sure to follow us on Facebook, Instagram, Twitter, and Pinterest for more fun stuff! Matane!
A devoted solo traveler from Singapore who has loved Japan since young. His first visits to the country were all because of video game and Manga homages. Today, he still visits for the same reasons, in addition to enjoying Japan's culture, history, and hot springs.