What does "otaku" mean? In high school, there was an afterschool club that one could join called the "Otaku Club." I later learned that it was for people who were fans of Japanese media, typically in the form of manga and anime. Upon moving to Japan, I learned that the term was multi-faceted.
In America it tends to have a negative connotation, and is similar to "nerd" or "geek." In Japan, I learned that it could have a negative connotation, but it is not always negative. I discovered that "otaku" came in all different varieties. There are, of course, "otaku" that are interested in manga and anime. But there are other "otaku" that are interested in idol groups, trains, and even bird-watching. Anybody who is very passionate about a hobby of theirs can be dubbed an "otaku." Here are some important things to know about "otaku" culture and a brief summary on why these features are important.
Anime
Many people's first introduction to "otaku" culture is through anime. As a child, Dragon Ball Z was incredibly popular with my peers and then the Pokémon craze exploded in America. Because of the popularity of these two shows, I learned that Japan had a very unique style of animation that included large eyes and intense sound effects.
In the 80's and 90's Japan was churning out these animated television shows at an unbelievable rate. Upon export to Western audiences, some Japanese anime series were cut in a way that created different story lines and they were dubbed into English to be more accessible.
Ghibli
One of the most popular anime studios in Japan is Studio Ghibli, founded be Hayao Miyazaki. Ghibli is responsible for such classic films as "My Neighbor Totoro," and the award winning "Spirited Away." Ghibli characters can be seen all over Japan. They are on lunch boxes, t-shirts, bags and countless other items. Studio Ghibli is considered Japan's Disney Studios. The films and stories are known by most Japanese, whether young or old.
Manga
Manga is an integral part of "otaku" culture. Many anime series were born as manga before being adapted for the screen. Manga has a long history in Japan and they are incredibly similar to Western comic books. It is thought that one of the first manga was created by the famous Japanese artist Hokusai.
Manga is so popular in Japan that many people read manga on their daily commute. "Manga kissa," or manga cafes are places where one can buy a beverage and peruse the extensive manga library available at the café and read to their heart's content.
Osamu Tezuka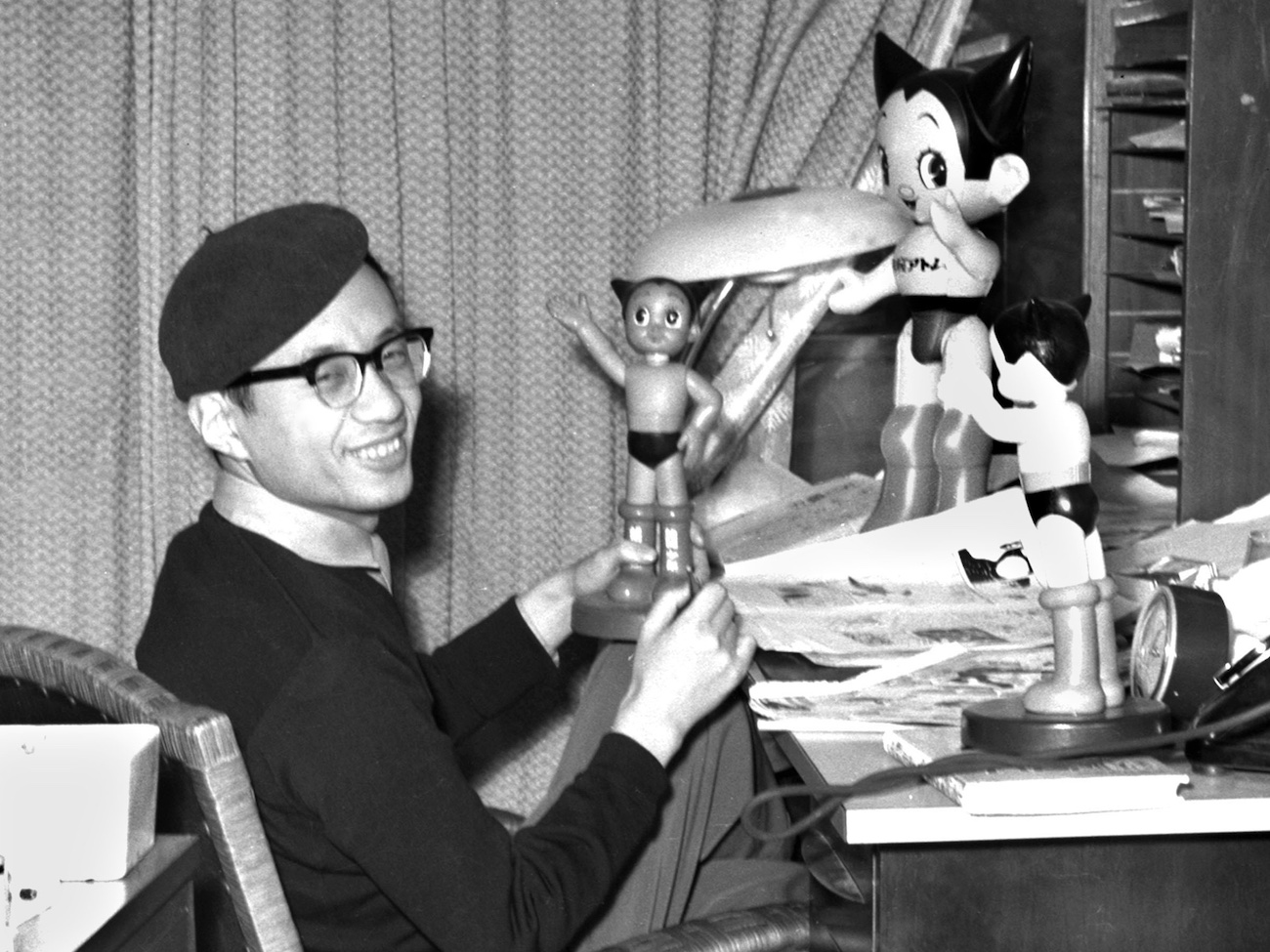 Known as the godfather of manga, Osamu Tezuka is known for "AstroBoy," "Kimba the White Lion" and others. He is also a descendant of the famous ninja Hattori Hanzo. Tezuka was originally from the Osaka area, and moved to Tokyo as his popularity grew. After the success of his first work, "The New Treasure Island" he opened his own production company, Mushi Productions in Tokyo.
Mushi was rivaled at the time by Toei Animation. Many of Tezuka's stories were adapted from Western literature, but given a unique Japanese twist. The characteristic large eyes in manga and anime today were a signature of Tezuka, and he is credited as originator of this style. The Osamu Tezuka Manga Museum is located in Takarazuka in Hyogo, Tezuka's hometown.
Dragon Ball
Dragon Ball is an incredibly popular franchise based on a manga and adapted into many animated incarnations. It was created in 1984 by Akira Toriyama. Dragon Ball originally appeared in a serialized format in Weekly Shōnen Jump and has gone on to become one of the most successful manga and anime series of all time.
In addition to the manga and show, the Dragon Ball franchise includes games, films and countless merchandising in the form of figures, apparel and toys. Dragon Ball has gone on to become a pop culture again all over the world.
Video Games
Japan is infamous for its contributions to the world of video games. Video games took the world by storm and have been associated with "otaku" culture ever since. Nintendo was a Japanese company founded near Kyoto that originally produced playing cards for a traditional Japanese card game.
Once Nintendo made the pivot to home-gaming, the world was changed forever. Sony is a well-known Japanese electronics brand that has also entered the video game market with their PlayStation gaming consoles. Both companies are now synonymous with the video game industry.
Idols
Idol culture has been covered in great depth in documentaries and television series'. The term "idol" in Japan includes singers, actors, models, dancers and many others. Idols are typically younger in age and seen as attractive. Johnny & Associates is a famous talent agency that specializes in creating idol groups; however the female groups tend to achieve the most notoriety.
Idols usually start their career at a very young age, in their pre-teens, and when they reach adulthood, they "graduate" out of the group. The idol phenomenon attracts armies of fans. Office workers come to see shows performed by their favorite idols and feel a connection to them. Some fans border on obsessive in their collection of memorabilia from their favorite idols.
AKB48
AKB48 is the most famous idol group in Japan. Assembled in the otaku mecca of Akihabara, this group includes 48 girls who sing, act and dance. The group has been around for decades, and when the girls reach the maximum age, they "graduate" and new recruits are voted in to carry on the AKB legacy. AKB48 have a performance venue and café in Akihabara. The merchandizing for AKB48 is very lucrative, with fans collecting everything from photos to ticket stubs and more.
Tsumoto Miyazaki
Tsumoto Miyazaki is the inspiration for the negative connotation of the term "otaku" in modern society. Also known as the "vampire killer" or "otaku murderer," Miyazaki was convicted of murdering numerous young girls in Tokyo during the early 90's. A police search of his apartment exposed numerous VHS tapes containing anime as well as manga comics. The photograph of his apartment was widely published and described as a typical "otaku" apartment.
Hikikomori
"Hikikomori" is a Japanese word used to describe members of society who do not go outside and are "shut-ins." These individuals may venture outside for food or necessities, but they tend to prefer staying in their rooms. The term was coined by psychologist Tamaki Saito, and it is estimated that there are somewhere between 500,000 to 1 million "hikikomori" today. In today's internet age it is much easier to seclude oneself and it's an ongoing issue and discussion topic of policymakers.
More details here:
Doujinshi
The term "doujinshi" indicates a self-published work. It could be a magazine, manga, novel, etc. Many times these works extract characters or themes from popular works. "Doujinshi" is very similar to fan-fiction. There have been some copyright issues in the past, but for the most part, "doujinshi" is permitted as it is seen as honoring the root story that it borrows from. These items can be found and sometimes sold at conventions, the most well-known being Comiket.
Akihabara
Akihabara, also known as an "Otaku Mecca," is the Tokyo neighborhood where one can purchase any game or electrical gadget that they have their heart set on. Known affectionately as "Electric Town," this side of Akihabara is brimming with arcade centers and maid cafes. The idol group AKB48 takes their name from the abbreviation of Akihabara, an homage to the place where the group was born.
Read also:
Maid Café
Though maid cafes are prevalent in the Akihabara neighborhood, they can be found all over Japan. The main attraction of these cafes is that the staff are dressed in French maid outfits and, from the moment you enter this establishment, you are treated like a king (or queen). Staff is attentive, and often times your meal set will include a memorable keepsake and a show or performance.
Dancing, karaoke and more can all by yours for the cost of a meal. Some maid cafes have different themes like ninja or police. The companion to maid cafes is butler cafes. Butler cafes are mostly prevalent near Otome Road in the Ikebukuro neighborhood. In butler cafes, men are dressed as servants and cater to the customer.
Read also:
UFO Catcher
One of the most popular features of Japanese arcades is the infamous UFO catcher. The UFO catcher, better known as the "crane game" to Western audiences, allows one to win prizes if they can successfully pick the prize up by maneuvering a crane into the perfect position before it descends upon the prizes. Prizes include plush items such as Pokémon or Kirby as well as watches and even jumbo-sized items of food such as potato chips or candy.
Gachapon
Another popular feature of gaming arcades are "gachapon." "Gachapon" are the machines where money is inserted and a knob is turned. Down comes a plastic ball containing a prize. Toys and souvenirs can be purchased from these machines. The machines themselves are located everywhere, even in the most unlikely of places. The typical price is between ¥100 and ¥500.
Harajuku
Harajuku is home to all things "kawaii" or cute. Think Hello Kitty. It is especially popular with the pre-teen to teenage fan base that flocks to Harajuku to showcase their original fashion. Harajuku fashion might be a hodge-podge of designer items, skate wear and homemade items, but it is completely unique to the Harajuku scene.
Harajuku is also known for its crêpes, which can be a meal or dessert depending on the fillings selected. If one ventures to Harajuku on a Sunday, they may catch a glimpse of the dancing Elvis' just past the Meiji Shrine gate and in front of the entrance to Yoyogi Park.
Cosplay
Cosplay stands for costume play and is a large part of "otaku" culture, especially in the West. People love to dress up as their favorite characters from their favorite franchises, games, television series, films, etc. Cosplayers dress up for events or parties, but can sometimes be found out on the town. There are many social cliques and tribes in Japan, and some that hang out in Harajuku include Lolita who dress in Victorian-esque wear.
Nakano Broadway
Nakano Broadway is a less popular destination for "otaku" than Akihabara, but it contains many "otaku" shops. Nakano Broadway encompasses the old Sun Plaza mall and is eerie to walk through as it feels almost abandoned. Lo and behold there are many shops inside catering to niche "otaku" fan bases. Nakano Broadway is a popular place to purchase coveted figurines of your favorite anime characters.
Comiket
Comiket, also known as Comic Market, is a predominantly DIY event that focuses on the sale of "doujinshi" and other fan-made works. It is held twice a year at Tokyo Big Sight and caters to more than 500,000 visitors that come from all over the world. The event is nonprofit and is entirely volunteer-run. Many fans come dressed in cosplay and many well-known companies that produce video games or manga have booths at the event. Fans can meet some of their favorite characters for pictures.
Cool Japan
"Cool Japan" is a marketing term that is used by the Japanese government to promote the cultural treasures of Japan to the outside world. A strong focus is placed on such exports as video games, anime series and film, as well as manga. The Ministry of Economy, Trade and Industry of Japan has stated that a large feature of the "Cool Japan" project includes the exportation of Japanese pop culture. One-time Prime Minister and Japanese politician, Taro Aso, a self-professed "otaku," states that the "Cool Japan" project and export of Japanese pop culture is important in building relationships with other countries.
Now with a little more knowledge about the world of "otaku" it's time to explore what it means first-hand. Take a trip to an arcade. Re-watch your favorite anime or sit back and enjoy a manga. And don't forget to pick out the perfect cosplay outfit, as you never know when it may be needed.
Be sure to follow us on Facebook, Instagram, Twitter, and Pinterest for more fun stuff!
Trevor Jones is an American writer currently living and working in Tokyo, Japan. He enjoys writing about his experiences traveling and exploring new destinations. He is also passionate about music and film.