Top 10 Natural Wonders of Japan – With all the robots, vending machines and neon signs, you could be forgiven for forgetting that Japan is actually a treasure chest of amazing natural wonders. From poets to musicians, the verdant forests and extraordinary mountainous landscapes have been a continual source of inspiration for all types of creatives. 
In total, Japan is made up of an unbelievable 6852 islands, although we usually only consider the main four islands as mainland Japan. Japan sits on or near the boundary of four tectonic plates: the Pacific, North American, Eurasian and Filipino plates and therefore has experienced dramatic volcanic activity throughout its history.
Furthermore, the far north and the far south have very different climates. All of this combined, means that there are opportunities in abundance to view unique and highly diverse natural habitats. Here is a list (and it's by no means an exhaustive list) of ten 'must see' natural wonders in Japan. So, put on your walking boots and get ready to head to the great outdoors.
Mount Fuji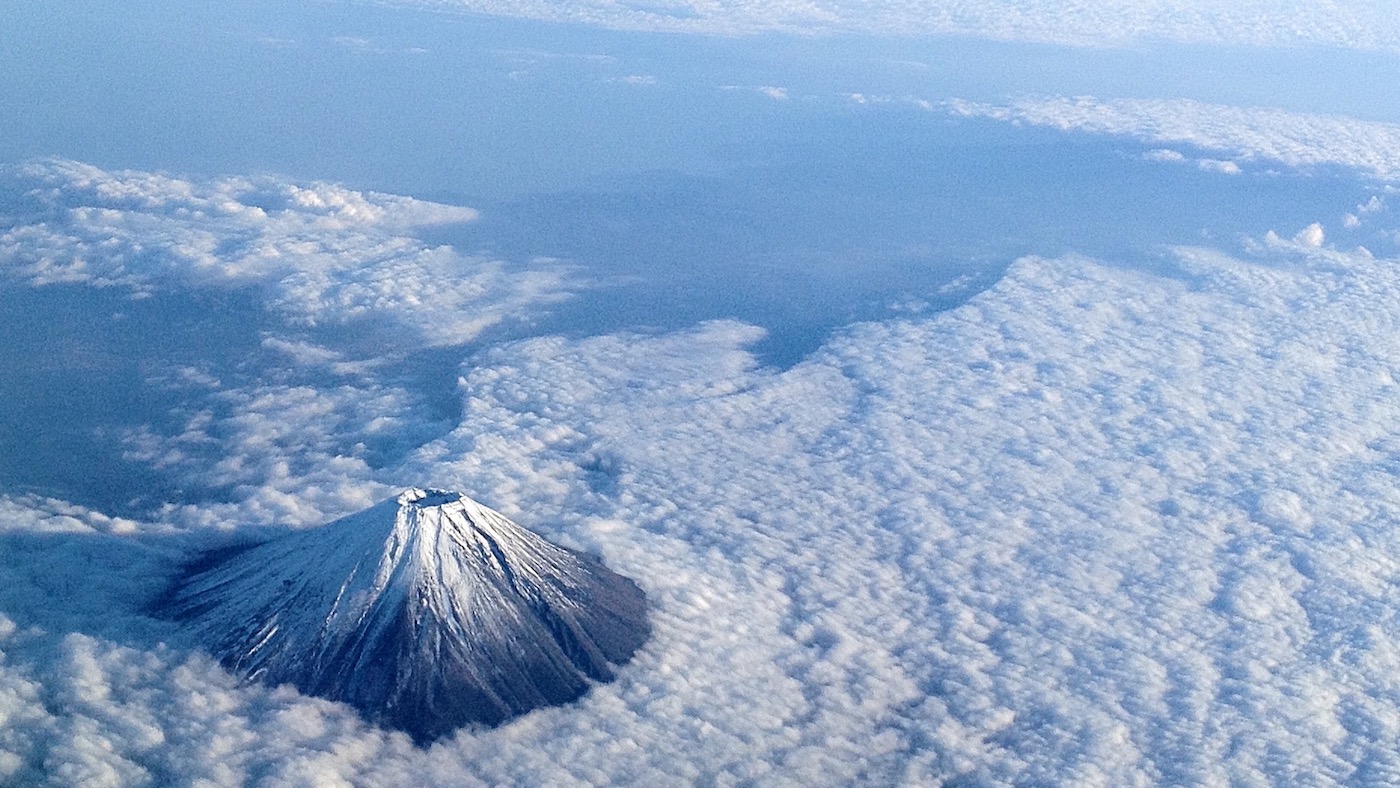 The icon of Japan. The jewel in the crown. Mount Fuji was of course going to top this list. Your first glimpse of Fuji-san will always be a special moment. I remember it literally took my breath away as I whooped in excitement upon my first sighting. Standing alone, dominating the skyline with its graceful conical form, Mount Fuji is spectacular.
Mount Fuji is an active volcano although it hasn't erupted since 1707. It is the highest peak in Japan standing at 12,388 feet. You can hike to the summit, if that's what you're into. Despite its size, it is often shrouded in mist or fog making sightings even more special for short term visitors.
Different times of year offer different viewing opportunities of Fuji-san. 'Red Fuji' is a popular spectacle in the summer when the snow melts at the peak, creating a reddish glow in the morning or evening sunlight. 'Diamond Fuji' can be seen when the sun appears to sit perfectly at the summit of the mountain. Alternatively, 'Pearl Fuji' is when the moon appears to sit at the summit, often casting a beautiful line of moonlight along neighbouring lakes. Whatever angle you choose to view Fuji-san from, you will be mesmerized.
Read also:
Climbing Mt Fuji – The Complete Guide to Reach the Top of Japan (infographic)
Toyama Bay Squid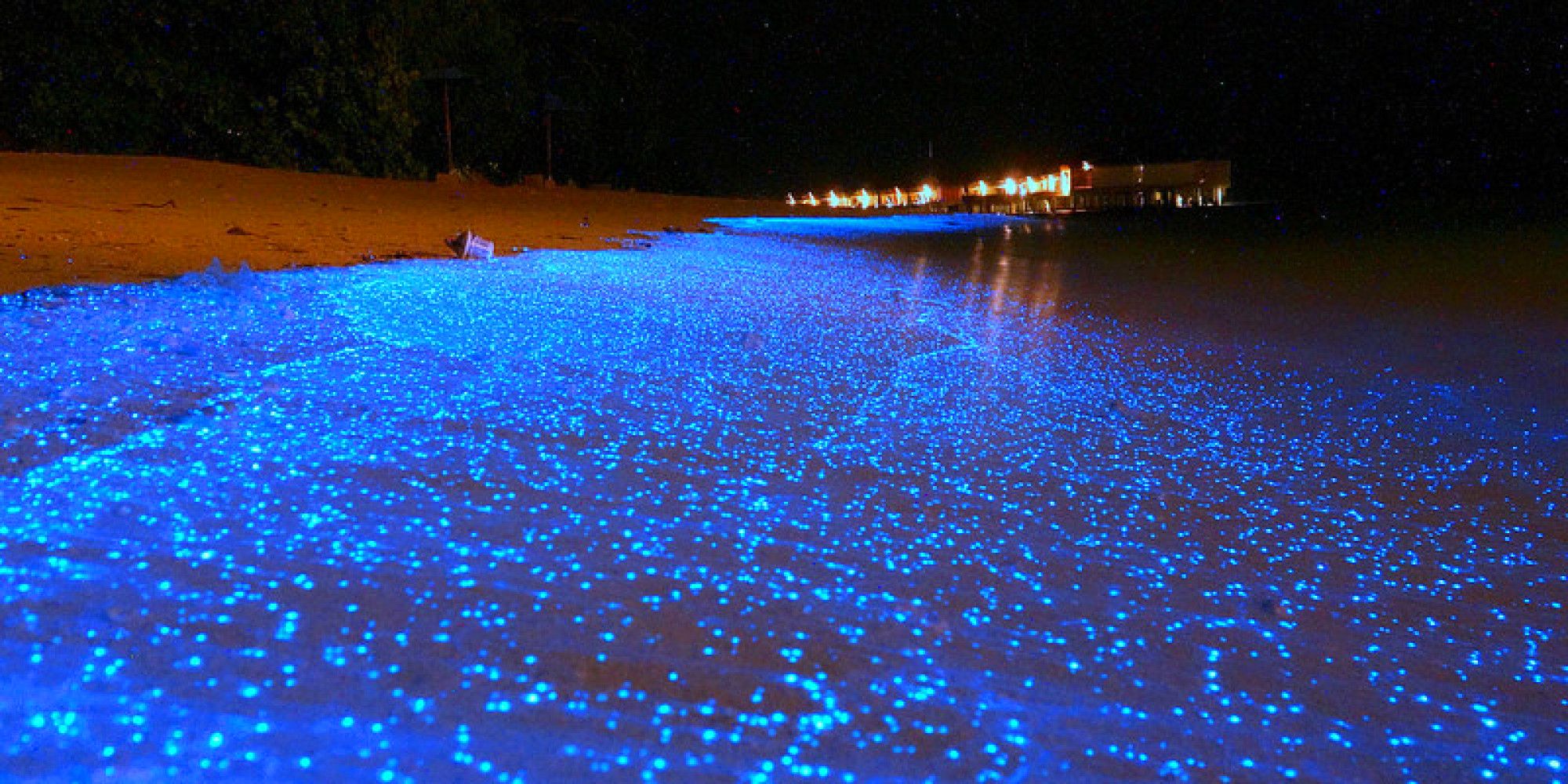 Toyama Bay is in the 'Most Beautiful Bays in the World Club' (a Unesco endorsed list). It is here that you can see the famous firefly squids. Firefly squids have enchanting bioluminescent qualities. The firefly squid emit a pattern of glowing blue spots which scientists propose is for communication, camouflage, or attracting prey. Whilst the squid often spend their lives around 1000 feet deep, during the spring, they assemble on the shores of Toyama Bay for spawning season. During this time, visitors can see the squid and witness a spectacular natural phenomena, the firefly squid light show. 
Spawning season is between March and May. After the squid have laid their eggs, they die, thus completing their one-year life cycle. The squid are then harvested and served as a local delicacy and the cycle starts afresh for the following year.
Yakushima Island
Moving south, there is the subtropical island of Yakushima. Yakushima island is filled with green, mystic forests that appear to be straight out of a fantasy novel. It is a place unlike anywhere else in Japan. The island has a highly unique ecosystem and the huge Yaku cedars and moss make for an enchanting almost spiritual landscape. The forests were even the inspiration for Studio Ghibli's Princess Mononoke.
Yakushima was listed as a UNESCO Natural World Heritage site in 1993. Its landscape is extreme; craggy mountains contrasting with exceedingly wet lowlands. It is even considered to be one of the wettest places on Earth! Located right on the southern tip of Kyushu Island, Yakushima is a stunning place of natural beauty in Japan, just make sure you pack your wellies.
Nachi Waterfall
Voir cette publication sur Instagram
With a 133 foot drop, Nachi waterfall is Japan's largest vertical waterfall. Watching the waterfall is a calm and restorative experience as the water cascades down the cliff in one continuous stream against a lush green forest backdrop. There are various shrines, pagodas, and temples in the vicinity of the Nachi Waterfall adding a spiritual element to the viewing experience. Drink the water from the Hiro-jinja's dragon mouth font whilst you are there as it is believed to enhance longevity.
Naruto Whirlpools
The Naruto whirlpools are an exciting natural tidal phenomena that occurs in the Naruto strait separating Honshu and Shikoku. Twice a day, with diameters of up to 20 meters, the water begins to rotate rapidly creating powerful whirlpools. Depending on the tides, the whirlpools can vary in size and intensity but can reach speeds of up to 20km an hour.
Visitors can witness the experience from dedicated sightseeing tours that run locally. Alternatively, you can walk across the promenade which runs across the Naruto Strait and makes an ideal viewing point.
Jigokudani (Hell Valley)
Hell Valley is a desolate stretch of land in Hokkaido. It is a large smoking crater where sulfurous steam vents erupt from the ground giving the impression that you are walking through the very depths of hell itself. Legend has it that Jigokudani is home to the oni (denom) Yukujin. The distinct sulphurous smell also adds to the general 'hellish vibes'.
The area is home to plenty of volcanic activity and the hot springs from here supply the local town of Noboribetsu Onsen. Interestingly, Noboribetsu Onsen was designated as a health retreat for soldiers in 1904 after the Russo-Japanese War. So after you have visited hell, you can return to something more relaxing and go and get a bath in a nearby onsen. Perfect!
Takachiho Gorge
This beautiful columnar gorge runs through the centre of the town of Takachiho. It is filled with aquamarine water and stunning scenery such as waterfalls and overhanging rocks. The gorge is said to be the location where Japan's sun goddess brought light back into the world many years ago.
The shape of the gorge was formed by the lava flow in a double volcanic eruption of nearby Mount Aso 120,000 years ago. Mount Aso has the largest active crater in Japan and most recently erupted in 2016. There is a 1km nature trail to explore around the gorge or you can take a boat trip through the magical waters which is always a highly popular choice.
Shiraito Falls
Shiraito Falls are a remarkable set of waterfalls all stemming from Mount Fuji's spring waters. The waters flow over a 20 metre cliff and are wonderfully wide. The streams of water resemble numerous hanging threads of silk hence the name Shiraito which means white thread. The falls stretch lengthwise across 200 metres and are considered to be a national treasure for their scenic beauty. Located in Shizuoka, the falls were once regarded as sacred under the 'Fuji cult' (a type of shinto shrine that worships Fujisan).
Kabira Bay, Okinawa
Kabira Bay in Okinawa, is a tropical paradise of white sands and turquoise waters. For the unacquainted, the Okinawa Prefecture consists of more than 150 distinct islands, all of which lie 400 miles from mainland Japan. It officially became a part of Japan in the 1800's.
Kabira Bay is on the island of Ishigaki and is known for its black pearl cultivation. It's an iconic spot but due to the pearl cultivation, swimming is strictly prohibited. However, beneath the waters are beautiful corals and tropical fish which can be viewed by glass bottomed boats or you can take a kayak tour. There are also 9 uninhabited surrounding islands in the area which are again available to visit by tour.
Tottori Sand Dunes
Finally, a slightly unexpected sight for Japan, the Tottori Sand Dunes. These popular tourist attractions are a part of Sanin Kaigan National Park. The dunes are 50 km high and 2 km wide. They were created thousands of years ago and the consistent tidal winds means the dunes are an ever changing landscape. Activities on the dune include camel riding or for the more adventurous, sandboarding. Even though it feels like the Sahara, just remember, you are still in Japan.
Conclusion – Natural Wonders Japan
It's essential to escape the city and explore the great outdoors in Japan. The abundant precipitation and mild temperatures have created some incredibly lush landscapes and surprising natural phenomena. It really is a country of diverse and stunning beauty.
Be sure to follow us on Facebook, Instagram, Twitter, and Pinterest for more fun stuff!
Originally from England, Lizzy has finally made her dreams of moving to Japan a reality. For as long as she can remember, Lizzy has been dazzled by the bright lights of Tokyo and enchanted by the historic streets of Kyoto. She loves dining out, hates people who talk too much in meetings and enjoys a good ten hour sleeping marathon at the weekend.