Mount Fuji is one of the most recognizable symbols of Japan. The perfectly shaped volcanic cone is actually Japan's highest mountain, peaking at 3,776 meters. Standing above all other mountains in the area, Mount Fuji's peak calls out to adventurous hikers to climb all the way up and observe the natural beauty of Japan. During the climbing season from early July to mid September, people from all over the world challenge Mount Fuji to earn the right to witness its majestic views and brag about it to their friends and family.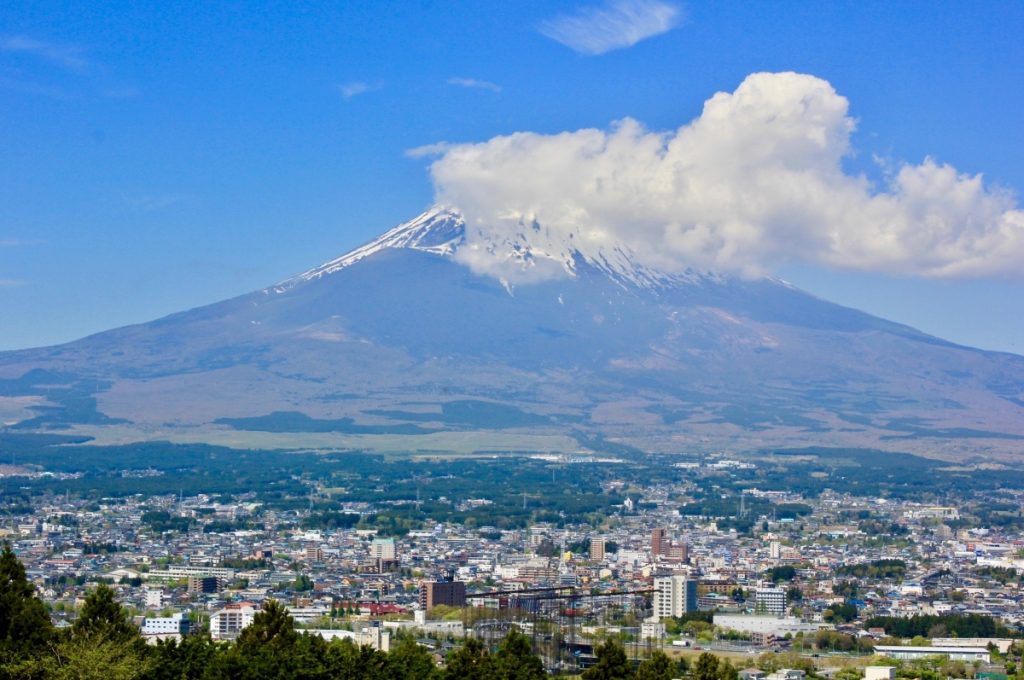 In 2013, Mount Fuji finally earned a spot on the World Heritage List as a Cultural Site. Mount Fuji is so well-known internationally that about a third of all hikers on the mountain during the peak climbing season are from abroad. Usually I would complain about massive crowds gathering around a popular tourist site. However, when it comes to climbing Mt Fuji, I found some enjoyment in witnessing the diversity of visitors along the hiking path. Completing the challenge of Mount Fuji alongside jovial climbers enriches the experience. It's also a great way to make new friends while traveling.
Climbing Mt Fuji – Before the Climb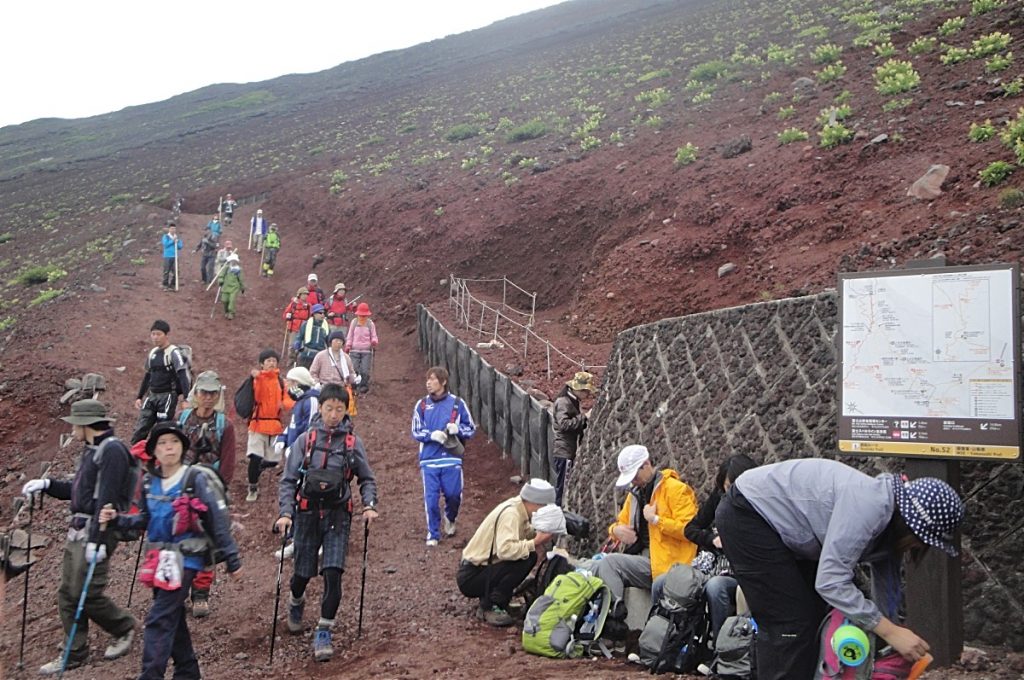 Among the many climbers, some are young, and some are old. That doesn't mean that the journey will be easy. That being said, there are no technical climbing skills required. Though Mount Fuji's gradual slopes do welcome inexperienced climbers, some preparation is definitely needed for climbing Mt Fuji safely. To avoid being brutally punished by mother nature, you better be well-prepared for any situation. Here is some basic equipment needed for climbing Mt Fuji.
Shoes
First of all, you should have some decent quality hiking boots and socks. Your regular gym shoes are just not going keep pace with a great set of boots meant for mountain terrain. The rocky, uneven path up the mountain can be especially rough on your ankles, so make sure you get some shoes to keep them stable while you climb. Rolling an ankle may mean a roll down the mountainside if you are not careful.
Clothes
At the base of Mount Fuji, the temperature is as hot as you would expect from a Japanese summer, so you'll want to start off in much cooler clothing. However, once you start gaining altitude the temperature drops. Even in the summer when the peak is clear of snow, it can still be below zero at the top. It is also important to prepare for fluctuating weather conditions as rain and strong wind may occur unpredictably. Pack warm, water-resistant clothing for later during your hike.
Flashlight
Depending on your starting point and the trail you choose, climbing the top of Mount Fuji can take 4 – 10 hours. It is likely that some time will be spent at nighttime or in low light conditions, so you should bring a flashlight of some kind. A helmet equipped with a light is a great choice as it protects your head while also keeping your hands free as you climb in the dark.
Food
As mentioned before, climbing Mt Fuji takes several hours, and takes a great amount of physical energy. You should prepare plenty of food and water to keep you going and to help stave off altitude sickness during the ascent. Some stations have food and drinks, but it is a good idea to have something to munch on in between these checkpoints. Nuts, energy bars, and dried fruit are always good options.
When to Climb
Most climbers prefer to start their climb with enough time to reach the top for the Mount Fuji sunrise. Being one of the first people in the world to witness the morning sun peeking above the horizon takes some planning. The safest way for inexperienced climbers is to start climbing in the late afternoon and camp for a few hours at a lodge around the 7th or 8th station. The sunrise begins around 4:30am – 5:00am, so hikers must wake up around 2:00am to begin the ascent again. 
Experienced climbers may want to challenge themselves more by hiking through the night from Mount Fuji's 5th station to catch the sunrise. It is discouraged by authorities, but it saves time and lodging fees. There is also an underrated beauty to climbing Mt Fuji at night. The trail of lights moving slowly up the mountain from distant hiking routs look like tiny spirits marching back home to rest at the peak of Mount Fuji.
The glowing cities below look like flickering embers in a dying fire as clouds gently obscure them. Then there are the incredible stars shining in the clear sky above. The sunrise is astonishingly beautiful, but a clear view is not guaranteed. Small moments during the night climb or in the early morning on the trip back down are what really make climbing Mt Fuji worth the effort, in my opinion.
Where to Climb
There are many trails that lead to the top of Mount Fuji. All will get you to the top, but they vary in difficulty and scenery. Though is possible to climb from the base, I recommend starting from around the 5th station at an altitude of about 2,300 meters. 
Gotemba 5th Station
The Gotemba 5th Station leads to the Gotemba Trail. It takes 7 – 10 hours from this point to climb to the top of Mount Fuji. It is one of the longer and more challenging trails of Mount Fuji, but it has its merits. For one, it is less congested than more popular trails during the summer climbing season. The simple, underdeveloped trails make the journey feel much more adventurous. It also is somewhat famous for what has been called the "great sand run," a long stretch of gravel trail that climbers can almost glide down in great bounds. 
Gotemba 5th station can be accessed from Tokyo by taking the JR Tokaido Line to Tozu and then transferring to the Gotemba Line. The whole journey should take about 125 minutes and cost 1,940 yen. 
Alternatively, Mount Fuji limited express trains are available from Shinjuku to Gotemba Station. This route takes only 100 minutes, but costs 2,800 yen.
Fuji Subaru Line 5th Station
The Fuji Subaru Line 5th Station connects to the Yoshida Trail. It is easily the most popular starting point for climbers. It is well developed and includes a number of restaurants, lockers, and other facilities needed for visitors to prepare for the long journey ahead. The Yoshida trail is easier on novice climbers as it only takes 5 -7 hours to reach the top from here. It also has plenty of huts and places to stop and rest while taking in the view. 
Highway buses that take you directly to the Fuji Subaru Line 5th Station are conveniently available from Shinjuku station during the summer climbing season. A one-way trip only takes around 150 minutes. Seats on the bus cost 2,700 yen. Since it is a very popular way to travel to Mount Fuji for hikers, you should plan your trip in advance and get tickets early.
Fujinomiya 5th Station
The Fujinomiya Trail is the shortest way to the top of Mount Fuji. From the 5th station, the journey only takes 4 – 7 hours, and the descent is just 2 – 6 hours. The trail does not offer a view of the sunrise during the ascent, so timing is important if reaching the top for the Mount Fuji sunrise is your main purpose. However, the Fujinomiya Trail is unique because it also provides a short detour to Hoezan. This secondary peak on the southeastern side of Mount Fuji was created by an eruption between 1707 and 1708. The crater is a beautiful reminder that you are actually climbing on an active volcano.
To access Fujinomiya 5th station from Tokyo, take the Tokaido Shinkansen to Shin-Fuji Station. From there, buses to Fujinomiya 5th Station are available. The ride takes 2.5 hours, and one-way tickets to the station are 2,380 yen. Round-trip tickets are also available for 3,100 yen.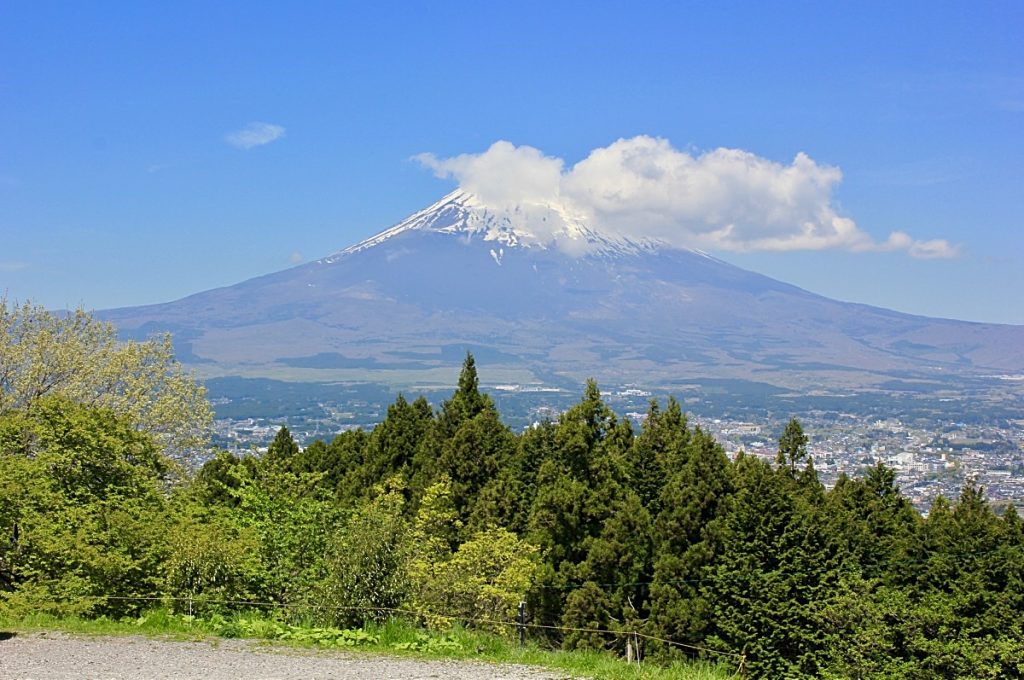 Climbing Mt Fuji is challenging, but extremely rewarding. It is an unforgettable experience that provides climbers with plenty of photos and memories worth sharing. If you prepare, the climb to the top of Japan's highest mountain is very pleasant, so there is no need to worry. All who are able should try this once-in-a-lifetime challenge.
Ready to explore more mountains in Japan? Visit Sakurajima and see why active volcano is worth your visit!
Have you climbed Mount Fuji already?  Share your experience on our Facebook Group.
And don't forget to check our newest updates and follow us on Instagram, Facebook, and Pinterest.
See you next time for more about Japan!
Andrew Smith is an American writer living in Tokyo. In his free time, he enjoys, photography, live music, and exploring Japan. His goal is to visit and write about every prefecture in Japan someday.