From weaving your way through bustling crowds to lugging around stuffed shopping bags, shopping is an indispensable part to any visit to a different country. Whether you're an eager shopaholic or just someone along for the ride, the flashy sale items and quirky things that you won't find back at home are sure to catch your attention.
The vibrant streets of Osaka are no different. Although this sensational city is pegged as the food capital of Japan, there are countless shopping districts from Umeda to Namba that perfectly show off charming Japanese culture perfectly blended with wacky trends. Everything from quaint local shops to mega malls and department stores, be sure to strap on some comfy shoes and get exploring!
Shinsaibashi-suji
Easily one of the most famous shopping areas in Osaka, the store spotted street of Shinsaibashi-suji rolls out about 600 meters and welcomes over a 100,000 people on weekends. Although not short of well-known fashion retailers and high end branded goods, you can still find traditional kimono shops, tea traders and tiny local restaurants tucked away under the covered shopping arcade.
Nakao Shoten
If you have an appreciation for antique Japanese souvenirs, drop by Nakao Shoten. With shelves stocked with old second-hand books along with old maps and woodblock prints, this lovely bookstore really stands out from the other LED-light clad shops. You can also get your hands on replica Ukiyo-e paintings to display back at home for a pretty good price.
Address: 1-2-14, Shinsaibashi-suji, Chuo-ku, Osaka, 542-0085, Japan
Hours: 10:00 – 19:30
Sanrio Gallery
When in Japan, it would be a crime not to bring home some adorable Sanrio merchandise. Lucky for you, the three-storey official Sanrio Gallery is located right along the street of Shinsaibashi-suji. Colourfully decorated with sparkles and world-famous characters like Hello Kitty, the store offers a variety of limited edition items that can only be found at the Shinsaibashi store.
Voir cette publication sur Instagram
Address: 1-5-21 Shinsaibashi, Chuo-ku, Osaka-shi, Osaka
Hours: 11:00 – 23:00
Amerikamura
Well known as the hot spot for Oskas's coolest kids by locals and a funky fashion town by visitors, Amerikamura is the place to be if you're looking for the latest fashion pieces that are sure to make a statement, vintage records or just a buzzing bar to hang out and enjoy some live music.
Developed back in the late 1960s, Amerikamura is known for its wide selection of Western merchandise and unique shops, not to mention the handful of popular pieces of street art. With the tons of things to see, here are 2 that you can't miss.
Big Step
As one of Amerikamura's most recognisable landmarks, here, you can find unique vintage stores where you can grab some affordable second-hand items, art galleries, record shops and even a pinball arcade too. Even the bathrooms are one-of-a-kind, with colourful lights and wildly decorated walls.
Address: 1 Chome-6-14 Nishishinsaibashi, Chuo-ku, Osaka, 542-0086
Hours: 11:00 – 23:00
SPINNS
Like a scene straight off the streets of Harajuku, SPINNS is the place to be if you're looking to dress like the latest trends. With tons of vintage clothing as well as brand new, slightly fancier pieces, there's something for everyone. You'll be surprised by the amount of affordable, high-quality clothes you can find on their racks!
Address: Japan, 〒542-0086 Osaka, Chuo Ward, Nishishinsaibashi, 2 Chome−11−30
Hours: 13:00- 19:30
Dotonbori
The moment you see the giant illuminated signboards and bizarre mechanical sea creatures moving above stores, you'll know you've reached the centre of Japan's food scene, Dotonbori. Before you start filling up your shopping bags, jumping from store to store, fill up your tummy with the irresistible street food along Dotonbori. Aside from the mouth-watering delicacies, Dotonbori is home to tons of shopping attractions, from copious amounts of tourist-enticing souvenir shops to supermarkets and fashion retailers!
Don Quijote
Packed with everything from cosmetics and electronics to food and pharmaceuticals spread across its 6 floors, you can't miss out on one of Japan's largest discount stores, Dotonbori Don Quijote. With over 20,000 visitors every day, this towering building is a destination in itself! Not to mention, it houses an iconic bright yellow Ferris wheel that runs on the outside of the building, guaranteeing stunning views of the Dotonbori streets and canals.
Address: 〒 544-0084 Don Quijote Dotonbori Store7-13 Soemon-cho, Chuo-ku, Osaka
Hours: 09:00 – 02:00
Nakaza Kuidaore Building
Be welcomed by the iconic Kuidaore Taro along with his drums and recognisable red and white suit, right at the entrance of the Nakaza Kuidaore Building. Head up the 7 floors to discover a variety of souvenir shops lined with popular Osakan goods. Offering everything from snacks and candy made in Osaka to official Kuidaore Taro items, you'll be spoiled for choice!
Address: Nakaza Cuidaore Building, 1 Chome-7-21 Dotonbori, Chuo Ward, Osaka, 542-0071, Japan
Hours: 10:00 – 22:00
Den Den Town
If you're a geek for anime, games or just anything pop culture, you must pay Den-Den Town a visit. Often said to be Tokyo's Akihabara's twin, here you can explore just as many electronics and anime merchandise with a little more breathing room. As you stroll down the street, expect to bump into eccentric cosplayers and arcades that seem to be calling your name!
Volks Hobby Square
A popular place for anyone with an interest in card games, figurines and especially plastic models, Volks Hobby Square's seven floors will leave anyone in awe. With something for every type of model collector, from plane and cars to robots and tanks, grab yourself a kit and try your hand at it if you're not already a well-versed model-maker!
Address: 4 Chome-9-18 Nipponbashi, Naniwa Ward, Osaka, 556-0005, Japan
Hours: 11:00 – 20:00
Jungle Osaka Nipponbashi
If you're itching to bring home your favourite anime characters or to simply be wonderstruck by the racks full of manga, head down to Jungle Osaka Nipponbashi. Selling mostly figurines but also plenty of other game and anime-related items, time will fly by as you admire the intricate details of each one!
Address: 3 Chome-4-16 Nipponbashi, Naniwa-ku, Osaka, 556-0005
Hours: 12:00 – 20:00
Tenjinbashi-suji
Said to be the longest shopping street in Japan and home to some of Osaka's most famous shrines, you can be sure there's no shortage of things to see here. Stretching over a whopping 2.6 kilometres, expect to find hundreds of small shops selling anything from clothes and souvenirs to fresh produce and medicine. Even if you're not looking to do any shopping, just a stroll down the street, exchanging smiles with the friendly shopkeepers is definitely worth the visit!
Narita-ya Kimono Shop
Ever wanted to dress like a local? Stock up your wardrobe with some traditional Japanese clothes from the Narita-ya Kimono Shop. With a wide selection of pieces from kimonos to tabi socks, all at reasonable prices, you're sure to find something you like!
Address: 5-7-19 Tenjinbashi, Kita-ku, Osaka-shi , Osaka 530-0041
Hours: 10:00 – 19:00
Simple House Lettuce
If you've always dreamed of living in one of those chic, minimalist Japanese houses, get excited. The Simple House Lettuce is an interior design company based in Osaka with dozens of elegant furniture and home goods on sale. Get your hands on some vintage, Scandi-inspired pieces to spice up your home, or just take a moment to admire the sheer simplicity of this stylish flagship store!
Address: 27 8, 4-chōme, Tenjinbashi, Kita-ku Osaka, Osaka, 530-0041, Japan
Hours: 11:00 – 19:00
Doguya-suji
Where these highly trained professionals obtain their tools? Doguyasuji is a shopping arcade that boasts a large array of cookware, kitchen utensils and appliances which makes it any chefs favourite shopping paradise. Bring home some quality cooking accessories and unleash your inner master chef!
Yamashita Knife shop
If something shiny caught your attention, it was probably the hundreds of Sakai Takayuki knives on display at the Yamashita Knife shop. Achieve the skill of finely sliced apples that you've always admired, along with a wet stone to keep your new friend sharp. You can even get free lessons from the friendly staff on how to use your brand new knife!
Address: 14-2 Namba Sennichimae Sennichimae Doguyasuji Shotengai, Chuo, Osaka 542-0075
Hours: 10:00 – 17:30
Nakao Factory Works & Coffee Stand
Pick up some shiny new cooking utensils that were all made in Japan from Nakao Factory Works & Coffee Stand. The shop displays an impressive amount of pots and pans, but if that doesn't interest you, just pop by for a steamy cup of coffee. This charming kitchenware mixed cafe has a giant coffee pot out front that can't be missed!
Address: 14-5 Nanbasennichimae Chuo-ku Osaka
Hours: 10:00 – 19:00
Expocity
You may need to set aside an entire day if you are looking to explore the entirety of Expocity. With everything from shops and cinemas to fish and Ferris wheels, this family-friendly complex is home to over 300 shops for you to wear your soles off. The large array of fashion brands leaves something for pretty much everyone if you decide to drop by!
ORIHICA
Switch up your wardrobe and add a classy outfit with some high-quality suits from ORIHICA. With a wide range of timeless casual and formal suits along with their seasonal collections for both men and women, you're sure to find something that suits you perfectly!
Address: 〒565-0826 Osaka, Suita, Senribanpakukoen, 2−1 3階30670
Hours: 10:00 – 21:00
Muji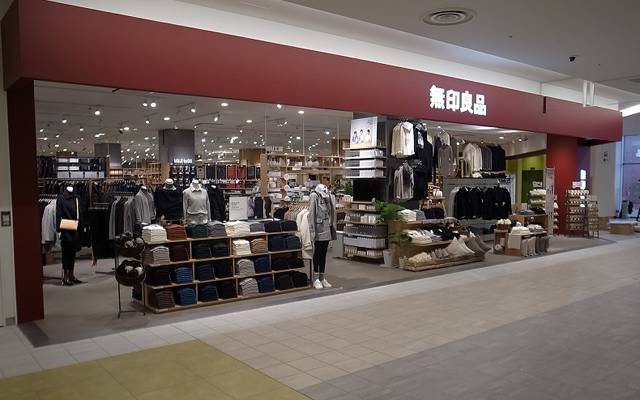 If you've never been in the clean, minimalistic stores of Muji, you're in luck. This 40-year-old household name offers over 7,000 products, ranging from stationery, apparel, furniture and even snacks. Originating from Japan and slowly garnering fans across the globe, this eco-friendly store will leave you wanting to adopt the minimalistic lifestyle.
Address: Mitsui Shopping Park LaLaport EXPOCITY, 2-1 Senribanpakukoen, Suita, Osaka 565-0826
Hours: 10:00-21:00
Rinku Town
Just a stone's throw away from Kansai Airport, Rinku Town is a retail paradise stretched over 320ha. With tons of popular attractions, shops and restaurants, this oceanside town is a great place to spend the day or stroll about before a long flight. After a long day of filling up your shopping cart, you can chill by the sea or hop on the massive Ferris wheel!
Rinku Premium Outlets
Don't get too excited by the jaw-dropping, low prices of some of the high tiered brand's goods. The Rinku Premium Outlets is home to over 200 hundred international and local brands. With all the shops you could imagine, from sports apparel and Western brands like Nike or Calvin Klein to luxurious goodies like Prada and Coach!
Address: 3-28 Rinkuoraiminami, Izumisano, Osaka 598-8508, Japan
Hours: 10:00 – 20:00
Aeon Mall Rinku Sennan
Unlike your typical shopping mall, the Aeon Mall Rinku Sennan is an attraction in itself with a movie theatre, arcade and children play area. Not to mention it's 85 specialty stores, a huge supermarket and countless restaurants. After exploring every corner of this enormous complex, head to the second-floor food court to enjoy a gorgeous view of the sunset over the ocean!
Address: 3-12 Rinkuminamihama, Sennan, Osaka 590-0535, Japan
Hours: 10:00 – 21:00
Tempozan Marketplace
Nestled between the Tempozan Ferris Wheel and Osaka Aquarium, the Tempozan Marketplace is a sizeable complex containing numerous Japanese food vendors as well as a myriad of eye-catching souvenir shops. Not to mention its indoor petting zoo and Legoland Playground, guaranteeing fun for the whole family all day round!
Candy Kiss
If you have a sweet tooth, you're in luck. Candy Kiss is stocked full of Osaka confectionaries that can be hard to find elsewhere. You'll be spoiled for choice by the number of snacks and sweets this store carries. Some popular snacks that can only be found at Candy Kiss which you have to try are the "Osaka Banana" and "Takoyaki Sokkuri Cookie".
Address: 1-1-10 Kaigandori, Minato-Ku, Osaka 552-0022 Osaka Prefecture
Oranda Kan
Stop by Oranda Kan and bring a taste of Osaka's comfort food with you wherever you head to next. Besides the rows of famous Japanese foods you can bring home like Takoyaki and Miso, this popular store also has many iconic anime goodies as well, from books to figurines!
Address: 天保山マーケットプレース, 1 Chome-1-10 Kaigandori, Minato Ward, Osaka, 552-0022, Japan
Osaka Station City
As one of the biggest shopping and entertainment complex in West Japan, the Osaka Station City truly lives up to expectations. With multiple department stores, trendy fashion retailers and specialty shops, it's no surprise that its situated right in the centre of Osaka beside the JR Osaka station. Additionally, this massive complex is home to one of the world's most beautiful clocks!
Daimaru department store
If you've ever strolled through major train stations in Japan, Daimaru department store is sure to ring some bells. This 15 storey shopper's dream is where you can find both men and women fashion as well as a Sanrio store and Pokemon Center!
Address: 3 Chome-1-1 Umeda, Kita Ward, Osaka, 530-0001, Japan
Hours: 10:00 – 20:00
The Lucua & Lucua 1100 Department store
The Lucua and Lucua 1100 Department stores come hand in hand to provide endless fashion choices along with popular sundry goods and Japanese sweets. Sip on some coffee at the bookshop or head to the Isetan Food Hall in the basement and indulge in some fresh food and sweet treats!
Address: 3 Chome-1-3 Umeda, Kita Ward, Osaka, 530-0001, Japan
Hours: 10:00 – 20:00
Conclusion – Best Areas For Shopping In Osaka
Although the first thing that often comes to mind when Osaka is mentioned is the delicious Osakan foods, it's no doubt that this spirited city of Osaka has an endless list of places to shop till you drop. From quirky souvenirs to statement clothing pieces, you may want to pack a little extra cash for those irresistibly cute keychains!
Be sure to follow us on Facebook, Instagram, Twitter, and Pinterest for more fun stuff! See you again next time!
Constantly on the hunt for her next adventure, Natalie is a passionate tourism student from Singapore. With her heart set on travelling the world, she absolutely fell in love with Japan. If she isn't looking for her next haunt, she's usually out taking photos.