10 Unique Museums You Can Visit in Japan – Museums are wonderful places to wonder about and get lost, interpret displays and discover new information, and just drown in the peacefulness of the environment. Each country has their own set of exhibition that brings forth the interesting bits of the country, and you can get a feel of the land just by visiting a few museums.
Japan is known to be particularly unique and uncanny, and those factors are definitely reflected in the types of museums available in the country. Instead of a nostalgic trip down memory lane of historical events or an inspiring journey through artistic arrangement, Japan does it differently — some might even say weirdly. From cup noodles to sewage systems, here's a list of unique museums that you'll definitely want to visit during your time in Japan.
Meguro Parasitological Museum
If you're thinking about bringing a date here, think again. Established in 1953 and located in Tokyo, the Meguro Parasitological Museum introduces you to over 300 specimen of parasites. From leeches to tapeworms — including a 25 foot long tapeworm that will definitely blow your mind, if not your appetite — this two-storey museum covers everything nematodes, trematodes and malaria parasites.
The only kind in the world, this showcase of parasites and creatures of all kinds that dependently live in or on other organisms (including humans, in fact) is a strange exhibition that reels in visitors from their curiosity about it. While most of the information are not in English, the illustrations are detailed enough to provide enough context. After all, a picture is worth a thousand words.
Location: 4 Chome-1-1 Shimomeguro, Meguro City, Tokyo 153-0064
Shin-Yokohama Ramen Museum
Everyone thinks of ramen when the talk of Japanese cuisine, and what better way to celebrate the country's unofficial national dish by presenting all variations of ramen throughout the country in a museum?
This two-storey exhibition is built to look like the Shintamachi townscape which was the old town of Tokyo. Wander the alleyways and explore the nine restaurants presenting vastly different and unique recipes. Catering to a variety of audience including vegetarian-friendly menu options, this ramen museum introduces the various culinary techniques of making ramen from all around Japan.
While it's more like a curated fancy food court specially for ramen rather than a museum, nothing is more museum-like than bringing back a souvenir. Make your own ramen, complete with personalised packaging, as a memento of this incredible visit.
Location: 2 Chome-14-21 Shinyokohama, Kohoku Ward, Yokohama, Kanagawa 222-0033
Tokyo Sewerage Museum
Who doesn't like a free activity? Tokyo Sewerage Museum is free for all to enter and participate. Unlike a standard museum where it's mostly displays with description, this one involves interaction with the exhibits.
Get a glimpse of the hidden, mundane side of Tokyo: the public relations that is the support of sparkling city you see above ground. Presenting the disposal and cleaning of used water, including the history of the development of waste water treatment in Tokyo, this museum lets you experience working in the sewerage pumps, pumping stations and other facilities that can be found in an average system.
Among the various exhibit is the famous sculpture of a man sitting on a toilet while he reads the newspaper. But that's not the highlight of the museum. About 25 meters deep underground, on the B5 floor, is the Fureai Experience Room where you'll be able to stand on a bridge overlooking an actual, working wastewater tunnel. Not your average day-to-day, am I right?
Location: 2 Chome-3-5 Ariake, Koto City, Tokyo 135-0063
Takono Museum (Kite Museum)
While it doesn't sound as interesting as it actually is, the Takono Museum introduces the Japanese children's main source of entertainment in the olden days. Also used during traditional festivals decades ago, kites of all shapes and sizes with a variety of prints including hand-painted dragons, butterflies and faces are presented proudly.
The only one of its kind in the whole wide world, the Kite Museum is located above a popular restaurant called Taimeiken. Not only does this exhibition gives an insight on the significance of this favourite pastime, you'll also be able to purchase rare, handmade kites as souvenirs.
Location: 1 Chome-12-10 Nihonbashi, Chuo City, Tokyo 103-0027
Tobacco and Salt Museum
Why tobacco and salt, you ask? Well, so did every other person that ever step foot, researched or seen the Tobacco and Salt Museum in any form. The answer is simple, but not obvious at all: these two items have shared history for once being goods controlled by the Japan Monopoly Corporation.
Located not far from the famous Tokyo Skytree, for just 100yen you'll be able to explore the history of these products as well as their roles in history and culture. With both permanent and temporary exhibitions, it's definitely worth a visit if you find yourself around the area. Their popular exhibit, The World of Salt, shines light on the difference between Japanese and foreign salt — it may not sound as interesting as it seems, but it sure is an interesting bit!
The tobacco section highlights the history of how tobacco came to Japan, replicas of Edo Period tobacco shops as well as others from the 1900s, and various displays of cigarette packets and cartons, pipes and cigars, and other smoking paraphernalia from not only Japan but all over the world.
If that hasn't piqued your interest, on the third storey there's a display of their own ukiyo-e collection — a genre of Japanese art that has taken the world by storm.
Location: 1 Chome-16-3 Yokokawa, Sumida City, Tokyo 130-0003
Paper museum
You may wonder if there would be anything worth seeing at a museum that dedicates itself to paper, but Tokyo's Paper Museum is anything but dull. Paper has a place in Japan's history, and presenting the different forms of them in a curated exhibition is unique and informative.
This peaceful environment features various aspects of paper like paper toys, karuta playing cards and origami, as well as a collection of approximately 10,000 books relating to paper. There are even workshops that you can participate in — I mean, who doesn't want to make their own one-of-a-kind paper?
Think of the possibilities for souvenir — from eccentrically patterned washi paper postcards to origami kits, you'll be surprised at the excitement gained from what seems like a boring display of white sheets.
Location: 1 Chome-1-3 Oji, Kita City, Tokyo 114-0002
Ghibli Museum
A special dedication to the Studio Ghibli led by the award-winning Japanese animation director Hayao Miyazaki, the Ghibli Museum is all about their amazing works. Consisting of various areas like the main exhibition space, children's play area, rooftop garden and a theatre that screens film excerpts exclusively shown here (and nowhere else in the world), this interactive exhibition features both permanent and temporary exhibits.
Much like a walkthrough experience of the animation world, you'll learn a thing or two about the history of animation, the development process and the lead-up to the final production. Other than the educational aspect to this museum, the Ghibli Museum has beautiful interiors and exteriors that reference to various characters including those from Spirited Away and Kiki the Witch.
Location: 1 Chome-1-83 Shimorenjaku, Mitaka, Tokyo 181-0013
Sand museum
A collection of sculptures made totally from sand by sculptors and designers from all around the world, this open-air indoor museum is one of its kind. Located in Tottori where you'll find the magical creation of nature, the Tottori Sand Dunes, the glass-sided building of the Sand Museum provides an excellent view of the natural hills of sand.
Much like the dunes itself, these carved figures, buildings and landscapes made of sand are prone to degrade over time, but that's just the charm of it. Each year has a different theme for the sand sculpture exhibit, so every visit a fresh experience with new displays to appreciate.
Location: 2083-17 Fukubecho Yuyama, Tottori, 689-0105
The Criminal Materials Department at Meiji University
Head on down to the basement of the Meiji University Museum where the free-entry museum showcasing a collection of criminal artefacts and instruments can be found.  With a diverse collection of exhibits at the museum in the university, the Criminal Materials Department run by the School of Law gives a glimpse into the history of crime and punishment in Japan.
From original tools as well as replicated ones for catching criminals in the Edo Period to books and displays that demonstrates trial, torture and even execution, follow the development of the evolution of punishment in Japan. Exhibition titles like "Culprits of the Edo Period", "Torture and Tribunal" and "Execution and Correction" are intriguing and tempting even though it does give a chill down the spine.
Location: 〒101-8301 Tokyo, Chiyoda City, Kanda Surugadai, 1 Chome−1
Cup Noodle Museum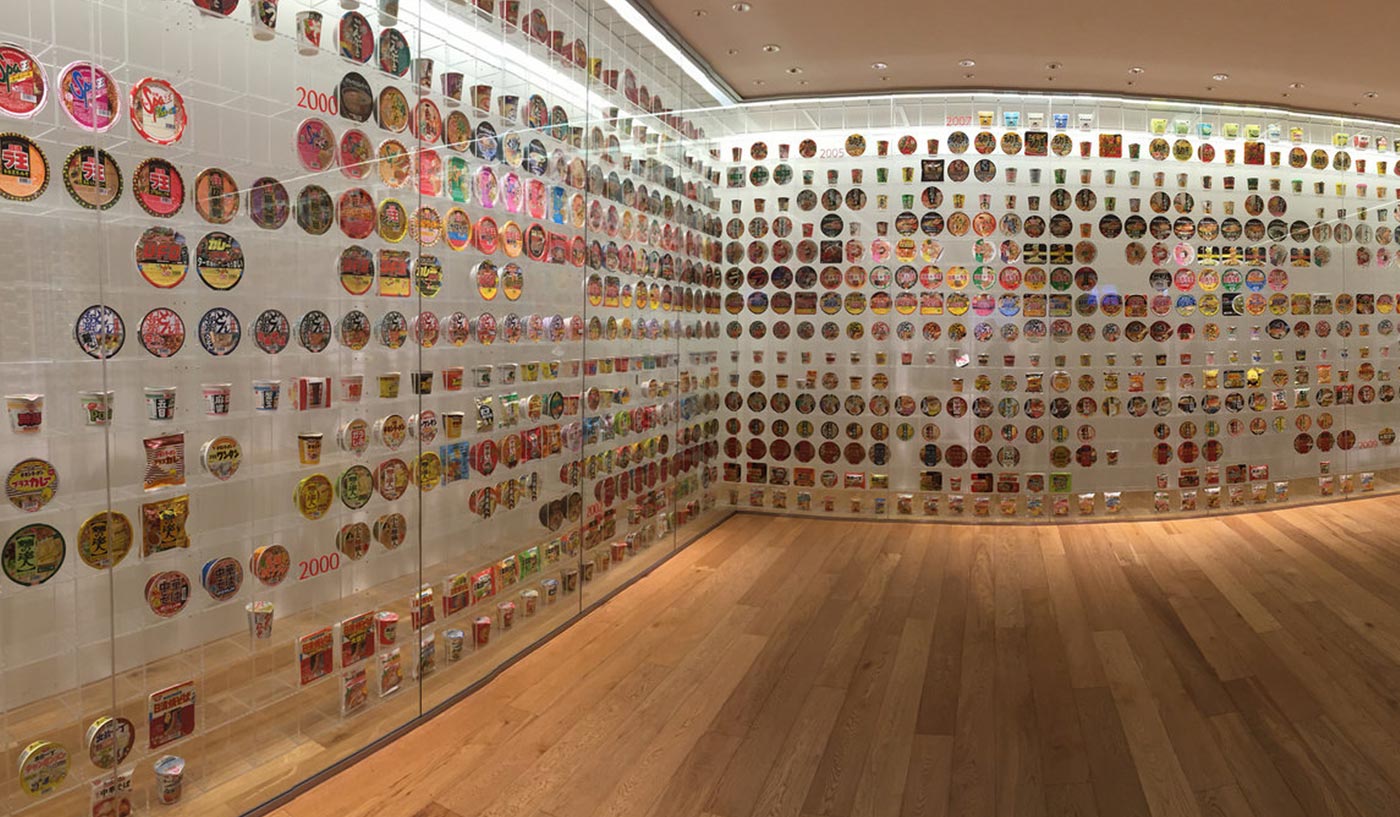 Who doesn't like cup noodles? Anyone who says they despise it actually doesn't, because it's so convenient, tasty and affordable. The Nissin Cup Noodle Museum at Yokohama celebrates the humble creation that changed the world. Take a few notes on the history of cup noodles and Japan's original take on this life-changing cup.
With their own noodle park and an art gallery that's dedicated to the popular convenience store food, this cup noodle museum also has a mini cinema that shows visual displays of a chronological run-through of the cup noodle. You can also make your own cup noodle at their laboratory including making your own soup. Shop and eat as much as you want at the Nissin Cup Noodles Museum!
Location: 2 Chome-3-4 Shinko, Naka Ward, Yokohama, Kanagawa 231-0001
Conclusion – Unique Museums in Japan
It's no doubt Japan has the record-breaking number of intriguing exhibitions in the entire world, and while it's not the average place to take someone on a museum date, it does make an interesting day out. From paper crafts to the functions of the sewage, you'll definitely be surprised at the takeaways from these unique, out-of-the-ordinary exhibitions.
You can also join our Facebook Group and share your Japan with us! Last but least, follow us on Instagram, Facebook, and Pinterest and don't miss any blog post.
Usually tucked away in a cafe anywhere she goes, Azra Syakirah is a fashion designer and entrepreneur living in Tokyo, Japan. Born and bred in Singapore, her heart belongs to the world. Also a language enthusiast, she virtually scribbles her thoughts on a blog as well as freelances as a writer. She is experimental and versatile with her writing genre and content creation, seeking to put her passion in linguistics and hunger for creativity into practice.