I've always found Japan to be it's own little world, you can enjoy a tropical vacation in Okinawa, go skiing in Hokkaido, take a camel ride in the Tottori Sand Dunes and even experience a taste of Korea right in the heart of Tokyo. Shin-Okubo, Tokyo Koreatown is only minutes away from Shinjuku, a major tourist location and yet as the alluring scent from the nearby Hotteok stalls and Smiling advertisements of Korean Idols greet you, it's hard to even remember you're in Japan at all.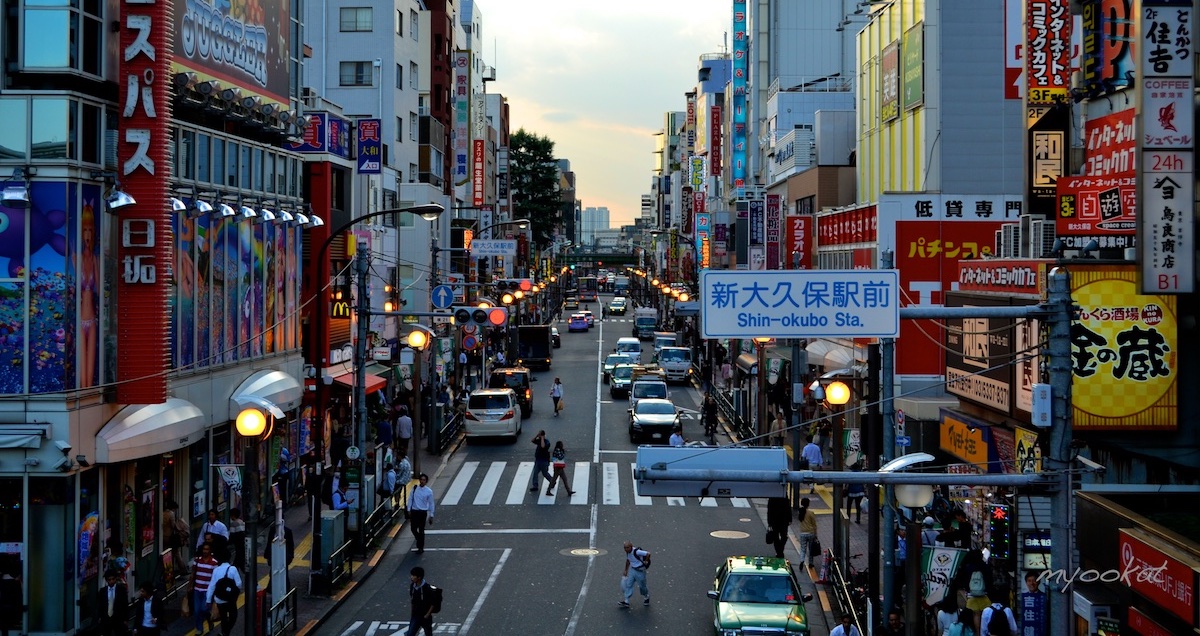 The area is not only wonderful for those in favor of Korean cuisine, with many options to feast on including the worldwide famed fried chicken, the cheesy and spicy hot pots and of course all the Korean BBQ one could desire, but Koreatown also offers all the Korean goodies that could save a flight fare for all the Kpop fanatics and korean cosmetic addicts out there.
The chaotic colours and busy streets may be a little bit difficult to navigate so if you're short on time but hoping to get the best out of your trip to Shin-Okubo, this shopping guide could greatly benefit you.
Cosmetics
Anyone with an interest in skincare knows that Korea has set an unbeatable standard in the industry. Many modern influencers praise Korea on their products and their 14 step nightly skincare guide. The only problem is, finding the correct products and at a reasonable price is often difficult when you live outside Korea but for those of us in Japan, we need not worry as Tokyo Koreatown has us covered. The following four shops will have your skin glowing…
Myeongdong Cosme
This beauty shop offers customers a taste of the fantastic skin products and make up, one would likely come across in Seoul's main Shopping street, Myeongdong.
It's ideal for people short on time, hoping to grab a quick fix of some trendy Korean products, as it's just a 4 minute walk from Shin Okubo station and offers a wide variety of popular brands including Tony Moly, Missha, Laneige, Holika Holika, Innisfree and Skin food.
Google Maps: https://goo.gl/maps/Bf2ikzxz5ko6rtnK9
SkinHolic
Also known as the orange shop among locals,  SkinHolic offers a variety of famed Korean brands in a neatly organised, bright and spacious store.  You can find Etude house, Tony Moly, Innisfree and many more here  with a variety of the famed snail slime products available in the form of masks, serums, scrubs and toners.
Web: https://skinholic.jp/
Google Maps: https://goo.gl/maps/x1NguxmuTjnnQmot8
The Saem
Anybody who has ever visited Korea, no matter how briefly, will be familiar with this brand. 'SAEM of wise and beauty' (Source of wisdom and beauty)  was established in 2010 as a domestic brand but has since gained an increasingly popular reputation around the world due to their globally researched ingredients which achieve eco friendly and effective products.
They're most popular for their skin whitening protective sun creams and concealers.  This is the only store in Japan, making it an essential pitstop in Koreatown, to all skincare fans hoping to find excellent quality and fair prices.
Web: https://www.thesaemcosmetic.jp/hpgen/HPB/entries/3.html
Google Maps: https://g.page/eenashop?share
The Face shop
The Face shop is another increasingly popular store that can be found dotted all over South Korea.  The store captures a lot of attention due to their products' alluring scents, wide range of men's cosmetics and they're brand collaborations.
The face shop goes above and beyond with product design, making their items hard to resist based solely on how visually appealing they are, never mind the fantastic quality.  They've collaborated with Disney, Kakoa friends, Coca Cola and even The Simpsons!  It's exciting to see which brand will be next on their list but it's guaranteed to be magical making The Face Shop in Tokyo's Koreatown, a unique store to visit.  You also may want to pick up their 'rice water clear cleansing oil', a popular product among the Korean skin care fanatics.
Web: https://www.naturecollection.com/mall/brand.jsp?cate_seq=662
Google Maps: https://goo.gl/maps/b8juMhcY6B9dXFGi8
Read also:
K-pop!
Kpop is responsible for some of the most dedicated fans on the planet. Perhaps it's the worldly inspired music, neatly choreographed performances or the eye catching beauty of the stars, whatever the reason, if you're a mega fan hoping to find some merchandise or simply in awe of the culture and hoping to experience it first hand then these three shops may be worth a visit, while in Tokyo Koreatown.
Idol Park
You're sure to know you're officially in KoreaTown when you find yourself in front of the colorful and cute Idol Park! Only a 2 minute walk from the station and you suddenly have an abundance of K-pop merch and nicely priced CDs at your fingertips, along with a cute cafe available for people needing a quick pick me up coffee or delicious ice cream to start they're Shin-Okubo adventure.
Google Maps: https://goo.gl/maps/XGzRqDfwAjueg5Wo9
K-Star Plus
This store offers 3 full floors of K-pop and Korean Drama bliss.  Any CD/DVD you can name, you'll find you may need to keep an eye on the time as it's easy to lose hours of your life as you look through all the incredible merchandise, jewellery and clothing.
Google Maps: https://goo.gl/maps/4S1xFbXPkNNXjS4v6
Groceries
Seoul Ichiba
For those in desperate need of some excellent kimchi or base ingredients for some Korean home cooking, look no further than Seoul Ichiba! It's a small market that is usually flooded with people so be prepared for a tight squeeze during your wander but look forward to enjoying some of the best available kimchi in Japan.
Web: http://seoul-ichiba.com/
Google Maps: https://goo.gl/maps/28q3wXdfFYnZWWyX9
Shopping
Don Quijote
Although a famed Japanese attraction, the Shin-Okubo store offers a different experience, with a variety of korean products available  at discounted prices! You may even be lucky enough to stumble upon some Kakao friends, popular Korean social media characters that are too cute to pass, merchandise at a reasonable cost.
Google Maps: https://goo.gl/maps/6pbBbVtRrVG18Trh8
Conclusion – Shin-Okubo Shopping Guide
Hopefully you'll be able to take full advantage of your Korean experience, using this list to guide you through the shops, leaving you ample time to enjoy as much of the yummy foods, cute cafes and exciting street performances also available in Shin-Okubo, Tokyo Koreatown.
Be sure to follow us on Facebook, Instagram, Twitter, and Pinterest for more fun stuff!

An Irish girl, living and working in Osaka.  Kat came to Japan expecting to stay a year and 3 years later, has no plan to leave after falling in love with the culture and beauty of the country.  She's passionate about writing, travel, fitness and new experiences.