Only an hour away from the buzzing streets of Tokyo is Enoshima Island, a small Island located on the Shonan Coast of Kanagawa Prefecture. It has been attracting many travellers throughout the years and the numbers have not dwindled since then. Despite its size, there are actually plenty of things that you can do on this small island.
In addition, it is known for having a nice view of the sunset, a tower that allows tourists to have an overlooking spectacle of the city at night, several bathhouses that are equipped with all kinds of facilities as well as delicacies that will surely make your mouth water. It is also relatively close to Kamakura, a small town full of its own infinite qualities which explains why it is generally advisable to add Enoshima to the long list of adventures you are set to embark on if you happen to have plans of going to Kamakura from Tokyo.
If you want to know what there is to do in Kamakura, then read the article about The Top 10 Things To Do in Kamakura.
How to get to Enoshima Island?
Depending on your point of embarkation, there are several routes available that will take you straight to Enoshima from Tokyo. Also, if you are visiting Kamakura or Fujisawa before heading to Enoshima, take the Enoden line to reach the island quick and easily.
There are three stations on Enoshima Island that belong to different railway lines:
Katase-Enoshima train station on the Odakyu Line
Enoshima train station on the Enoden Line
Shonan-Enoshima train station on the Shonan Monorail
From Kamakura to Enoshima: Take the Enoden Line bound for Fujisawa
Price: 340 yen for adults and 170 yen for children
Duration: 24 minutes
From Tokyo to Enoshima: Take the JR Yokosuka Line bound for Zushi or Kurihama
Price: 920 yen for adults and 460 yen for children
Duration: Around 1 hour and 30 minutes
You should definitely get the Enopass before your trip to Enoshima Island. This pass is valid for 1 day and gives you instant access to almost all the main attractions on the island mainly the Caves, Spas, the Tower and more. The pass can be bought from the information center located near the bridge of Enoshima. For more information, check out the Enopass website.
Price: 1000 yen for adults and 500 yen for children
Places to Stay in Enoshima Island
Enoshima Island has a pretty large and diverse accommodation offering, depending on what you're looking for and how many people you are travelling with, you'll easily find a place to stay and relax. Go for a Ryokan if you want to experience a traditional Japanese inn, if you rather want to socialize with other travellers you should select a guesthouse.
Here are a few accommodation suggestions for every budget if you visit Enoshima Island.
Ebisuya Ryokan
Why guests love it: This Ryokan, which boasts having historical origins and a nice view of the shorelines, is situated at the gateway of Enoshima Island over the bridge. It has rooms with private baths and toilets or private toilets only. It is around 17 minutes from Katase-Enoshima Station.
Price range: 15,000 yen – 20,000 yen per person
Address: 1-4-16 Enoshima, Fujisawa-shi, Japan (See on Google Maps)
Website: Ebisu Ryokan
Iza Enoshima Guesthouse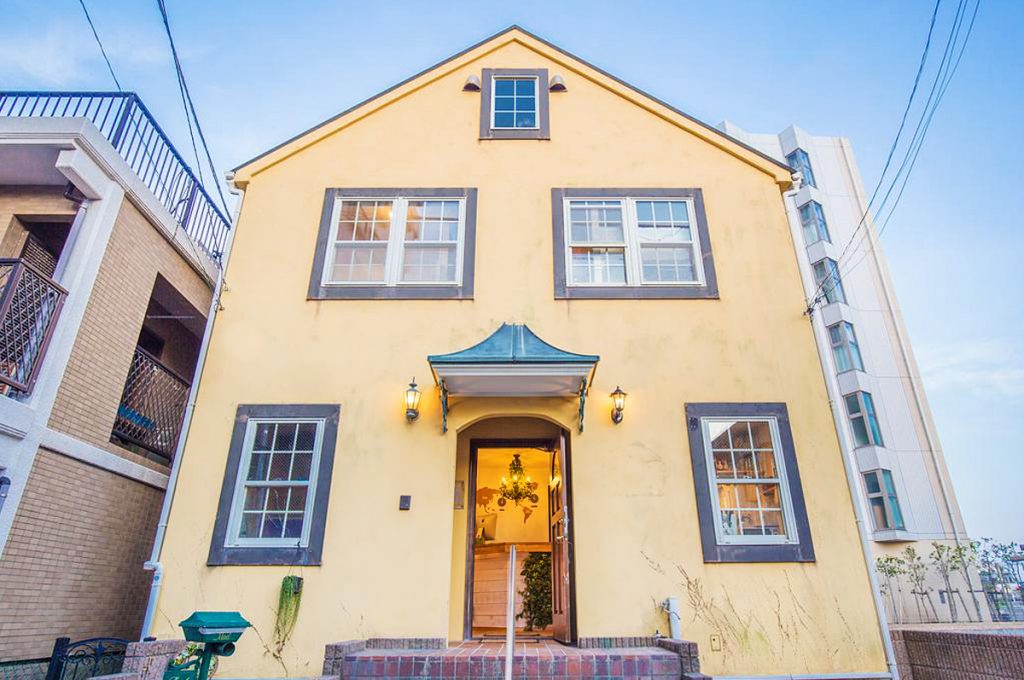 Why guests love it: It is a guesthouse that is only about 4 minutes away from Enoshima Station so it is very accessible especially after a whole day of walking and endless expeditions. This guesthouse is located in the center of the main shopping street, which is also within close proximity to the seashore making this location quite convenient.
Price range: 3,500 yen dormitory for men and women and 9,000 yen for double rooms and twin rooms
Address: 251-0035 Kanagawa, Fujisawa, Katasekaigan 1-11-31, Japan (See on Google Maps)
Website: Iza Enoshima Guesthouse
Enough of the talk, let's now go through the 5 must-see places that you can find only on Enoshima Island.
Place to visit in Enoshima Island
Iwaya Caves
These caves are particularly interesting for those who are familiar with the legend of the Goddess of Benzaiten, who is believed to be the creator of the island. The caves were said to be the dungeon where the Goddess imprisoned sea dragons that wreak havoc in the oceans. These dungeons were naturally formed with certain artificial enhancements made recently to further improve their condition. Make sure to take a peek at the wonders lurking at every corner of these mysterious underground chambers.
Opening hours: 9am – 6pm
Admission: ¥500
Address: 251-0036, 2 Enoshima, Fujisawa City, Kanagawa prefecture, Japan (See on Google maps)
Enoshima Aquarium
If you are an animal lover and you have a particular interest in marine creatures, then you should definitely visit this one-of-a-kind aquarium where dozens of aquatic animals such as dolphins, seals, penguins and many other varieties of fish thrive in. The aquarium is just off the mainland of Shonan Beach and is open all year round even on holidays.
Opening hours: 9am – 5pm
Admission: ¥2,100
Address: 251-0035, 2-19-1 Katase Kaigan, Fujisawa-shi, Kanagawa Prefecture, Japan (See on Google maps)
Love Bell
This place is a popular attraction for couples who truly believe that the red string of fate has bounded them to each other forever. The lovers are supposed to ring the bell together at the top of the hill as they signify their love and wish to share an eternity of bliss while being captivated by the magnificent view of the beach. If you happen to go there with your significant other, you can tell your partner to attach your lovelocks on the fence with both you and your partner's name engraved in them. Upon arriving, an astounding amount of locks, which were left by thousands of couples throughout the decades, will greet you as you climb up the hill.
Opening hours: 8:30am – 5pm
Admission: FREE
Address: 251-0036, 2-2-5 Enoshima, Fujisawa-shi, Kanagawa Prefecture, Japan (See on Google maps)
Enoshima Island Spa
If submerging yourself in water is your type of thing, then this place is perfect for you. The place, which offers outdoor pools and spa pools along with a beautiful view of the ocean, allows local and international visitors to enjoy themselves while treating their skin and improving their blood flow. The water in some of the pools contain a certain amount of carbon dioxide, which results in the formation of bubbles that is known to enhance wellness and overall health. Get yourself soaked and healthy while enjoying the night view of Tokyo from a close distance.
Opening hours: 10am – 10pm (Mar to Nov), 11am – 9pm (Dec to Feb)
Admission: 2,750 yen (1,650 yen after 6pm)
Address: 251-0036, 2-1-6 Enoshima, Fujisawa City, Kanagawa Prefecture, Japan (See on Google maps)
Website: https://www.enospa.jp/
Enoshima Sea Candle
If Tokyo has its Tokyo Skytree, Enoshima Island also has its own counterpart and that is none other than the Enoshima Sea Candle. This tower captures the night view of Tokyo in a way that will leave you speechless. With its towering height of 60 meters, it is definitely one of the most popular go-to attractions for visitors on the island. The tower has two levels – the outdoor observation deck that let's you see the entire glowing city as a result of the infrastructure and vehicle lights surrounding it; and the second deck, which is the indoor observation area that provides binoculars for viewers for a 100 yen fee and wall pictures that give more insight regarding the town's history. The Sea Candle lights up at night making it a picturesque sightseeing spot for professional photographers and amateur photo enthusiasts alike.
Opening hours: 9am – 8pm
Admission: 500 yen (including access to the Samuel Cocking Garden)
Address: 251-0036, 2-3-28 Enoshima, Fujisawa-shi, Kanagawa Prefecture, Japan (See on Google maps)
There are also certain delicacies available in the area such as the famous Smashed Octopus Crackers, which are made from bits of real octopus that can be bought on the streets. There is a strip of local stores along the road selling all kinds of products, from traditional foods and goods that are perfect as souvenirs or omiyage for friends or coworkers, to memorabilia that includes hand painted wind chimers or fridge magnets with colorful designs.
The following things are an absolute necessity for your trip to Enoshima:
Your Enopass (must-have!)
Your itinerary or to-do list (save this article!)
CASH as credit cards can only be used in certain stores
Without a doubt, there are so many reasons for you to secure a slot for Enoshima Island in your long list of places to explore. Only an hour away from Tokyo Station, it is accessible, rich in cultural aspects and gives you stunning views that will leave you smiling and satisfied after just a day of travel. It only takes a day to visit this small island but it will give you memories that will last for a lifetime. Start planning your trip as soon as you can and experience everything this beautiful little island has to offer.
Have you been to Enoshima Island? Tell us your experience on our Facebook group. For even more fun Japan stuff, follow us on Facebook, Instagram, and Pinterest!
See you again next time!
An introvert who loves travelling and exploring places where my feet will take me, have a seemingly strange fascination toward heavenly bodies, and an aspiring blogger who hails from a country of more than 7,000 islands in Asia.