The Best Places to Visit in Japan During Winter – Many travellers plan their trip to Japan to coincide with the cherry blossom season in Spring to be able to witness the blooming flowers as the weather warms up. Little did they know they're missing out on heaps of excitement that takes place only in winter, and only in Japan! Winter in Japan is nothing short of magical. With snow-covered slopes and trees that mimics that of a fairytale, to winter illuminations, there's no doubt one will be awestruck by these amazing sights.
Japan celebrates its winter like no other, and despite the freezing cold and piled snow, comes the ice sculptures and winter events. While onsens, bathing outdoors in natural hot springs, are popular all year round amongst locals and foreigners alike, the experience is even more spectacular and enhanced during winter as the pool is surrounded by snow and ice, yet you're all roasty toasty in the bath. Don't even mention the mountains and resorts to ski and snowboard on!
If these doesn't make you want to venture Japan in winter, here is a list of places in Japan that are breathtaking during the winter, and a must-visit for all!
Abashiri Drift Ice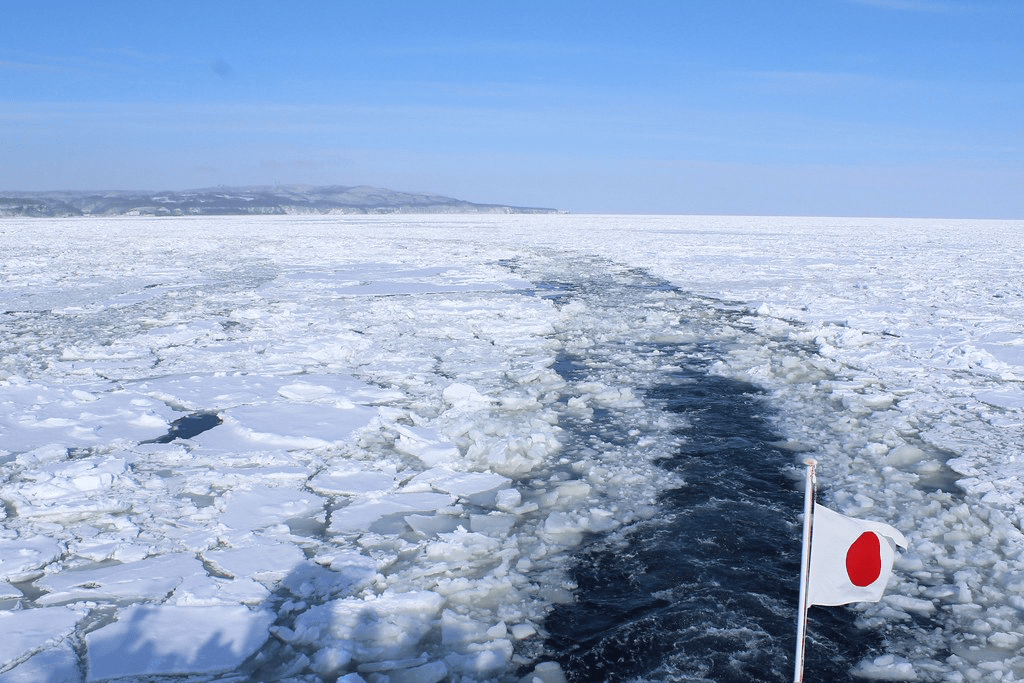 Found up north of Japan is Hokkaido, the coldest city in all of Japan! Because of that, Hokkaido experiences all kinds of spectacular phenomenons in winter, and one of them is the drift ice. The Sea of Okhotsk along Abashiri City is known to be the southernmost point to witness the drift ice, just like in the Arctic. There is also a sightseeing ship that allows you to watch the dynamic drift ice in close proximity, but only during a limited time of the year.
The Blue Pond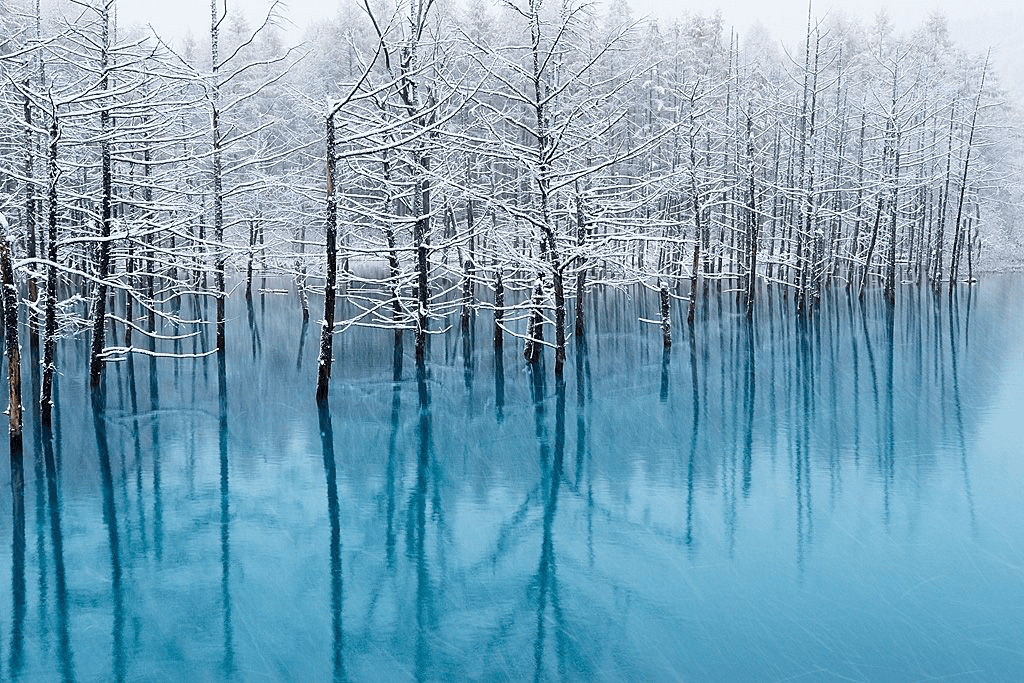 Have you ever seen the sky on the ground? The Blue Pond, located near the town of Biei in Hokkaido, basically lets you witness just that. The lagoon-like pond that holds sky-blue coloured water was created when excavations were made to prevent mudslides from eruptions of Mount Tokachi reaching the town, and the hollow left behind from the digs filled with water.
The pond contains traces of chemicals which turn its waters a rainbow of different blue hues throughout the year, and during winter the scenery is so magical as the blue pond is accompanied by the whitened tree branches.
Sapporo Snow Festival
Winter in Hokkaido is really cold, but instead of being down in the slumps because of the weather, the capital city, Sapporo, hosts the world's famous Sapporo Snow Festival for a week long that turns the whole city into the dreamy winter wonderland, covering three major sites — the Odori, the Susukino and the Tsu Dome. With ice sculptures and illuminations, over two million visitors, local Japanese and travellers, attend the event every season!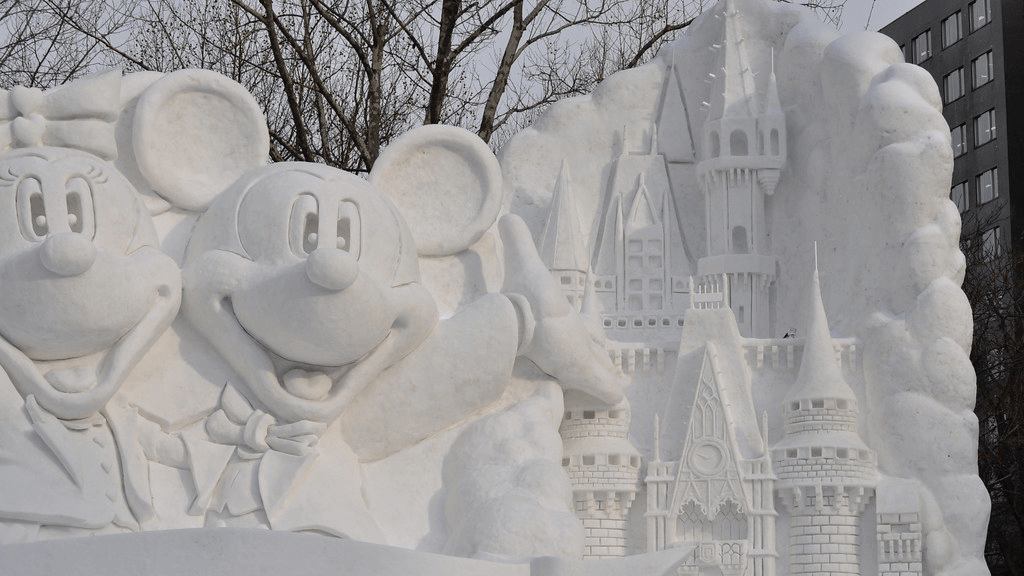 Each sites cover a different thing: the Odori hosts the most spectacular and biggest sculptures, and you'll be able to get a great view of them from the Sapporo TV Tower; Susukino has the smaller ice sculptures that are distributed between the karaoke bars and other entertainment establishments; The Tsu Dome offers loads of snow-related activities for both adults and children!
Ginzan Onsen
Japan is famously known for their onsens, a public natural hot springs. Bathing in them is an enjoyable way of relaxing, and locals and foreigners often take the time out to go to them as it also has health benefits. In winter, the surrounding of the onsen is filled with snow and ice, and the air is chilly. Yet, as you dip into the onsen, you're warm and toasted amidst the cold winter.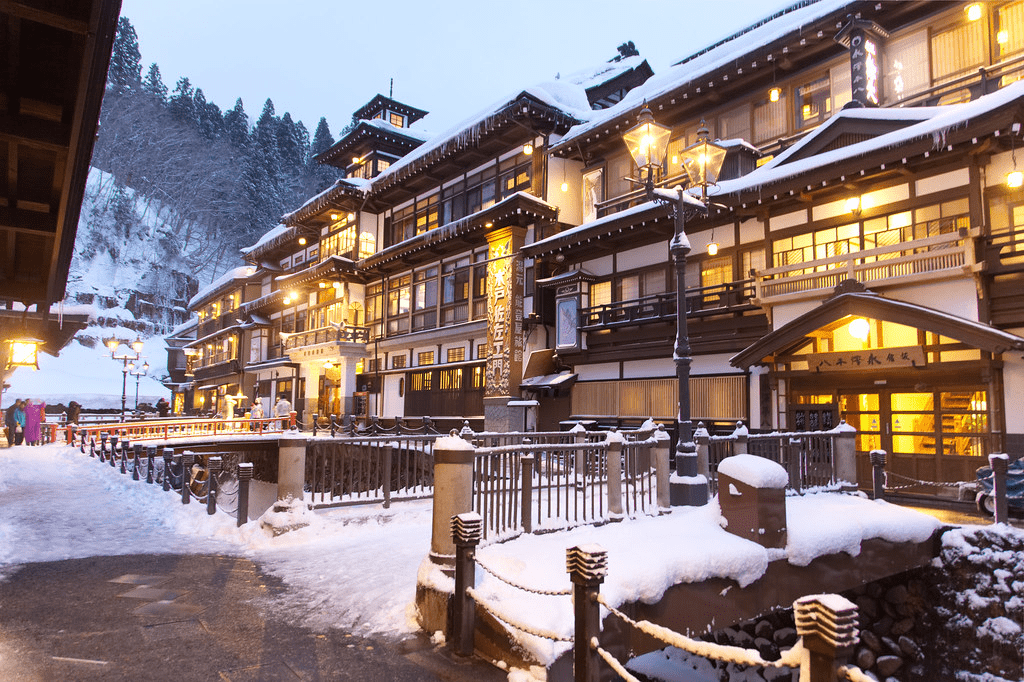 Ginzan onsen is one of the most picturesque places to go for a winter onsen. Located in the Yamagata prefecture, the small mountain town is full of historical ryokans and traditional onsen inn lined along the banks of the Ginzan River. Stay overnight at one of these, and even consider one with a private onsen, to enjoy the full experience. Public onsens are also available for those not looking to spend the night. If you're not feeling up for the full immersion, a public foot spa is also available.
Kamakura Festival
Kamakura is not only linked to the city that is known for its famous and huge Buddha statue, but also referred to the dome-shaped snow sculpture that is a traditional winter item in Japan.  Held in the northern part of the country, the Yunishigawa Kamakura Festivals takes place at the Yunishigawa Onsen Town in Tochigi Prefecture, where hundreds of dome sculptures in all sizes line up, lighting up the dark night sky with orange glows.
The event runs for about a month from February to March, and even though the Kamakura domes are the main attraction, there are also other several fun snow activities offered in the vicinity.
The Icicles of Misotsuchi
Most of the places that experience a winter phenomena are usually found in the colder regions of Japan, like Hokkaido. This one is more accessible from Tokyo, and it is the Icicles of Misotsuchi. They are gigantic icicles created by the flowing water over the cliffs upstream from the waterfall in Chichibu area in Saitama prefecture, located right next to Tokyo.
Not only is this an extremely beautiful natural sight on its own, during the peak season, there will be special light-up events held that lightens up the icicles in a blue-ish hue, giving them a mystical feel.
Zao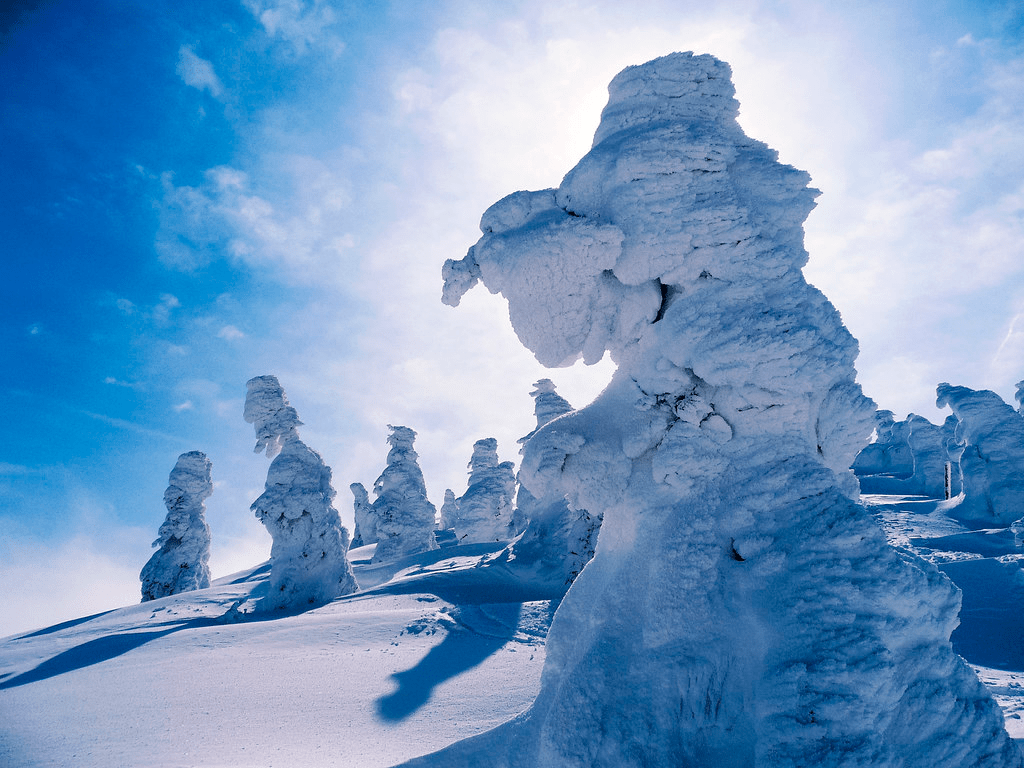 For some, winter is a cruel, cold season that they want to avoid. But winter is most often times bring out the most spectacular nature sights. One of them is the winter phenomena that is at a popular ski resort in Northern Japan, at the Zao Ski Resort. Hundreds of Zao's ice trees, also known as Juhyo, covered the slopes of the ski resort. These unique and amazing snow monsters are a work of art made by nature.
Visitors of the ski resort can even ski and snowboard around and by the trees. In the evening, the snow monsters are lit up and puts on a mystical winter scenery.
Jigokudani Monkey Park
It might not be the most obvious of places for some, but take some time out of your winter days to visit the wild Japanese macaques up in Nagano. They inhabit the Jigokudani mountainsides and roam the extensive terrains freely. Part of their territory is a thermal spa in the Yokoyu River valley where they go to bathe during the extreme cold seasons, so you're bound to see lots of them in winter!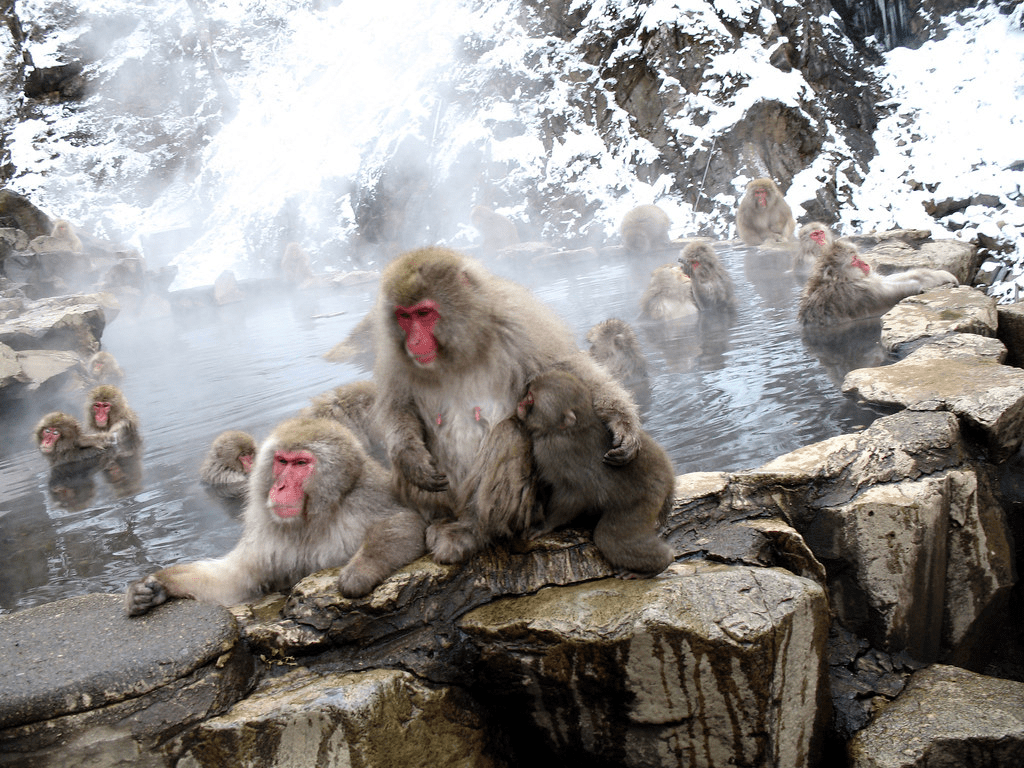 Unfortunately, the park is only reachable by walking a mile-long track through the dense forest. It doesn't sound so appealing especially during winter, but it's all worth it as visitors are able to get within touching distance of these wild macaques, even when they're in the water. It's a once-in-a-lifetime experience that shouldn't be missed!
Winter Travel via JR Tadami Line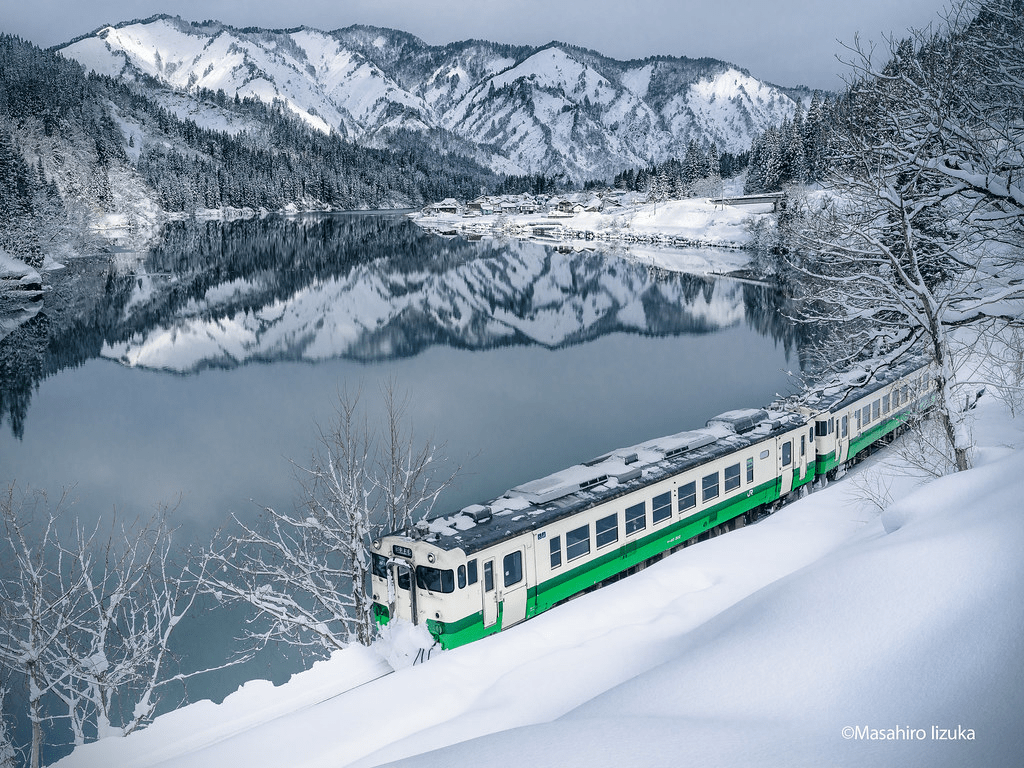 Who would've thought that a train ride would be a place to visit and do during winter? Yet the JR Tadami Line makes the cut. This rail service runs for over eighty miles through the most spectacular parts of Fukushima and Niigata prefectures, and can you imagine these landscapes covered in snow?
It's extremely beautiful and jaw-dropping, it's no doubt that this train ride will quite literally take your breath away. The best part of it all, although it might seem like a drag on other days, is that the train isn't those express, fast ones. So you're in for a plentiful time of admiring the scenic vistas through the carriage window.
Read also > JR Pass – Your Ultimate Guide
Shirakawago Village
A designated UNESCO World Heritage Site, the Shirakawago villages have conserved the unique architecture of the houses, some having steeply sloping roofs constructed without nails that enables them to cope structurally with the heavy wind snowfalls.
The area begins turning into a Japanese winter wonderland in mid-December, when snowfalls begin and the Gassho-zukuri farmhouses take on a snow-covered picture-perfect look. The most popular village, Ogimachi, has the biggest and most number of traditional farmhouses dated back over two hundred years ago.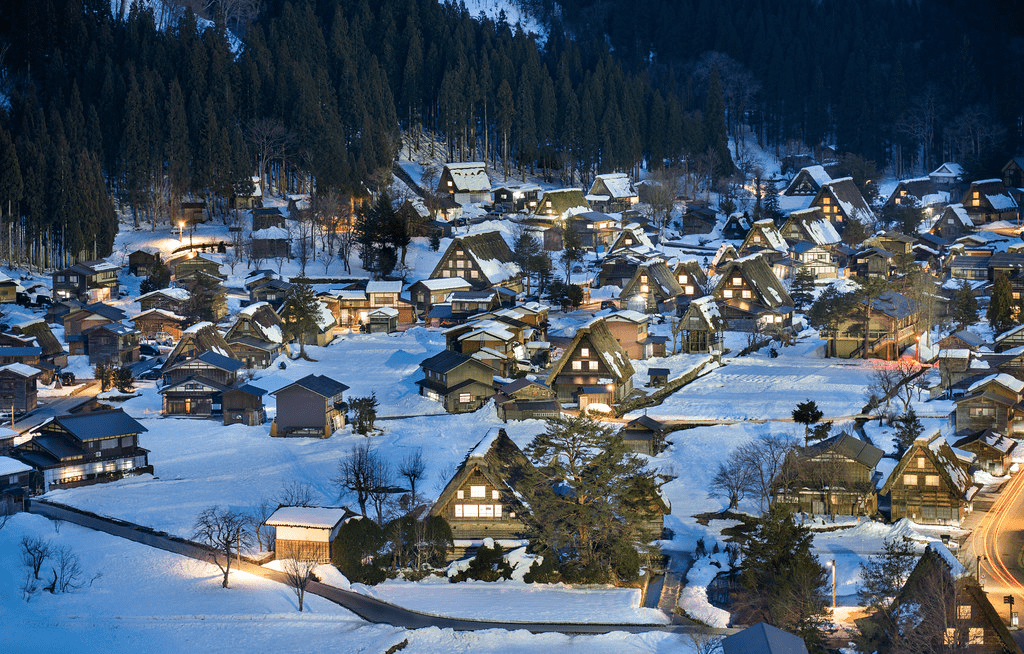 On top of extremely unique architecture, Shirakawago also has winter illuminations worth staying for. Several lighting-up events happen during the season, and as of 2019, visitors have to make a reservation to attend them. With limited seating and placement, it's best to make prior reservation.
Read also > Shirakawago Travel Guide
Conclusion
Winter can be cold and sometimes depressing, but each season always has something to offer. Japan is especially best in winter, providing a mix of tradition and modern events, natural and man-made sights, and activities that can be enjoyed by all. From resort activities like skiing and snowboarding near the Zao monster trees, dipping in the hot water of the natural hot springs in Ginzan, to getting a picturesque train ride across parts of beautiful Japan, there is no reason to not enjoy the cold and snow in this amazing country.
You can also join our Facebook Group and share your Japan with us! Last but least, follow us on Instagram, Facebook, and Pinterest and don't miss any blog post.
Usually tucked away in a cafe anywhere she goes, Azra Syakirah is a fashion designer and entrepreneur living in Tokyo, Japan. Born and bred in Singapore, her heart belongs to the world. Also a language enthusiast, she virtually scribbles her thoughts on a blog as well as freelances as a writer. She is experimental and versatile with her writing genre and content creation, seeking to put her passion in linguistics and hunger for creativity into practice.