Best onsen towns in Japan – Is there a better way to de-stress than soaking in a hot and steamy bath? Yes there is! Soaking in a natural, mineral infused onsen amongst beautiful Japanese views.
With volcanic activity throughout Japan, there are too many hot springs available to count so if you're struggling to decide on the best onsen for you, then this list of the 10 best onsen towns in Japan should hopefully have you enjoying a lack of worries and responsibilities in no time.
Kusatsu, Gunma
A well kept secret buried in the mountains of the Kanto region is Kusatsu town. It is located at 1200 meters above sea level and has a cultural traditional appeal that can be often overlooked by international travellers, due to its lack of trains but don't be fooled as there are many bus options available.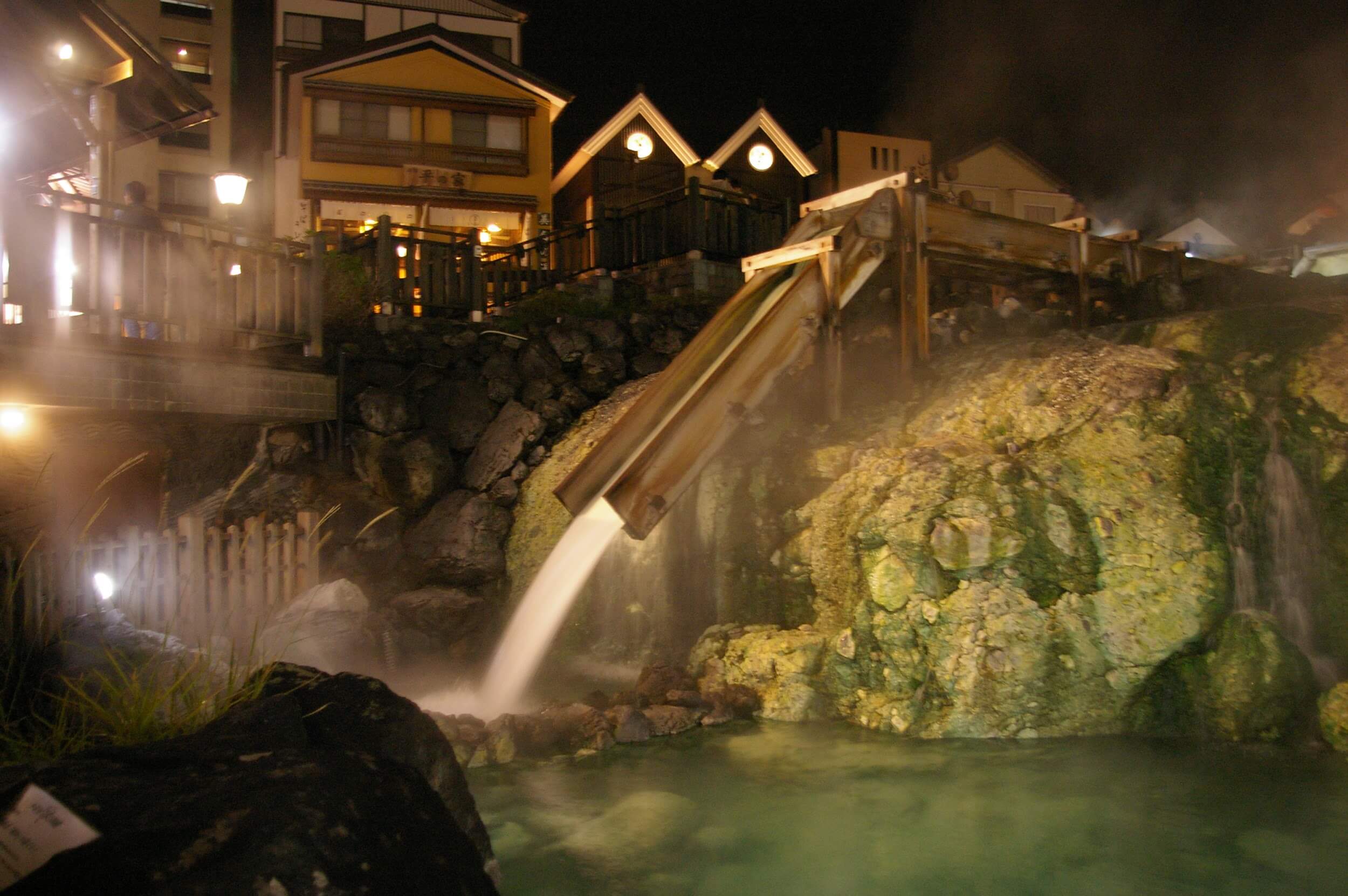 The hot steaming waters supplied by the active volcano, Mt. Kusatsu-shirane, are widely famous among the Japanese for having highly acidic waters, said to have the power to dissolve metal and are able to heal all kinds of aches and pains.
This resort area offers skiing during winter and hiking trails all year round creating the perfect combination of active fun and relaxing recovery.  There are many onsen options including swimsuit mixed gender options and free foot baths dotted throughout the town.
The main attraction is the Yubatake (hot water field) situated in the centre of the town.  It's a large open air area where the water can be seen divided and cooled, creating the perfect photo opportunity! There are many souvenir shops, bars and restaurants surrounding the area and traditional dance and singing performances can be seen nearby.
Read also:
Onsen Etiquette – 20 Dos and Don'ts in Japanese Public Baths (Infographic)
Beppu, Kyushu
Nestled between Beppu Bay and volcanic mountains in the South of Japan is Beppu city.  It has over 2000 available onsen and offers other unique relaxing and medicinal experiences such as mud baths, sand baths and steam baths.
The "hell's of Beppu"  call to the more curious traveller.  There are 8 'hells', onsen that create a unique natural beauty around the Kannawa and Shibaseki districts of Beppu with steam consistently rising upward throughout the mountains. These onsen earned their hellish name as they're too hot for a person to enter.  Each of the onsen also have their own signature appearance and appeal, for example 'The Blood pond hell' is a distinct shade of crimson.
Hakone, Kanagawa
Hakone is situated less than 100km west of Tokyo and despite of course, that all Japanese onsen towns are places of beauty, Hakone is particularly special as it offers a picturesque view of the iconic Mt. Fuji and the surrounding lake Ashi.
The mountainous region allows for seasonal landscapes so there's never a bad time to go. The only problem one could face is deciding which stunning scenic view they'd prefer, as the large variety of onsen include deep valleys, lake views, mountainous regions and some architecturally delightful indoor baths. 
Hakone also caters to all kinds of guests with private onsen available for couples, families and tattoos. The waters are heated naturally and contain various healing properties, leaving guests feeling completely refreshed after a few days' stay.
It's a popular tourist destination but the busy streets do not distract from it's deep cultural routes. Visitors may also experience rickshaws, tea houses, traditional swords and Geisha. It may be worth sampling the Hakone special black egg during your stay too as it's boiled in the natural hot springs of Owakudani and is said to add 7 years to your life, seems worth the risk.
Dogo, Ehime
For the travellers interested in learning about history during their trips, this is the best onsen town for you.  Sitting East of Central Matsuyama is Dogo, a small onsen town with 3000 years of history preserved to the best of it's people's abilities.  The town is featured in ancient texts and the legendary Prince Shotoku of the Asuka period has been quoted to praise the hot springs as "paradise on earth"
Dogo onsen Honkan is the main attraction and is believed to have inspired the onsen town in Miyazaki's popular film, Spirited Away. It's a large wooden public bathhouse dating back to 1894 and contains a maze of corridors, rooms and staircases. There are two large, stone made, old fashioned, gender seperated onsen available along with some private rooms too. 
The entire town represents days of old, as people wander the streets in their yukatas, visiting nearby shrines, strolling through Dogo park while gazing at the Yuzuki castle ruins and stopping by the Masaoka Shiki Museum to truly understand the culture before picking up some Dogo Beer or Ehime special sweet dumplings in the popular shopping street.
Noboribetsu, Hokkaido
If you're looking for a more unusual experience then this is the best onsen town for you.  This Hokkaido city pays a unique tribute to demons as the  natural hot springs created by the volcanic crater have led to a landscape similar to how one may imagine the image of hell.  
Jigaku-dani which literally means 'Hell Valley is a smoking crater left by the eruption of Mount Kuttara, 20,000 years ago.  It has steam vents, geysers and continuously boiling lakes. It can be experienced safely from the bridged area created around the hellish views.
The 11 different kinds of springs supplied by Jigaku-dani enable this town to experience baths high in sulfur and Iron which are credited to have wondrous healing abilities.  Noboribetsu is also home to not only one of the largest spas in Japan but also Asia, Dai-ichi Takimotakan which can be enjoyed 24 hours a day.
The Oyunuma, onsen type river also offers an unusual site as it's coloured green or grey depending on weather and is free for visitors to relax their feet in.
The city has built many beliefs and traditions around its natural hellish circumstance and visitors might also enjoy the demon statues that decorate the streets which are believed to offer different types of luck.
Yufuin, Kyushu
Not too far from Beppu is the scenic and tranquil Yufuin onsen town which is particularly popular among women. The natural flowing waters and peaceful fields that surround Mt. Yufu allows for a peaceful onsen experience. The blue coloured hot springs supplied by the mountain are said to contain minerals that create a natural moisturiser for the skin attracting many cosmetic lovers from all over Japan.
There are onsen in the town exclusive only to women and the Yufuin Floral village which consists of fairytale-like buildings supplying baked goods, flowers and true to Japan's often random nature, Harry Potter merchandise, creates the perfect area for the ultimate girls day out. 
Kurokawa, Kyushu
Found in central Kyushu and sitting high up in the Aso mountain range is Kurokawa onsen town, benefiting from the hot spring waters supplied by the central active volcano, this onsen town is probably best for the more frugal traveller.
The entire town embraces and enhances its own earthy beauty with natural colours, wooden buildings, stone stairs and a perfect final touch of a river flowing through.   It is famed for its attractive large outdoor baths with river views but also its smaller more traditional, indoor bathing houses which are said to have been enjoyed by ancient lords of the nearby Kumamoto Castle.
The town offers a 'Tegata'(wooden pass) which allows visitors to visit up to three onsen of their personal choice for just 1300 yen, meaning the streets are often full of people wearing traditional yukata as they wander around stopping every so often for a different onsen experience.
Kinosaki, Hyogo
For those attracted to the spiritual aspects of Japan, then this onsen town may be best for you as according to legend, the town was founded by a Buddhist Monk in the 8th century who spent 1000 days praying for the health of the local people which lead to a hot spring appearing from the ground creating the quaint and peaceful Kinosaki onsen town. It's famed as the best onsen in the kansai area and sits nestled in a valley surrounded by mountains and sea.  
It's a beautifully seasonal area offering a picturesque cherry blossom lined river in spring and willow trees in Summer. The town maintains it's old fashioned architecture throughout and offers seven public baths, including tattoo friendly options.
Fuji Kawaguchiko, Yamanashi
If you managed to hike Japan's largest Mountain and are in need of immediate restoration then look no further then Fuji Kawaguchiko, the closest onsen area to Mt. Fuji.  Not only does this town offer spectacular views of the incredible mountain and a variety of bathing options, but the waters are also renowned for their ability to heal muscle and nerve pain and fatigue due to the high levels of calcium and sodium, leaving it ideal for exhausted hikers.
You can choose from many different onsen options including highland bathing, lake bathing and even a cave bath and for those who just want to see the majestic mountain, why not do it in the comfort of an open air hot spring?
There are also a variety of architecturally delightful museums nearby, a relaxing park, an amusement park and a panoramic ropeway.
Zao Onsen, Yamagata
Zao onsen sits on the slopes of the volcanic Mt.Zao and is a popular ski resort during winter leaving it the best place to restore after a day of hitting the  slopes. The Zao area is known for it's 'snow monsters', which appear around the area as snow falls on trees in a unique manner.
The waters are the most acidic in the country leaving them healing on the body. The town contains a comfortable mix of traditional style bath houses and more modern options. The Zao Okama crater lake also offers an interesting experience as the water colour changes day to day.
Conclusion – Best Onsen Towns in Japan
Onsen are a deep cultural tradition in Japan and it's easy to see why with the alluring combination of total relaxation and intense surrounding beauty. Hopefully with all these options you'll be able to find the best onsen town for you!
Be sure to follow us on Facebook, Instagram, Twitter, and Pinterest for more fun stuff!

An Irish girl, living and working in Osaka.  Kat came to Japan expecting to stay a year and 3 years later, has no plan to leave after falling in love with the culture and beauty of the country.  She's passionate about writing, travel, fitness and new experiences.