Upon hearing the town called Hakone, the first thing that pops into the mind of most Japanese locals as well as foreigners is the word "Hot Spring" or more popularly known as Onsen in Japan. What most people don't know about this place, which is about 90 kilometers from Tokyo, is that it is actually not just a haven of hot springs but it also boasts of having one of the best views of Mt. Fuji, the famous black eggs and a magnificent scenery of fuming valleys while enjoying the ropeway experience. Let's delve in and take a look at the top 10 things to do in Hakone. But first, here are few tips about transportation and accommodation.
How To Get To Hakone?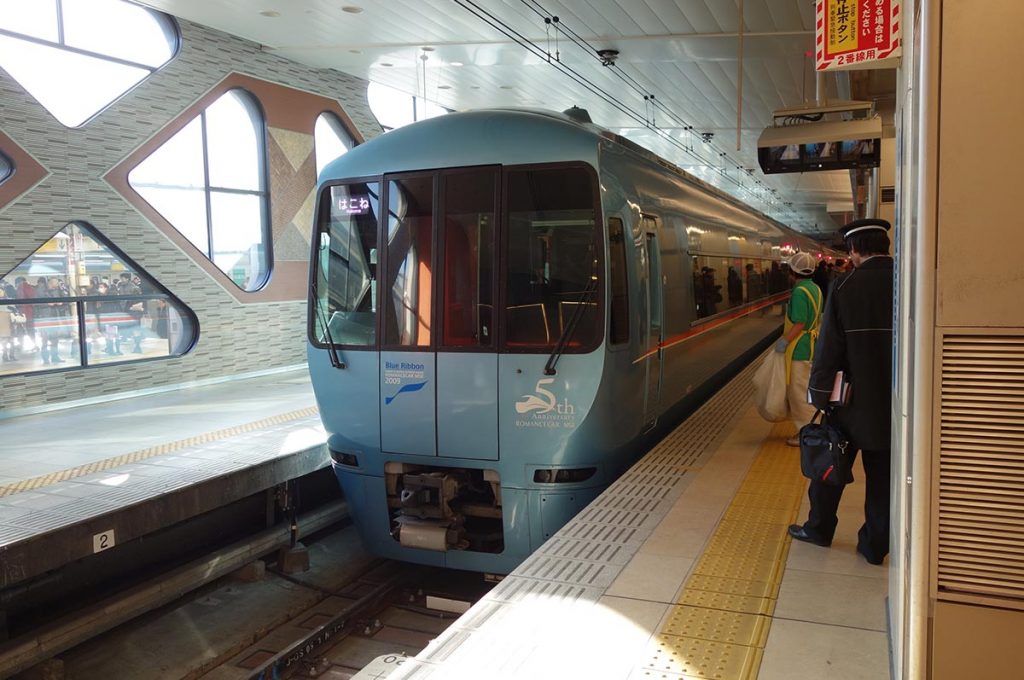 The best way to go to Hakone is to take the train from Shinjuku (Tokyo) for example until Hakone-Yumoto station. The JR Pass doesn't cover the whole trip to Hakone and the local buses are a bit expensive so we highly recommend you to get the Hakone Free Pass. This pass will cover your round trip by train to Hakone plus unlimited use of local buses for 2 or 3 days in Hakone.
More info here: Hakone Free Pass
Where To Stay in Hakone?
If you are planning to stay for more than a day to maximize your 2-day pass, then there are plenty of accommodation selections you can choose from. Traditional style inns, also called Ryokans, are also quite popular for the average traveler. But you can also find affordable guesthouses with dorms and low prices. Here are our recommendations for your trip in Hakone:
Guesthouse – Irori Tenmaku
Why guests love it: Affordable prices, great location near Hakone Open Air Museum, Japanese style rooms with tatami and futon.
Price: from ¥3,500
Address: 250-0407 Kanagawa, Hakone, Ninotaira 1121, Japan
Hotel – Yumoto Fujiya
Why guests love it: A lot of the customers seem to genuinely be very satisfied with their stay judging from the positive reviews the hotel is constantly receiving. Located in close proximity to Hakone Yumoto Station as well as Lake Ashinoko and Hakone Museum of Art, the hotel's accessibility has contributed greatly to its growing popularity. In addition, a lot of other services are also being offered such as saunas, private baths, karaoke, as well as in-room massages that would undoubtedly make your stay with them not only convenient but relaxing at the same time.
Price: They have several types of rooms designed for couples, solo travelers, or large groups. Rooms start from ¥20,000-¥38,000 per night depending on the time of reservation.
Address: 250-0392 Kanagawa, Hakone, Yumoto 256-1, Japan
Ryokan – Hakone Green Plaza
Why guests love it: It has a unique outdoor bath that allows customers to see Mt. Fuji on very clear days.
Price: from ¥27,000
Address: 250-0631 Kanagawa, Hakone, Sengokuhara 1244-2, Japan
Best Things To Do in Hakone
Have a Warm Bath in One of Hakone's Hot Springs
Your journey will not be complete if you fail to experience firsthand the countless hot spring resorts all around Hakone. For most Japanese tourists, the onsens are mostly at the top of their list. So it is definitely recommended for you to visit one so as to rejuvenate yourself and wash away all the tiredness you incurred after an entire day of trekking. By the way, they are some rules to respect in an onsen and you will find most of them in this article: Onsen Etiquette.
There are public baths near Hakone Yumoto station that provide comfort and relaxation with a traditional vibe but won't cause a hole in your wallet. Why don't you include Yunessun as one of your ultimate destinations?
Our Recommendation – Yunessun Theme Park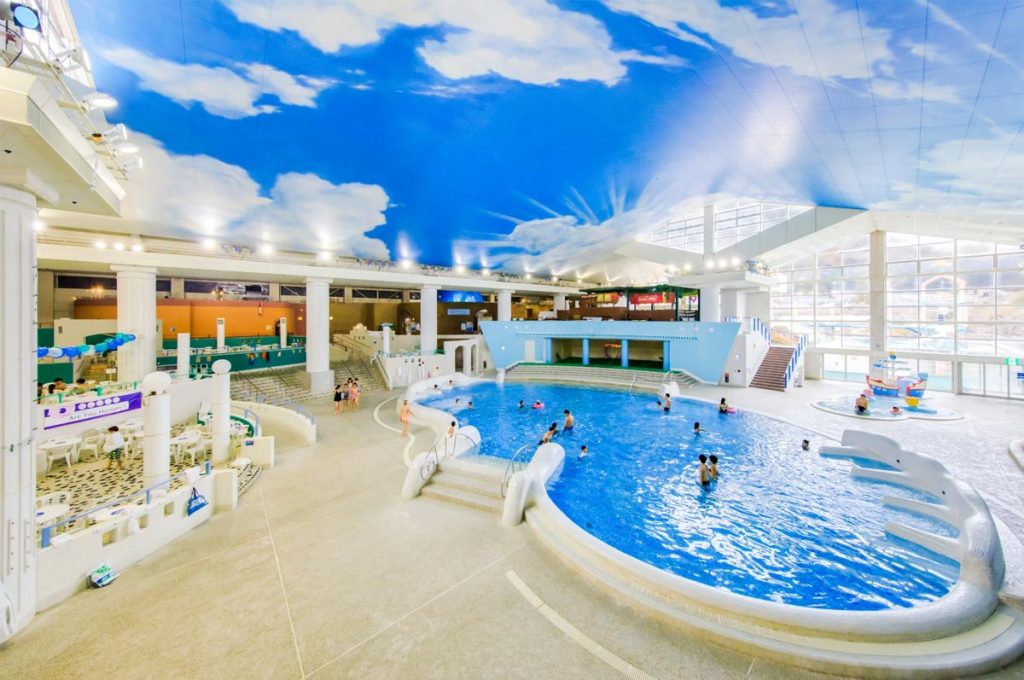 Why guests love it: It is a theme park like no other. How is it unique from countless other parks you have been to? Simply because they have pools full of water that will not only refresh you, but that will actually make your mouth water in the literal sense of the word!
They offer unique baths ranging from those flavored with coffee beans and water made from wine. There are also slides that are suitable not only for children but adults as well that families and friends can choose from, including areas that allow customers to wear bathing suits or no clothes area where they can bare their skin completely. Take the plunge and pamper yourself in the most extraordinary way you possibly can under your own conditions.
Price: YUNESSUN (Bathing suit Area) – Adults 2,900yen / Children1,600yen
MORI NO YU (No clothes Area) – Adults 1,900yen / Children 1,200yen
Enjoy The Captivating View of Lake Ashinoko
This magnificent lake situated in Honshu, Kanagawa Prefecture leaves most people captivated just by its wondrous view. Pretty much of the time, you will see tons of people, ranging from friends, families or couples posing together for the best shot or just taking their time to relax. There are a lot of benches available including souvenir and traditional shops around the area too. 
Different types of restaurants and dessert shops can be found near the bay area of the lake. If you are scheduled for only a day trip and you feel the need to satisfy your hunger and thirst in the middle of it, there are a lot of places to eat in, including ones with an overlooking view of the beautiful lake. With some luck, you can even see a glimpse of Mt. Fuji is you take a bite of your chicken sandwich.
Wander Through The Ancient Cedar Avenue
Hakone is known for its natural wonders and towering trees and greenery, which is why it is definitely a must to walk through the 500-meter route filled with tall and majestic cedar trees. It is only about 3-4 minutes away from Hakone-Yumoto Station, so it is quite accessible even with a jam-packed schedule. This path is also very historical as it used to be prominently taken by travelers during the Edo period when they made their journey from Tokyo to Kyoto and vice versa. 
Ride The Hakone Cruise Ship
A lot of people refer to it as a Viking's ship, and it is no wonder because of how closely it resembles one. The Hakone ship, famous for its wonderful aesthetic and color combinations, is ridden by thousands of tourists each year. There are several ships that come in many different colors such as yellow, red and so on.
Make sure to get your camera ready because Mt. Fuji is actually visible if you are looking in the right direction. There are seats available if you simply want to enjoy the cruise, but it is highly recommended that you go to the deck to indulge your eyes in the awesome view.
Visit The Hakone Shrine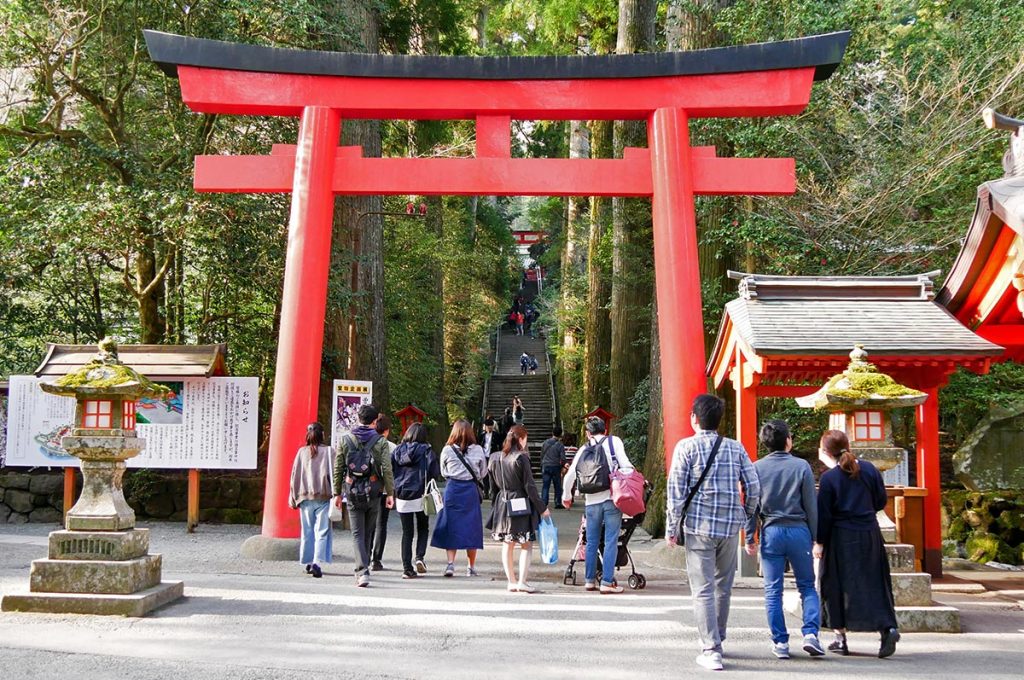 At the foot of the mountain of Hakone not so far from the lake lies Hakone Shrine. There are two Tori gates, one that leads up to the Main building and one in the lake itself. Crowds of people flock the area to pay respects or make wishes, and some out of curiosity, but one thing is for sure; they never leave the area without taking a single snapshot of themselves there.
Take The Ropeway
As soon as you reach the shore of Lake Ashi, you can now go on your next adventure in Hakone, which is taking the ropeway. The gondolas have a seating capacity of 18 passengers and the travel time from Togendai Station to Sounzan Station takes about 30 minutes. There are about 4 different stations that are interlinked to the Rope Way namely, Ubaku and Owakudani Station. It costs 2,410 yen for adults and 1,210 yen for children for a roundtrip ticket but it's basically included in your 2-day pass, if you happen to have bought it.
This tourist attraction allows you to take a peek at breathtaking valleys and mountains spurting out hot volcanic Sulfuric gasses into the air. You can also see a full view of the entire Lake of Hakone spread out as you travel to the station at the top, Sounzan Station.
Website: Hakone Ropeway
Get Up Close and Personal with The Valley of Hell
The name gives you the impression of scorching heat, probably a really challenging and energy draining trek that might seem like Hell, or the gates of Dante welcoming your arrival, but that is not the case. As soon as you reach Sounzan Station, you can get a complete view of the steamy hills just in front of you but they aren't as excruciatingly hot as you may have imagined. The land mass would sometimes burst out a form of gassy substance coming from the volcano and it is quite of an interesting sight to behold.
Visit The Hakone GeoMuseum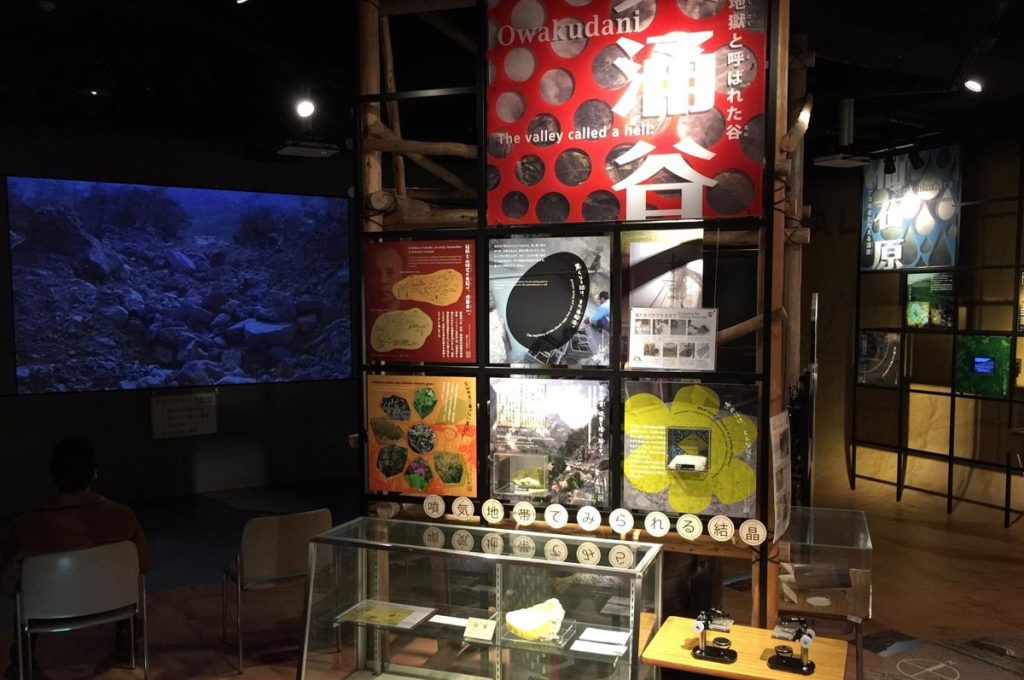 If you have had enough of the outdoor views of the Valley of Hell, try including the Hakone GeoMuseum in your itinerary and educate yourself. The Museum opened in 2014 and exhibits a variety of pictures that documents and provides factual information with regards to the many natural beauties of Hakone most notably, the volcanoes. The walls are filled with photos that give a more in-depth understanding of the town and its unique qualities. The entrance fee is only 100 yen per person.
Website: Hakone GeoMuseum
Try The Owakudani Black Eggs
If there is a certain unique type of delicacy that you can only find in Hakone, that would surely be the famous Owakudani black eggs. A few minutes away from the Hakone GeoMuseum is a large souvenir or Omiyage shop that sells not only sweets, red bean filled rice cakes but also eggs that might take you by surprise the first time you see it.
The eggs are coated in black, and if you are wondering if they were painted or submerged in black ink, then you are wrong. The eggs are boiled, like normal eggs, but in water that comes directly from the springs containing a high amount of sulfur, which instantly turns them black. You may wonder, is the black egg edible? Absolutely! It tastes like any ordinary chicken egg except for the charcoal colored coating.
Stop by Hakone Checkpoint
What most people don't know is that Hakone used to be an important checkpoint area for those traveling from Kyoto to Tokyo during the Edo period and was specially designed in order to minimize the traffic along the Tokkaido highway.
In 2007, the checkpoint was constructed as a way to replicate the original one in the most accurate way possible by heavily relying on the depiction of old drawings, which were mostly preserved since the Tokugawa period. This modern but archaic-looking vicinity is complete with statues of soldiers, gates, housing, prisons and towers that give tourists the feel and the vibe of actually being in that certain era of Ancient Japan.
So what are you waiting for? Start planning for your upcoming trip to Hakone as soon as you can. Bring your friends and family and share these memorable adventures with them. You will be both shocked and amazed after realizing just what magic the small town of Hakone has in store for you.
Do you want to discover more amazing places in Japan? Check our list of Travel destinations in Japan!
Have you been to Hakone and want to share your experience with us? Join our Facebook group and show us. We will love to check it out! Also, if you want to know more things about Japan, don't forget to follow us on  Facebook, Instagram, and Pinterest. See you soon!!
An introvert who loves travelling and exploring places where my feet will take me, have a seemingly strange fascination toward heavenly bodies, and an aspiring blogger who hails from a country of more than 7,000 islands in Asia.