Located in Nagano Prefecture, Matsumoto is a city rich in historical and cultural heritage. Travellers can admire many of its historical sites, most notably the magnificent Matsumoto Castle. Matsumoto is also located close to the Japanese Alps, offering spectacular scenery.
Matsumoto Castle
The main attraction in Matsumoto is undoubtedly Matsumoto Castle. It is one of the most complete and beautiful among Japan's original castles and is a "hirajiro" a castle that is built on plains rather than a hill. Unlike many castles in Japan, the castle escaped bombing during the war, the wooden exterior adds to the authentic experience which is not felt with other castles that were rebuilt. You can climb all the way to the top of the castle, offering stunning views over the city and Northern Alps. 
At night the castle is illuminated year-round and decorated for seasonal events. Spring-time is a popular cherry blossom viewing spot, summer has many traditional performances and winter has many ice sculpture exhibits. So whenever you decide to go it will be a worthwhile occasion.
Matsumoto Castle on Google Maps
Read also:
Japan Ukiyo-e Museum
Voir cette publication sur Instagram
One of the most popular museums in Matsumoto is the Japan Ukiyo-e Museum, a museum dedicated to the traditional Japanese art of woodblock printing. It was a popular art form during the Edo period that depicted people, scenery and lifestyle. The museum has the claim to fame of being the largest Ukiyo-e museum in the world and you will find over 10,000 pieces on display here. There are many works by notable Ukiyo-e artists Katsushika Hokusai, Toshusai Sharaku, and Utagawa Hiroshige.
The collection was originally started by Sakai Yoshiaki, one of the wealthiest merchants of his time. He began painstakingly collecting Ukiyo-e and other pieces 300 years ago. Locals will tell you that you can find woodblock examples that are not found anywhere else in Japan.
Japan Ukiyo-e Museum on Google Maps
Read also:
Matsumoto City Museum of Art
The Matsumoto City Museum of Art is an art museum located in the city where many artists that have connections to the city are permanently exhibited. The museum's main attraction is its collection of works by world-famous Matsumoto born avant-garde artist Kusama Yayoi, known for her vivid and bright pieces.
The collection of her work displayed here includes various sculptures and paintings, done in her typical colourful style. Kusama's work 'The Visionary Flowers' is also exhibited outside the building's entrance in the form of a large sculpture of tulips. The museum showcases a wide array of artwork from other notable artists including  Munehide Hosokawa, a Matsumoto-born sculptor, and the calligrapher Shinzan Kamijo. 
Matsumoto City Museum of Art on Google Maps
Nakamachi District
Located a short walk from Matsumoto Castle is Nakamachi-Dori, a street in the centre of Matsumoto lined with many nicely preserved old and historical buildings. Some buildings include a large number of old warehouse buildings with large white painted walls. The area was once where the city's merchants used to live during the Edo period. Today the street is lined with traditional shops and restaurants unique to Matsumoto.
Matsumoto Timepiece Museum
The Matsumoto Timepiece Museum is a museum dedicated to timepieces, both from inside and outside of Japan. The largest pendulum clock in Japan can be seen on the museum's exterior. The museum is spread over three floors exhibiting a variety of watches and clocks of many different kinds including many rare and antique clocks. Most of the items on display were donated to the museum by Chikazo Honda, an antique clockmaker and dealer. Some of the clocks were also donated by the city's residents.
Among the exhibits include watches connected to certain professions such as a train conductor and nurse's watches, as well as watches and clocks from different countries such as Asian and European grandfather clocks from past centuries. There are also many clocks with quirky designs. 
Matsumoto Timepiece Museum on Google Maps
Daio Wasabi Farm
Located in Azumino, a city adjacent to Matsumoto is the Daio Wasabi Farm, one of the largest wasabi farms in Japan and a popular tourist destination. The farm is laid out with many waterways constantly providing each wasabi plant with clear flowing water from the Northern Alps.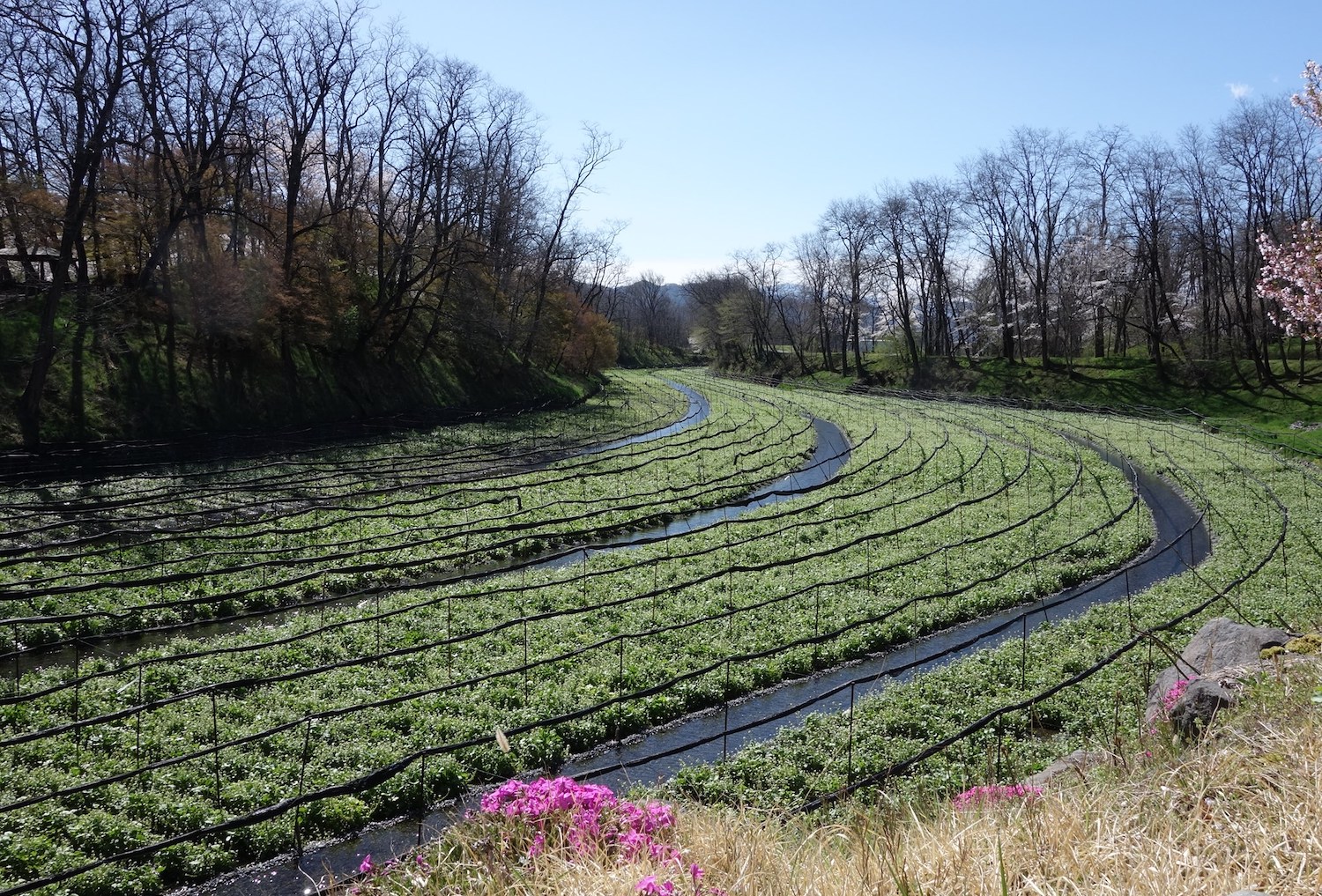 The farm has been developed into a popular tourist spot with many idyllic walking trails between the fields including old-fashioned, wooden water wheels, an observation deck and a shrine.  Visitors can also learn all about the farm's long history at the 100th Anniversary Museum on the premises.
The farm also features many restaurants and shops where you can try food made from wasabi at the farm including curry, croquettes, soba noodles and even ice cream. 
Daio Wasabi Farm on Google Maps
Go for a hike
The surrounding areas of Matsumoto City is a great place for a hike with so much beautiful countryside to enjoy. The outskirts of the city are known for its many onsen resorts, a great place to relax after a day out hiking. There are also many popular campsites so you can camp out and enjoy a more rural side to Japan. The city is also a good for base trips into the Japanese Alps including Kamikochi and Norikura.
Matsumoto Folkcraft Museum
Located in the eastern part of the city is the Matsumoto Folkcraft Museum, a small museum showcasing the arts and craft of this part of Japan. Major exhibits include bamboo wares, wooden crafts, glassware, chinaware and porcelain.
The museum was originally the possession Taro Maruyama, who ran a folkcraft shop in the city and gives an interesting insight into the less known folk handicraft from days gone by. Mr Maruyama became fascinated in folkcraft after meeting Dr. Sohetsu Yanagi, a famous folkcraft investigator, and he built this museum in 1962, with as many as 7,000 of his own articles. 
Matsumoto Folkcraft Museum on Google Maps
Asama Onsen Taimatsu Matsuri
If you are in Matsumoto in early October be sure to check out the Asama Onsen Taimatsu Matsuri (festival) one of Matsumoto's main events in the year. The matsuri and parade is a celebration of Asama Onsen and you will see people walking through the streets chanting mantras. One of the most popular parts of the matsuri is bales of hay being set alight and rolled through the streets and ending in a bonfire.
Tenjin Fukashi Shrine
Located around a 15-minute walk from Matsumoto station is Tenjin Fukashi Shrine. Its name contains the Japanese characters for 'strong will.' It is believed that when Fukashi Castle, the predecessors to Matsumoto Castle was constructed in 1504, Fukashi Shrine was made into the castle guardian deity.
Tenjin Matsuri is held over two days every July 24 and 25, brightening up the city with many elaborately designed floats, called 'butai' by locals. The display of sculptures, puppet performances ornamental roofs is also highlights.
Nawate Street
Nawate Street is a shopping street located between Matsumoto station and Matsumoto Castle. It is one of the most traditional shopping streets in Matsumoto and made to recreate the street from the Edo period. The street also runs along the river bank and is the perfect place for a stroll. The streets have close to 40 shops selling everything from souvenirs, antiques, traditional snacks and memorabilia. Be sure to check out the frog statue which is said to be the official mascot of the street.
As you can see Matsumoto is an interesting city with a lot to offer culturally and historically. Although it may not be as well known or a popular place to visit compared to many other places in Japan, it definitely well worth visiting. It is also fairly easy to get to from Tokyo, taking around 2 and a half hours from Shinjuku Station. Be sure to follow us on Facebook, Instagram, Twitter, and Pinterest for more fun stuff!
Alex is a graduate of photography from London. He has a strong interest in visual arts and culture. Alex is half Japanese and has a great knowledge of Japan, having spent several years living there, visiting many parts of the country.