Koyasan Japan – If you are looking for a suggestive and unique experience, Koyasan is perfect for you. This sacred mountain is the set of the biggest cemetery of Japan and the place where Kobo Daishi, the introducer to Japan of Shingon Buddhism, rests in perpetual meditation. More than one hundred temples, inhabited by Buddhist monks, are erected here. You can visit them but also experience temple lodging, eating vegetarian cuisine, writing sutra, and praying with monks.
Koyasan is the ending point of the Shikoku 88 Temple Pilgrimage and is reached by many pilgrims and tourists every day. For this reason, we suggest preparing your trip in advance to enjoy the best of this magic place. 
How to get to Koyasan
Koyasan Japan can be accessed in traditional ways (i.e., mountain trails), or more modern ones (i.e., train, cable car, and bus). Here follow our suggestions:
From Osaka Namba or Shin-Imamiya stations: Take the Nankai Koya Line to the Gokurakubashi terminal station. This can be done by limited express trains (1650 yen). Or by express or rapid express train (870 yen). At Gokurakubashi station, transfer to the cable car (390 yen). Once arrived, there is a ten-minute bus ride to the town center (290 yen). Please keep in mind that it is not permitted to walk on the street from the cable care to the town center. 
Still considering following the traditional paths? Here is the list of different trails you can hike:
Koyasan Choishi Michi: 23.5 kilometers, 7-hours ca. It begins at Kudoyama station on the Nankai Koya Line, and it is marked by stone signposts that represent the five Buddhist elements (i.e., earth, water, fire, air, and void).

 

Fudozaka Trail: a Paved trail of 2.5 kilometers, 1-hour ca. It begins at Gokurakubashi station, the lower station of the Koyasan cablecar.

 

Kohechi Trail: Only for the bravest, this remote route requires special planning and equipment since it takes a week ca. to hike.
Where To Stay in Koyasan
Guesthouse – Koyasan Kokuu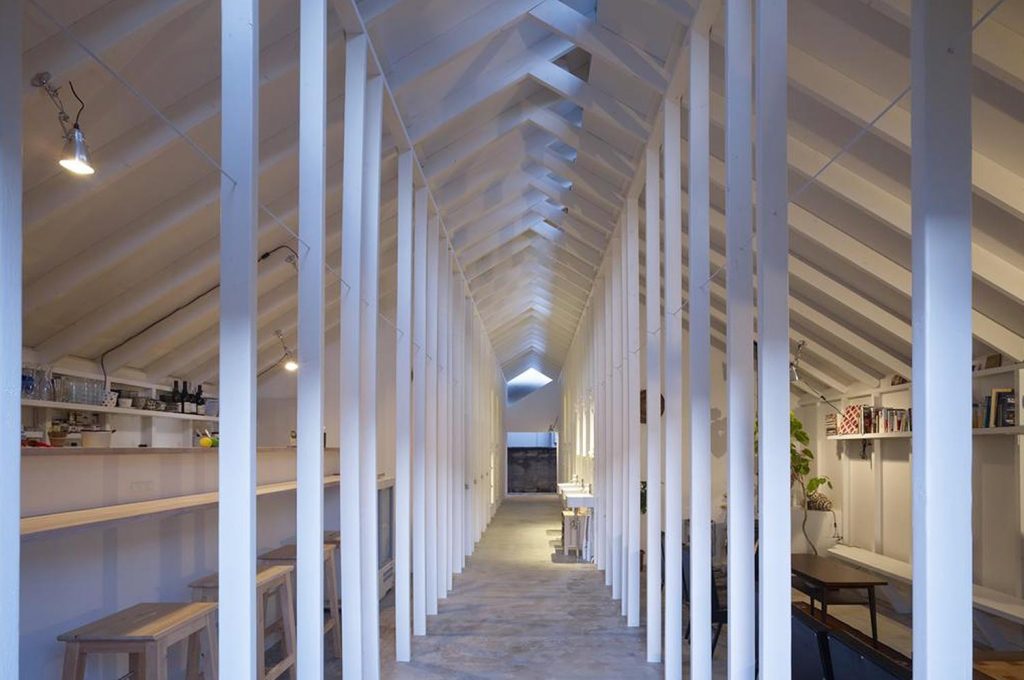 Why guests love it: Wi-fi, English speaking staff, affordable prices, nice bar, bicycle rental available.
Price: from ¥3,500 per room, per night
Address: 648-0211 Wakayama, Koyasan, Koyacho Koyasan 49-43, Japan
Ryokan – Koyasan Shukubo Fudoin
Why guests love it: Great position, excellent food, friendly monks, quiet atmosphere, near the cemetery, lovely onsen.
Price: from ¥27,000 per room, per night
Address: 648-0211 Wakayama, Koyasan, Ito-gun Koyacho Koyasan 456, Japan
Temple Lodging – Koyasan Zofukuin
Why guests love it: UNESCO World Heritage Site, great position, excellent food, beautiful garden, relaxing atmosphere, great experience to stay inside a Japanese temple.
Price: from ¥30,000 per room, per night
Address: 346 Koyasan, Koya-cho, Ito-gun, Wakayama Prefecture, Japan
Koyasan is a quiet place where people come to pray, find peace, and inspiration. Needless to say that the main attractions are sacred gates and temples. Here follows a list of the 10 main ones.
Best Temples to visit in Koyasan Japan
Okunoin Temple
Okunoin temple is the site of the mausoleum where Kobo Daishi rests in eternal meditation. Every day the monks bring him food at 6 am and 10 am, and it is possible to watch the ceremony! Before reaching the temple, an almost 2-km cemetery awaits you, the largest in Japan. Ichinohashi Bridge marks its traditional entrance, do not forget to bow before crossing it.
If you are in a hurry, or you just want to cut the walk almost in half, you can access the cemetery by arriving from the Okunoin-mae bus stop. We suggest visiting it also at night, maybe it will give you goosebumps, but it is an experience difficult to find anywhere else.
Admission: Free
Opening Hours: 6:00 AM to 5:30 PM
Garan
The Garan is a huge temple complex in the center of Koyasan Japan town. The two most prominent buildings are the Kondo Hall and the Konpon Daito Pagoda. The latter is particularly huge, ask somebody to take a picture of you! Once entered, you will be surprised by its magnificent Buddhas statues. 
Admission: 200 yen each (Kondo Hall and Daito Pagoda)
Opening Hours: 8:30 AM to 5:00 PM
Kongobuji Temple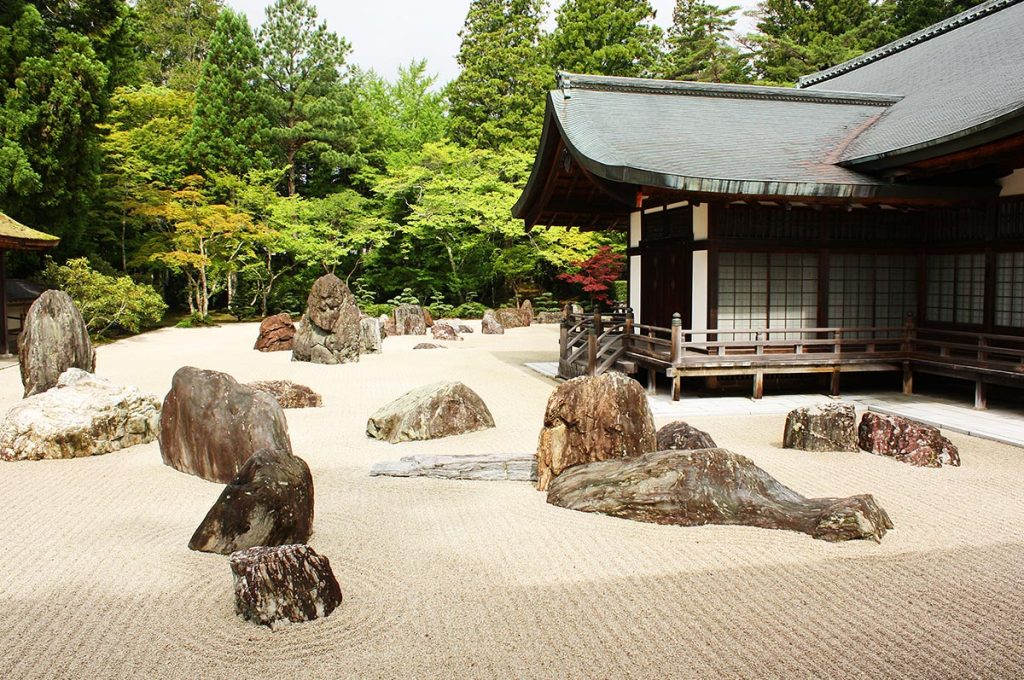 The Kongobuji is an amazing temple that is worth a visit for its beautiful painted sliding doors, and its Banryutei Rock Garden, the largest rock garden in Japan. In a recently added part of the temple, you can also relax with a cup of tea and cookies, sitting in a wide tatami hall.
Admission: 500 yen
Opening Hours: 8:30 AM to 5:00 PM (entry until 4:30 PM)
Reihokan Museum
Reihokan Museum exhibits religious works of art, from statues of divinities to huge mandalas. There are three exhibition halls with permanent and temporary exhibitions. It is a very good stop if you want to take a rest from your temple-only visits. 
Admission: 600 yen
Opening Hours: 8:30 AM to 5:30 PM (until 5:00 PM from November through April); admission ends 30 minutes before closing
Daishi Kyokai
The Daishi Kyokai is the administrative center of Shingon Buddhism, where you can find a traditional temple hall called Henjoden, and a modern building for administration. The access is free of charge, but you can also participate to activities such as Jukai (Receiving Buddhist Precepts), or Shakyo (Sutra Copying) for an additional fee.
Admission: Free
Opening Hours: 8:30 AM to 5:00 PM (entry until 4:30 PM), the Jukai is held hourly from 9:00 AM to 4:00 PM except at 12:00 (500 yen), the sutra copying is available from 8:30 AM to 3:00 PM (100 yen)
Tokugawa Mausoleum
The Togukawa mausoleum consists of two buildings which enshrine the first two Tokugawa shogun. It is worth a visit for its amazing engravings and style of the early Edo period. 
Costs: 200 yen
Opening Hours: 8:30 AM to 5:00 PM (entry until 4:30 PM)
Daimon Gate
This is the official entrance to Koyasan. All the pilgrims who choose to hike to the top will walk through this gate. It is an amazing and massive red gate with huge protective statues. 
Costs: Free
Opening Hours: No closing times 
Nyonindo
Nyonindo is a small temple but with a deep meaning. Its name means "women's house" and it is the last of eight temples where women prayed in ancient times because forbidden to enter within the sacred town walls. Unfortunately, the other seven temples were destroyed. 
Costs: Free
Opening Hours: 8:30 AM to 5:00 PM
Karukayado
Karukayado (Karukaya hall) tells the interesting story of a Buddhist monk who did not realize that a fellow monk was his son from his lay life.
Costs: Free
Opening Hours: 8:30 AM to 5:00 PM
Manito Pagoda
Not so far from Karukaya hall, there is the huge Manito pagoda that deserves a picture. You can also have a quick visit inside where you can find many religious artifacts. 
Costs: Free
Opening Hours: 8:30 AM to 5:00 PM 
The main attractions of Koyasan Japan can be visited on foot in less than a couple of days, with a one-night stay at a hotel or temple. It is a fantastic opportunity to experience something completely different from Osaka's lively, crowded, and noisy streets. 
Do not forget to check out our Japan travel tips for the best Japanese experience! Did you know that we are also on Facebook, Instagram, and Pinterest? Follow us to discover more about this amazing country. And if you want to get in touch with other Japan lovers, you can join our Facebook group. Sayonara!
Born in Italy, raised in Switzerland, now living in Tokyo, I get my inspiration by travelling the world. I love writing, drawing, photographing, and video making. I am currently studying Japanese.