Nagasaki Japan is a place full of history and different cultures that one can consider it the cosmopolitan prefecture of Japan. Due to its ties in the past with several countries, you can find hints of Western and Eastern influences in architecture and food scattered throughout the area. Nagasaki is also famous due to the atomic bomb that was dropped on the city on August 9, 1945. Filled with painful history, Nagasaki has grown to become one of Japan's most alluring prefectures. If you are planning to visit it, here is your complete travel guide!
How to get to Nagasaki?
By train: Unfortunately, there is no direct train that goes from Tokyo to Nagasaki. However, there are some trains available to Fukuoka, like the JR Tokaido Shinkansen and Sanyo Shinkansen. Once you reach Fukuoka, you can transfer to the Kamome Limited Express train and get off at Nagasaki station. In total, taking both trains will get you to Nagasaki in a little over 7 hours. Depending on what seat you choose when purchasing a ticket, prices range from 24,000 – 35,000 yen.
By air: A more convenient option may be to take an airplane from Tokyo to Nagasaki Airport. There are multiple airlines that offer multiple flights to Nagasaki for a cheaper price. The airline JetStar will start to offer cheaper deals starting from September 6, 2018. You can get a great deal if you're planning to go to Nagasaki after that date. You can also get to Nagasaki quicker as a flight only takes about 2 hours. Prices, depending on the airline, cost around 20,000 yen.
Where to stay in Nagasaki?
Guesthouse – Nagasaki International Hostel Akari
Why guests love it: Convenient location, cheap price, English-friendly
Price: 2,700 yen – 10,000 yen per night
Address: 2-2 Kojiyamachi, Nagasaki-city, Nagasaki, Japan 850-0871
Hotel's website
Hotel – Dormy Inn Nagasaki
Why guests love it: Convenient location, friendly staff, nice and neat rooms
Price: 8,000 yen – 10,000 yen per night
Address: 850-0841, Douzamachi 7-24, Nagasaki City, Nagasaki prefecture, Japan
Ryokan – Sakamoto-ya
Why guests love it: Nice atmosphere, near Nagasaki station, good service and food, old-styled rooms
Price: From 15,000 yen
Address: 2-13, Kanayamachi, Nagasaki-shi, Nagasaki, 850-0037, Japan
What to eat in Nagasaki?
Nagasaki Champon: This is a noodle soup dish inspired by Chinese cuisine. It is made up of frying pork, ramen noodles, vegetables, and seafood. A special broth made out of boiled chicken bones and pig bones is also used to add a rich taste to the dish. It is said that this dish was first created by a Chinese restaurant in Nagasaki prefecture.
Shippoku: This particular type of cuisine is specific to Nagasaki as it is heavily influenced by its history with Chinese immigrants and Western culture. Therefore, one can say that this is a fusion of Chinese, Japanese, and Western cuisine and features many small dishes.
Nagasaki Wagyu: Nagasaki beef, like Kobe beef, has gained credit for its high quality and delicious taste. Although Kobe beef might be more well-known, Nagasaki has won the National Japanese Beef Quality Competition in 2012, making it one of Japan's best quality meats. Therefore, Nagasaki Wagyu is a must-try dish.
Sasebo Burger: This burger was first founded around the Sasebo Naval Base in Nagasaki due to the many American people living within that area. The special thing about this particular burger however, is that it is also influenced by Japanese taste. Therefore, it is a little different than the typical American burger using soft, sticky buns, eggs, Japanese beef, and a mayonnaise sauce. The different ingredients add a great twist and taste to the typical burger, making it one of Nagasaki's most well-known foods.
Goto Udon: You might be familiar with the typical Japanese udon with its thick chewy noodles. Goto udon however, is different as its noodles are thin, smooth, and chewy. The reason the noodles are thin is because they are specially hand-stretched instead of being cut. This dish was founded on the Goto islands of Nagasaki prefecture, hence the name.
If you love Japanese food, don't miss our article: Traditional Japanese Food – The Top 10 Foods You Have To Try When in Japan
Best Things to do in Nagasaki, Japan
Hashima Island / Gunkanjima
Hashima Island is one of Nagasaki's most famous landmarks. It is an island located Southwest of Japan that was once a coal mine filled with many people. Due to the high population, many buildings were built to accommodate workers and their families. The island then became a small town of sorts with shops, restaurants, and schools. However, residents had no choice but to move out as the mine was closed in 1974. Since then, the island has become a ghost town with its empty, grey and damaged buildings.
Hours: Depending on the touring company, hours can vary. Typically, tours take around 3 hours including the boat rides to the island. Tours can heavily depend on the weather, therefore it is best to check beforehand and make reservations due to time and popularity. Below are listed several links where you can make reservations and buy tickets.
Price: 3,500 yen – 4,500 yen
Location: Takashima-machi, Nagasaki, Nagasaki Prefecture 851-1315, Japan
Access: Depending on the touring company, several boats depart from Nagasaki Port Terminal, which is close to Ohato Station or Tokiwa Terminal, which is near Ourakaikandori Station.
Nagasaki Peace Park
The Nagasaki Peace Park is a park specially made to commemorate the atomic bombing of Nagasaki, which killed ten thousands of residents at the time. Here you will find statues and monuments for the Korean and Chinese victims of the bombing. Also, you will see the famous peace statue sculpted by Seibo Kitamura. It holds a mixture of western and eastern art and ideology, its stance representing the desire for peace while pointing at the horror of the results of the bomb.
Hours: Open 24 hours
Price: Free
Address: 9 Matsuyamamachi, Nagasaki-shi, Nagasaki-ken 852-8118, Japan
Access: From Nagasaki station, ride the tram train to Matsuyamamachi where you can take a short walk to the park.
Nagasaki Atomic Bomb Museum
Near the Nagasaki Peace Park you will find the Atomic Bomb Museum. There you can find all kinds of information about what happened the day the atomic bomb hit Nagasaki. You will learn about the horrors the residents had to face at the time and see multiple objects that were exposed to the bombing, but still remained somewhat intact.
Hours: 8:30 am – 5:30 pm
Cost: adults 200 yen, children 100 yen
Address: 7-7-8 Hiranomachi, Nagasaki-shi, Nagasaki-ken 852-8117, Japan
Access: From JR Nagasaki Station you can take the bus to Nameshi, Togitsu, and Menoto. Then get off at Atomic Bomb Museum and walk for 5 minutes to get to the museum.
Mount Inasa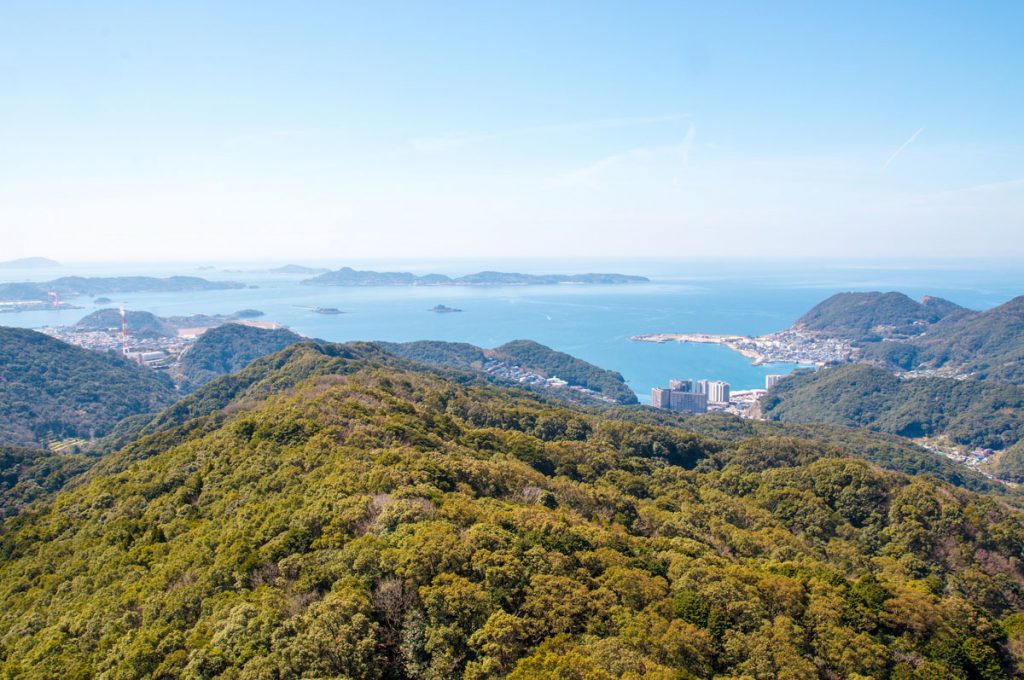 Mount Inasa is a great place to visit for those who wish to get a beautiful view of Nagasaki. It has one of Japan's best night views, hence it is recommended that one visit during the night time to see the cityscape lights shine bright in the dark. It is also near Nagasaki city, therefore making it an easy and worthy getaway.
Hours: 8 am – 10 pm
Cost: roundtrip by ropeway 1,230 yen, one-way by ropeway 720 yen
Address: 364 Inasamachi, Nagasaki-shi, Nagasaki-ken 852-8011, Japan
Access: From Nagasaki station, take the bus to Nagasaki Ropeway, which should take less than 10 minutes. Once you get off at Nagasaki Ropeway, take the ropeway to Mount Inasa.
Glover Garden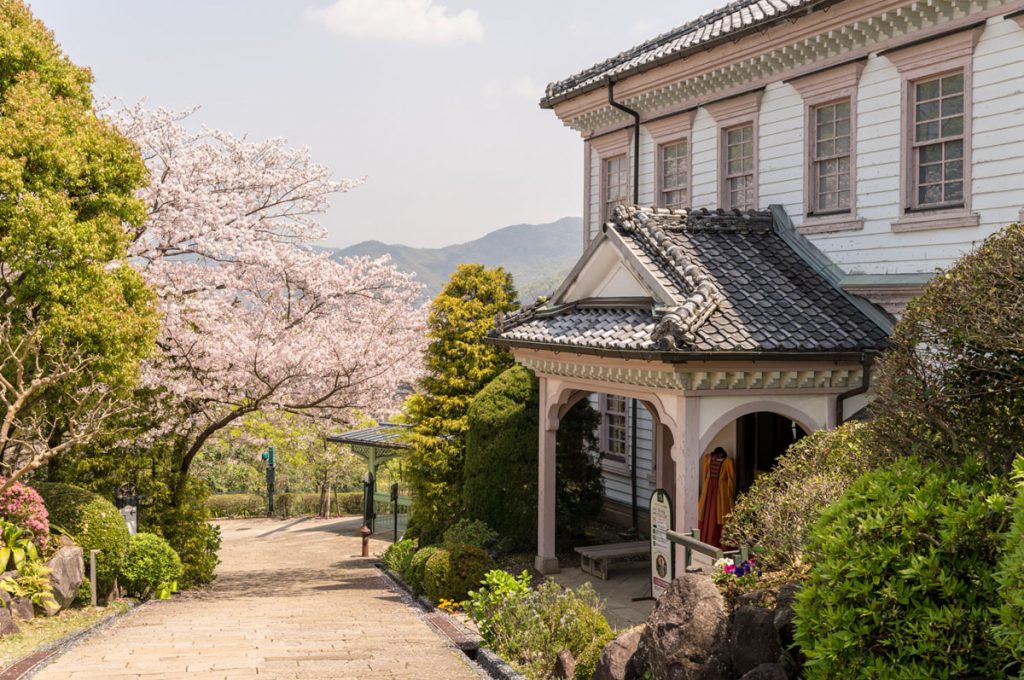 Glover Garden is a museum in Nagasaki filled with Western-style houses. These houses were once lived in by past wealthy residents. You can explore the rooms within the houses and learn about their way of living in Nagasaki. It is also a great place to see the sort of influence the West had on Nagasaki in the past.
Hours: 8 am – 6 pm
Price: 610 yen
Address: 8-1 Minamiyamatemachi, Nagasaki-shi, Nagasaki-ken 850-0931, Japan
Access: Take the tram to reach Oura Cathedral Station and take a 5 minute walk to Glover Garden.
Sofukuji Temple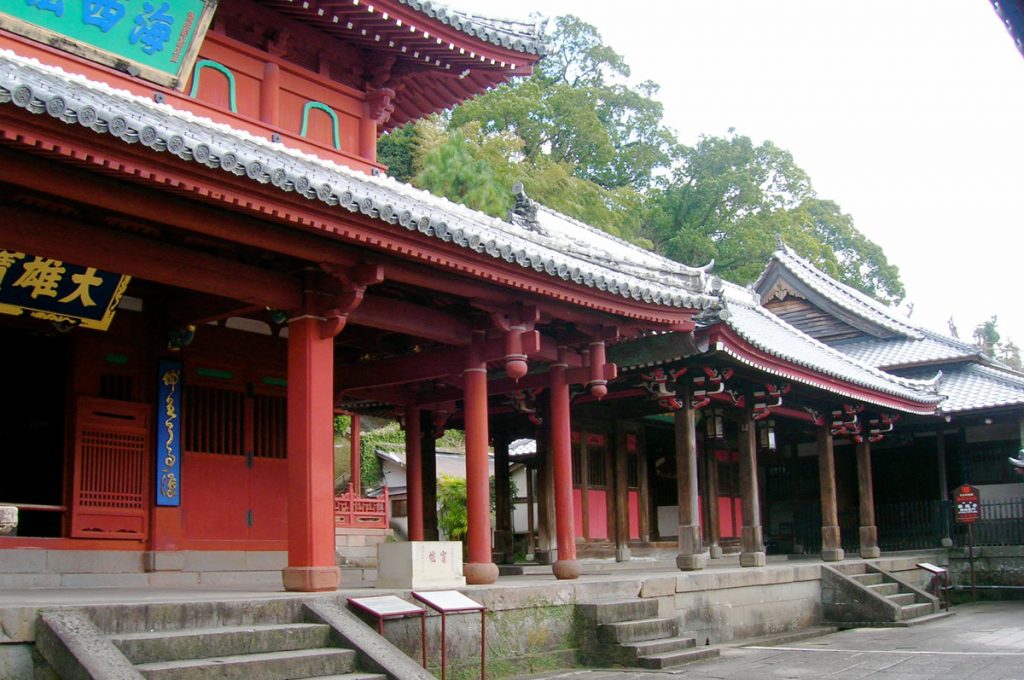 This temple is different from other temples in Japan due to its architecture. Built in 1629, this temple was constructed mainly for the Chinese residents of Nagasaki, therefore you can see many buildings painted in red with Chinese architectural designs. Due to many Chinese immigrants living in Nagasaki, you can see how much influence Chinese culture had in the area. The Sofukuji Temple is one of the more popular attractions you can visit.
Hours: 8 am – 5 pm
Price: 300 yen
Address: 7-5 Kajiyamachi, Nagasaki-shi, Nagasaki-ken 850-0831, Japan
Access: Take the tram to Shokakuji-Shita station. From there you can take a short walk to the temple.
For more Chinese culture and food in Japan, read Yokohama Chinatown – An Amazing Fusion Food Experience in Japan
Confucian Shrine
This is another place influenced by the Chinese residents of Nagasaki. The Confucian Shrine was built in 1893 in dedication of Confucius, a revered Chinese philosopher. Again, you can see the shrine was heavily based on Chinese architecture with its red colors and roof tops. This shrine is considered to be an example of the beauty of Chinese design.
Hours 9:30 am – 6 pm
Price: 300 yen
Address: 10-36 Ouramachi, Nagasaki, Nagasaki Prefecture 850-0918, Japan
Access: Take the tram to reach Oura Cathedral Station and take a short walk towards the shrine.
Dejima
Dejima is a special historical landmark of Nagasaki due to its history. This place used to be a man-made island constructed for the Portuguese. They were separated from the Japanese population in order to control their missionary activities in the country. Later, they were forced out of Japan and in exchange, a Dutch Trading Station was relocated on Dejima. Here you can find a mix of Japanese and Dutch culture with historical structures you can enter.
Hours: 8 am – 6 pm
Cost: 510 yen
Address: Dejimamachi, Nagasaki, Nagasaki Prefecture 850-0862, Japan
Access: Take the tram from Nagasaki station to Dejima station, which take around 5 minutes.
Oura Church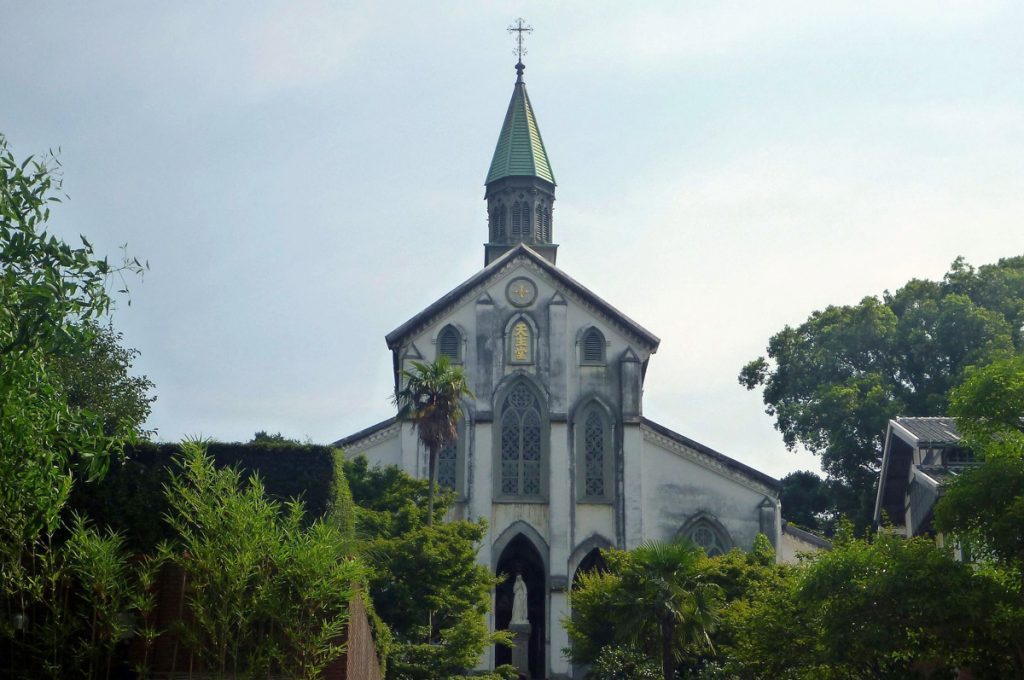 This church, built in 1864, is Japan's oldest Christian church. It is a reminder of the work and influence missionaries had on Nagasaki in the past. Due to Japan's isolationist foreign policy or Sakoku, foreigners who visited the country were limited to Nagasaki. Hence, many missionaries visited the area in hopes of spreading the word of God. Also, many visit the Oura Church to admire the European architecture.
Hours: 8 am – 6 pm
Price: 1,000 yen
Address: 5-3 Minamiyamatemachi, Nagasaki, Nagasaki Prefecture 850-0931, Japan
Access: Take the tram to reach Oura Cathedral Station and take a short walk towards the church.
Huis Ten Bosch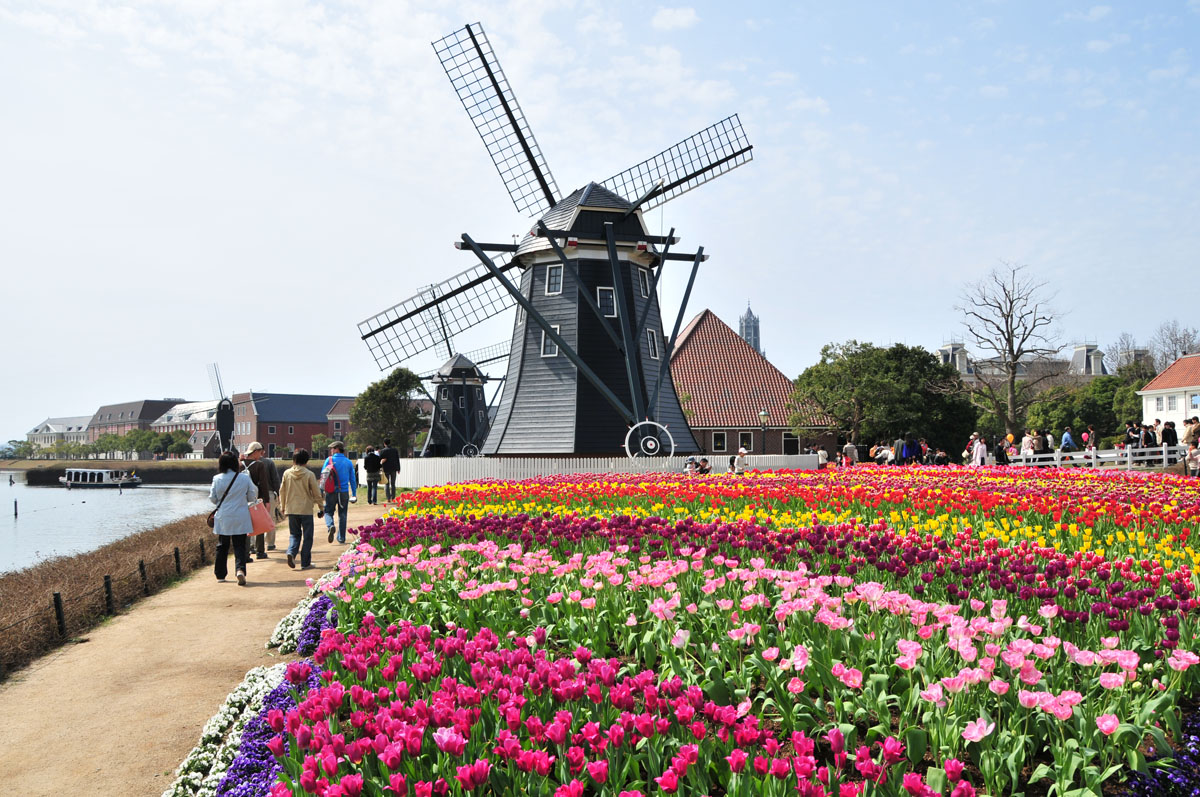 If you have time and the means to go a little farther away from Nagasaki city, you should try to visit Huis Ten Bosch. It is a theme park with a Dutch theme. You can enjoy the beautiful landscape as every building is based off Dutch architecture. There are also big gardens filled with beautiful flowers. There are also some fun attractions that you can ride in the Theme Park Zone of the park.
Hours: 9 am – 10 pm
Price: park admission & rides 6,700 yen, park admission only 4,200 yen
Address: 1-1 Huis Ten Bosch Machi, Sasebo-shi, Nagasaki-ken 859-3292, Japan
Access: From Nagasaki station take the JR Seaside Liner to Huis Ten Bosch station. This ride takes 75 minutes and costs ¥1,470 one-way.
Conclusion
So there you have it! The full guide on Nagasaki Japan filled with information on how to get there and what to do. As you can see there are many places to visit and foods to eat. Nagasaki has become a popular site to visit due to its history and many cultural influences.
Unlike the rest of Japan, Nagasaki is a special area that became exposed to different cultures, therefore creating a unique combination of west and east. It was also the site of the atomic bombing in 1945. Therefore, Nagasaki is a place worthy of visiting to learn about the history of Japan and gain insight on how much the area has been influenced by people from different parts of the world.
Let us know on our Facebook group what your visit to Nagasaki was like! Subscribe to our Facebook, Instagram, and Pinterest to receive fun Japan information. Till next time again!
Originally from South Korea, I moved to Japan for university and have come to love the Japanese culture. Other things I love are photography, reading, listening to music, and food. Especially food 😉