Mostly known for its rustic culture, this southern prefecture of Japan has a lot to offer for adventurous travelers exploring Japan. Kumamoto, home to the beloved red-cheeked black bear character—Kumamon, welcomes outdoor and photography enthusiasts from all around Japan with its natural beauty and country feel. Horseback riding, breathtaking volcanic landscapes and delicious foods all contribute to the unique experience of Kumamoto Japan.
Kumamoto prefecture is located on the southernmost of the four major islands of Japan. Though it is far from the major cities of Japan like Tokyo and Osaka, it is well worth the trip.
How to get to Kumamoto?
By Plane: Of course, the fastest way to reach Kumamoto is by plane. Many of the major airlines like ANA or JAL operate flights out of Haneda airport several times per day. Usually tickets are around 30,000 yen. However, discount airlines like JetStar have prices as low as 6,600 yen for a one-way flight from Tokyo to Kumamoto Airport. The flight usually takes less that 2 hours. From the airport, you can easily take a shuttle bus to the city center for just 800 yen.
By Train: If you have some extra time and a Japan Rail Pass, travelling by Shinkansen is a viable option. The trip from Tokyo Station will take about 6 to 7 hours, and you'll have to transfer at Osaka or Hakata Station in Fukuoka. The Shinkansen from Hakata to Kumamoto alone takes 40 minutes. Tokyo and Kumamoto are connected by the Tokaido, Sanyo and Kyushu Shinkansen.
Where to stay in Kumamoto?
Kumamoto Japan Hostel: Aso Base Backpackers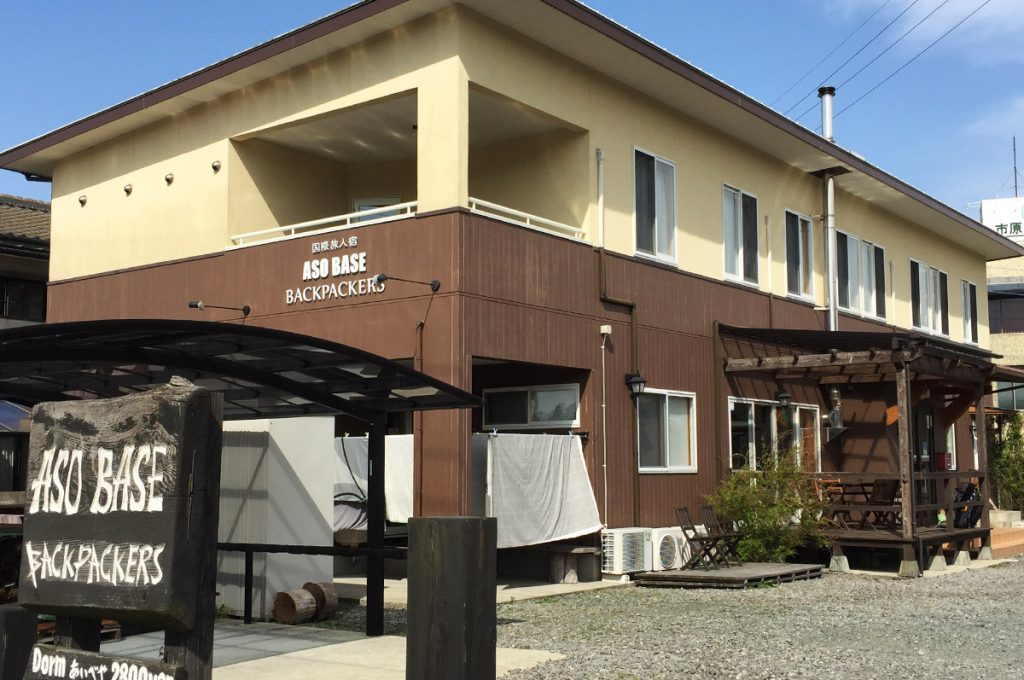 Why Guests Love It: The Aso Base Backpackers is a cozy accommodation close to Mount Aso. It is perfect for young travelers on a budget planning to hike around Mount Aso during their stay in Kumamoto, Japan. The hostel is just a 30-minute drive from the main crater of Mount Aso. Private rooms and dormitories are available for an affordable price.
Price: 5,596 yen
Address: 1498 Kurokawa, Aso 869-2225, Kumamoto, Japan
Kumamoto Japan Hotel: Dormy Inn Kumamoto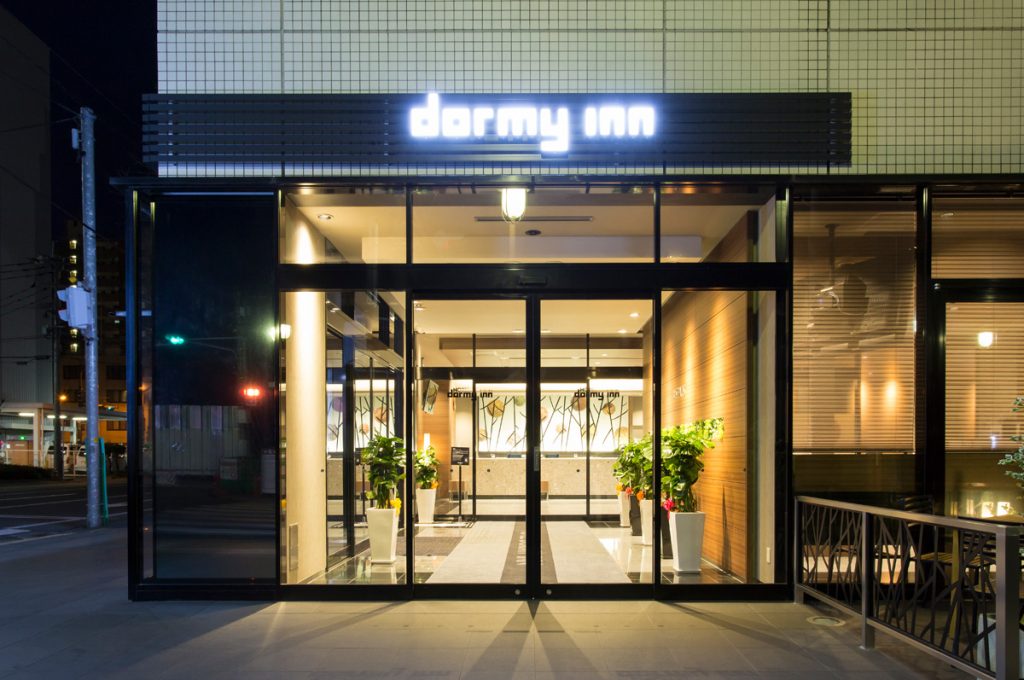 Why Guests Love It: With natural hot springs, comfortable beds, great service and reasonable prices, the Dormy Inn Kumamoto is hard to top. This hotel has a simple style that welcomes guests and puts comfort above all. The rooms are western-style, but you can still enjoy a bit of Japanese culture through its relaxing natural hot spring baths and its delicious breakfast prepared with local food. They offer a variety of different rooms and rates. Best of all, the Dormy Inn Kumamoto is conveniently located near the bus terminal and shopping area. Make your reservation early to get the best deals.
Price: from 5,464 yen
Address: 3-1 Karashima-cho, Chuo-ku, Kumamoto-shi, Kumamoto, Japan
Kumamoto Japan Ryokan: Yayanoyu
Why Guests Love It: If full immersion into Japanese culture and steaming onsen baths is your priority, then Yayanoyu is a great option. This traditional Japanese ryokan serves authentic Japanese meals right to you in your tatami rooms while you lounge in your yukata. The Japanese onsen at the ryokan is a work of art. The natural stones and beautiful foliage are all carefully placed to create a soothing atmosphere.
Price: 15,500 yen
Address: 366 Uekimachi Yonetsuka, Kumamoto 186-0115, Kumamoto, Japan
Best Things to do in Kumamoto, Japan
Mount Aso
One of the most famous landmarks of Kumamoto is Mount Aso. Hiking around Japan's largest active volcano reveals the natural beauty of Kumamoto. Take a long walk around the massive 25-kilometer-wide caldera which formed after an ancient and violent eruption. The grassy fields of the Kusasenri might not be what you expect to find on an active volcano, but it makes for a peaceful walk. You can even take a short horse ride around the area. There are many peaks and trails to explore. Occasionally the area is closed off to visitors due to volcanic activity. Be sure to check the status before planning your trip.
To get there, you can hop on a bus and enjoy a scenic 30 to 40-minute bus ride from JR Aso Station for 650 yen one-way. However, the buses will not take you directly to the crater. You will still need to walk a little or take a ropeway to the main crater. Direct buses from Kumamoto bus terminal operated by Express Yamabiko are also available and very convenient for travelers coming from the city. The ride takes around 90 minutes and costs 1,500 yen one-way.
Location: Mount Aso
Suizenji Garden
About 400 years ago, the people of Kumamoto harnessed the raw beauty of the land when they created the incredible Suizenji Garden. The careful construction of the garden's pond, trees, stones and hills are representatives of key landmarks along the 53 Stations of the Tokaido route in Japan. In the park there is even a small, pointy replica of Mount Fuji. Experience the vibrant colors of the park in spring, the rich crimson leaves in autumn, or the lush greens in summer. There is also an elegant, traditional tea house in the garden with a fantastic view. You can even rent a kimono nearby and enjoy a relaxing time at Suizenji Garden in traditional Japanese clothing.
Hours: 7:30 am – 6 pm (from March to October), 8:30 am – 5 pm (from November to February)
Price: 400 yen
Address: 8-1 Suizenji Koen, Chuo-ku, Kumamoto 860-0956, Kumamoto Prefecture, Japan
Kumamoto Castle
Kumamoto Castle is one of the oldest survivors throughout Japan's long history. After its construction in 1607, the legendary castle has remained one of the country's most impressive structures. Around the castle there is a forest of nearly a thousand cherry blossom trees which make the area a delight to visit in the spring. The people of Kumamoto have worked hard to maintain the castle's original structure while reconstructing key areas like the magnificent Honmura Goten Palace.
Unfortunately, the hilltop castle was significantly damaged during a large earthquake in 2016. At the time of writing this article, reparations are still underway. Though the construction has the inner grounds closed to the public, the castle and surrounding area still creates a powerful and beautiful atmosphere worth experiencing at this important time in Kumamoto's history. You can still admire the castle from a distance for free.
Hours: surrounding area's 24/7
Price: Free (inner grounds closed until further notice)
Address: 1-1 Honmaru, Chuo-ku, Kumamoto 860-0002, Kumamoto Prefecture, Japan
Reigando Cave
Reigando Cave is a historical and culturally significant natural cave formation located on the western side of Mount Kimpo. While you are hiking and taking in the calming scenery, you can also learn a great deal about Japan and its incredible culture.
This legendary cave is where the famous Japanese philosopher and swordsman Musashi Miyamoto meditated and wrote important works of philosophy and martial arts-related literature, including Go Rin No Sho—The Book of Five Rings. Nearby is the Zen Buddhist temple Ungazenji where you can experience more of Japan's rich culture and admire incredible Japanese craftsmanship. Along the mountain path, mysterious hand-carved stone statues watch as you make your away to and from the sacred area.
Hours: 8 am – 5 pm
Price: adults 200 yen, children 100 yen
Address: 589 Yatsuomachi Hirayama, Kumamoto-shi, Kumamoto Prefecture 861-5283, Japan
Sakuranobaba Josaien
At the foot of Kumamoto Castle is the charming old-timey village of Josaien. This tourist attraction offers a glimpse into the history of the region and its castle. Loads of information about Kumamoto can be discovered here. Many quaint souvenir shops and restaurants are built to replicate the feeling of walking down an old Japanese street hundreds of years ago. Here you can try some of Kumamoto's famous ramen known for its thick noodles and tasty garlic flavors. You can also try another one of Kumamoto's specialties—raw horse meat.
To get there, look for the Shiromegurin circle tour bus from Kumamoto Station which circles the Kumamoto Castle area.
Hours: 9 am – 7 pm
Price: Free entrance
Address: 1-1-1 Ninomaru, Chuo-ku, Kumamoto 860-0008, Kumamoto Prefecture, Japan
Kurokawa Onsen
No Japanese travel experience is complete without taking a relaxing soak in a bubbling hot spring. Naturally, Kumamoto is a hot spot for geothermal activity due to its nearby volcanoes. Kurokawa Onsen doesn't just sooth your aching body—it clears your mind of all worries of the modern world. Kurokawa Onsen perfectly captures the essence of tranditional Japanese Onsen towns with its rustic aesthetic and charming structures. It is one of Japan's greatest Onsen towns. For more about great Japanese Hot Springs, check out our article here: Best Onsen in Japan.
One of the best way to enjoy a great onsen in Kurokawa is to stay in a Ryokan there. The Okyakuya Ryokan is one of the best of the area and we recommend it to you of you want to relax in a calm and traditional atmosphere.
Kurokawa Onsen is not accessible by any major railways. The best way to get there is by bus, however it takes over 150 minutes to reach the destination. From Kumamoto Station. Direct buses to Kurokawa Onsen are available for about 2,500 yen.
Location: Kurokawa Onsen
Be sure to learn about proper onsen etiquette: Onsen Etiquette – The Dos and Don'ts in Japanese Public Baths
Walking under the autumn leaves

The city of Kumamoto takes great pride in its relationship with nature. This is evident by its many impressive ginkgo which line the streets. During the cool autumn season these elegant trees turn golden just before the leaves begin to fall. It is great for photographers and romantic couples going for a quiet walk through the city.
Amakusa
The rural islands of Amakusa are home to a group of charming small towns in the southwestern side of Kumamoto. Years ago, Christian missionaries had a strong influence in the area before Japan began their crack-down on western religions. Many beautiful churches and western-style buildings can be found on these islands—a rare sight in Japan.
Shimoshima, Ueshima and Oyano—the three main islands of Amakusa—are connected to Kumamoto by bridges. Kyushu Sanko Busses are available for travelers coming from Kumamoto City for 2240 yen one-way. The trip from Kumamoto to Amakusa City takes about 145 minutes. The other smaller islands are accessible by ferry.
Location: Amakusa
Rokuden Shrine
Rokuden Shrine was built in 1178. This traditional shrine holds a huge festival every year on October 9th, to celebrate the old traditions of the area. The beautiful wooden gate welcomes curious visitors eager to learn about Japanese culture.
To get there, take a bus from the Kumamoto terminal for about 45 minutes until you reach Kiwarafudo Temple. From there, the shrine is just a 15-minute walk.
Price: Free
Address: 2378 Tomiaimachi, Minami-ku, Kumamoto 861-4153, Kumamoto Prefecture, Japan
Kamitori Shopping Arcade
Sometimes when travelling, the best way to unwind after a busy day of exploration is with a little bit of shopping. The Kamitori Shopping Arcade is a long, covered shopping street perfect for a casual walk away from the scorching sun or other unfavorable elements. See how the locals get along in the city of Kumamoto, Japan while picking up some gifts for yourself or your friends.
Location: Kamatori Shopping Arcade
Conclusion
Kumamon happily welcomes visitors this lovely prefecture. There is plenty to do and see in Kumamoto while travelling in Japan. The rich culture and unbelievable natural landscapes can't be missed. Be sure to make Kumamoto part of your next trip.
Did you enjoy the list? Let us know on our Facebook group. Also don't forget to follow us on Facebook, Instagram, and Pinterest for the most interesting info about Japan! Tune in again next time!
Andrew Smith is an American writer living in Tokyo. In his free time, he enjoys, photography, live music, and exploring Japan. His goal is to visit and write about every prefecture in Japan someday.