Have you decided to buy autoflower seeds in the USA and are now enjoying the fruits of your labor? Nothing slaps harder than Japanese stoner anime to get you riled up with laughter and action.
Here's a list of seven anime to keep you company while you're high. These lighthearted picks make you hungry, happy, and nostalgic, plus they're a treat for your eyes (warning: potential anime crush ahead). 
Food Wars!: Shokugeki no Soma
Follow the tale of Soma Yukihira, a young aspiring chef from a humble background. He enrolls in an elite culinary academy to keep his father's restaurant open and become the best chef.
Along the way, he meets many interesting characters, like Erina Nakiri, known as "God's Tongue." The school is no ordinary one. It hosts exclusive, action-packed food wars where students cook off against each other. 
It's one of the best anime to watch high, making you want to visit a famous anime cafe immediately. The dishes are illustrated and served so beautifully that it hits you right in the munchies. You'll be craving foods you never even knew existed.
The Devil Is A Part-Timer! Hataraku Maou-sama!
Join Satan (yes, you read right, and no, this isn't a cult invitation) on his quest to become ruler of Earth. This anime follows the plot of the demon leader who flees his dimension and escapes to Tokyo. 
He takes the form of a human worker at the MgRonalds fast food chain. As he spends time on Earth, his goals change from being the ruler of evil to climbing the corporate ladder.
This high anime will have you hosing yourself with laughter, but there's also a deeper meaning. Playing on the age-old nature vs. nurture argument, can Satan himself strive for good if placed in a different environment?
Noragami
This Japanese manga goes deep. It's about Yato, a deity with no followers (he doesn't even have a shrine).
His goal is to raise enough money to build a shrine, and on a mission, he saves Hiyori, a young human girl. Together they fight demons and monsters that want to harm people. 
It's an excellent anime to watch while high because of its gorgeous drawing style. The artists depict the spirit realm in bright colors and weird and wonderful designs. The underlying theme borders on spirituality and forbidden love, giving you deep thoughts when buzzed. 
My Girlfriend Is Sho-bitch: Boku no Kanojo ga Majimesugiru Sho-bitch na Ken
Dirty, sexy, and oh-so-funny, this anime will tickle your stoner boner. You rarely see a stoner anime with smoking weed scenes, but some of these characters act super high.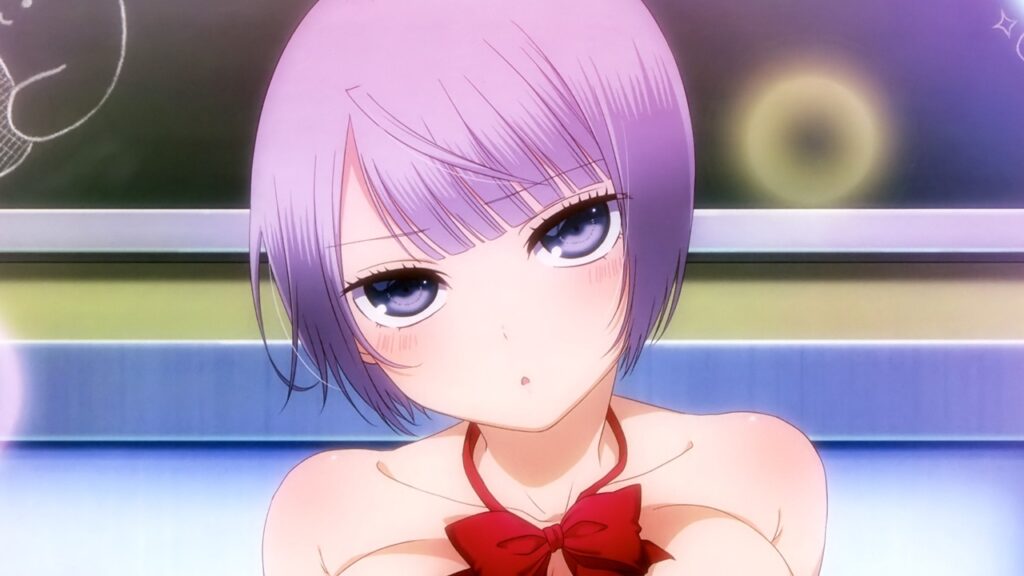 It revolves around the dating life of Haruka Shinozaki, a timid schoolboy who has a long-time crush on his nerdy classmate Akiho Kosaka.
He asks her to be his girlfriend, and she treats him like her next assignment. Her hilarious sexual moves, met with his shy, polite character, make them a cute pair that all fans ship. 
It's a must-watch if you love dirty jokes when you're stoned. It's also romantic and a good show for when you Netflix and puff with your boo.
Wotakoi: Love Is Hard for Otaku
If you want lighthearted fun, romance, and anime hotties, this one's for you. The protagonist, Narumi Momose, is an otaku (major anime geek) who moves to a new town. Her ex broke up with her after discovering her secret, and she's trying to get a fresh start.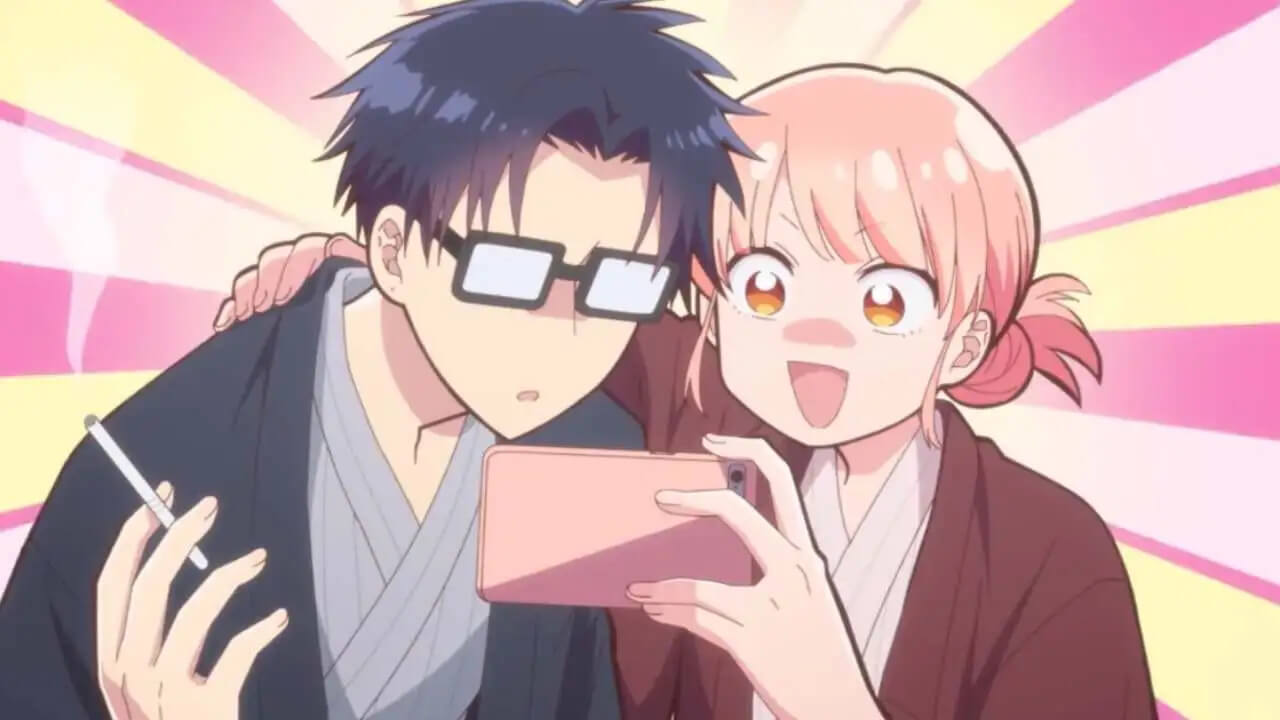 On the first day in her new town, she does things that show her funny, childish character, like:
She sleeps through four alarms but wakes up thinking she got up early.

She goes out for drinks with coworkers and guzzles down an unholy amount of beer and food.

She messes up all her work, but the boss excuses it because she has a cute smile. 
At her new job, she runs into an old friend, Hirotaka Nifuji, who instantly blows her cover as an otaku. They end up dating and discover two other coworkers who are otaku too. 
Together they set out on exciting adventures and regularly visit anime stores. There's a lot of character development and romance to warm your heart. 
Crayon Shin-chan
Shin-chan is the most mature and shameless five-year-old out there. He's intelligent, has a vast skill set, and is somewhat of a sleazeball. He's constantly involved in questionable activities like flirting with college girls and notorious "elephant" gags.
There isn't a dull day for him, and sometimes his antics save people from their problems. He has a strong case of acyrologia and often attempts to use more complex words in the wrong context.
This show is the best anime to watch stoned because it has that unique yet insane humor that's always enjoyable when buzzed. 
Spirited Away
Studio Ghibli is known for producing action-packed, cute, and captivating anime like Spirited Away. The main character, Chihiro, and her parents are moving to a new town, but they get lost along the way.
Her parents decide to explore the area and find an abandoned amusement park with an enticing restaurant. They eat the food and aim to pay later, but instead, they turn into pigs. The theme park is just a home for spirits, demons, and evil gods, and her parents fell into their trap. 
Chihiro must save her parents and meets Haku, who she later discovers is the spirit of her favorite childhood river. He helps her get her parents back to move on to her new life. 
It's a beautiful metaphor for change and growing up; you'll enjoy the profound meaning when you're stoned.
Conclusion
What are you waiting for? Watch this list of stoner anime now. Journey through magical worlds, admire the office hunks, or watch a five-year-old pretend to be an elephant.
Whatever floats your boat, there's an anime for you. Grab some popcorn and a joint and enjoy Japan's extraordinary range of animation.
Ayumi Jayne is an expert in the growing and selective breeding of cannabis since 2015. She knows everything about growing cannabis, and like no one else, understands the difference between different cannabis types. Ayumi is the author of over 40+ scientific articles about cannabis. Now she works as a content editor for the I49 Seed Bank blog, writing exclusive articles for them. Ayumi also plans to share her vast experience with millions of people from all over the world by creating her own cannabis-related YouTube channel. Her wealth of practical experience and education as a biologist keeps her up to date with all the latest research in the field of cannabis cultivation.